Mathura and Vrindavan- the renowned holy and divine places; like many other places of India, these two are also considered on top. Every person sitting at home on weekends makes an immediate plan to go to Vrindavan and Mathura. these destinations are the perfect destination to get a soulful experience.
The purest and the heavenly birthplace of Lord Krishna where you can know everything about Lord Krishna with a few day's trips to the twin cities covering all the auspicious spots that will let you know everything about Lord Krishna and his miracles. How he was created? How he changed the whole aura? His love story with Radha? His marriage with different Patrani and much more.
So, to know everything in depth, let's heed the top 12 famous places in Mathura and Vrindavan.  
1. Prem Mandir, Vrindavan- the phenomenal beauty
One of the most beautiful temples that I have ever witnessed in my life is Prem Mandir.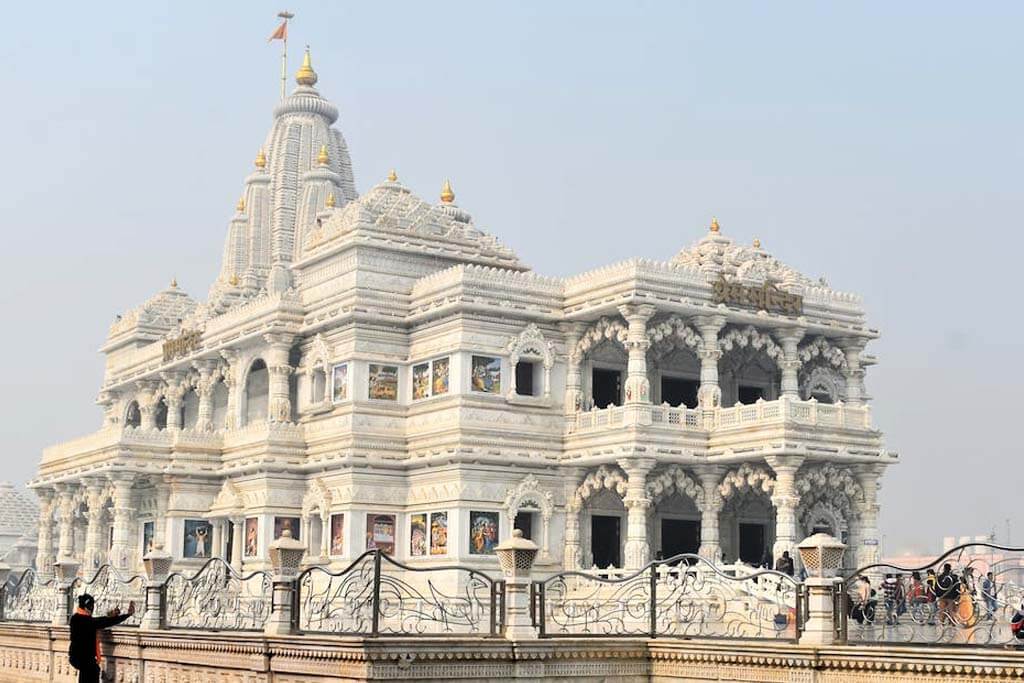 The temple is an attraction to countless tourists who visit there and get mesmerized. You might have never seen such a stunning beauty where a temple is decorated with different colored lights.
Things to do: Enjoy the positive aura along with the plants, fountains, gigantic sculptures, and several figurines.
Suitable timings: though you can go anytime to see the beautiful light display, 7.30 pm to 8.00 pm is the best time.
Nearby Attraction: Rangji Temple, Akshaya Patra, etc. are the nearby attractions.
2. Shree Krishna Janmasthan, Mathura- name clearly describes the importance
Well the name itself speaks of what this place would be about. It is the Janam Bhumi or birthplace of Lord Krishna.
It is a place that you should visit during Janmashtami and Holi. It is an eye-catching beauty that is full of crowds during the festive season.
Things to do: Enjoy the grand darshan and aarti.
Suitable timings: You can visit any day but in the timings from 5.00 am to 12.00 pm and 4.00 pm to 9.30 pm.
Nearby Attractions: Eidgah Mosque built by Aurangzeb is also adjacent to this spiritual place.
3. Shree Krishna Balram Temple, ISKCON, Vrindavan- most well-known temple
ISCKON Temple is needless of any description; it is the epitome of beauty. Looking at the spiritual power of Lord Krishna countless tourists come here to get peaceful and soulful feelings.
The enormous structure represents a blend of spiritual and cultural significance.
Things to do: you can enjoy dancing with other devotees to the harmonious music played at ISCKON.
Suitable timings: you can visit anytime throughout the day but the suitable months are February to April and October to December.
Nearby Attractions: There are so many temples nearby ISKCON temple.
4. Nandgaon- Nand ki Nagri
Hometown of Radha Rani and the place where Lord Krishna lived with their parents Shree Nand Ji and Yashoda Maa.
This place is dedicated to Shree Nand Ji and named Nandgaon where you will find multiple attractions and mesmerizing views of each.
Things to do: You will get to know so much about Krishna as it is an important religious place for Krishna devotees.
Suitable timings: Visit anytime throughout the year.
Nearby Attractions: Charan Pahari, Nand Bhavan, Nandisvara Temple, Pavana Sarovar, etc. are there to enhance your trip.
5. Kusum Sarovar- Enchanting floral beauty
Out of the number of places this place is one of the most favorite places of Radha Rani that is famous for its beautiful sightseeing and is also a sacred water reservoir.
It is exactly located between Govardhan and Radha Kund.
Things to do: you can enjoy the sightseeing of Kusum Sarovar which is filled with beautiful flowers and trees and intricate carvings and motifs. It is a treat to the eyes.
Suitable timings: Any day with the timings 12.00 am to 12.00 am
Nearby Attractions: You can witness Narada Kund, Govardhan Parikrama, Radha Kund, Shyam Kund, etc.
6. Shree Dwarkadhish Temple, Mathura- Prominent Cultural Spot
The oldest surviving and the biggest in Mathura is Shree Dwarkadish Temple which was built by Seth Gokul das Parikh.
It is a sacred spot the jaw-dropping structures. Lord Krishna is known as Dwarkanath- a black marble idol here.
Things to do: You can enjoy the festivals like Janmashtami, Hindola Utsav, and Jhoolan Yatra, here.
Suitable timings: 6.30 am to 10.30 am and 4.00 pm to 7.00 pm are the timings.
Nearby Attractions: Vishram Ghat is just 5min away from Shree Dwarkadish Temple.
7. Shree Bhuteshwar Mahadev Temple- Visit during Savan Month
Mathura is a hub of temples where you will find the oldest, largest, most beautiful, and most popular temples, and out of the popular ones is the Shree Bhuteshwar Mahadev Temple which is a must-visit place.
It is Lord Mahadev's temple and a Shaktipeeth where Mata Sati's ringlet fell.
Things to do: There is nothing much to do here you can come and do the prayer in the temple's serene environment.  
Suitable timings: 5.00 am to 1.00 pm and 4.30 pm to 10.30 pm.
Nearby Attractions: Raja Bharatpur Palace, Gokulnada Temple, etc. are nearby.
8. Vishram Ghat- Witness the phenomenal marble work
Another auspicious spot of Mathura is located on the banks of the Yamuna River.
It is a worshipping spot where you just do not worship but can enjoy the whole majestic and serene view where the devotees perform their rituals and do aarti in the evening time. It is also the resting place of Lord Krishna.
Things to do: Enjoy the morning and evening aarti in the heart of Brij Bhoomi and boat rides.              
Suitable timings: It is open throughout the day, you can anytime go there and relax.
Nearby Attractions: Shree Dwarkadish Temple is in the vicinity.
9. Shahi Jama Masjid, Chatta Bazar
A big and beautiful mosque was built under the reign of Aurangzeb. Abd-al-Nabi Khan built this gorgeous monument.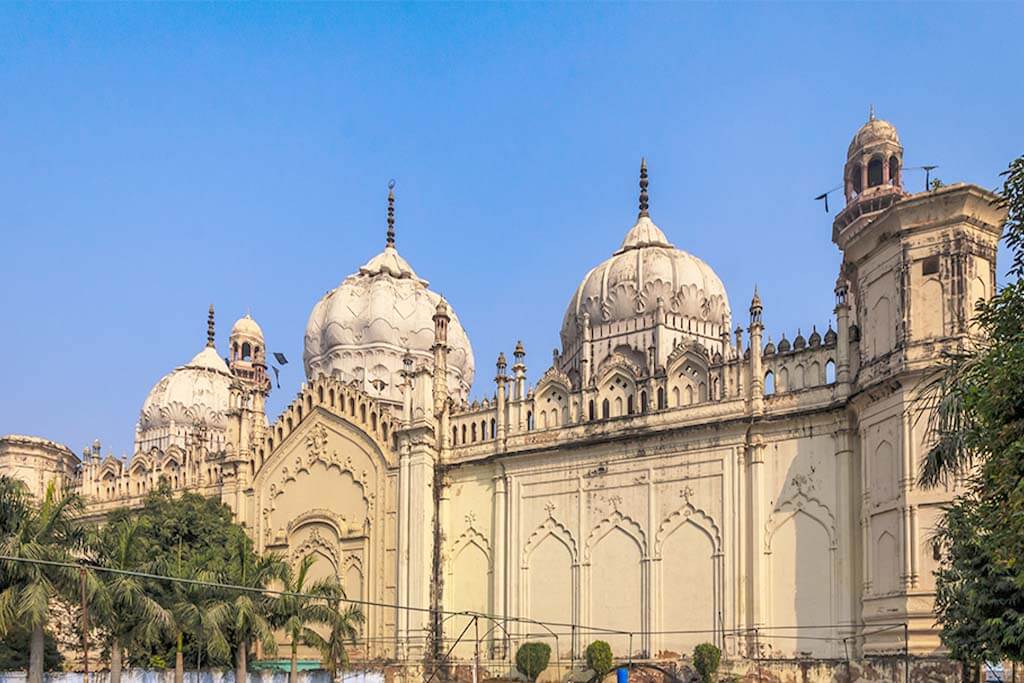 There is no dearth in the number of fascinating museums built under the reign of Mughal rulers that are to date mesmerizing tourists. Similarly, this Masjid also has four sacred pillars covered by a beautiful courtyard.
Things to do: Sit in peace and offer your prayers.
Suitable timings: 4.15 am to 10.30 pm on other days, 4.15 am to 11.45 pm on Fridays, and 24 hours on Sundays.
10. Maa Vaishno Devi Dham, Vrindavan
There isn't any doubt that countless people hold a belief in Maa Vaishno Devi. Though the original temple is in Ardhkuari, Katra Vrindavan also has a temple of Maa Vaishno Devi a depiction of the fearless goddess.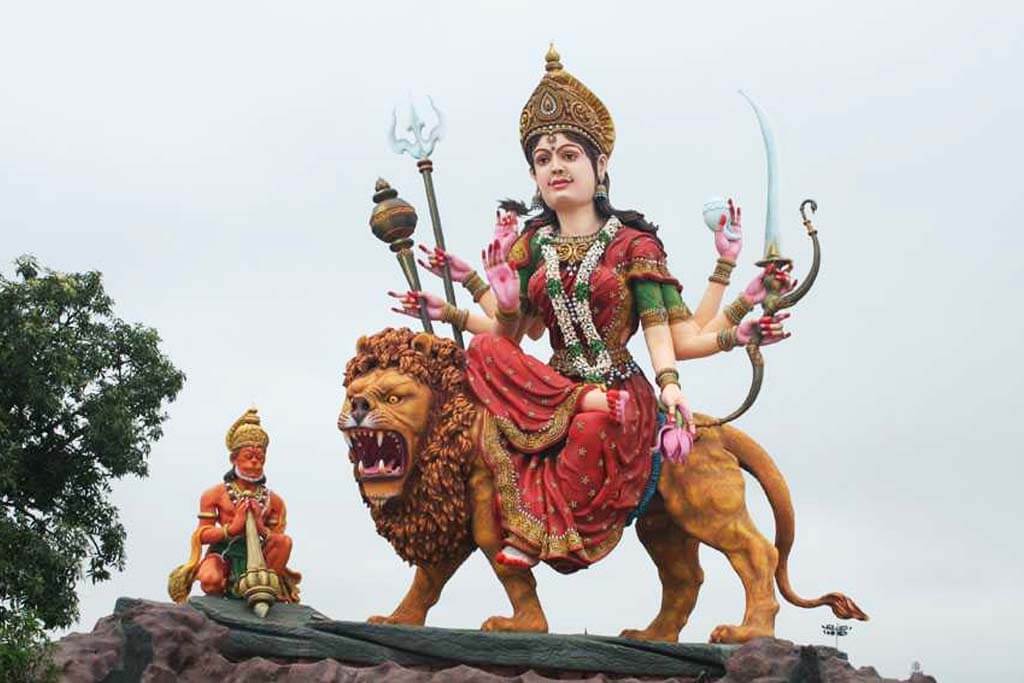 Here you will find the engravings of Maa story on the walls of the temple and to see this temple, devotees come from far places. It is a must-visit place that looks extremely beautiful during Navratri.
Things to do: Witness the 141ft statue of Maa Vaishno Devi along with the beautifully crafted Nav Durga Statue.
Suitable timings: You can go throughout the year to seek Mata Rani's blessings.
Nearby Attractions: Sudama Kaleu, Dasaprakash, Krishna Janamabhoomi temple, etc. are nearby.
11. Kesi Ghat and Temple, Vrindavan
One of the most popular spots in Vrindavan is majorly famous because of the stunning views and the numerous temples it has.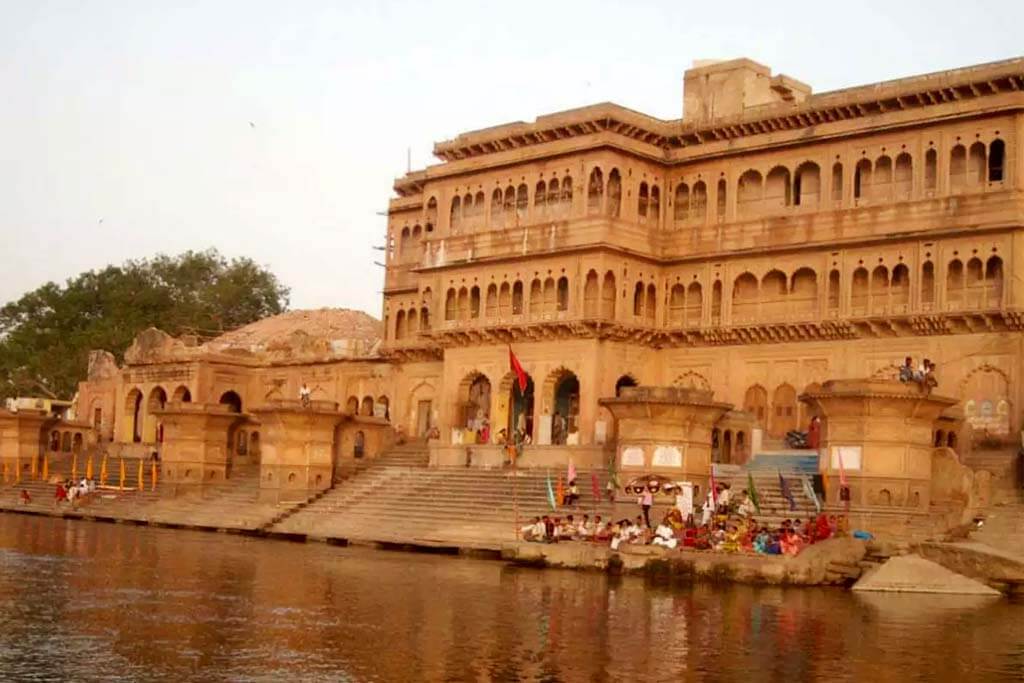 It is believed that it is named when Lord Krishna swerve the demon Keshi and bathed in the Yamuna River to clean off his blood.
Things to do: Boat rides in the daytime, sitting along the ghat, etc.
Suitable timings: October to March are the best months to travel here.
Nearby Attractions: Madanmohan Temple is nearby Kesi Ghat.
12. Nidhivan- Natural beauty spreading in huge greenery
A very beautiful and hugely radiated garden that is one of the most popular tourist spots of Vrindavan.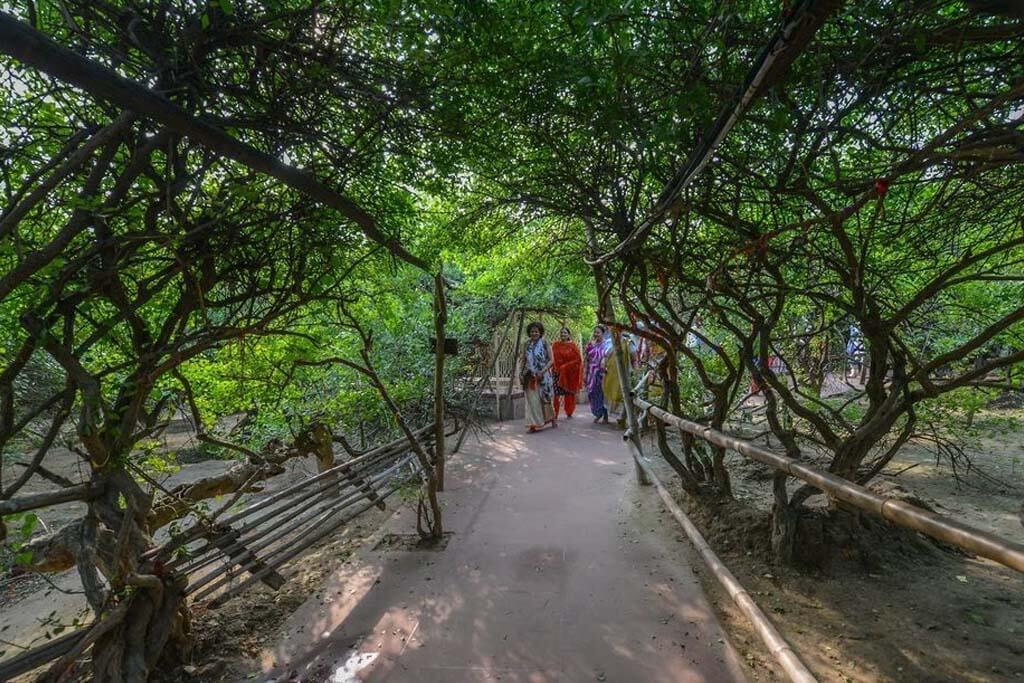 There are so many stories associated with this place that creates curiosity among travelers to surely come here. More than 1500 Tulsi trees are in Nidhivan Garden.
Things to do: You can just learn some myths about this place and roam around in Nidhivan.
Suitable timings: Go all the time throughout the year in all the seasons.
Nearby Attractions: You can also visit Priyakant Ju Mandir.
WRAPPING UP THE BLOG
Mathura and Vrindavan are the destinations where no one can say no to go. These are the holy places where 'n' several devotees come around the year. The temperature usually stays pleasant here but sometimes it is too heated so, better you check the months and timing; generally, October to March are considered as the best months, remaining are very hot and dry.
Also, you must try to avoid the festive season because Vrindavan and Mathura hold breathless crowds though the festive season has a completely different aura. Rest there is so much to explore, plan a trip now. 
Frequently Asked Questions