The beautiful state of Goa, located on India's western coast, encourages visitors with its clean sandy beaches, lively culture, and the ideal combination of sun, sand, and sea. Goa, known as the party capital of India, has a wide variety of activities to suit all your travel preferences.
Goa has it all – whether you're looking for peaceful beach time, exhilarating water sports, a buzzing nightlife, or a taste of local culture. We'll take you on a virtual tour of the top 20 visiting places in Goa, exciting things to do in major tourist attractions, and discuss intriguing things to do while you're there in this extensive guide.
You can read the below blog to learn more about it.
Top 20 Places to Visit in Goa and Exciting Things to Do
The Beaches of Goa
1. Calangute Beach
Calangute Beach, also known as the "Queen of Beaches," is a vibrant and bustling coastal gem in North Goa, India. Calangute Beach, stretching over four miles along the Arabian Sea, is one of the most well-known and frequented beaches in Goa, providing the ideal combination of sun, sand, and sea.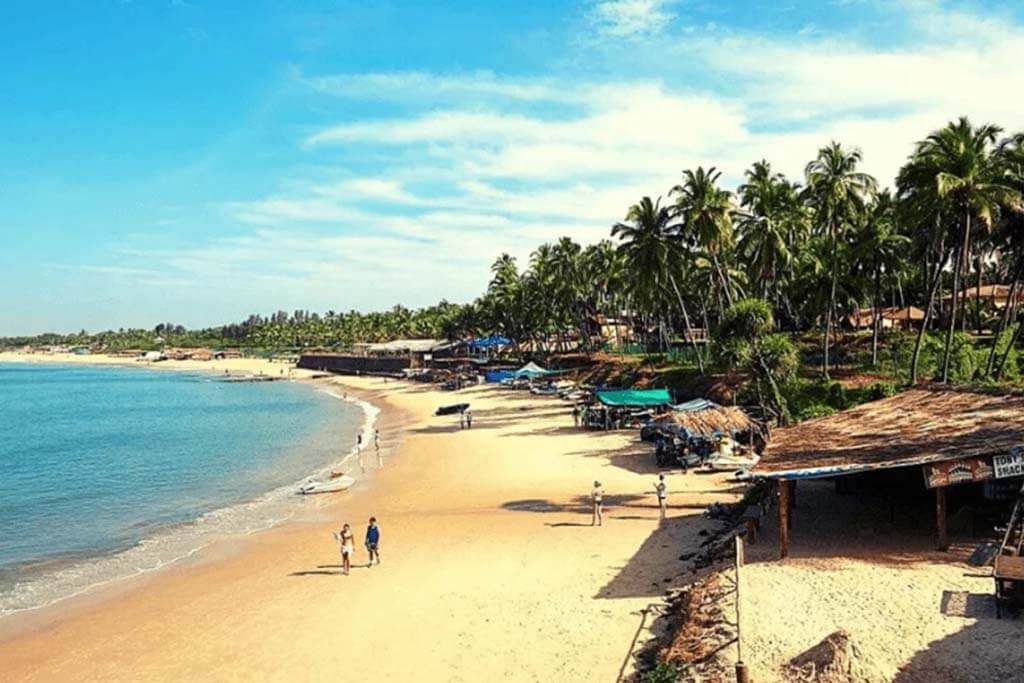 The golden sandy shores of Calangute Beach are a paradise for beach lovers and sun-seekers. The beach has plenty of room for relaxing, sunbathing, and seeing the incredible blue waves. The gentle waves of the Arabian Sea make it ideal for swimming and enjoying water activities like parasailing, jet skiing, and banana boat rides.
Calangute Beach is renowned for its vibrant and energetic atmosphere. Lined with numerous beach shacks, restaurants, and cafes, it offers various culinary delights, from Goan seafood delicacies to international cuisines. Visitors can indulge in fresh seafood, sip on refreshing mocktails, and savor the flavors of Goa while enjoying the beautiful beach ambiance.
2. Baga Beach
Baga Beach, located in North Goa, is a vibrant and popular coastal destination that offers a unique blend of natural beauty, thrilling water sports, and a lively atmosphere. It is known for its picturesque surroundings, making it a favorite among Goa tourists.
Baga Beach attracts tourists from all over the world with its gentle golden sands and clean waters. The beach has plenty of room for relaxing, sunbathing, and taking strolls down the shore. The Arabian Sea's calm, mild waves are perfect for swimming and participating in water sports like jet skiing, parasailing, and banana boat rides.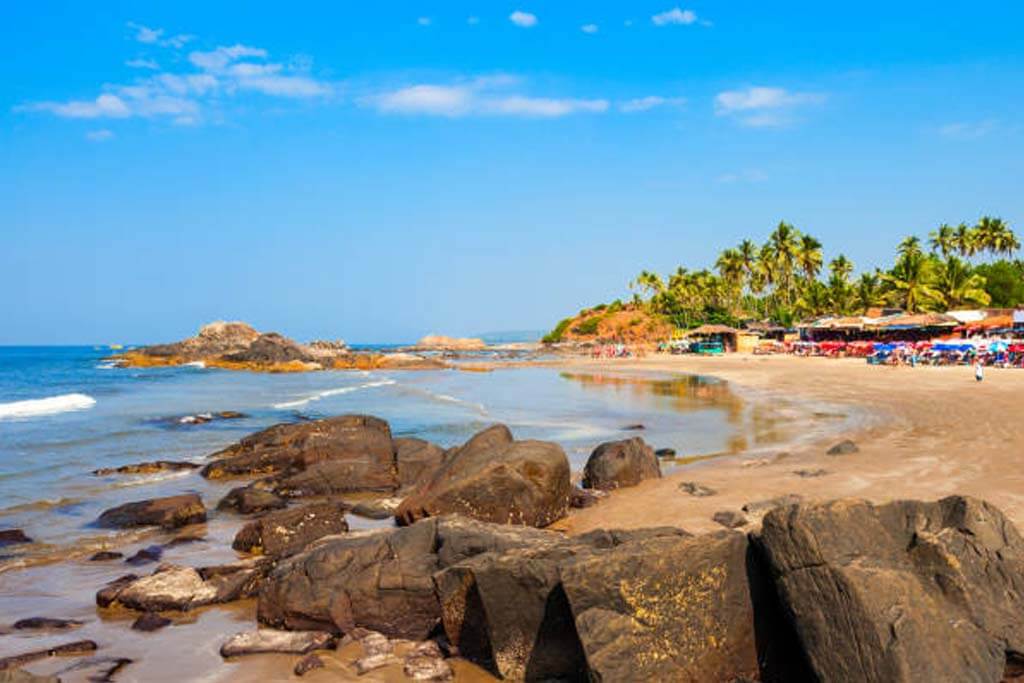 As the sun sets, Baga Beach comes alive with its vibrant nightlife. It is famous for its lively beach parties, pulsating music, and energetic atmosphere. Beach clubs, bars, and nightclubs are all over the beach, where people may party, dance, and take in live music performances till the wee hours of the morning.
Baga is well recognized for its shopping scene and beach, and nightlife. The crowded markets near the shore offer a wide selection of goods like apparel, accessories, jewelry, handicrafts, and souvenirs.
Historical and Cultural Attractions
1. Fort Aguada
Fort Aguada, located in North Goa, is a standing testament to Goa's colonial past. The Portuguese constructed this spectacular fort in the 17th century, and it has been crucial in defending the area against invading forces ever since.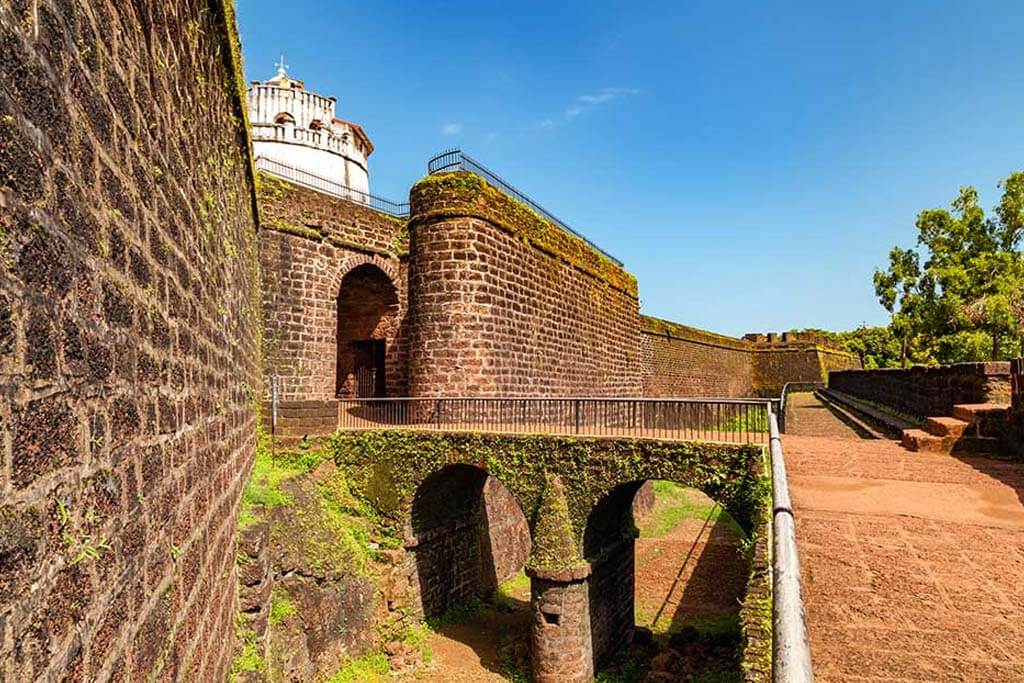 The architecture of Fort Aguada is a remarkable blend of Portuguese and Indian styles. It features sturdy ramparts, bastions, and a towering lighthouse that guides ships into the Mandovi River. The fort's well-preserved walls and structures provide a glimpse into its military significance and the architectural prowess of that era.
Today, Fort Aguada has been converted into a tourist attraction that allows visitors to explore its grounds. The fort houses a museum showcasing artifacts and information about its history and significance. The lighthouse, which is 13 meters tall, is still used as a navigational aid and provides stunning views of the surroundings.
2. Basilica of Bom Jesus
A UNESCO World Heritage monument and one of India's most important Christian pilgrimage destinations, the Basilica of Bom Jesus is situated in Old Goa. Constructed in the 16th century, this magnificent church is renowned for housing the mortal remains of St. Francis Xavier, a revered Catholic saint.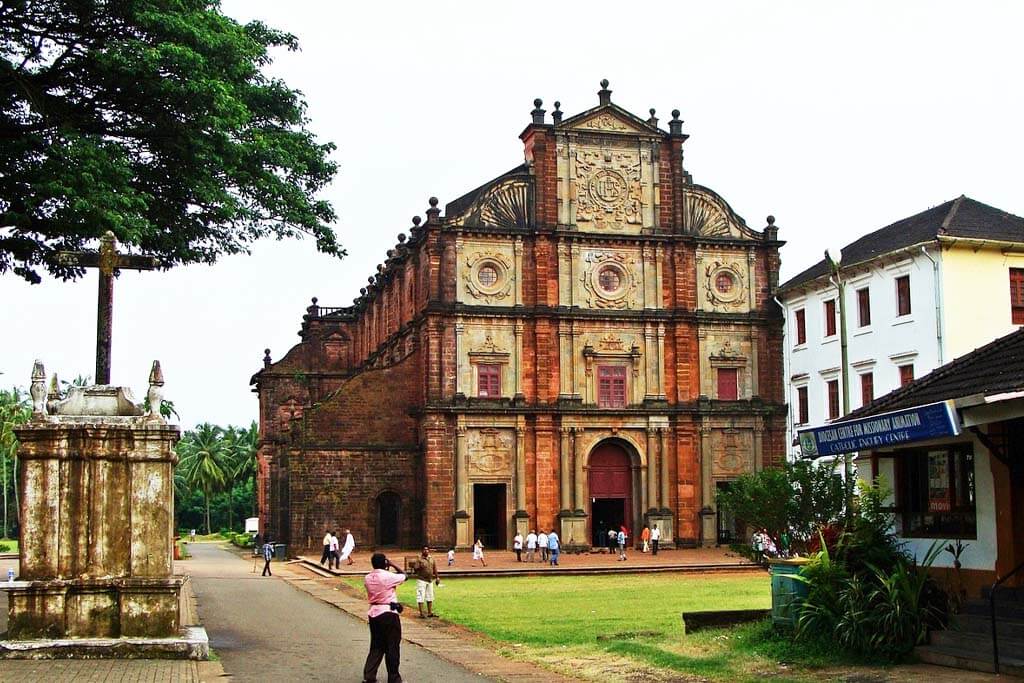 The architecture of the Basilica of Bom Jesus is a fine example of Jesuit architecture in India. The church's interior is filled with fine places of worship, paintings, and sculptures, and its primary yet lovely façade has delicate carvings.
Pilgrims worldwide visit the Basilica of Bom Jesus to pay homage to St. Francis Xavier and seek blessings. The preserved body of the saint, displayed in a silver casket, attracts devotees and tourists alike.
Besides having religious significance, the basilica is also a historical and cultural landmark that sheds light on Goa's colonial past and the development of Christianity in the area.
Wildlife Sanctuaries and Nature Reserves
1. Bhagwan Mahavir Wildlife Sanctuary
Goa's Western Ghats are home to the Bhagwan Mahavir Animals Sanctuary, a paradise for those who enjoy the outdoors and animals. Spread across approximately 240 square kilometers, the sanctuary offers rich biodiversity and lush greenery. Several animal species, including the Indian gaur, leopards, sloth bears, deer, and several bird species, call it home.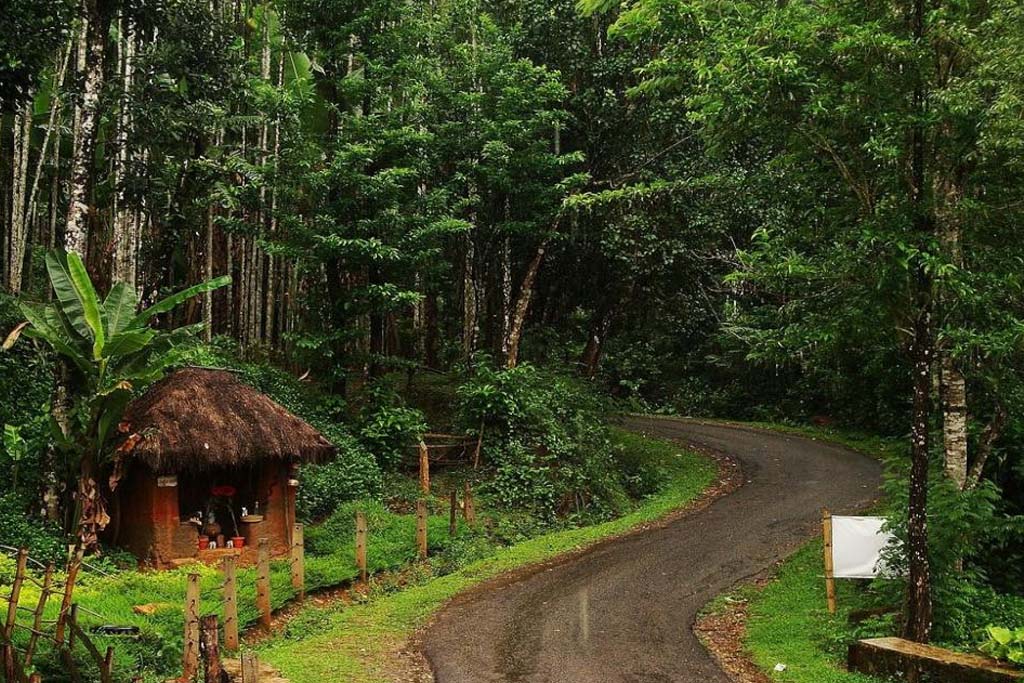 The sanctuary provides excellent wildlife sightings, nature walks, and birdwatching opportunities. It also encompasses the famous Dudhsagar Falls, one of the tallest waterfalls in India, adding to the scenic beauty and charm of the sanctuary. For those looking to discover Goa's unique flora and fauna and get in touch with nature, the Bhagwan Mahavir Wildlife Sanctuary is a wonderland.
2. Bondla Wildlife Sanctuary
The Bondla Wildlife Sanctuary, nestled in the foothills of the Western Ghats in Goa, is a small but enchanting sanctuary that offers a delightful experience for nature lovers. It is known for its lush green trees, diversified vegetation, and abundant wildlife and has a surface area of about 8 square kilometers.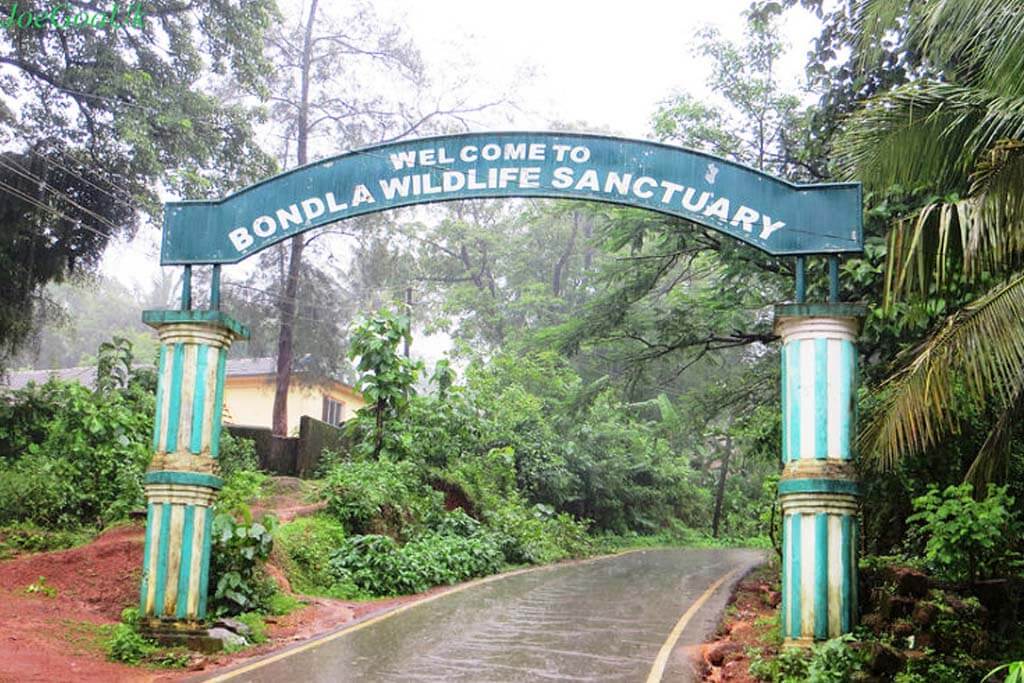 The sanctuary is home to many different animal species like deer, monkeys, wild boars, and several bird species. Visitors can explore the sanctuary through well-marked trails, enjoy a wildlife safari, and even spot some elusive wildlife.
Bondla Wildlife Sanctuary also features a mini zoo where visitors can observe and learn about different animal species. With its serene ambiance, verdant landscapes, and abundant wildlife, Bondla Wildlife Sanctuary is a must-visit destination for nature enthusiasts seeking a peaceful and immersive experience in Goa.
Water Sports and Adventure Activities
1. Scuba Diving
Scuba diving in Goa offers a thrilling and unforgettable experience for adventure enthusiasts. With its clear waters and abundant marine life, Goa provides excellent opportunities for divers of all levels.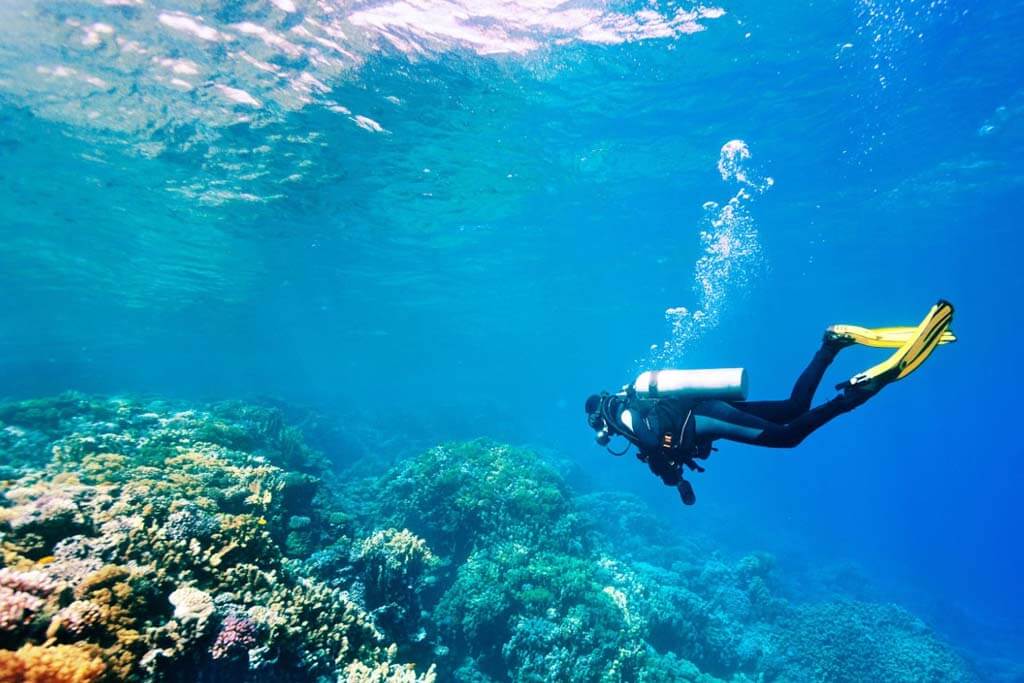 You may discover hidden deep underwater caves, explore stunning coral reefs, and get up close and personal with various aquatic species, whether a beginner or an experienced diver.
The dive sites in Goa, such as Grande Island and Suzy's Wreck, offer breathtaking underwater landscapes and a chance to witness beautiful creatures like tropical fish, turtles, and even dolphins. Scuba diving in Goa is a must-try activity for those seeking to explore the mesmerizing world beneath the waves.
2. Snorkeling
Snorkeling in Goa offers a fantastic opportunity to discover underwater beauty without needing scuba diving certification. With its clear and calm waters, Goa provides ideal conditions for snorkelers to explore colorful coral reefs, fascinating marine life, and underwater rock formations.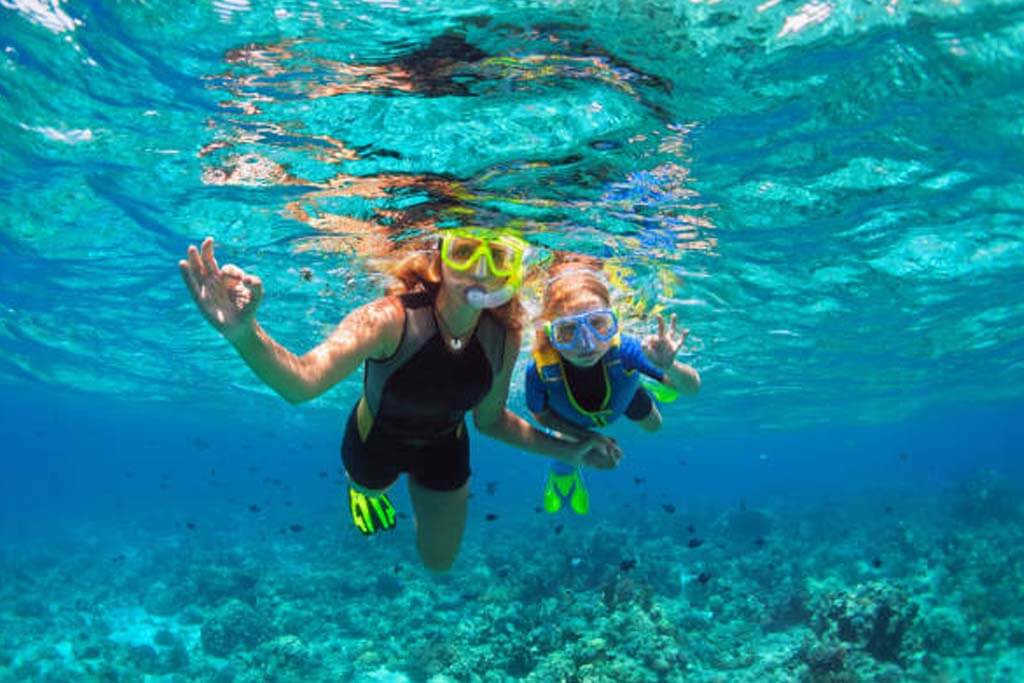 Beginners and experienced snorkelers can enjoy swimming alongside schools of vibrant fish, spotting sea turtles, and even encountering playful dolphins. Popular snorkeling spots in Goa include Grande Island, Bat Island, and Monkey Beach.
Snorkeling in Goa is a thrilling and engaging experience that allows you to observe the fascinating aquatic world up close, whether you're a nature enthusiast or an adventure seeker.
Spice Plantations and Backwater Cruises
1. Sahakari Spice Farm
Sahakari Spice Farm, located in Ponda, Goa, is a delightful destination that offers an immersive experience of the world of spices.
Visitors to this organic spice farm can take guided tours to learn about the growing, harvesting, and processing of various spices like cardamom, black pepper, cinnamon, and nutmeg. The farm is surrounded by lush greenery.
Visitors can walk through the aromatic plantations, witness traditional farming practices, and even participate in preparing authentic Goan meals using fresh spices. Sahakari Spice Farm also offers a chance to interact with friendly locals, enjoy cultural performances, and savor a delicious traditional Goan lunch, making it a memorable and informative outing.
2. Tropical Spice Plantation
Tropical Spice Plantation in Ponda, Goa, offers an immersive experience into the world of spices.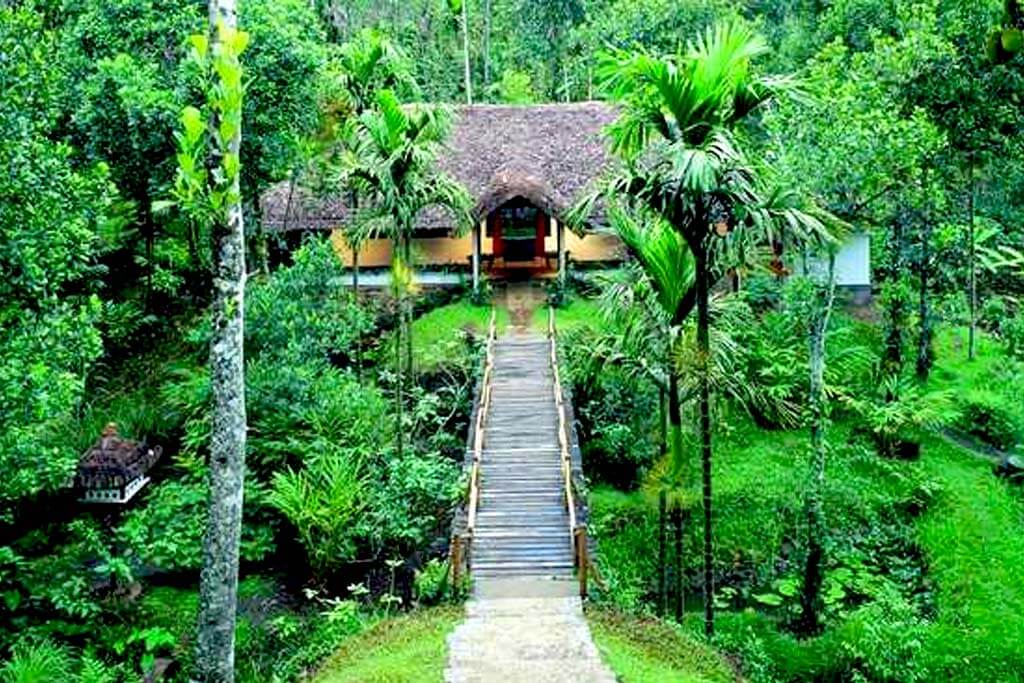 Visitors can take guided tours through the lush green plantation, learn about the cultivation and processing of various spices, and even participate in traditional farming practices.
The plantation also provides a delicious Goan meal, cultural performances, and soothing Ayurvedic massages, making it a perfect blend of education, entertainment, and relaxation. A visit to Tropical Spice Plantation is a sensory delight that showcases Goa's spice culture's vibrant flavors and rich heritage.
Churches and Temples
1. Shanta Durga Temple
Shanta Durga Temple, located in Ponda, Goa, is a revered Hindu temple dedicated to the goddess Shanta Durga.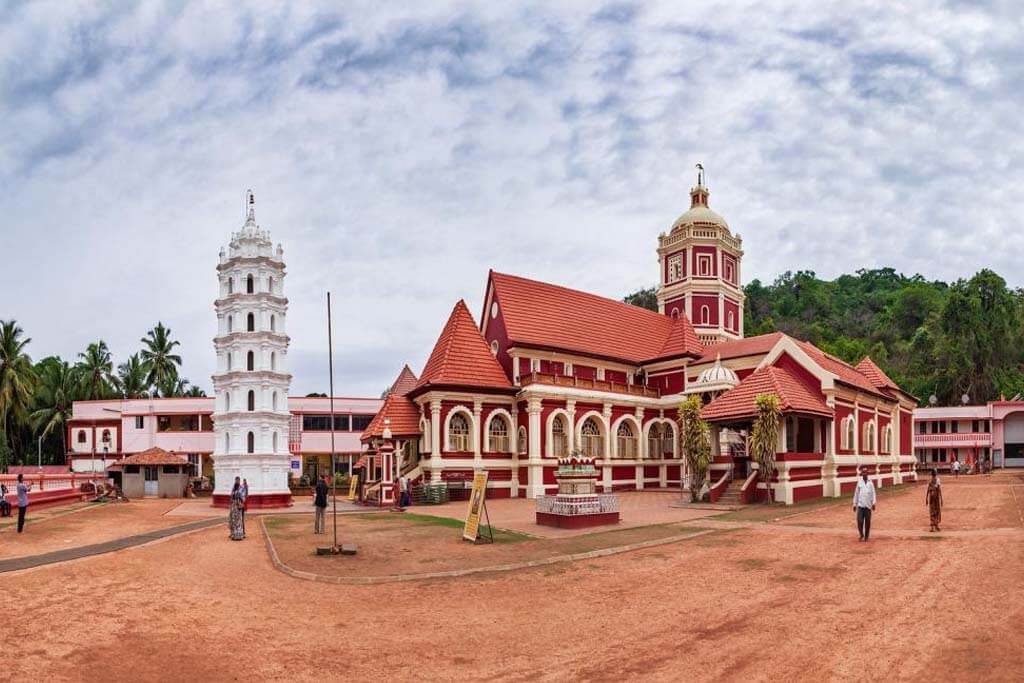 The temple showcases a blend of Indo-Portuguese architectural styles and is an important pilgrimage site for devotees.
With its tranquil ambiance and intricate carvings, Shanta Durga Temple offers a serene space for prayer and reflection in the heart of Goa.
2. Church of St. Cajetan
Church of St. Cajetan, situated in Old Goa, is a striking church inspired by St. Peter's Basilica in Rome.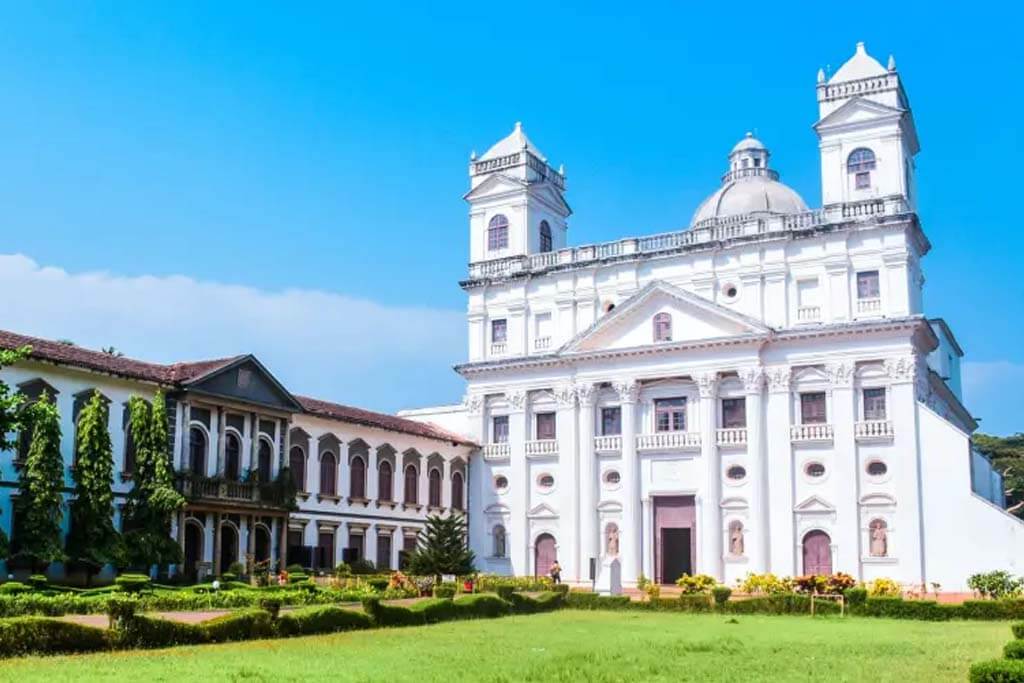 The church offers a peaceful environment for thought and meditation. It is well recognized for its elaborate carvings and construction in the Corinthian style.
Its grandeur and historical significance make the Church of St. Cajetan a must-visit destination for those interested in exploring Goa's colonial heritage and architectural marvels.
Markets and Shopping
1. Anjuna Flea Market
Every Wednesday, the lively and bustling Anjuna Flea Market in Anjuna, Goa, draws both locals and visitors.
The market is famous for its bohemian atmosphere and offers various products like clothing, jewelry, handicrafts, accessories, and souvenirs.
Read also: Places to Visit in Jaipur
Visitors can explore the colorful stalls, negotiate prices, and immerse themselves in the lively ambiance of this iconic flea market in Goa.
2. Mapusa Market
The lively and busy Mapusa Market in Mapusa is home to a vast selection of goods and merchandise.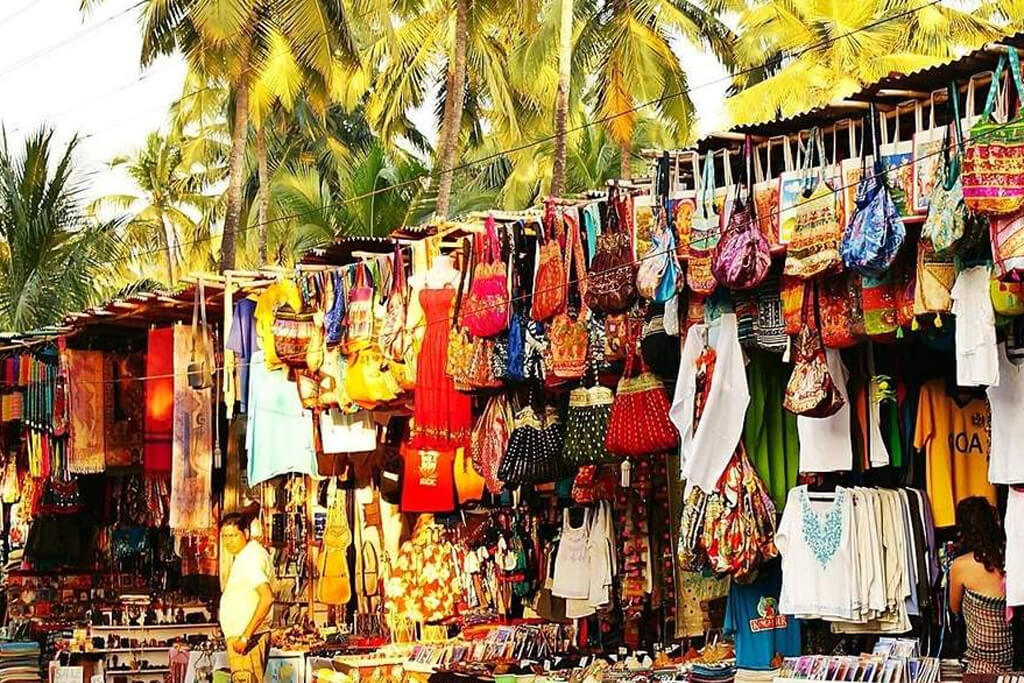 Everyone can find something at Mapusa Market, which offers everything from local specialties, fresh food, and spices to clothing, accessories, and home goods.
Visitors to this authentic Goan market can stroll through the bustling aisles, talk to local merchants, and take in the vibrant ambiance.
Goan Cuisine and Foodie Delights
1. Goan Fish Curry
Goan Fish Curry is a signature Goa dish known for its rich and tangy flavors.
This curry captures the area's authentic flavor by combining spices, coconut milk, and tamarind. Served with steamed rice, it is a must-try delicacy for seafood lovers visiting Goa.
2. Prawn Balchao
Prawn Balchao is a fiery and tangy Goan dish that tantalizes the taste buds.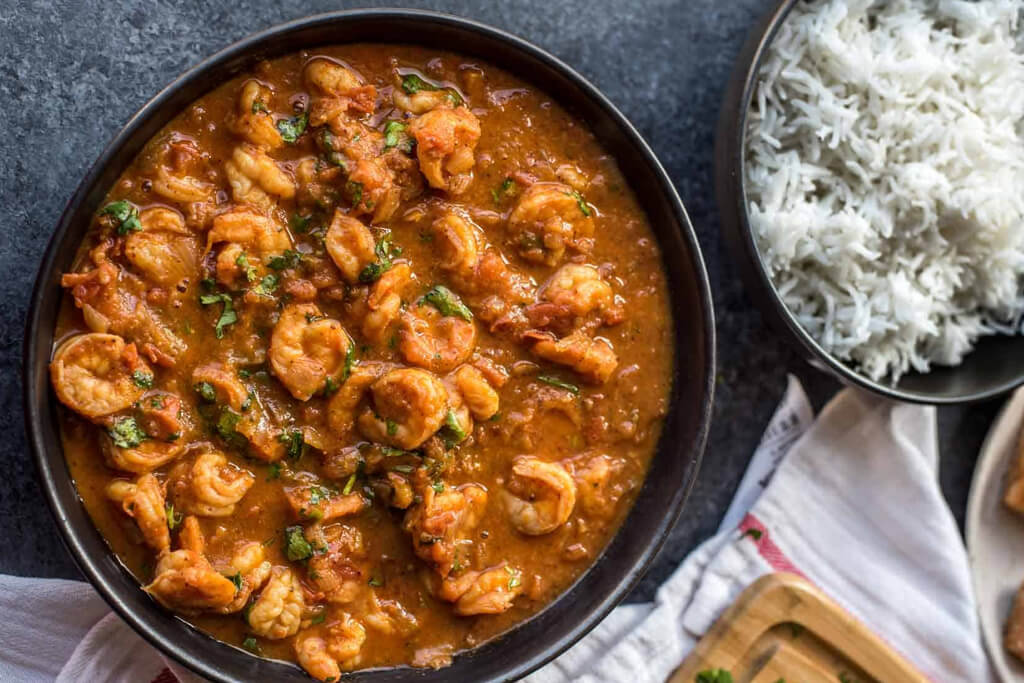 It provides the ideal balance of spice and vinegar and is made with marinated prawns cooked in a tasty mixture of spices, vinegar, and dried red chilies. Prawn Balchao is a popular and flavorful delicacy showcasing Goan cuisine's unique flavors.
Nightlife and Entertainment
1. Tito's Lane, Baga
Tito's Lane, located in Baga, Goa is a vibrant and lively nightlife and entertainment hub.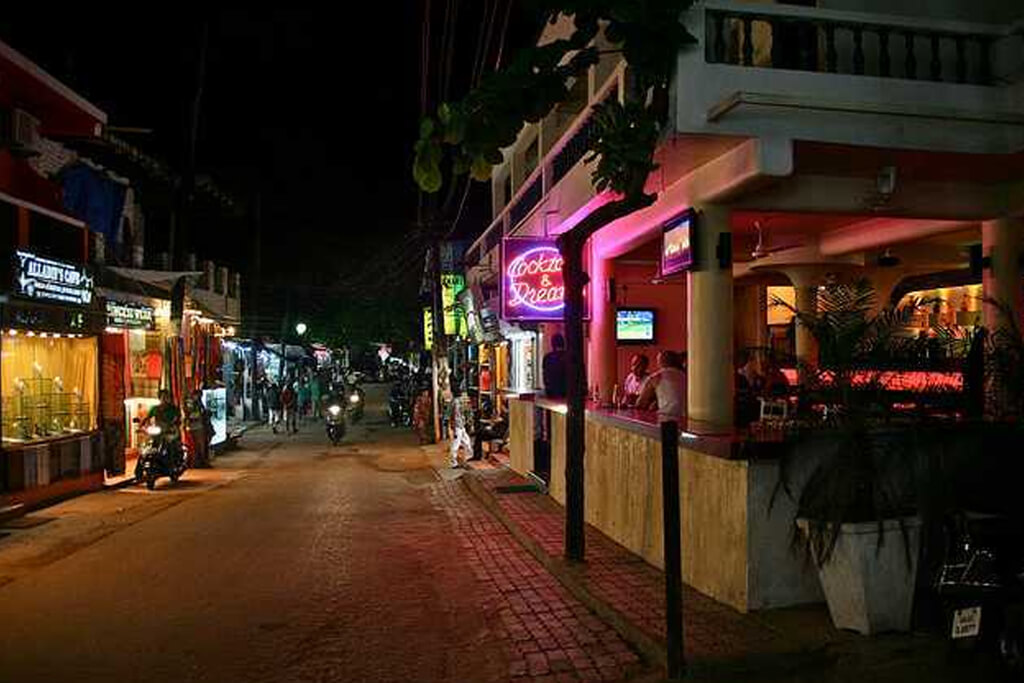 It offers an exciting atmosphere, live music, and the possibility to dance the night away. It is lined with clubs, pubs, and restaurants. Tito's Lane is a must-visit destination for partygoers and those seeking a vibrant nightlife experience in Goa.
2. Club Cubana, Arpora
Club Cubana, nestled in Arpora, Goa, is a renowned open-air nightclub that promises a unique and exhilarating experience.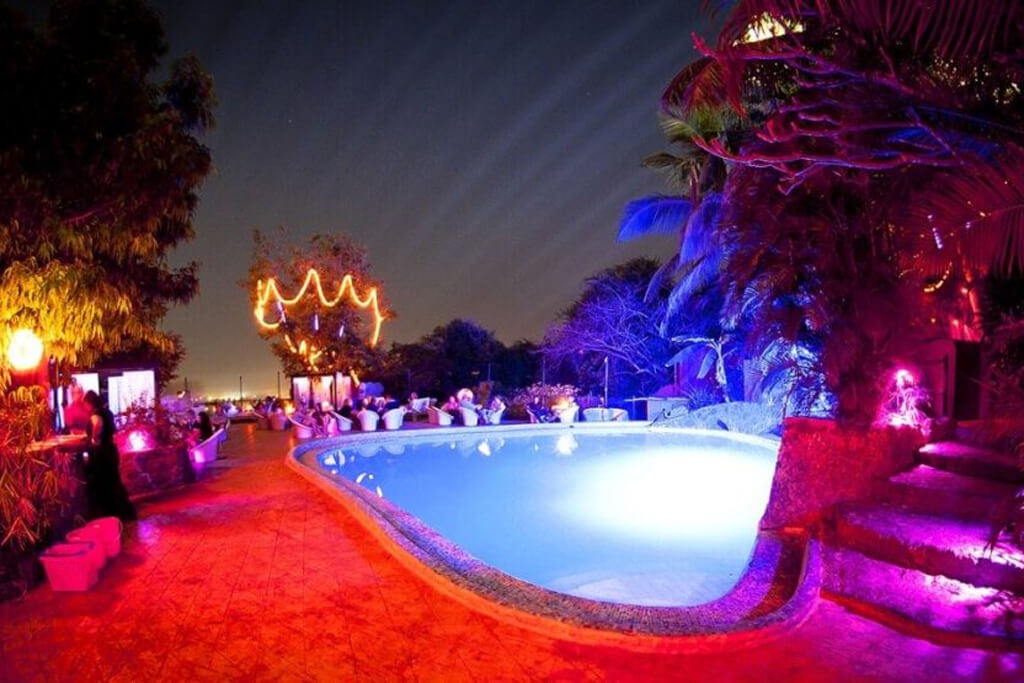 It is situated on a hilltop and features various levels, a swimming pool, an energizing ambiance, and breathtaking vistas. Club Cubana is a must-visit destination for party enthusiasts seeking an unforgettable night of dancing and entertainment in Goa.
Offbeat Experiences and Day Trips
1. Divar Island
Divar Island, situated in the Mandovi River, is a serene and picturesque island near Goa.
Known for its rustic charm, traditional villages, and old churches, it offers a peaceful escape from bustling tourist spots. Exploring Divar Island provides an opportunity to immerse in the tranquility and beauty of rural Goa.
2. Chorla Ghat
Chorla Ghat, located on the border of Goa, Karnataka, and Maharashtra, is a scenic mountain range in the Western Ghats.
Known for its lush greenery, waterfalls, and breathtaking viewpoints, Chorla Ghat offers a tranquil and refreshing getaway. It is heaven for those who enjoy the outdoors and wildlife and wish to experience the region's pristine beauty.
Frequently Asked Questions