Planning to visit Delhi? Or are you a proud denizen of India's food capital, already? Well, whatever the case may be, the flavourful and soulful delicacies available at the famous street food places in Delhi are sure to tickle your tastebuds. Although not on the healthier side but easy on the pocket, they are a must-try at least once!
There are an umpteen number of roadside eateries, stalls, and dhabas that offer spicy and tangy treats from zesty chaats, and yummy bhel puri to steaming hot non-vegetarian Mughlai fare. Not to be missed are the traditional mithais, delicious cool kulfi falooda, and lots more!
Famous Street Food Places in Delhi
So, for the foodie in you, let's experience the top street food places in Delhi that are not only popular, and reasonable but prompt in service as well!
1. Aslam Chicken Corner
Aslam's Chicken Corner doesn't need a background when we introduce their flavourful butter chicken. Made from freshly sourced spices, tossed with their secret recipe, and loads of butter, it is a must-try. It is every foodie's paradise!
Don't forget to order their famous, scrumptious Butter Fish, Tangdi Chicken, or the soft and spicy kebabs with Khameeri Roti, a thick bread prepared in tandoor. If you are in Old Delhi, this place shouldn't be missed.
Place: Jama Masjid
Time: 4 pm-12:30 pm,
Price: Rs. 300(for two people)
2. Daulat Ki Chaat
Daulat Ki Chaat must have been sweet and chilled! Traditionally from Afghanistan, it is a delicate sweet made by churning cream and milk continuously. It is mostly made in winter months as the dish has to be kept overnight. To serve, this dessert is lightly garnished with kesar, khoya, and sugar.
Tastefully decorated with chopped dry fruits, it is the top-rated place to savor this unique and best dessert. If you are looking to contrast the spicy street food, try this as a welcome change. It melts in your mouth and has a mild taste that lingers on for hours together.
Place: Raghu Ganj, Manohar Marker, Chawri Bazaar, Shahdara
Time: 9 am-9 pm.
Price: Rs 100 (for two people)
Also Read- Top 12 Places to Visit in Delhi & Things to Do
3. Moolchand Parantha
Moolchand Paranthas' traditional and best flavors keep pulling you back here. Parathas are a staple dish in India and they come in different varieties like aloo pyaaz parantha, egg parantha, paneer parantha mixed vegetable paratha, you name it and they have it! Team it with mango lassi and it fills your stomach as well as your heart.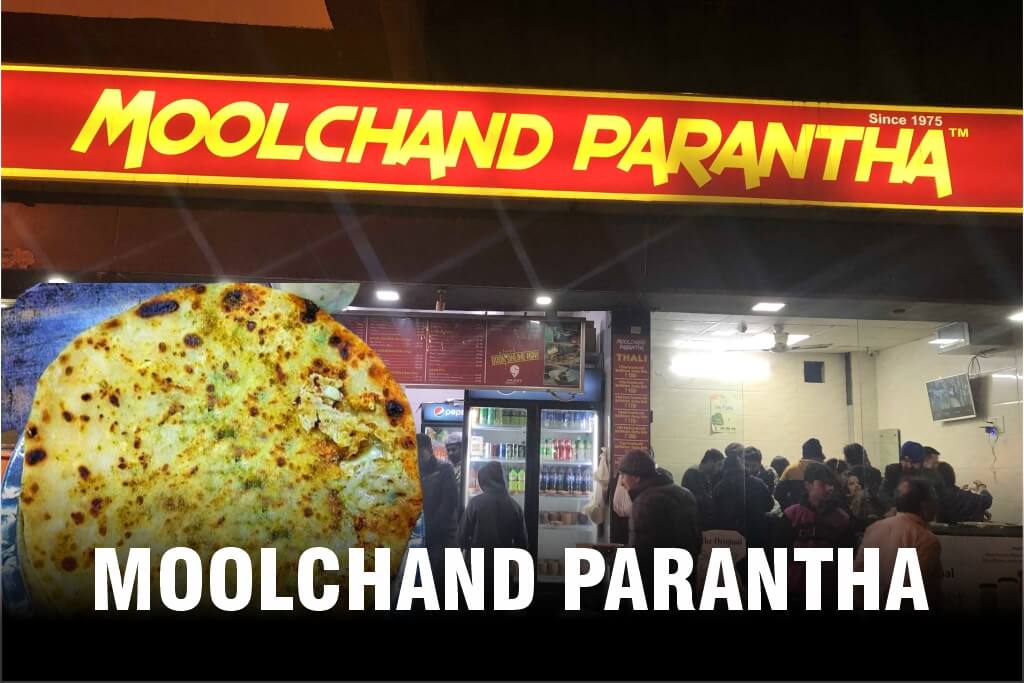 What's more, these paranthas don't come alone. They are served hot with delightful tangy chutneys, pickles, dollops of ghee, and curd. Their quick service and reasonable prices are a definite crowd puller.
Place: Lala Lajpat Rai Marg, Metro station
Time: 7:30 am-11 pm
Price: Rs.160 (for 2 people)
4. Arjun Bombay Pav Bhaji
Arjun Bombay Pav Bhaji is one of the best street food places in Delhi. Experience the spicy dish made with an assortment of vegetables and potatoes. Served with chopped onions, lemon, and coriander they are teamed with piping hot soft, buttery pavs that are relishing beyond measure.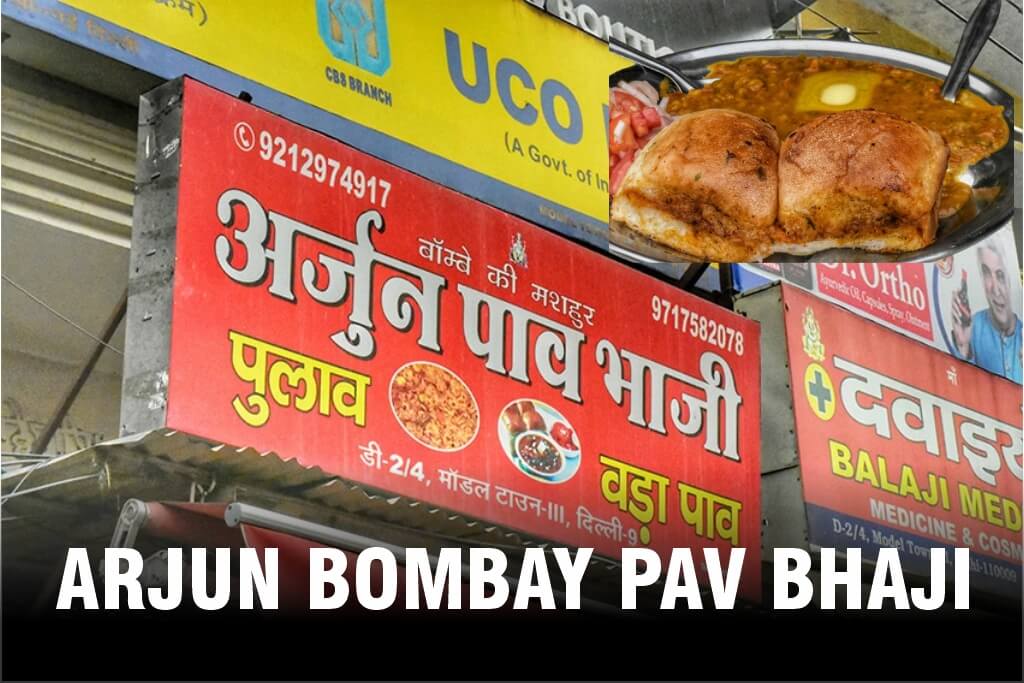 Don't forget to ask for the extra makhan pav served with tons of butter and diced tomatoes. The portions are filling and there is a perfect balance of spices. You can also gorge on their delicious Masala Pav Bhaji, Double Masala Pav Bhaji, Jain Pav Bhaji, Bombay Style Pav Bhaji, Tawa Pulav, and Vada Pav.  We bet you won't regret coming to this place as it is a pocket-friendly option too!
Place: Main Road, Model Town
Time: 5 pm-11 pm
Price: Rs 250 (for two people)
Also Read- Best Places to Visit Near Delhi
5. Roshan Di Kulfi
Roshan Di Kulfi is not just well-known for its falooda, ice cream, and gelato but other North Indian delicacies. They serve the best chaats like aloo tikki, bhel puri, bhalla chaat and tangy chole bhature in Delhi. With a lot many flavours, some really unconventional and special, you will be amazed by the crowds here.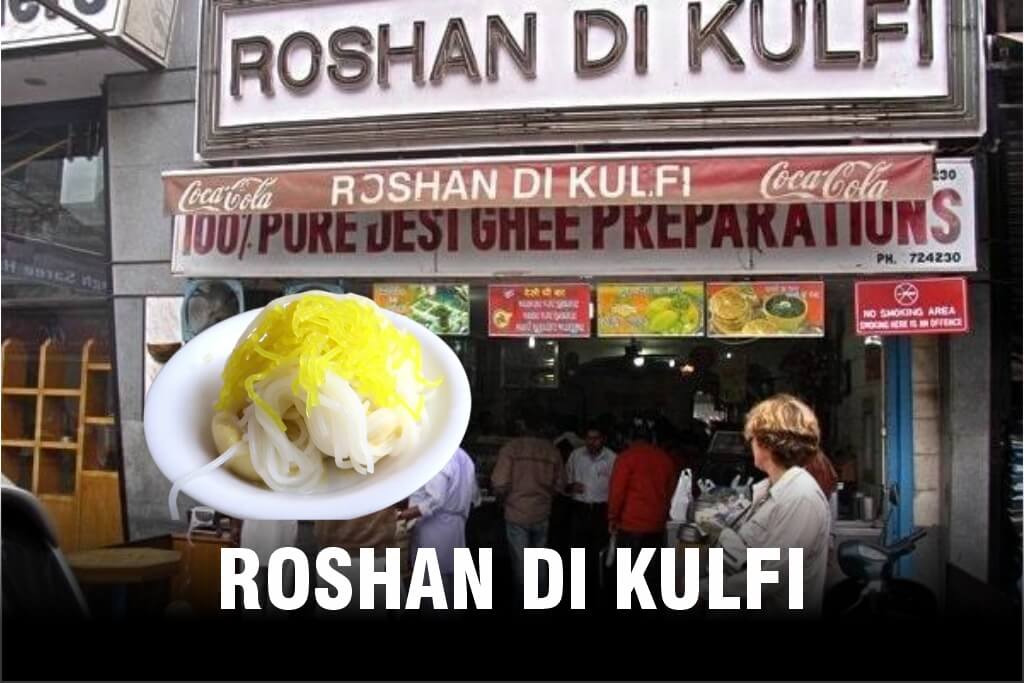 Undoubtedly, this frozen sweet is a savior from the hot and sweltering summer heat of Delhi. We are sure you will drool over their cool offerings and won't stop just at one!
Place: Karol Bagh
Time: 8 am-10 pm
Price: Rs 300 (for two people)
6. Ghalib Kebab Corner
Ghalib Kebab Corner usually remains open till midnight, routinely tossing its usual fare of scrumptious piping hot seekh kebabs, curries, nihari, and mutton biryani. Don't miss out on the mutton shammi kebab which is soft and flattering.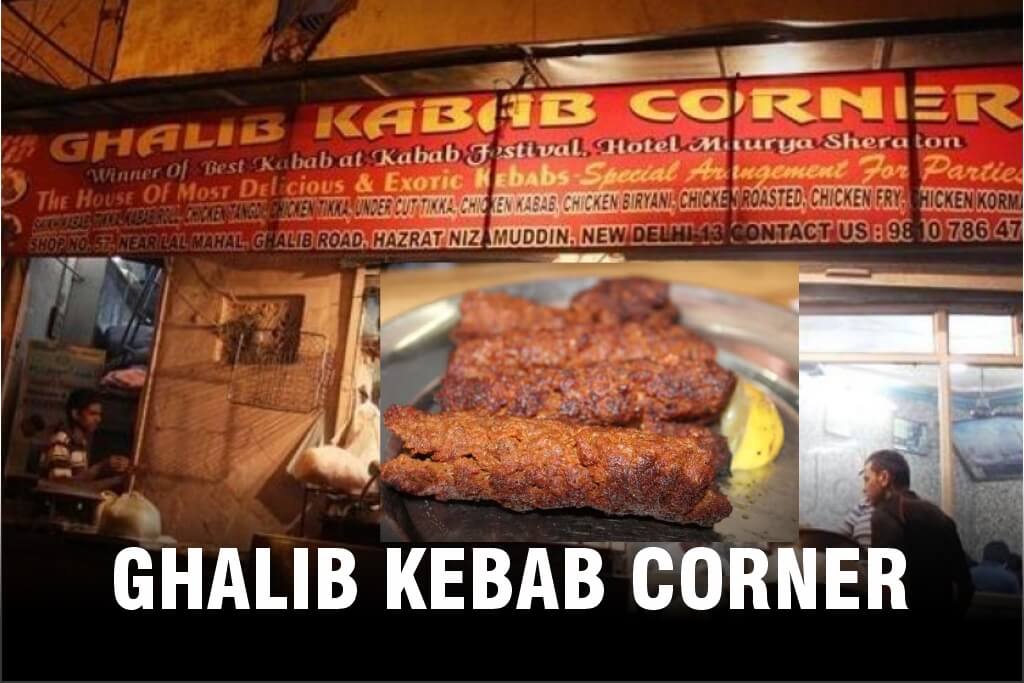 The spices, recipes, and cooking methods have been experimented with and perfected by every generation, resulting in authentic dishes and unique tastes. We bet the delectable food on your plate will satisfy your tandoori cravings.
Place: Nizamuddin
Time: 12 pm-12 am
Price: Rs 600 (for two people)
7. Prince Chaat Corner
Prince Chaat Corner is one of the top places to visit for their affordable prices. Be it savory gol gappas or delectable aloo tikki, they are served with a secret masala mix and an assortment of sweet, sour chutneys with loads of curd.
Their palak patta chaat, Bhalla papri, matar kulcha, raj kachori, and sev puri are lip-smacking treats for all. The aroma, flavors, and texture of the recipe, will make you come back again and again for more.
Place: Greater Kailash I
Time: 10:30 am-9:30 pm
Price: Rs. 400 (for two people)
8. Natraj Dahi Bhalla
Natraj Dahi Bhalla is the best place for a taste of typical North Indian street food. Their star dish is dahi bhalla, which is a soft lentil dumpling. Served with thick, creamy curd and topped with a tempting blend of spices and chutneys, it balances the sweet and spicy flavors instantly.
Another crowd-puller is the aloo tikki, which is a crisp, spicy potato patty. It pairs perfectly with the dahi Bhalla and dahi pakoris. So, don't forget to tickle your tastebuds with their tasty treats.
Place: Chandni Chowk
Time: 10:30 am-9:30 am
Price: Rs. 450 (for two people)
9. Dadu Cutlet Shop
Dadu Cutlet Shop is a tiny place that is famous for its mutton chops, Mughlai Paranthas, fish cutlets, and double egg mutton Mughlai. They also serve some amazing vegetarian cutlets which are full of assorted flavours.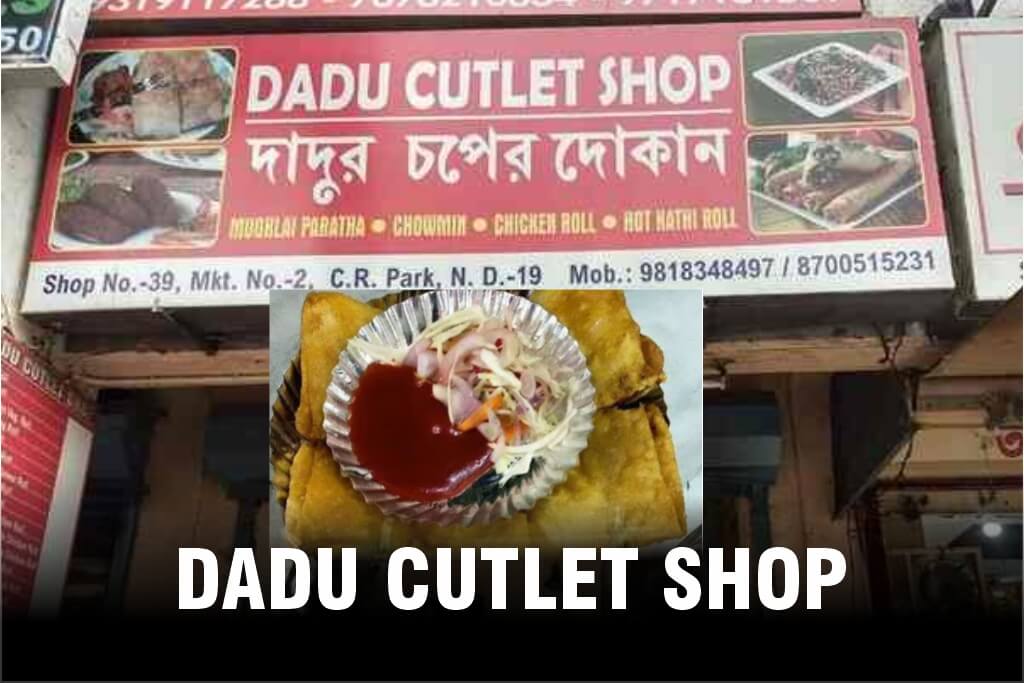 You can also satisfy your sweet tooth here with an array of options available in sweets.  Do taste their Bengali delicacies, Mishti Doi and rasgulla, which will remind you of Kolkata in our very own Delhi. Again,  a very pocket-friendly option to have a taste of mini Bengal in North India!
Place: Chitranjan Park
Time: 5 pm-10 pm
Price: Rs. 150 (for two people)
10. Changezi Chicken
Changezi Chicken is the favorite haunt of hardcore non-vegetarians. This is their signature dish which is slowly and patiently cooked on a huge pan on a slow flame.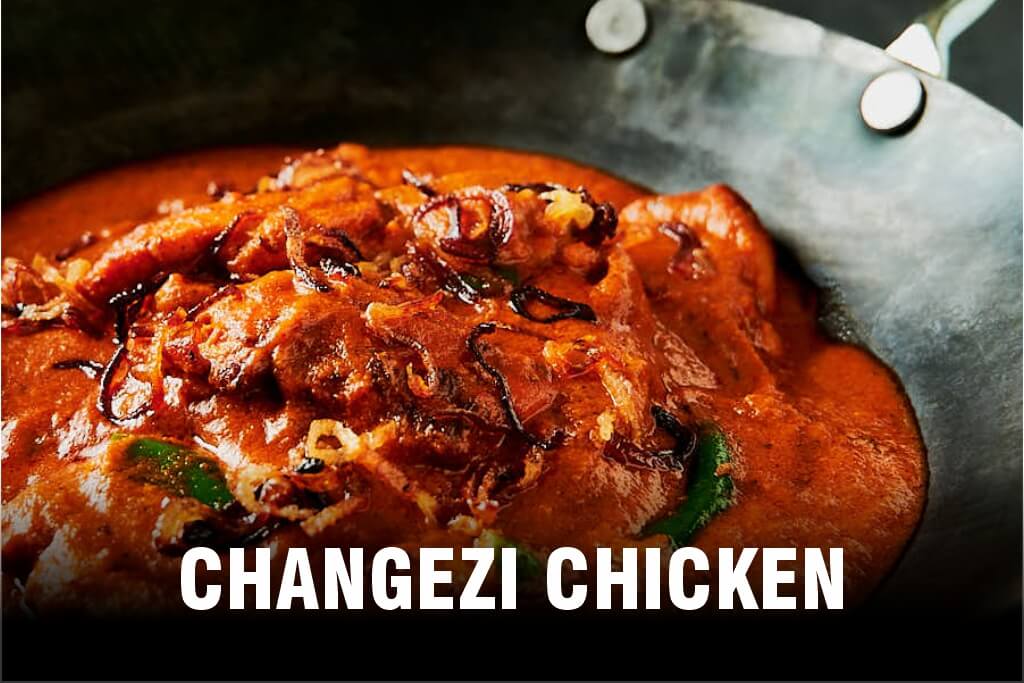 This cooking process makes the meat tender and of course, delicious. Also, try their amazing butter tandoori chicken and chicken malai tikka. You can guess the popularity of the place as you watch the steaming hot plates disappear in a matter of seconds.
Place: Pitampura, Tagore Garden, Karol Bagh
Time: 1 pm-11 pm
Price: Rs. 600 (for two people)
Also Read- Best Luxury Hotels to Stay in Delhi for Tourists
Conclusion
There is no doubt that Delhi's street food bears witness to its rich culinary heritage and diverse culture. From the spicy and savory to the sweet and refreshing, these 10 famous street food places offer just a glimpse into the vibrant and colorful world of Delhi street food. Whether you're a foodie or simply looking to explore the local cuisine, these street food destinations are a must-visit when you are in the capital.
So, get ready to discover the best places offering the best of cuisine in the bustling streets of Delhi. The flavors are all yours to savor and explore!