With over 40 million international visitors to the islands alone in 2019, the United Kingdom has long been a popular European tourism destination. You may also easily move from barren heathland to magnificent beaches due to its manageable size and good transportation network..
However, choosing the most beautiful places to visit in the UK might be challenging because there is so much to see and do. Here are some of our top places to visit in the UK for people who wish to see everything the nation has to offer in order to help you narrow down your options.
United Kingdom – A Brief Overview 
The United Kingdom, one of the most powerful nations on earth, receives a ton of visitors each year. The nation has multiple destinations to visit in the UK and is well-known as a cultural and historical destination because of its Scottish scenery, and British royal family. 
You may either take a train to a university town like Oxford to see its history and traditions or you can attend a performance on the streets of London. In spite of the fact that there are literally hundreds of destinations to visit in the UK, just a handful of them stand out.. 
Top 12 Best Attractions In United Kingdom For Your Vacation
It could seem that the UK is a very busy travel destination. But if you use this list of the top places to visit in the UK to schedule your sightseeing, you will not have any difficulty making the most of your time.
1. Cambridge
Cambridge is a lovely English city located just north of London on the River Cam. Being one of the best tourist attractions, Cambridge boasts all of the cultural and leisure offerings one would expect from a college town, as it is home to one of the world's best colleges, the University of Cambridge.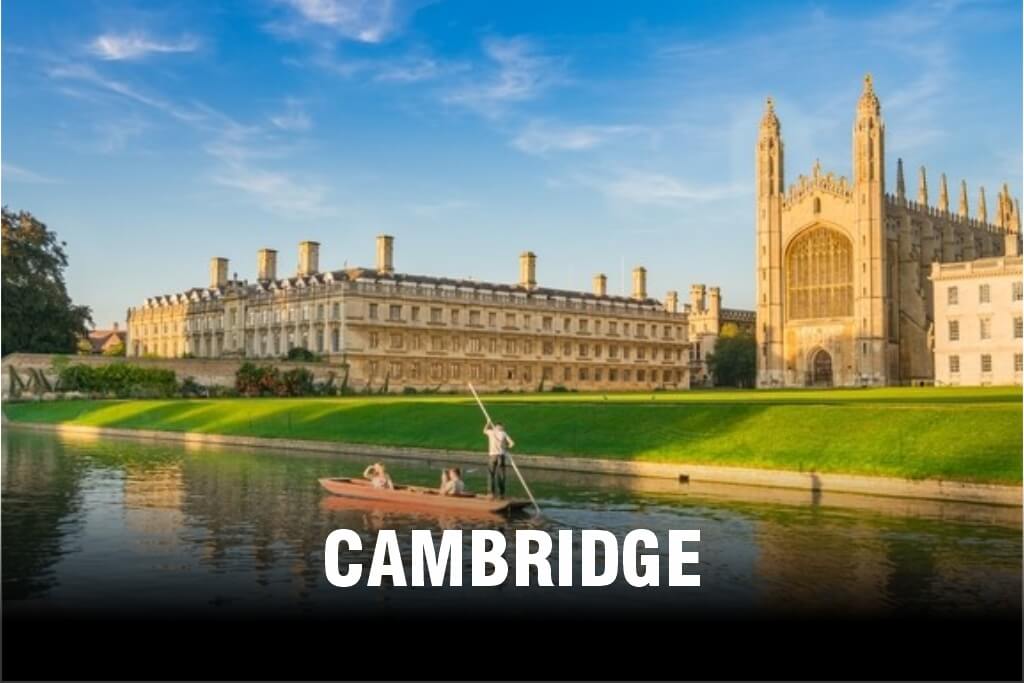 One of the most popular attractions in the city is the King's College Chapel, a remarkable example of perpendicular Gothic architecture that is located beside the River Cam. 
A winter garden, mature trees, glasshouses, and 8,000 different varieties of plants and flowers may be found at the Cambridge University Botanic Garden. More than 150 years have passed since it began attracting tourists.
The lush environs of Cambridge make the ideal setting for a variety of outdoor activities. Along with traditional activities like walking and cycling, the Cam River is a perfect location to experience punting, which includes using a stick to control a flat-bottomed boat.
2. Snowdonia
Snowdonia, a fantastic national park, is one of the most beautiful places to visit in the UK. There are no words to express the breathtaking 360-degree views of the mountains, valleys, and shore below. Visitors may even see Ireland on a clear day.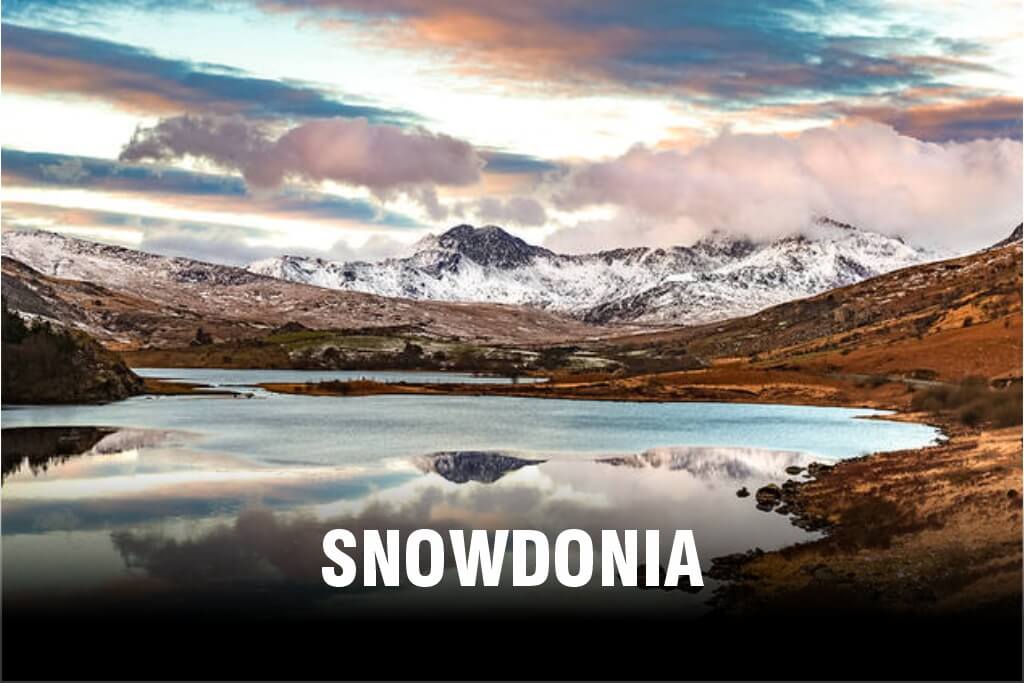 Snowdonia, located along the coast of Wales, is home to Snowdon, the tallest peak in Wales and England, as well as the biggest lake in Wales. It is the United Kingdom's third-largest national park.
Out of the many tourist attractions in the UK, this one is a haven for hikers and mountain bikers alike. Even riding a narrow-gauge train in Snowdonia is an option for those who wish to comfortably take in the spectacular surroundings.
There are about 26,000 people who reside in the park; they work in tiny towns that serve food, offer housing, and make regional crafts. Dolgellau is home to the National Centre for Welsh Music, while Llanberis, a town famous for its slate, now serves as the National Slate Museum. 
3. Cornwall
Cornwall is picturesque and rural, but also rugged and far away. Cornwall, the westernmost point of the United Kingdom, is a peninsula with rocky cliffs that look out over the water on one side and popular tourist beaches on the other.
Once upon a time, this famous place was a sanctuary for smugglers and pirates. The coast of Cornwall was perfect for these roles, inspiring Gilbert and Sullivan to make love to them in their opera "The Pirates of Penzance".
4. Edinburgh
From the cobblestone alleyways to the beautiful Edinburgh Castle, visitors to Edinburgh should expect to be immersed in history. Edinburgh is a city steeped in history, starting with the Old and New Towns, which together include more than 4,500 historic structures.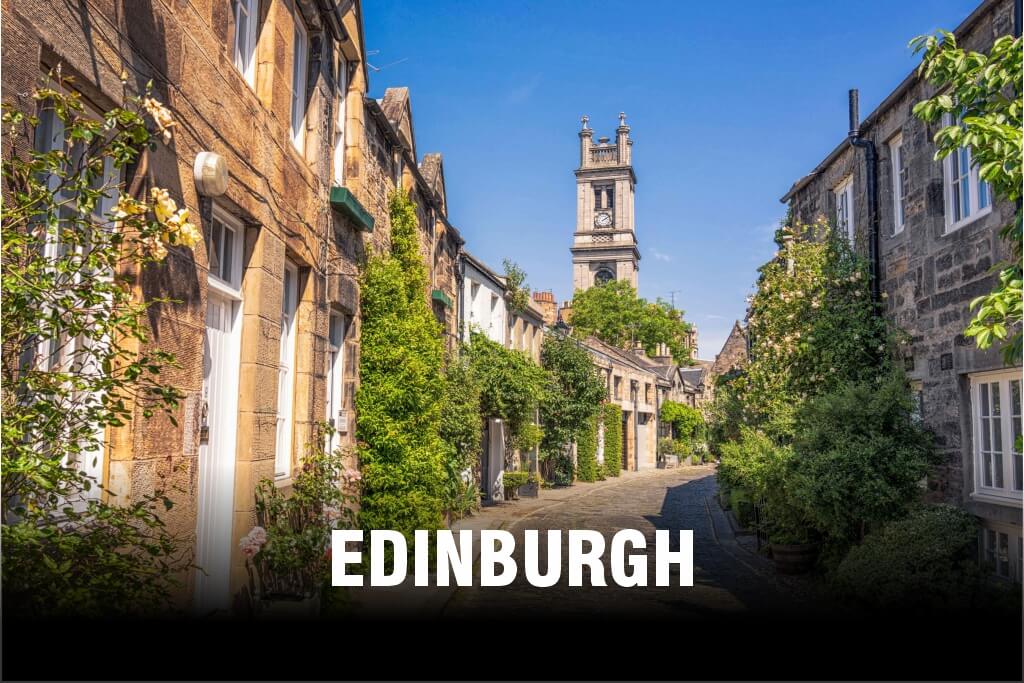 Being one of the most peaceful places to visit in the UK, Edinburgh Castle, perched on a hill overlooking the city, symbolizes the Old Town and its rich history. The Royal Mile, which connects Edinburgh Castle with the Palace of Holyroodhouse, is located in Edinburgh's Old Town. 
Many people start their trip to Edinburgh by walking the Royal Mile. Following this trip, visitors may like to visit Grassmarket, a historic market site where public executions were once held.
5. Scottish Highlands
The severe northern and northwest parts of Scotland are known as the Highlands. This is the Scotland that comes to mind when you think of tartan, kilts, lochs, and Braveheart. Being one of the best places to visit in the UK, the Scottish Highlands is sparsely populated, and many mountain ranges, including Britain's tallest peak, Ben Nevis, dominate the scene.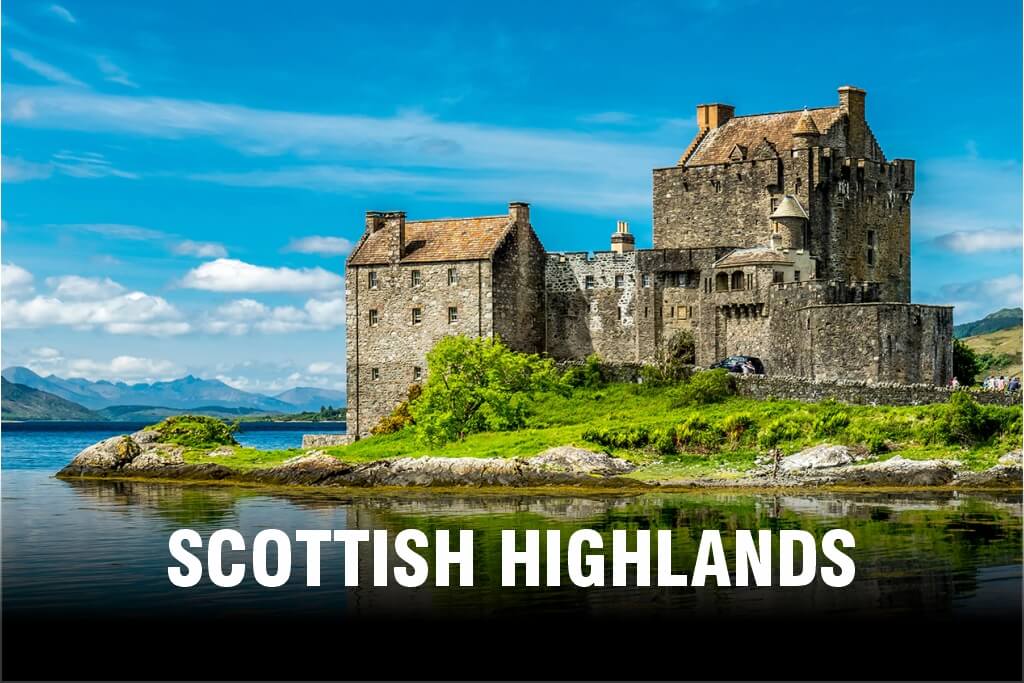 The Highlands are home to several magnificent castles, such as Dunrobin Castle and Eilean Donan Castle, which is situated on a tiny island in Loch Duich. It was rebuilt numerous times into a "perfect" castle and is well worth a visit because it has a lot of interesting rooms and exhibits. 
It can only be reached by going across a stone bridge. The Highlands may also be home to Loch Ness, Scotland's most famous lake. Most regions are around a mile wide.
6. Chester
Near the Welsh border, in the English county of Cheshire, lies Chester. It is situated on the River Dee. The city has a rich history, culture, and architectural diversity due to its almost 2,000-year-old age. The city features characteristic black-and-white Renaissance architecture from the 19th century.
Roman and medieval fortifications in the city are a well-liked tourist attraction. Once their defensive function was no longer needed, they were converted into an elevated promenade around the city. It takes about an hour to traverse the full two-mile round, but most visitors will find something to pause at and take in along the route.
River cruises are a popular way to see the city's distinct ambiance and breathtaking scenery. Walking trips are also available to see the historic city. The city's illustrious past gives enough material for ghost tours.
7. London
London is one of the most sought-after places to visit in the UK it is full of history. It has a vibrant theatrical culture, gorgeous green parks, fantastic eating and shopping options, and, of course, the monarchy. The city of London truly has everything.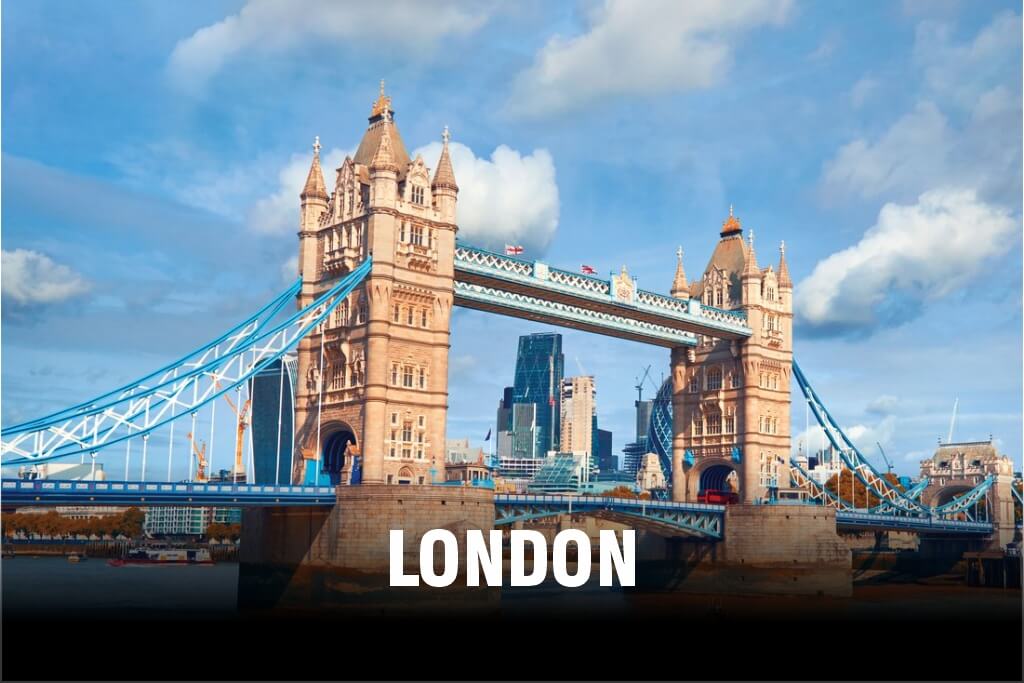 From its museums and palaces to famous buildings like Westminster Abbey, the English capital is a city steeped in history. Many of the nation's greatest leaders, including kings, legislators, authors, and stateswomen, are buried there. 
Three of the most well-known museums in the world—the British Museum, Natural History Museum, and Tate Gallery—are free to visit. A must-do activity is to observe the minutes at Buckingham Palace and the changing of the guard.
8. Yorkshire Dales
The Yorkshire Dales National Park, with its valleys and moors, rivers, and streams, is one of the best places to visit in the UK if you appreciate the great outdoors. The Dales provide an extraordinarily diversified terrain ideal for adrenaline enthusiasts wishing to go caving, rock climbing, and abseiling down waterfalls.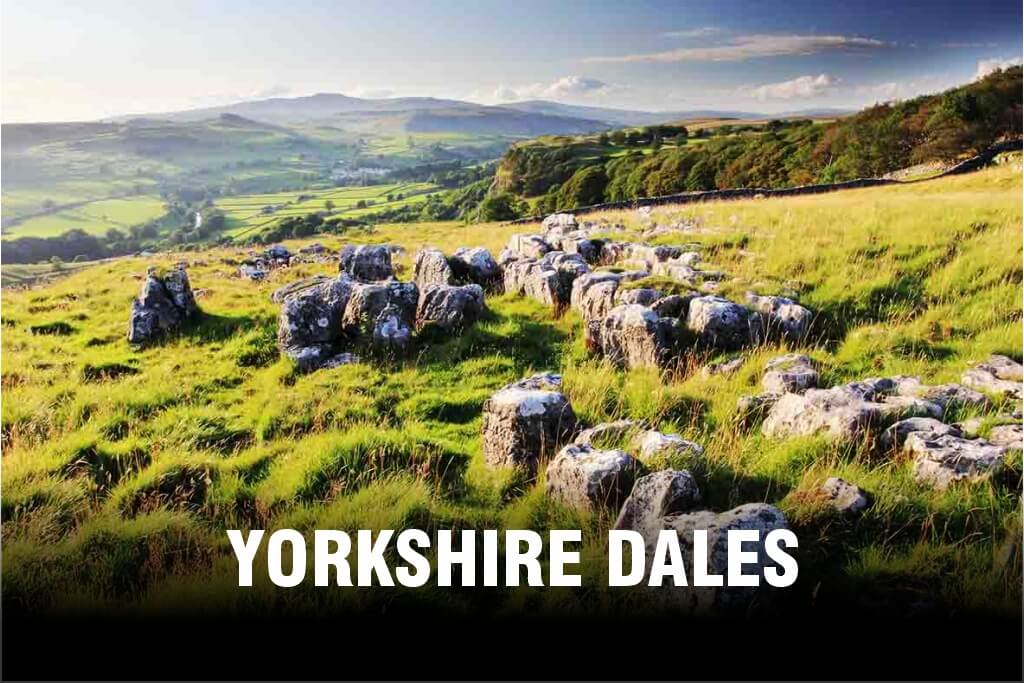 You may always take on the Three Peaks Challenge if you want to try something more challenging. Being one of the most exciting and best places to visit in the UK, this difficult trek is more than 36 kilometers long. It offers stunning views of Pen-y-Ghent, Whernside, and Ingleborough peaks.
However, riding a bike is the best way to see the Dales. You may stop in at the picturesque towns of Burnsall and Malham on your bike and sample some excellent cheese at the Wensleydale Creamery. 
A visit to one of the several historical sites in the area is highly recommended for history buffs. This includes the demolished Fountains Abbey, one of England's greatest Cistercian monasteries, and the 14th-century Bolton Castle. 
9.
One of the best places to go in the UK if you want to truly escape from it all is the mountainous Lake District, which is England's largest National Park. Indeed, the region was home to both Beatrix Potter and William Wordsworth. 
With its rocky moors, glacial ribbon lakes, and rolling green valleys, the region also offers a wealth of outdoor recreation opportunities. From canoeing and lake trips to cycling and mountaineering, there is something for everyone.
At the same time, visitors can take in the greatest views of the renowned Lake Windermere. But wherever you go or what you do, there will always be a cozy café or bar ready to welcome you inside, come rain or shine.
10. Stonehenge
One of the most beautiful destinations in the world, Stonehenge is composed of earthworks that enclose a circle of massive standing stones in south-west England. With more than 200 listed monuments, it also features some of the most important Neolithic and Bronze Age buildings and structures in the UK.
Being one of the most popular places to visit in the UK, Stonehenge required three stages to be built properly. The initial stage was the construction of the first Henge approximately 3100 B.C. There was an earthen bank, a circular ditch, and Aubrey holes. 
Aubrey holes are circular, one-meter-wide excavations found in the chalk layer of the soil. Experts claim that the tunnels were used for burials or religious ceremonies. Shortly after this initial phase was finished, the site was abandoned. 
11. Norfolk
Think of pristine beaches, picturesque canals, tranquil villages, and lively market towns. All of that and more in Norfolk. Visitors frequently overlook this little area of England's east coast, but this should not be the case. The 200 kilometers of stunning rivers that make up the man-made Broads demand to be explored by boat, canoe, kayak, or bicycle.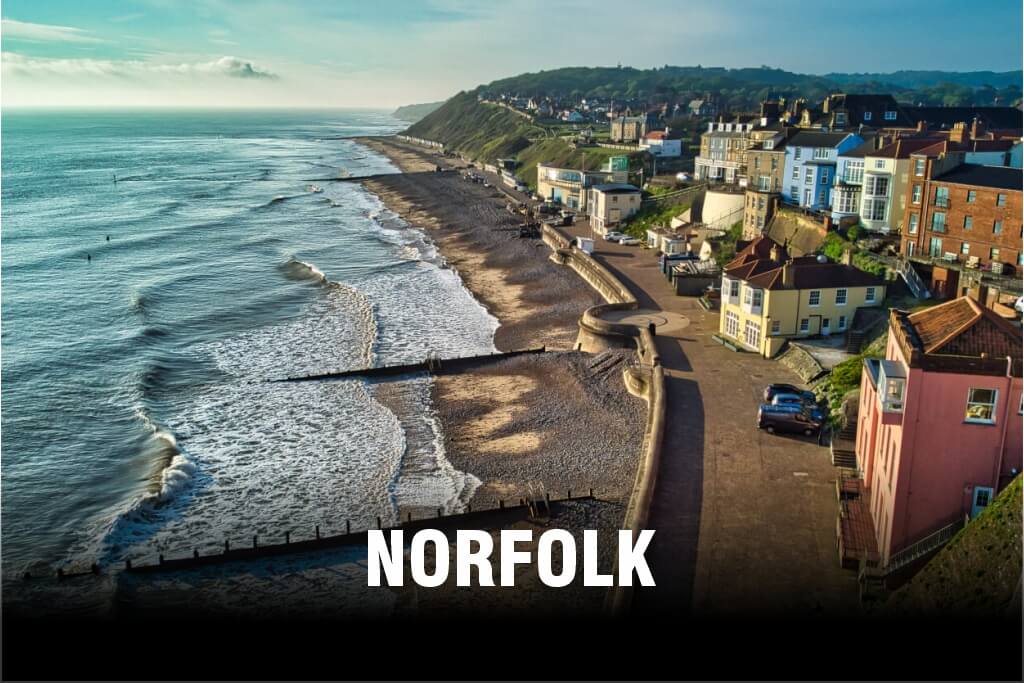 Along Norfolk's northern shore, there are also lovely beaches, excellent seafood (try the renowned Cromer Crab), and a wealth of animals. Even better, you can take a boat excursion to Blakeney Point, where there are more gray seals than anywhere else in England.
Hunstanton is a great place for families to go windsurfing, water skiing, and kitesurfing because of its shallow, safe water. Golden Mile in Great Yarmouth offers the classic British beachfront experience.
12. Roman – Era Bath
Bath, one of the smallest cities in the UK, more than makes up for its small size with an abundance of attractions. For more than 2,000 years, people like you and I have been drawn to the healing waters of this lovely city, which takes its name from its renowned Roman Baths.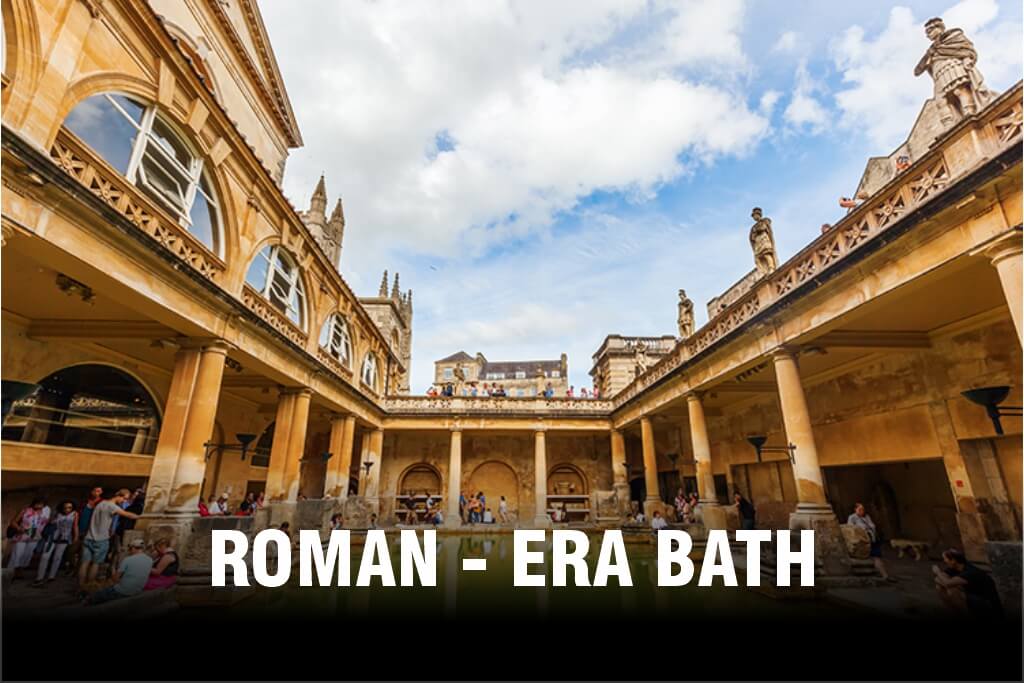 The water, which is considered to have therapeutic capabilities because it contains 43 different minerals, flows out of three hot springs at a constant temperature of 46.5 degrees Celsius after traveling 3,048 meters at a rate of 275,000 gallons each day. 
Realizing that you are standing just feet from the same hot springs that Romans and early Britons enjoyed 2,000 years ago is both an amazing sight and a little unsettling.
Being one of the best places to visit in the UK, Bath offers breathtaking views of important landmarks like Bath Abbey as well as a stunning rooftop pool that uses the same water as the Roman Baths.
Wrapping Up
So, these were some of the most popular tourist destinations that you must visit when in the UK. Hope you found this blog informative and valuable. Stay tuned to this space for more such content on your way.
Frequently Asked Questions