Almost all of us have been to an amusement park and spent some really happy moments. What if we tell you about Wupi India, which is one of Gurgaon's biggest and best amusement parks? Along with a plethora of rides that will delight you, the food here is also delectable.
Wupi India Trampoline Park Gurgaon offers a wide range of activities, including open dodgeball courts, foam pits, jump areas and basketball hoops.
Ranak Jasuja is the founder of Wupi India Trampoline Park Gurgaon. He has opened this beautiful park in October 2023. It is located at Grand Arch, adjoining IREO, Sector 58, Gurugram.  It also organises special events and activities, such as corporate events, birthday parties, and group outings.
Wupi India offers its visitors the exclusivity of a comfortable café and a vibrant gaming and party section. A glow-in-the-dark amusement park, Wupi ensures that visitors get value for money, comfort, and exciting fun moments every time. So, if you are in Gurgaon, Wupi India is a must-see amongst the best party places in Gurgaon. If you are looking for an exciting birthday & kitty get-together or an entertaining place, Wupi India Trampoline Park is the place to be!
It's a fun destination for scores of people coming here every day. However, the number of tourists coming here on weekends has increased by a considerable number.
Overview of Wupi Trampoline & Amusement Park Gurgaon
This time says no to the usual clichéd hangout plans like going to a movie, shopping, or sitting in a café. Seek thrill and adventure in unconventional ways to have an absolute blast with your friends and family. 
Wupi Trampoline Park Gurgaon Address-

 

Wupi India, Grand Arch, adjoining Ireo, Sector 58, Gurugram, Haryana 122018

Ticket Price: 1 hour of any activity is 700 for weekdays and 850 for weekends.
Organises Special Events: Corporate Events, Birthday Parties, and Group Outings.
Wupi India Contact Details:
            Mobile: +91 9057009067
            Email: Hello@wupiindia.com
Type:

It is a recreational trampoline & amusement park
Wupi India Nearest Metro:

S

ector 55/56 Metro Station

is 155 meters away, it is just a 5-minute walk.

Wupi India Near Railway Station:

Gurgaon Railway Station (GGN)

, located about 4 km from the city centre, is the major entry point for travellers coming to the city by train.
Also Read-
Know More Trampoline Parks in Gurgaon
Wupi Trampoline Park Gurgaon All Activities
Enjoy all the fun activities at Wupi India Trampoline Park Gurgaon such as climbing, jumping, dunking, and other activities.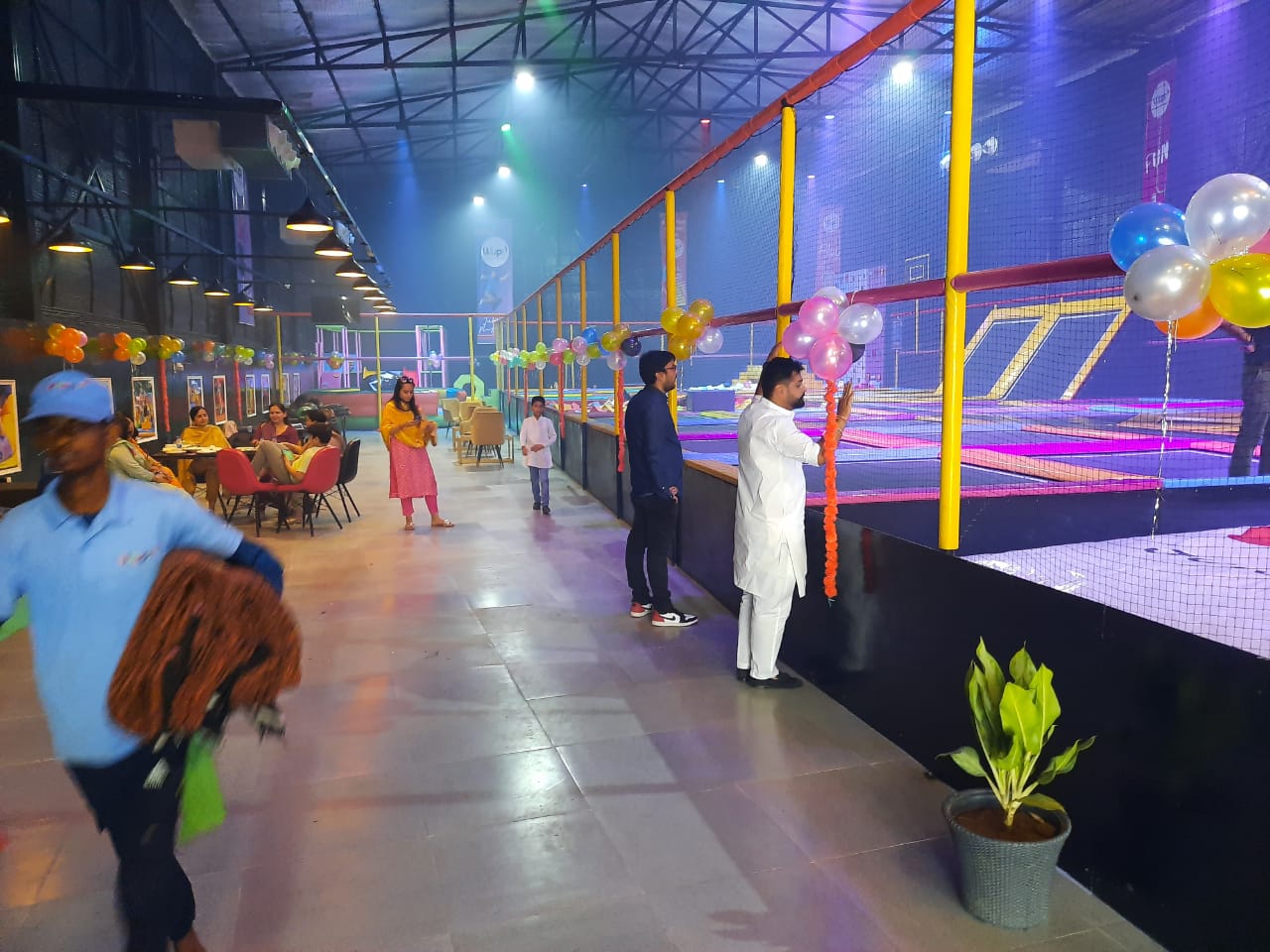 1. Free Jump
If you wish to soar through the air with oodles of freedom on the trampoline bed, visit Wupi India. Feel the thrill of defying gravity as you bounce and flip.
2. Trampoline Bed with Basketball
Imagine the unlimited fun when you combine the excitement of basketball with the gravity-defying fun of trampolining. Dunk like a pro as you jump and reach for the hoop.
3. Wipeout
Adventure sets out to reach a new high as you find your way through a challenging course where precision and agility are key. Dodge and jump over rotating obstacles, and test your balance and reflexes in this thrilling activity.
4. Dodge Ball
Now come to test your strategy, speed, and accuracy as you dodge, dip, duck, dive, and throw in a fast-paced game of dodgeball on the trampoline. Remember, with every bounce, the challenge gets bigger and tougher!
5. Battle Beam
The key skill here is balance as you try to knock off your opponent. The padded jousting sticks used here, add a competitive advantage to your aerial duels.
6. Wall Climbing
The vertical challenges on the climbing wall, test your strength and determination as you try to conquer new heights.
You can experience the satisfaction of reaching the top and enjoy the unique view from above.
7. Tarzan Rope Jump at Amusement Park
Feel the rush of adrenaline as you swing from the Tarzan rope at the amusement park. Experience the thrill of a daring leap in a heart-pounding adventure with loads of excitement.
8. Soft Play Area
Designed for the kids, the soft play area offers a fun venue for under-4 kids. There are soft padded structures where the little ones can crawl through tunnels. No doubt, it is a secure environment for them.
9. Play Gym for Under 4 Kids
Wupi India at Gurgaon has a specially crafted play gym tailored for the youngest adventurers. There are activities and equipment for age, which ensures a fun and safe space for toddlers to explore and play.
10. Roller Foam Pit
Leap into a sea of soft foam cubes while experiencing a cushioned landing like never before! You can dive, or simply enjoy the feel of floating in a roller foam pit.
How To Reach Wupi India Gurgaon from Delhi NCR
The Yellow Line (Line 2) is a metro rail line of the Delhi Metro. It consists of 37 stations from Samaypur Badli in Delhi to Millennium City Centre in the neighbouring city of Gurgaon. You can reach Sector 55/56 Metro Station and thereafter walk down or take a cab.
Wupi India Gurgaon Ticket Price 2023
All activities have a fixed price. Wupi India Ticket prices for 1 hour of any activity are 700 for weekdays and 850 for weekends.
Wupi India Gurgaon Offline Booking Details
Wupi India does not offer online ticket services. It sells offline tickets, you can buy tickets by visiting Wupi India. For booking related details you can contact mobile no at 9057009067.
Wupi India Amusement Park Gurgaon Timings
Wupi India Gurgaon timings are 11:00 am to 9:00 pm for Monday to Thursday And Friday to Sunday is 11:00 am to 9:30 pm.
Is Photography allowed at Wupi India?
Photography is allowed in the park, but specific policies and restrictions may be in place. It is advisable to check with the park authorities for any photography guidelines.
Is there a parking facility available at Wupi India?
Wupi India offers good parking spaces where you can easily park 2-wheelers and 4-wheelers. Here, parking fees are free of cost. There are also clean washrooms available.
Required Time: 5 to 6 hours at Wupi India is fine to explore all major attractions.
Wupi India Facilities
–
Lockers & Changing Rooms

First Aid
ATM Counter
Parking
Cloak Room
Wheelchair / Pram
Dormitory
Resort
Lost & Found Counter
Prayer Room
Student Briefing
Baby Nursing Room
Read Related Article-
Explore Top 5 Places to Visit Near Trampoline Park, Gurgaon
Wrapping Up
Get ready for an exhilarating experience at Gurgaon's very first Trampoline park, packed with a wide array of exciting and challenging activities to satisfy your heart and soul. Prepare yourself for a fun-filled day with climbing, partying, jumping, and so much more at Wupi India, where fun is not just promised, but guaranteed!
Frequently Asked Questions