Tokyo is one of those places in the world that has a vivid global and cultural identity making it stand out from the rest.
It is home to tea ceremonies, manga cafés, sushi bars, Buddhist temples, meditative shrines, and skyscrapers which are the birthplaces of the most intelligent technologies the world has ever seen.
The capital of Japan offers a treasure box of the best Japanese Tourist attractions that you should add to your bucket list this year.
10 Tourist Destinations and Things to Do in Japan that Can Blow your Mind
1. Sensō-Ji Temple
If you ever visit Asakusa in Tokyo, you must take a trip to the oldest temple in the city, Sensoji.
Founded in 628 AD, it is a popular spot of tourist attraction with more than 30 million people visiting this temple every year.
Visitors are required to purify their minds and body at the Water Hut or Omizusha before entering the temple. All you have to do is collect the water flowing from the mouths of the eight dragons as guided by the description given in the hut.
Another spot to purify your body is at the front of the main hall where you can find an incense burner or a Jokoro.
Apart from visiting the temple, you can try out a kimono from the rental stores found nearby and visit the little gardens and shrines around the temple.
If you want to experience the divine atmosphere in its most vibrant form, make sure to visit this place during festivals like Setsabun (Feb 3), and Sumidagawa fireworks festival (August).
On the 3rd weekend of May, you get to experience the Sanja Matsuri festival with the biggest burst of colors and sounds.
Places to stay: Hotel Tavinos Asakusa, The Kanzashi Tokyo, the Gate Hotel Kaminarimon by HULIC, Far East Village Hotel Tokyo, Hotel Trend Tony Asakusa Ekikita, Time Sharing Stay Asakusa
Things to do: Enjoy the presence of kaminarimon, shop at Nakamise Street, meditate in the temple, draw an omikuji fortune, visit the five-storied pagoda, and collect Sensoji souvenirs.
Popular nearby attractions: Asakusa Shrine, Hōzomon Gate, Kaminarimon Gate, Tokyo Skytree, Nakamise-dori Street, Asakusa Hanayashiki, Five-Storied Pagoda, National Museum of Nature and Science, Ueno Park
Best time to visit: April-May
Distance from the airport: 5 km
2. Meiji Jingu Shrine
The Meiji Jingu shrine is a famous sightseeing location that you must not miss while visiting Japan.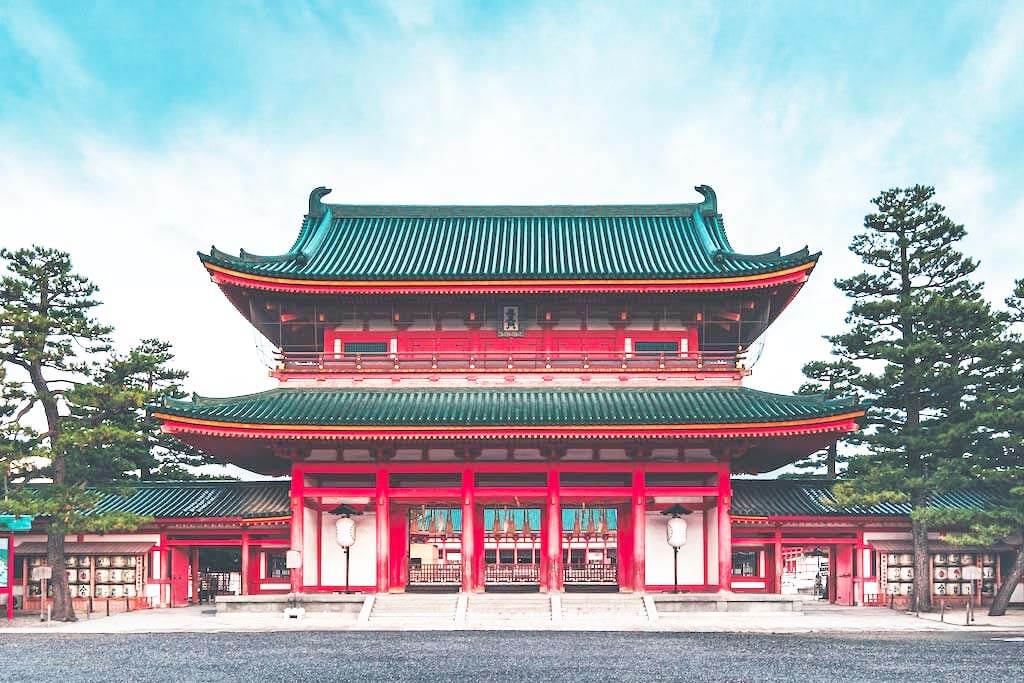 It is one of the most important Shinto shrines in Japan located right at the heart of Tokyo, known for its calm and meditative vibes that separate it from the busyness of the city.
Immerse yourself in the serene atmosphere of the shrine at the end of the day after visiting the wide variety of tourist spots nearby, including the museums and parks.
You can take the different entrances to the shrine including the South entrance (Harajuku station) the north entrance (Yoyogi station) or the West entrance (Sangubashi station) to enter the shrine.
You will be greeted by fresh and cool air, all thanks to the lush and green trees numbering up to 170,000, which makes the shrine the perfect spot for picnics.
Do not miss out on the iconic couple camphor trees planted on the shrine ground which is a famous spiritual spot in Japan.
The trees represent emperor Meiji and his wife and are said to bring good luck to couples in leading a happy and healthy relationship.
Places to stay: Almond Hostel & café, Apartment Hotel Shinjuku, Anshin Oyado Premier Shinjuku, the OneFive Tokyo Shibuya, Anshin Oyado Premier Shinjuku, Hotel Sunroute Plaza Shinjuku
Things to do: Meditate at the shrine, watch traditional Japanese wedding ceremony, enjoy stage performances like plays, watch the sunrise, take pictures in front of the sake and wine barrels
Popular nearby attractions: National Noh Theatre, Shinjuku Gyoen, New National Stadium, Meiju Jingu Gaien, Meiji Gallery, Kiyomasa's Well, Jingū Bashi
Best time to visit: December-January
Distance from the airport:6 km
3. Tsukiji Fish Market
Tsukiji fish market in Tokyo is the top place to visit if you want to learn more about the culinary culture of Japan.
Located in central Tokyo, it is one of the biggest fish markets in Japan with about 400 shops lining the streets crowded by tourists who are curious to learn about the famous Japanese cuisine.
Not only do they sell fresh foods like fish, but also let you take home traditional Japanese kitchen utensils.
You can see the popular inner market (where the famous tuna auction used to be held in the early hours in Tokyo) in the Toyosu market now.
But the popular Tsukiji outer market is still the center of attraction selling a wide variety of fresh and seasonal foods daily.
You can visit the wholesale market Tsukiji Uogashi which is open for wholesalers before 9 AM to experience the hustle and bustle of Tokyo in its rawest form.
Places to stay: ELE Hotel Ginza East, KOKO Hotel Ginza 1-chome, Livemax Higashi Ginza, Imano Tokyo Ginza Hotel, VIA Inn Higashi Ginza
Things to do: Have a yummy Japanese-style breakfast from Sushizanmai, enjoy a cup of coffee and light snacks from Yonemoto Coffee, explore the market and learn about Japanese culinary culture, join a food and drink tour
Popular nearby attractions: Tokyo Tower, Imperial Palace, Namiyoke Shrine, Imperial Hotel, Sensō-Ji, teamLab Planets, Kabuki-za theatre, Shinjuku Gyoen National Garden, Tokyo Skytree, Kachidoki Bridge
Best time to visit: All year round
Distance from the airport: 3km
4. Tokyo National Museum
The Tokyo National Museum, also known as Tohaku is Japan's oldest Art Museum and has been echoing the history of Japan for the past 150 years.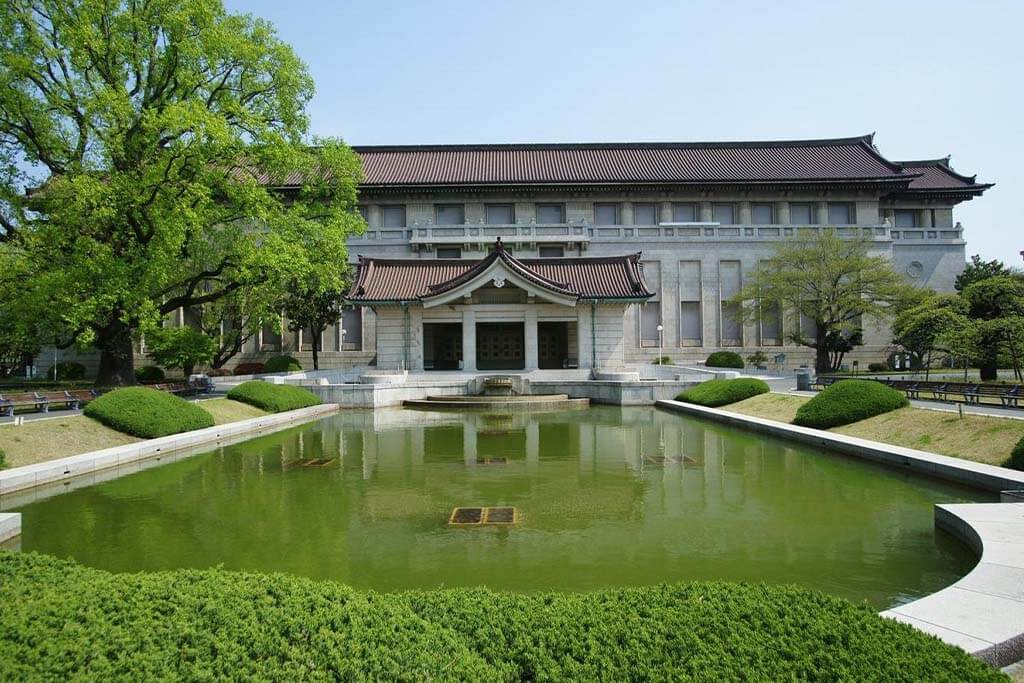 Spend a day in this museum to marvel at the brilliant works of art including 89 national treasures of Japan and 65 precious items that are of utmost cultural significance.
Apart from glancing at the art pieces, you can also indulge in a variety of activities in this famous tourist destination in Japan including leaf-peeping and picnicking.
Visit the Honkin building or Japanese gallery that showcases ceramics, maps, clothing, and weapons dating from thousands of years ago.
You can pick up audio guides from the entry point in a variety of languages and take part in guided tours that explain the history behind these important art pieces.
Places to stay: Ueno Hotel, Lodging Tokyo Uguisudani, The Hideout Tokyo, Sakura Cross Hotel Ueno-Iriya, Cerezo Hotel
Things to do: Walk through the gardens of the Tokyo National Museum, visit the gravestones of the Arima clan, visit the cherry blossom viewing event, take part in the sakura-themed exhibitions, enjoy picnicking at Ueno Park
Popular nearby attractions: Warner Bros Studio, Tokyo Disneyland, teamLab Planets, Tokyo Skytree, Meiji Jingu, Ghibli Museum, Edo Tokyo Museum, National Museum of Western Art
Best time to visit: March- April
Distance from the airport: 23 km
5. Experience the chaotic Shibuya Crossing
Shibuya is one of the most vibrant tourist destinations in Tokyo and the Shibuya Crossing is the perfect attraction that displays its energetic side.
You can visit this famous place in Japan during the nighttime when there are not many people crossing the roads.
Enjoy the stunning beauty of the buildings and recreate a movie scene in the middle of the road to create memories for a lifetime with your family and friends.
Tourists can also visit Shibuya Crossing during peak hours to fully indulge in the chaotic vibe of this place.
The colors, the movements, the crowds, the sounds, and the music makes you feel the most alive during these hours which start from around 7 in the morning till around 5 PM when people leave work.
Places to stay: All Day Place, Commun Shibuya, Hotel Mets, Hotel International Premium, TurnTable Shibuya Dōgenzaka, The Millenials
Things to do: Experience the Shibuya nightlife, visit a manga café, stroll along Sakuragaoka-cho street, have yummy delicacies like sushi, rent a karaoke room, take a walk in Yoyogi park
Popular nearby attractions: Meiji Jingu, Hachikō Memorial Statue, Shibuya Sky, Yoyogi Park, Shinjuku Gyoen National Park, Tokyo Tower, Tokyo Skytree, Tokyo Camii & Diyanet Turkish Culture Center
Best time to visit: January, November, December
Distance from the airport: 14 km
6. Gardens of the Imperial Palace
The Imperial Palace surrounded by beautiful gardens and trees is number five on our list of top places you should visit in Tokyo. It is a popular sightseeing destination due to the remains of the Edo Castle which was burned to the ground in 1873.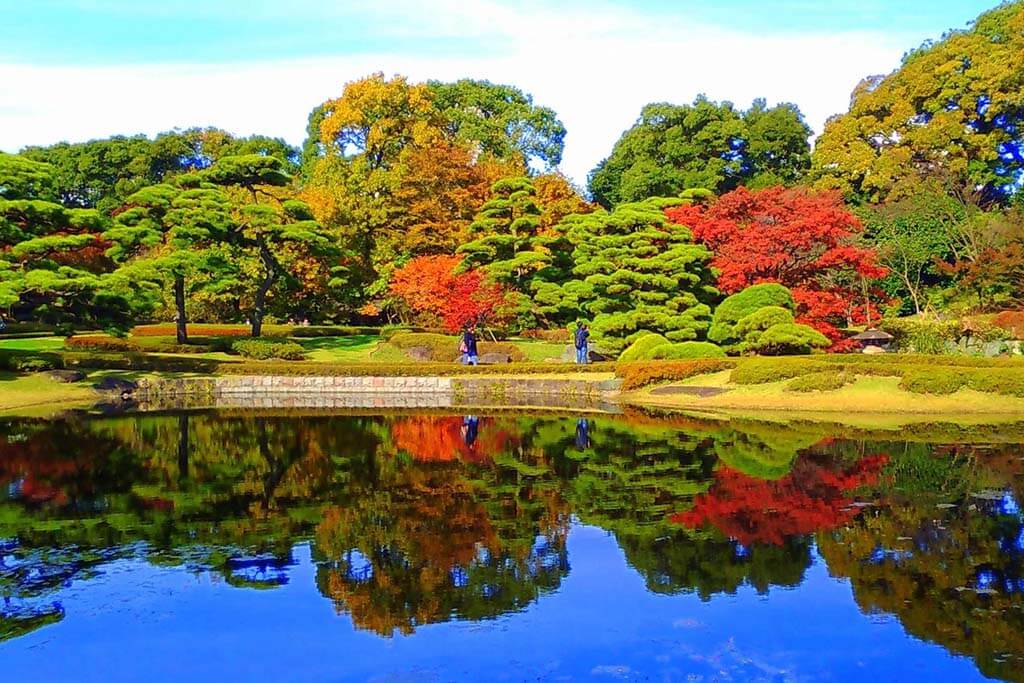 You can still see the castle remains, including the walls, moats, and guardhouses presenting themselves as pieces of Japanese history.
But what catches the attention of most tourists are the stunning East Gardens with cherry blossoms, rose gardens, and orchards which are open to the public from 9 AM to 5 PM.
These gardens are divided into three areas, namely, Honmaru area, Ninomaru area, and Sannomaru area in the inner circles of the castle.
You can visit the Museum of the Imperial Collections in the Sannomaru area which displays more than 6000 art pieces owned by the imperial family. The Ninomaru area is famous for its picturesque garden views with 84 species of irises and a little pond.
Places to stay: Karaksa Hotel Colours Tokyo Yaesu, KOKO Hotel Ginza-1 Chome, Nest Hotel Hanzomon, Manga art hotel, Hotel Hillary's Akasaka
Things to do: Picnicking, watch the waterfall near the pond, take beautiful photos, watch the kai corps in the pond, visit the Kokyo Gaien, go on a boat ride along Chidorigafuchi moat
Popular nearby attractions: Zenkoku-ji temple, Showa-kan museum, Koishikawa Koraku-en Garden, the National Museum of Modern Art, Kokyo Gaien National Garden, Kikyō-mon Gate
Best time to visit: January
Distance from the airport: 19km
7. Go shopping in Ginza
Ginza is the ultimate shopping destination in Japan with clothing, stores, restaurants, boutiques, and sushi bars for you to chill at after a day of sightseeing.
Get traditional Japanese jewelry and quirky electronic items in this district of Tokyo, which promises the perfect balance of tradition and luxury.
If you want to spend some bucks on your favorite high-end brands, Ginza High Street (Chuo Dori)is where you should head to.
Take a look at the trending products in stores like Uniqlo and the famous shopping complex Ginza Six which houses international brand stores.
Do not forget to visit Kabukiza, which represents Kabuki (a famous Japanese tradition) through its complex that has theatres, shops, and restaurants.
Places to stay: Daiwa Royent, Millenium Mitsubishi Garden Hotel, Hotel GrandBach, Hotel Gracery, Tokyu Stay Ginza
Things to do: Visit the art aquarium, enjoy the unique architecture of the shopping complexes, visit art galleries like Shiseido Gallery and Maison de Hermes, buy Japanese stationery goods from Ginza Itoya, have a picnic at Hamarikyu garden
Popular nearby attractions: Kabuki-za, Tsukiji Outer Market, Mitsukoshi Ginza, Ginza Sony Park, Shinbashi Enbujo Theatre, Nissan Crossing, Imperial Palace, Ginza Six, Namiki Dōri Street
Best time to visit: August, July, September
Distance from the airport: 9km
8. Akihabara
If you are interested in the world-famous Otaku culture, Akihabara or the electronic wonderland of Japan is a place you must visit.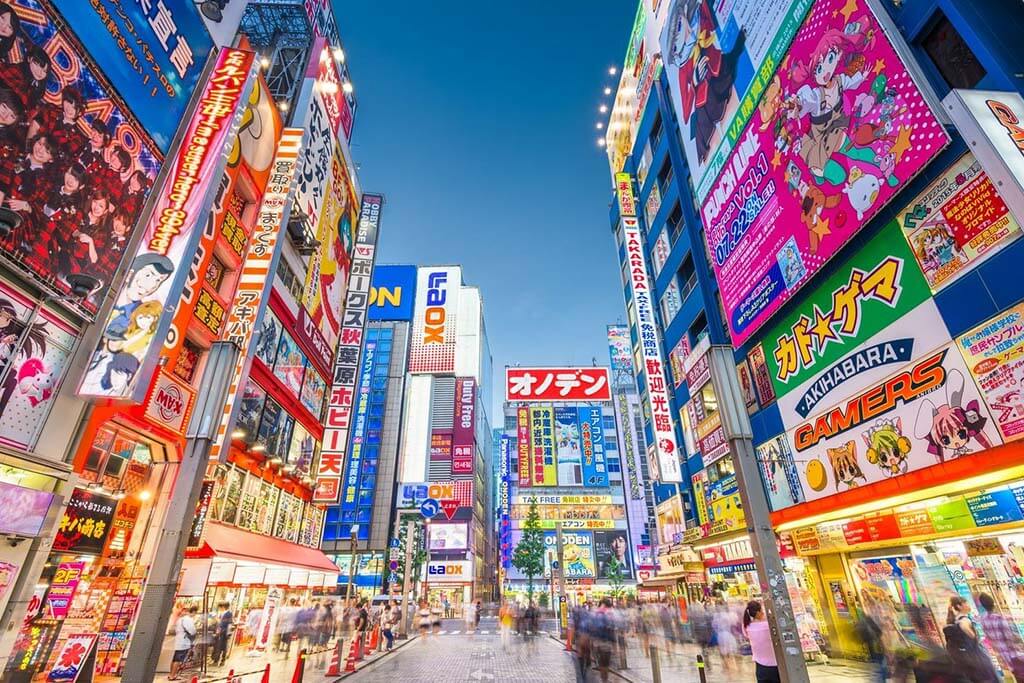 The Yoda Bhashe camera is a large department store where you can access the biggest variety of electronic gadgets that you can't find anywhere in the world.
Get to learn more about high-tech products including video games and toys by visiting this place located right in front of the Akihabara Station.
Akihabara is not just packed with electronic shops as you can also have the time of your lives visiting some quirky places like animal cafes and anime stores that are heaven for Manga lovers.
The latter can visit Mandarake, which is said to be the largest anime store in the world with an extensive collection of manga, anime, and games that you can take back home as precious souvenirs.
Places to stay: Centurion Hotel Ueno, &And Hostel, Washington Hotel, Hotel Resol, Remm
Things to do: walk through the anime shops, visit electronic shops, have fun at the game centres, visit the bizarre Maid Café, tour the unique owl Cafe or Akiba Fukurou
Popular nearby attractions: Kanda Myojin Shrine, Animate, 2k540 Aki-Oka Artisan, Tokyo Daijingu, Super Potato, Mandarake Complex, Tokyo National Museum
Best time to visit: All round the year
Distance from the airport: 20 km
9. Tokyo Skytree
No trip to Japan is complete without visiting the Tokyo Skytree which is a towering symbol of the capital.
You can climb on top of the Tokyo Skytree and get a stunning view of the city, including its humongous shopping complexes, narrow shopping streets, and exciting museums.
Hop onto a shuttle bus from Haneda Airport and take a one-hour trip to reach this sightseeing destination.
In the evening, you can see the Skytree lighting up in any of the three colors, including Edo purple, gold, or baby blue.
Get to the Skytree round theatre from where you can see the visuals from around the place on a 2m high screen and enjoy the virtual reality.
Once you have entertained yourself from the high points of the tower, you can get down and explore Tokyo Skytree Town which is a shopping complex that also includes an aquarium and a planetarium.
Places to stay: Hotel Mystays, Petit Grande Miyabi, Keisei Richmond Hotel, Rakuten Stay
Things to do: Watch the city from the Tembo deck and Tembo Galleria, visit the Sumida aquarium, tour the Konica Minolta Planetarium Tenku, visit Tokyo Solamachi, enjoy shopping at the busy shopping streets
Popular nearby attractions: Tobu Museum of Transport and Culture, Shitamachi Ninjo Kirakira Tachibana Shotengai, Hatonomachi Dori Shotengai, Tokyo Mizumachi, Tokyo Solamachi
Best time to visit: December to March
Distance from the airport: 9 km
10. Enjoy the Japanese Cuisine
Japanese cuisine or Washoku is what makes a trip to Japan an unforgettable experience due to the delectable variety of regional and seasonal foods available here.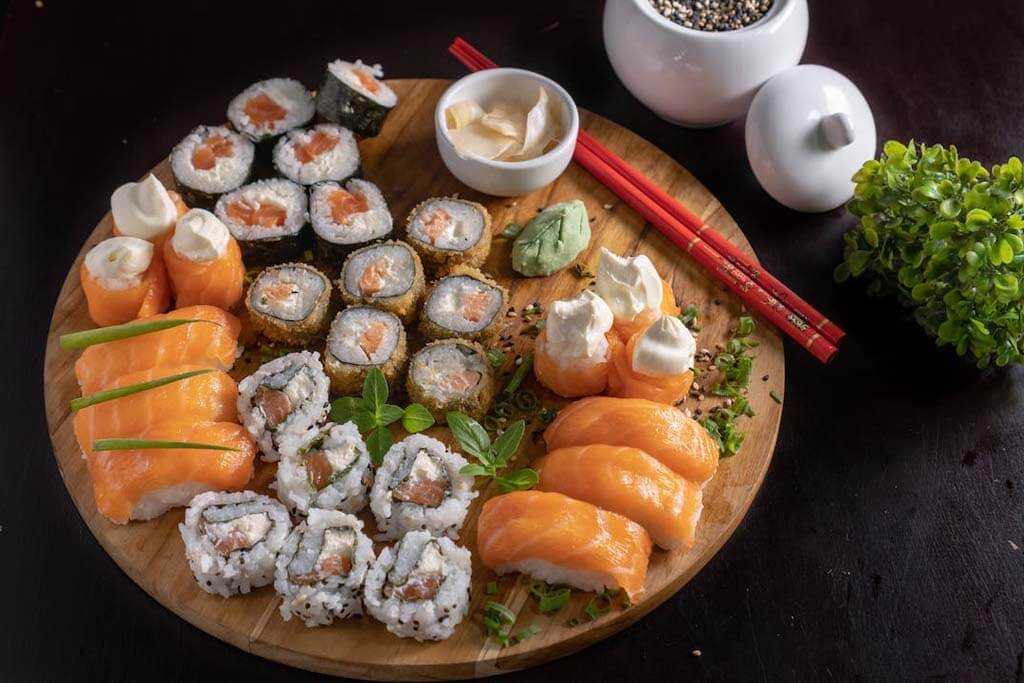 The places to eat in Japan range from food stands that offer yummy street foods and drinks to luxurious hotels that serve international dishes as well.
Things are no different in the capital as you can try out Tokyo specialties from little eateries and cafes to high-class restaurants.
Indulge in Nigiri-zushi, the most popular type of sushi which you can find anywhere in Tokyo, especially in the Tsukiji outer market.
Wonder how sumo wrestlers stay healthy and energetic throughout the day? You need to try out their favourite hot pot dish named Chankonabe which contains fish or chicken and vegetables.
You can find Izakaya or casual dining establishments around train stations that serve yummy Japanese delicacies like Sashimi along with beer.
Popular dishes to try: Monjayaki, Nabe, Tempura, Soba, Ramen, Udon, Sashimi, Tonkatsu, Takoyaki, Okonomiyaki, Tsukudani
Famous places to eat at: Sushi Miyaki, Nikuya Tanaka Ginza, Ao, Minamiazabu Sushi Yoshida, Takagaki no Sushi, Yakatabune Takamitsu, Shojinryori Daigo
The capital of Japan is thus the perfect place to visit this year if you wish to experience the perfect blend of nature and city life.
Keep in touch to see which famous tourist destination we talk about next so that you can pack your bags and get ready for the time of your life!
Frequently Asked Questions