Golden beaches, Buddhist temples, vibrant shopping streets, and scenic natural spots of attractions are not just what Bangkok has to offer. It attracts tourists from different parts of the world due to the variety of street food options available in every nook and corner of the city.
From the versatility of Som Tam to the creaminess of mango sticky rice, Bangkok has everything that a food lover is looking for.
Come explore the charm of street food in Bangkok that will make you keep returning for more!
Top 10 Dishes In Bangkok That You Must Definitely Try
1. Pad Thai
The scent of the popular Pad Thai is one that welcomes tourists and locals alike to the crowded Bangkok streets lined by eateries on both sides.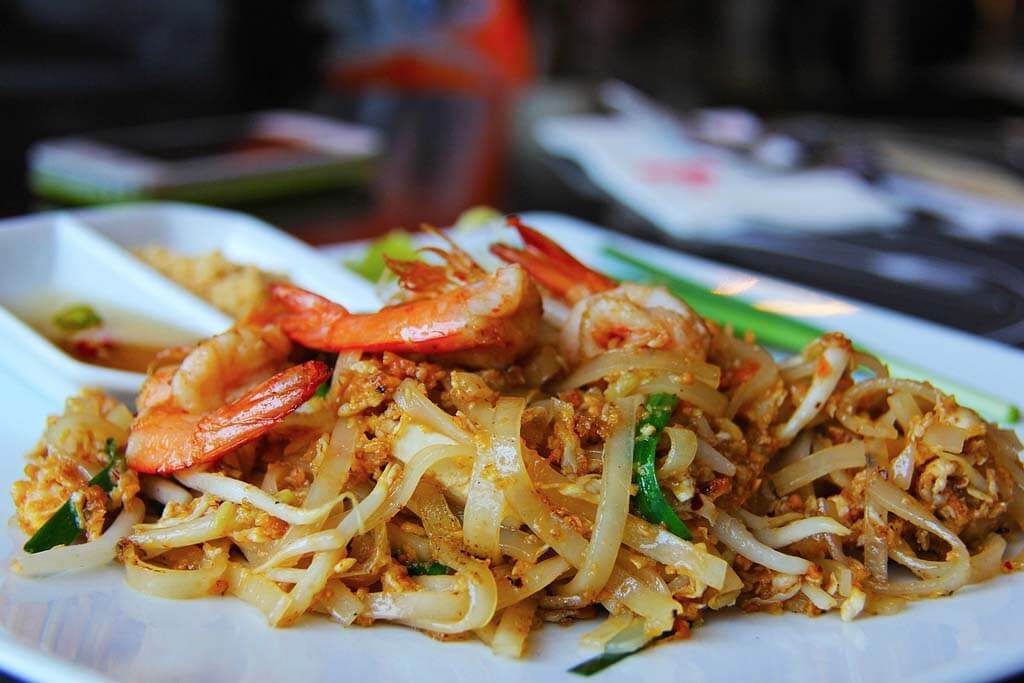 It is one of the most popular street foods in Bangkok which is affordable as well as can be made instantly using only a handful of ingredients.
The base of pad Thai is rice noodles with tofu or meat of your choice. To this, you can also add beans sprouts and peanuts to add a variety to the texture.
What makes Pad Thai one of the most delicious foods in Bangkok is the unique mix of tamarind, garlic, palm sugar, red chilli pepper, and dried shrimp.
Experience a burst of five different flavours all at once while digging into this popular Bangkok street food. It is the perfect comfort food to devour after a long day of sightseeing and touring the beauties of Bangkok.
Fun fact: Did you know that Pad Thai originated in the 1930s when a contest for the country's national dish was launched? And yes, this flavourful delicacy did emerge as the winner, making it the symbol of Thailand's culinary culture.
Spots to enjoy Pad Thai: Thipsamai, Pad Thai Fai Ta Lu, Mayrai Pad Thai Wine Bar, Sawasdee Ratchawat, Baan Phad Thai, Pad Thai Mae Am
Best when paired with: a plate of mango sticky rice or Thai spring rolls
2. Tom Yum Goong
Number 2 on our list is Tom Yum Goong, a Thai soup that blends the flavours of spiciness and sourness and is commonly served as a starter food in Bangkok restaurants.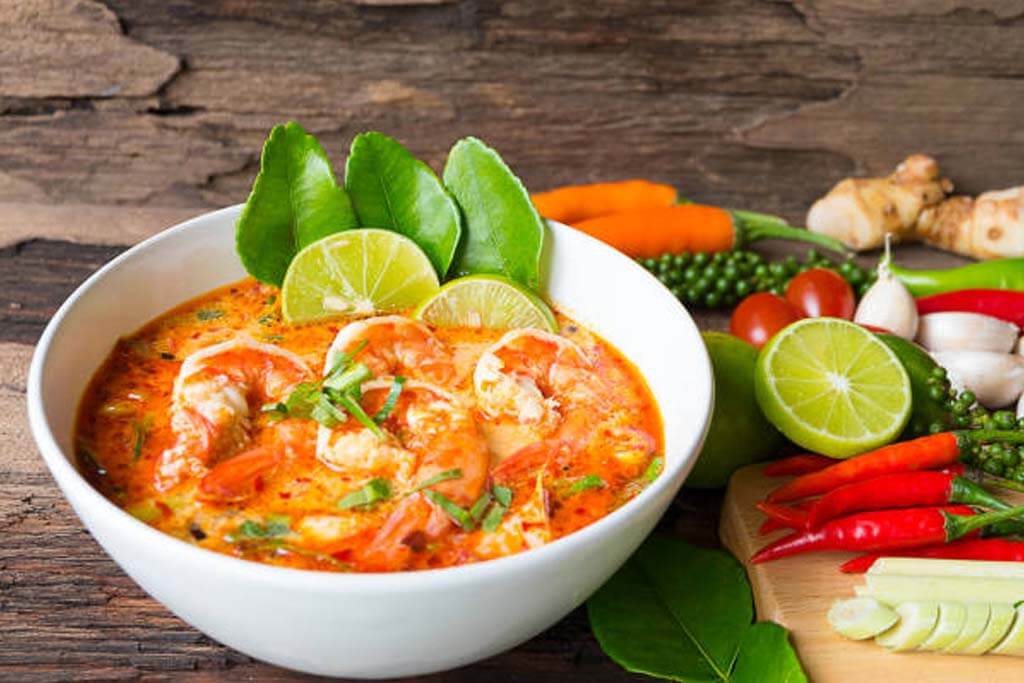 Tom Yum is usually made as a clear sour soup with lemongrass and the flavours of fresh galangal root and kaffir lime leaf.
Tom Yum Goong on the other hand is a variant of the soup of which shrimp is the main ingredient. You can also substitute it with fish, chicken, or mushrooms in case you are a vegetarian.
The best part about street food in Bangkok is that you get a different experience every time you have it since different restaurants have their own recipe for making this soup.
Not only is it yummy, but is also healthy and energising due to the abundance of fresh vegetables and herbs in it.
So you know what to have when you feel under the weather during your Bangkok trip so that you get the right boost for your immune system.
Top places to enjoy Tom Yum Goong: Jeh O Chula, Jay Fai (One Micheline star street food), Pe Aor, The Place 168, Tom Yum Kung, Tiew Yak
Best when paired with: Panang curry, coconut curry chicken, Pad Thai
3. Som Tam
It would be a sin to travel all the way to Bangkok without having the traditional Thai papaya salad or Som Tam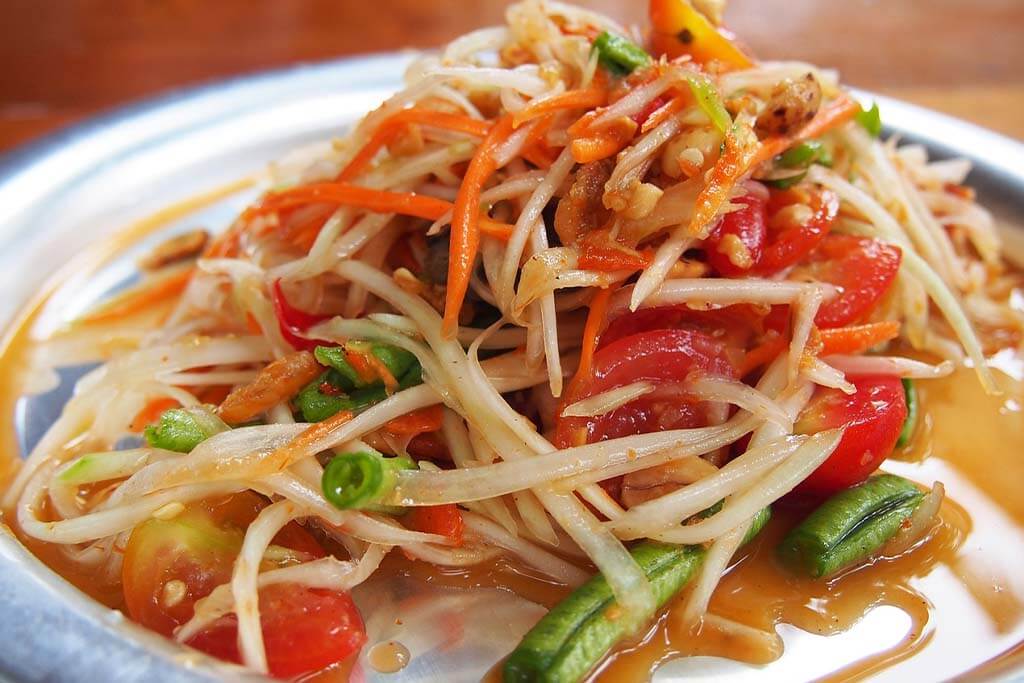 Som Tam literally means pounded sour and is a salad that is packed with sweet, spicy and sour flavours, unlike the usual boring green salads.
Treat your taste buds to the essence of Thai Peppers, garlic, tomatoes, peanuts, dried shrimp, mint leaves, Thai basil, lime and the main ingredient; unripe papaya.
The peppers, ginger and garlic are ground using a mortar and pestle and are blended together with anchovy sauce to create the Som Tam sauce that gives it a kick of spiciness.
This popular street food of Bangkok is trendy in other areas of Thailand especially in the northeastern region of Isaan due to the border that its shares with Laos where Som Tam is said to have originated.
Now you do not have to go all the way to Isaan since you can easily avail of vendors that sell affordable street food in Bangkok.
Top place to eat Som Tam: Som Tam & Chardonnay (88 Thong Lo 8 Alley, Khwaeng Khlong Tan Nuea, Watthana)
4. Moo Ping
What is a better way to have a fun time in Bangkok than walking around the streets munching on grilled pork skewers?
Moo Ping is a delicious street food in Bangkok (Moo means pork and Ping means grill over the fire).
You can eat them on the go while enjoying the different attractions in Bangkok or can be eaten as a starter with a bowl of Thai sticky rice.
It is made by dipping slices of pork into a flavourful marinade that ties together the incredible sweetness and saltiness of fish sauce, oyster sauce, soy sauce, and palm sugar.
The thin texture of the pork slices makes it easy to absorb the marinade easily and cook faster.
The marinade is also packed with finely chopped garlic cilantro, coconut milk, and club soda that gives you an experience that you have never had before.
Handing over a plate of Moo Ping skewers to your kids would be a great idea to keep them occupied so that you can relax on your Bangkok trip.
Top places to eat Moo Ping: Moo Ping Hea Owen Hawker stall, Wattana Panich
Best when paired with: Traditional Sticky rice
5. Kai Jeow 
Kai Jeow might sound like a very fancy name, but did you know that it is just an omelette? It is a Thai omelette that is cooked with fish sauce, with herbs added to it for an extra tangy taste and is found anywhere in Bangkok.
Not only does this street food in Bangkok taste so delicious but is also pleasurable to look at due to its fluffy texture as whisked eggs are fried in hot oil.
The egg is then mixed with fish sauce and herbs or paired with ground pork or beef to give it a variety of textures and tastes.
Popular places for eating Kai Jeow: Available in most street stalls in Bangkok
Best when paired with: Steamed rice, plain rice porridge
6. Khao Pad
If you are a fried rice addict in a world of biryani lovers, you cannot go all the way to Bangkok and return without indulging in the world-famous Khao Pad or Thai fried rice.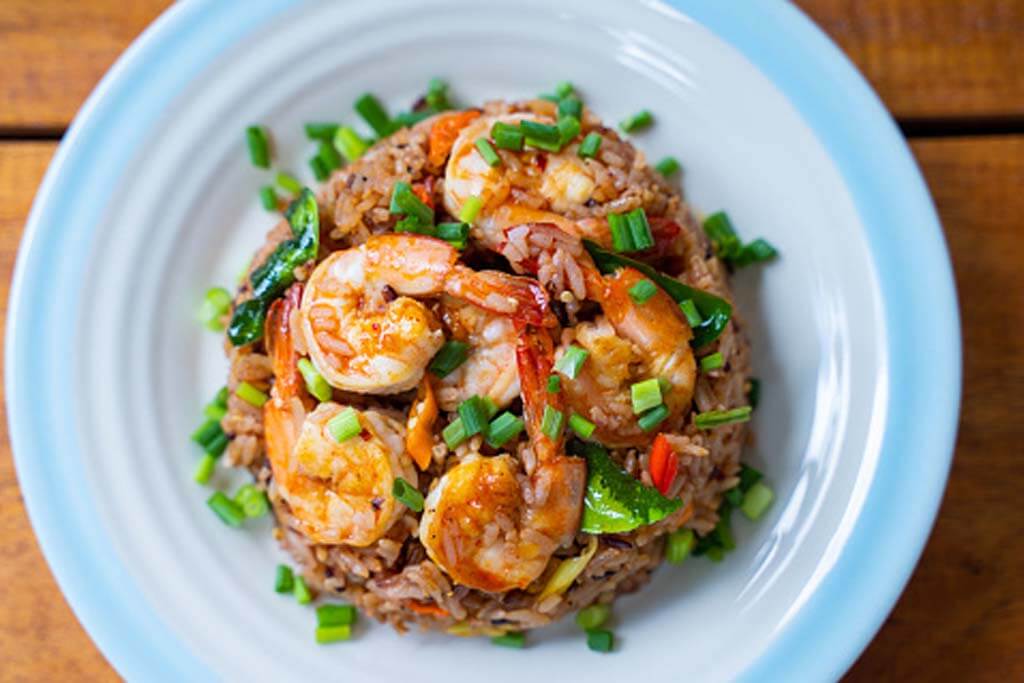 Unlike the usual fried rice that you find in most places in the world, Khao Pad is stir-fried rice with a Thai twist that has multiple flavours of salt, spice, and garlic.
The sugar in the fried rice takes it to the next level when combined with the spiciness of the fish sauce and tangy lime.
It is said to originate in central Thailand and is cooked with meat which can range from shrimp and crab meat to pork or chicken.
You can find this street food in Bangkok food stalls at affordable options.
Popular places to eat Khao Pad: Khaosan Restaurant (Chaaewang beach road), stalls in Chinatown
Best when paired with: Any cool drink that can wash down the flavours of Khao Pad
7. Gai Yang
Another option available on our list of street food in Bangkok to try if you are looking to curb your chicken craving is Gai Yang or Thai fried chicken.
This street food is so yummy that regardless of the fact that it originated in Isaan, it has still spread to different parts of the country. You can find these in any street in Bangkok as the scent of crispy golden chicken tossed into the perfect blend of spices and herbs summon you with a warm hug.
It also contains sugar and fish sauce and the smoothness of butter that sinks in before the chicken is grilled over charcoal.
Top places to eat Gai Yang: Salathip restaurant, Sabai Jai Gai Yang, Kampun Gai Yang
Best when paired with: Sweet and spicy chilli sauce
8. Khanon Bueang
Street food in Bangkok is not just savoury items that are filled with spicy and sour flavours of herbs and meat.
Bangkok is also known for desserts like Khanon Bueang or Thai crispy pancake which you can find on any street in Bangkok.
You can have two types of toppings with it according to your liking which include salty and sweet toppings.
Foi Tong is what makes Khanon Bueang with the sweet topping one of the most favourite deserts of Bangkok tourists.
This street food is made of egg yolks boiled in syrup and is in a vibrant yellow colour.
The salty topping is orange in colour and is made from cream mixed with shrimps, pepper, and coriander. You can also find it being made using shredded coconut instead of shrimp in the street food stalls in Bangkok.
Top places to eat Khanon Bueang: Terminal 21 food court and almost all-night markets and floating markets in Bangkok
9. Khao Niew Mamuang
Mango sticky rice or Khao Niew Mamuang is a world-famous desert that is inevitable in any list of street food in Bangkok. The rise is coconut flavoured and goes well with fresh, scented, ripe, and vibrant mango.
The best part is that if your taste palette loves this Bangkok treat, you can recreate it at home easily with the right equipment.
All you need for this street food is sweet rice, coconut milk, white sugar, salt, moong beans, and the king of the recipe: fresh ripe mango
The coconut milk adds an interesting texture to the glutenous sticky rice, making it an interesting eating experience for anybody.
Top places for eating Mango sticky rice: Pier 21 and Mae Varee
Best when paired with: Steamed vegetables or grilled pork
10. Roti Mataba
Missing the warmth of homely Indian food when in Bangkok?
You can always enjoy Roti Mataba which popular street food stalls sell in different varieties, including ones with curry filling and those with sweet filling.  
Roti Mataba is also the name of a  restaurant in Bangkok who are the best roti experts you can find here.
You can also ask for fillings like fish and herbs or beef which is then pan-fried to create crispy roti Mataba. 
Even though any street in Bangkok serves this food at any time of the day, it is best when eaten for breakfast.
Top place for eating roti Mataba: Karim Roti Mataba (136 Phra Athit Road, Chana Songkhram, Phra Nakhon)
Best when paired with:  Mutton Curry, ox tongue Stew, fried fish cakes
Let us know your experience with these street foods in Bangkok on your next visit to this city. Share with us if you have discovered any stunning food options that are new to us!
Frequently Asked Questions