Dubai is one of the classy cities that comes with endless attractions, charm beyond words, unlimited fun, glorious living, luxurious shopping, and high-end lifestyle, in short everything is gorgeous.
Planning a vacation over there is an unbeatable option but to make it remarkable it is important to choose the correct destinations. 
Obviously, every trip cost you a good amount and this is Dubai. So instead of regretting later, better to catch up on the places mentioned below to make your trip more compelling and the best experience of life.
Let's start with the destinations that will make your trip more memorable.
List of  Top Tourist Places in Dubai with Family
Dubai definitely offers something for everyone, whether you are traveling as a family or want to experience the glitz and glamour of this beautiful city on your own.
Let's see the top famous tourist attractions in Dubai:
1. Burj Khalifa: You Can't Even See the Ground from Top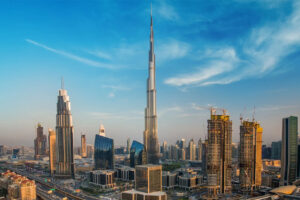 This grandeur is needless of any description as being the tallest building in the world.
We say Dubai, mean we said, Burj Khalifa. Witness the spectacular view of Dubai from the top of the world! Imagine yourself standing at the Burj Khalifa's pinnacle.
It is one of the best places for family and friends serving you some prominent delicacies as well.
Timings: It has prime and non-prime where the latter is from 10:00 am to 3:30 pm and 07:00 pm to 11:00 pm and the former from 4:00 pm to 6.30 pm.
Prices is ranging from 132- 302AED
Location: A very prominent location 1 Sheikh Mohammed bin Rashid Boulevard, Downtown Dubai, Dubai, United Arab Emirates.
2. Dubai Aquarium and Underwater Zoo: Beauty and Wonder Together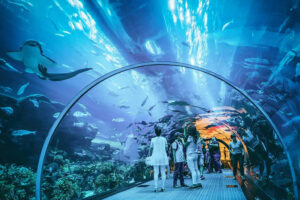 How about exploring the most spectacular sub-aquatic life in one of the top places in Dubai? Where you can find endangered, rare and exotic marine creatures.
You can then Swim with Sharks session and can witness the King Croc i.e. a 40-year-old crocodile weighing 750 kilograms.
Count on the species it will come to nearly 140.  Cage snorkeling, shark diving, boat tours, etc. Make sure you are visiting this most popular tourist attraction in Dubai.
Timing: Long timings and long hours to spend here 10 AM to 10 PM
Prices are ranging from 70 – 88 AED
Location: Dubai Aquarium & Underwater Zoo is at the Financial Center Road, Ground & Level 2, The Dubai Mall, Dubai.
3. Global Village: A Big World Under One Roof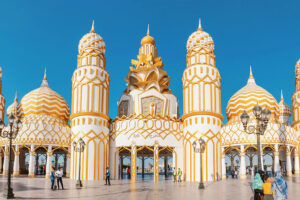 One of the most beautiful cultural places to visit in Dubai is Global Village where you get a chance to see the whole world at one place where you get a chance to explore 23 different pavilions related to 70 different countries. Here you can enjoy some live shows, street performances, myriad cuisines, etc.
It is a package in one where multiple attractions are settled under one roof.
Timings: Specific days and hours are fixed like Saturday-Wednesday: 16:00 – 00:00 & Thursday-Friday: 16:00 – 01:00
Prices are ranging from 13 – 16 AED
Location: Dubai Land, Sheikh Mohammad Bin Zayed Road, Dubai is where the Global Village is located.
4. Palm Jumeirah: An Absolute Favorite Place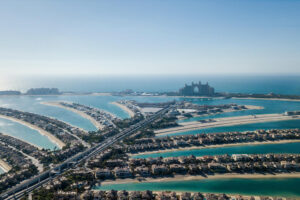 One of the most popular tourist places and an attractive palm-shaped artificial island speaking about the city's beauty.
It has so many attractions that give you so many fun and thrilling options. This place gives you a complete range of entertainment and nobody in the family can get bored here.
Timings: There are no specific timings to visit Palm Jumeirah but specific months like November to April.
The price is approximately 15AED to 25AED
Location: It is located on the Persian Gulf in Jumeirah, Dubai. A location hosting several more attractions.
5. The Dubai Mall: Not an Ordinary but an Extra Ordinary Mall
You must be thinking why to go a mall in Dubai? You can go to the mall anywhere. But if you are thinking that it will be like an ordinary mall, then you are very much wrong here. This is the place that holds so many popular attractions in Dubai. It is a first-class and must-see place in Dubai that comes with fascinating surprises.
It is the largest mall in the world radiating over an area of 1,124,000Sq. meters with 1200 open stores. Olympic-sized ice skating rink, sega republic-theme park, illusion waterfall, Dubai Mall houses with the world's largest candy store, luxurious hotels, etc.
Timings: Monday to Thursday it opens from 10.00 AM to 11.00 PM and from Friday to Sunday it opens from 10.00 AM to 12.00 AM.
Price: There is no entrance fee in the mall.
Location: It is located in a very posh location in Downtown Dubai. 
6. Aquaventure Waterpark: World's Largest Waterpark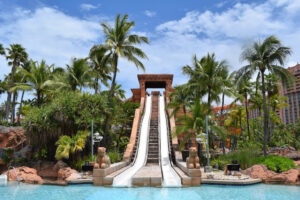 One of the best waterparks and family places to visit in Dubai is the aqua venture waterpark to let you experience dry, shallow, and deep-water encounters.  You can enjoy thrilling sports like sliding through the zip lines, riding on aqua conda, Posedion's Revenge, and more.
Get yourself ready to enjoy 105 record-breaking slides and attractions. It has Guinness World Record too for having the most waterslides in a waterpark.
Timing: 10 AM to 6 PM(Monday-Sunday)
Location: Atlantis The Palm – Crescent Rd – Dubai is your destination for Aquaventure Waterpark.
Price: The price varies from 92 – 138 AED
7. Dubai Desert Safari: Add A Different Story to Safari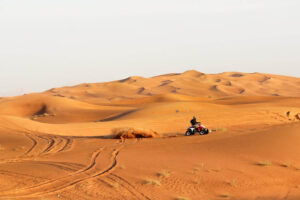 Dubai trip is incomplete without a desert safari. You and your family need to explore the vast sandy stretches of the Arabian desert.
It is a gateway that leads to a thrilling journey around the glorious dunes. You can also enjoy the lip-smacking BBQ dinner with some performances done by the belly dancers.
Timing: 02:30 PM to 09:00 PM are suitable timings for safari.
Location: Al Faya Desert, Dubai Desert Conservation Reserve, Jebel Maleihah, etc., and more places are there for Desert Safari.
Price:  35 – 59 AED
8. Dubai Miracle Garden: Place where Miracle Happens Everyday
The name itself speaks of what kind of garden, Dubai Miracle Garden would be. Well, you will get mesmerized by the ultimate natural beauty it radiates.
It is the largest flower garden in the world where you will witness the giant floral teddy bear in the middle of the garden, the Emirate A380 installation i.e. the largest floral installation (5,00,000 living plants and flowers) in the world, then different structures made up of flowers.
Timing: 9:00 AM to 6:00 PM (Sunday to Friday) and 9:00 AM to 9:00 PM (Saturday Only) Perfect enough?
Location: Dubai Miracle Garden, Al Barsha South 3, Dubai- feel free to visit and witness the gorgeous nature's beauty.
Price: 116 – 185 AED
9. Burj Al Arab: A Big Beautiful World of Lavishness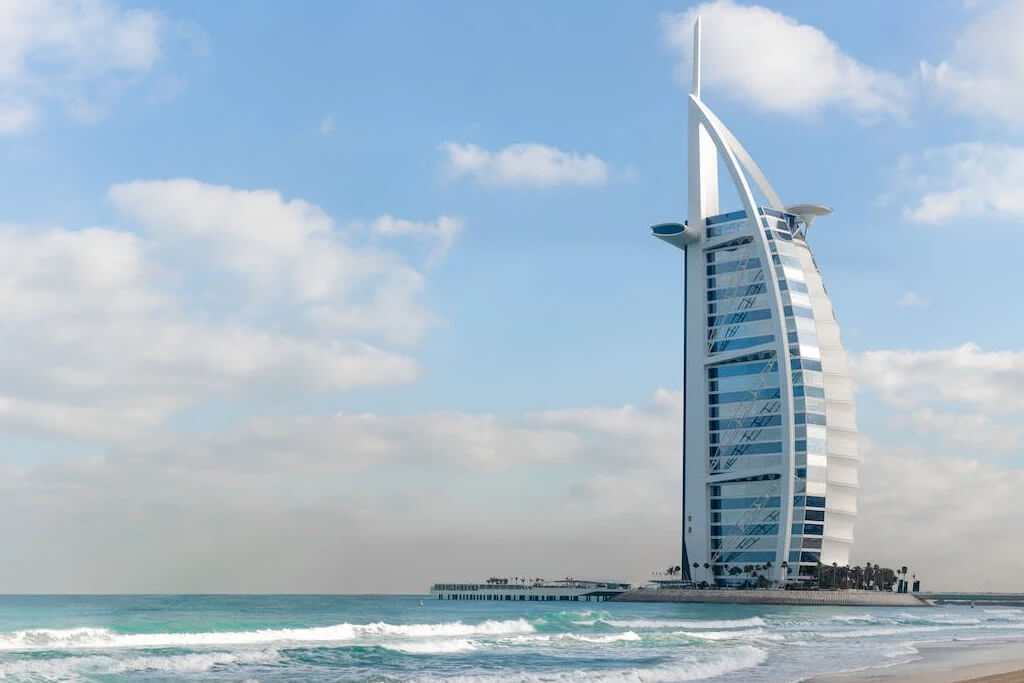 Dubai is known for its luxurious hospitality and Burj Al Arab is one fine example standing as one of the world's most iconic hotels.
It is 321 meters above sea level and offers protuberant luxury and facilities to the customers.
The guests can have the finest experience of the extravagant features like the best bars of Dubai, the underwater aquarium, Al Muntaha restaurant, etc. making it a must-visit.
Timing: It is 24 hours open, visit anytime you want to.
Location: Burj Al Arab, Jumeirah St, Dubai- easy to reach location.
Price: 124 – 141 AED
10. Jumeirah Beach: You Can't Afford to Miss It
Another beautiful attraction of Dubai is where you can swim in the crystal-clear water and sit on the white sands under the clear sky at Jumeirah Beach in Dubai.
A mesmerizing spot for relaxation and rejuvenation hosting so many elite hotels and different fun activities. You can spend a good time over here.
Timings: Except for Thursday and Friday, it is open from 7.30 AM to 10 PM every day.
Location: Jumeirah Beach is the only Google location but it is just 2KM away from Burj Al Arab.
Price: Access to the beach is absolutely free.
Wrapping up the blog…
Dubai is the best attraction for adventure and peace lovers that present a blend of modernity and ethnicity. Here you will find everything premium and things out of the world. I have mentioned the top 10 tourist places in Dubai, now you have to plan your trip quickly. Vacations are already on, so don't need to delay any more.
Frequently Asked Questions