India is a religiously affluent and ethnically divided yet still united on the grounds of beliefs country. Being home to more than 140 Cr population this country comes with the deepest religions and sentiments. The presence of a myriad of temples, churches, mosques, and Gurudwaras strengthen the backbone of India in terms of spirituality.
"India is a country in which every great religion finds a home- Annie Besant"
The eye-catching view and the soul-soothing experience among the popular shrines take away all the hard work and effort put to reach there. Witness the outstanding and sparkling beauty of the mentioned best religious places in India you must visit.
Here is the list of Top Religious Places in India For Divine Blessings
Let us together get acquainted to a different and vital side of the country and learn about these fascinating religious tourism places in India:
Mata Vaishno Devi, Jammu- Cleanest religious place
It is a complete delight and a strenuous task to climb to Mata Vaishno Devi caves located at an altitude of 5300 feet where Mata resides and you can seek blessings. It is strongly believed that your all wishes are fulfilled over here as it is believed to be the home of Goddess Parvati.
It is a divine yet thrilling adventure when you climb kilometers to reach here, earlier it was very hectic but now helicopters, ponies, and palanquins are available. The temple is exactly located in the Trikuta Hills in Jammu.
Places to visit:

Well there are a few places to visit in Vaishno Devi like Vaishno Devi Mandir, Ardhkuwari, Bhairavnath Temple, Dera Baba Banda, etc.

How to reach:

By air, bus, train, all will leave you at Katra and from there you will get many options.

Activities to enjoy:

Horse Riding, Trek to Deva Mai, Bhimgarh Fort, Pony ride to Ardh Kuwari, etc. can be enjoyed in Vaishno Devi.
Varanasi/Banaras- City where Ganga flows.
Well, the world's oldest living city and the most beautiful religious place in India i.e. needless to describe. It is also called Kashi- the city of life. It lies on the western bank of river Ganga and is famous for the narrow streets filled with holy cows.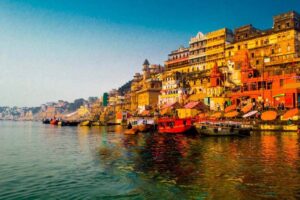 Varanasi is considered the holiest place where one thinks to die in order to attain salvation. The beautiful Ganga Arti in the evening time, pleasant sounds and smells, and rich delicacies like chaat and lassi, etc. makes Kashi famous.
Places to visit near Varanasi:

Chousatti Ghat, Dashashwamedh Ghat, Manikarnika Ghat, Durga Temple, Kashi Vishwanath Temple, Sankat Mochan Hanuman Temple, etc. T

he Kashi Vishwanath Temple is very close to Manikarnika Ghat.
How to reach:

It is well-connected by air, train, and road. Reaching here is not a fret.

Activities to enjoy:

Apart from a plethora of ghats and temples, you can take a boat ride to view all the ghats, go temple hopping, shop for Banarasi silk clothing, and sample the local street food among other things to do in Varanasi., etc.
Rishikesh- It is the land of Gods. 
Rishikesh is one of the religious places in India located in the Himalayas. It has a connection with Lord Vishnu, Lord Bharat, and more religious legends attached. The soul-soothing view of Ganga Arti makes the whole atmosphere so much more religious and beautiful, then Rishikesh is famous for water sports activities.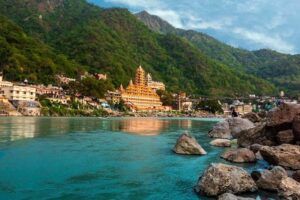 It is also called the Yoga capital of the world with so many yoga studios present. Also, Rishikesh is very much famous among foreigners to unwind the spiritual past.
Places to visit:

Lakshman Jhula, Ram Jhula. Beatles Ashram, Little Buddha Café, etc.

How to reach:

Reaching here is most convenient with a car/self-drive.

Activities to enjoy:

Witness the beautiful Ganga Arti, River Rafting, Parasailing, Paragliding, Trekking, etc.
Badrinath- the most important pilgrimage site in India.
One of the most beautiful holy places and one of the four holy Dhams in India is located in the Alaknanda River, Chamoli district, Uttarakhand. The temple is dedicated to Lord Vishnu surrounded by the peaks of Nar and Narayan and Nilkantha.
It is a sure-shot place to visit and one to experience at least once in a lifetime. Breathtakingly beautiful, snow-capped mountains, this pilgrim attracts thousands of visitors every day and I am definitely sure that Badrinath is surely on the list of every tourist.
Places to visit:

You will enjoy visiting the places like Bheem Pul, Saraswati River, Tapt Kund, Vasudhara Falls, Brahma Kapal, etc.

How to reach:

Badrinath is easily connected by road, rail, and air. So you can choose your most convenient option.

Activities to enjoy:

  You can have adrenaline rush activities like mountain expeditions, trekking on the Satopanth trek, Mana Pass Trek, etc.
Spiti- Memories made in the mountains, stay in heart. 
Spiti is located in the northeastern part of Himachal Pradesh, at high altitudes. It is an extremely beautiful place known for its ultimate natural beauty and cultural importance.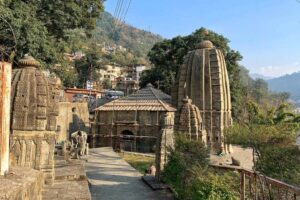 Several ancient temples, stupas, and monasteries can be found here. Summer months are considered the best to visit Spiti Valley witnessing amusing weather and fewer crowd.
Places to visit:

Tangyud Monastery, Dhankar Gompa, Trilokinath Temple, etc.

How to reach:

Kullu Airport and then the train and buses are the most convenient options to reach here.

Activities to enjoy:

Hiking, trekking, jeep safaris, mountain biking, etc. are the activities to enjoy.
Shirdi- Why fear when I am here- Sai Baba. 
The land of Saint Shri Sai Baba, Shirdi has the main attraction of Sai Baba's Shrine and Sai Baba Temple. It is one of those few temples in India where Muslims and Hindus both worship together.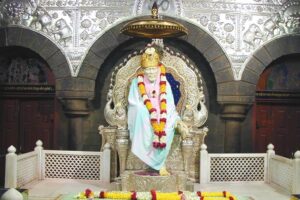 It is 296km from Mumbai and faces huge attractions every year. The temple is built to respect the preachings of Sai Baba.
Places to visit:

Dwarkamai Shirdi, Sai Teerth Devotional Theme Park, MALPANI Wet n Joy Water Park, etc.

How to reach:

You can reach by air, train, bus, or by yourself. Everything is compatible.

Activities to enjoy

: Majorly you can enjoy sightseeing and visit Dwarkamai Masjid, Dixit Wada Museum, Baba's Chavadi, Maruti Mandir, etc.
Mathura/Vrindavan- Radhe Radhe, Shyam Milade.
When it comes to the religious places of India, how can one forget Mathura and Vrindavan? A very beautiful and divine place famous for the birth of God Krishna. This place is full of temples giving a satisfying feeling to the devotees.
Krishna craze is widespread across the world and the same can be witnessed here with people coming from different parts of the world.
Places to visit:

Banke Bihari Temple, ISKCON Vrindavan, Prem Mandir, and many more temples.

How to reach:

Well Airport is there in Agra and Delhi but still the best to reach there is by car or by train.

Activities to enjoy:

Enjoy the Holi festival during the March month and can also enjoy the Janmashtami festival.
Ajmer- A City where history and spirituality collide. 
Another destination that Muslims and Hindus both visit. Ajmer Sharif Dargah is one of the finest examples of secularism and a famous religious place made for Sufi Saint Khwaja Moinuddin Chishti holding great importance in the Muslim Community.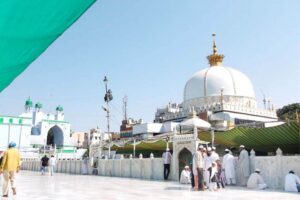 It is a famous shrine that holds numerous devotees every day to experience eternal spiritual peace. This place holds an important role in spreading ethical and spiritual values among the masses.
Places to visit:

Khwaja Gharib Nawaz Dargah Sharif, Adhai Din Ka Jhopra, Soni Ji Ki Nasiya Jain Temple, etc.

How to reach:

Reaching through the air is a convenient way but you can also reach by rail and road.

Activities to enjoy:

Ana Sagar Lake, Jain Temples, Lake Foy Sagar, Pushkar Camel Fair, Soniji Ki Nasiyan, etc.
Well, ending the blog I am satisfied that I have told you about the best religious places of India. India has so many spiritual places nestled in the arms of greenery and placed on enticing river banks. Now that you are aware of the religious places in India, then pack your bags and begin your spiritual journey. Hope you will enjoy the best.