Cities are connected by a network of canals, world-famous art galleries, tall church towers, windmills, and flower gardens. Yes, we are talking about the marvelous attractions that make the Netherlands the beauty that it is.
Spending a couple of nights in Netherlands can make your summer holidays memorable by riding around on bicycles, tasting wine and cheese, and smelling tulips and roses in the Netherlands with a trip to this beautiful country this year.
If you are planning to visit this stunning country in the near future, don't worry since we got your back!
Here are a few places to visit in the Netherlands this year!
Top 10 Tourist Destinations to Visit in the Netherlands
1. Amsterdam
As the capital of the Netherlands, Amsterdam is the number one place to visit in the country. Enjoy its stunning natural landscape, the wide network of canals, and beautiful museums brimming with a rich history.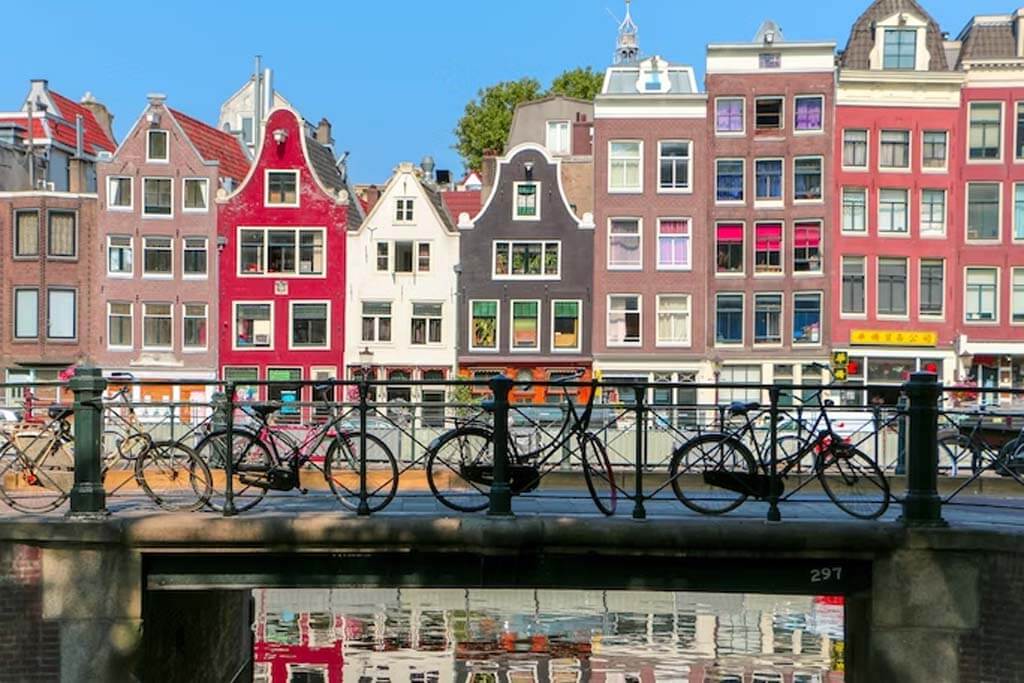 You can dive into the art galleries and antique shops in Jordaan which is one of Amsterdam's most visited neighbourhoods.
The bars and restaurants in this neighborhood offer you and your family a relaxing atmosphere to chill in. Wander around the courtyard gardens and take lovely pictures in the narrow lanes extending towards the 9 Streets.
The latter is heaven for shopping lovers as you can cycle around in the streets, window shop, meet new people, and explore the local attractions.
Plan a day trip to stop at the gorgeous beaches, windmills, and winding canals that can offer you plenty of pictures to bless your Instagram feed.
Places to stay: The Flying Pig Downtown Hostel, Qbic Hotel, Inntel Hotels, Hotel Roemer, Novotel, Courtyard by Marriott
Famous tourist attractions: Cobra Museum, Van Gogh Museum, Artis Royal Zoo, Begjinhof, Royal Palace of Amsterdam, Jordaan, Vondelpark, Dam Square, Heineken Brewery, Canal Belt, Anne Frank House
Things to do: Go on a bicycle ride and explore the city, shop at the Nine Streets, visit the cute little cafés and bakeries, go clubbing, enjoy a boat ride along the canals, visit the numerous museums like Eye Film Museum, and Tropenmuseum and the most visited Museum of Prostitution in the Red Light District
Best time to visit: May to August
Nearest airport: Schiphol International Airport
2. Keukenhof Garden
Keukenhof Garden is one tourist destination in the Netherlands that you do not want to miss if you wish to get greeted with thousands of flowers of different colours and species.
You can book a room in a hotel in the town of Lisse the night before visiting this stunning spot in the Netherlands.
Walk up to this marvellous garden of beautiful Dutch tulips, hyacinths, and daffodils that can make you pinch yourself to see if it is a dream.
You can see over 800 varieties of tulips in this garden, apart from other gardens that have been inspired by different nations like England and Japan.
Tag your botanist enthusiast friend along with you to explore this world-famous tourist destination located in Lisse, a small town in Netherlands.
Here are a few interesting facts about this charming place!
Did you know that the name Keukenhof means kitchen garden? It is called so because it was a place that was used to grow herbs for Jacqueline, the countess of Hainaut.
Each year the organizers decide to have a theme for the garden. While the theme for 2022 was "flower classics", there is no specific theme for the garden this year.
Places to stay: Hotel de Lis, Beds and Breakfast, Stayokay Hostel, Fletcher Hotel, De Groene Bollenschuur, Boutique Suites, Hotel de Duif
Famous nearby tourist attractions: Molen de Valk, Museum de Lakenhal, National Museum of Ethnology, Rijksmuseum Boerhaave, Naturalis Biodiversity Centre, Corpus Museum, Burch van Leiden
Things to do: Take beautiful pictures, learn about the different varieties of flowers, visit the Keukenhof Castle, take part in the space train in Space Expo, visit the National Museum of Antiquities
Best time to visit: Mid-March to Mid-may
Nearest airport Schiphol International airport
3. The Hague
If you are a history enthusiast, The Hague is one famous destination in the Netherlands that you must definitely visit as it is home to the Dutch royal family.
It is also the political capital of the country and offers a lot for tourists to learn about Dutch culture and history.
But things are not as boring as they sound. The Hague also offers a lot of exciting tourist attractions like beaches and cafés for you to relax after a long day.
You can either hop on to a cycle or stroll along the streets and explore the places. One of the places you should visit is the Binnenhof, which is a complex of historical buildings that houses the Dutch government offices.
The Grand Peace Palace, which has the largest library of international law and peace, is another destination that you must definitely see when visiting The Hague.
Enjoy the beautiful architecture of these buildings of great historical significance to make the most out of your Netherlands trip.
Places to stay: Hotel Hague Centre, King Kool The Hague City Hostel, Teleport Hotel, the Social Hub, Andante Hotel Scheveningen
Famous tourist attractions: Binnenhof, Het Palais, Mauritshuis Museum, Peace Palace, Grote Kerk, De Passage Shopping Mall, Noordeinde Palace, Van Kleed Distillery, Clingendael Park, Scheveningen Beach
Things to do: Explore the city on a bike ride, go on a canal cruise, visit the miniature world of Madurodam, take your kids to the Children's Book Museum, take a look at the paintings at Panorama Mesdag, shop at De Haagse Market
Best time to visit: March-May, September- November
Nearest airport: Rotterdam The Hague Airport
4. Rotterdam
Rotterdam is one place to visit in the Netherlands that offers exciting nightlife with several shopping options. It is also known as the architecture city of the Netherlands, due to the stunning museums and buildings that you get to visit.
Enjoy some mouth-smacking cuisine, go on a shopping spree with your friends, and watch the stunning skyscrapers in this city.
Rotterdam is famous for the cube houses designed by Dutch architect Piet Blom.
If you wish to learn more about these little attractions, you can visit the Show Cube Museum or Kijik-Kubus. Spend a day in these little homes that are tilted over by 45 degrees and experience what it is like to live in a tiny cube as a local.
Another picturesque neighborhood that you must visit in Rotterdam is Delfshaven. You can find pieces of history at the Pilgrim Fathers' church and attractions like Warship de Delft.
Places to stay: Stayokay Hostel, CityHub, Ibis Rotterdam, Room Mate Bruno, Hotel The James
Famous tourist attractions: Erasmus Bridge, Museum Bojimans van Beuningen, Market Hall, Rotterdam Zoo, Euromast, Fenika Food Factory, Maritime Museum, the Park, Art Hall, Show Cube Museum
Things to do: Go on a day trip to Zierikzee, attend an acoustics concert at De Doelen, visit the Van Nelle factory BV, take part in a festival at Schouwburgplein Square, tour the Remastered museum
Best time to visit: March to August
Nearest airport: Rotterdam Airport
5. Utrecht
Enjoy some lovely trips across the city of Utrecht which is just half an hour away from Amsterdam. You can hope on a train and reach this pretty city which offers a modern and cozy vibe with popular universities, museums, and other medieval buildings like churches.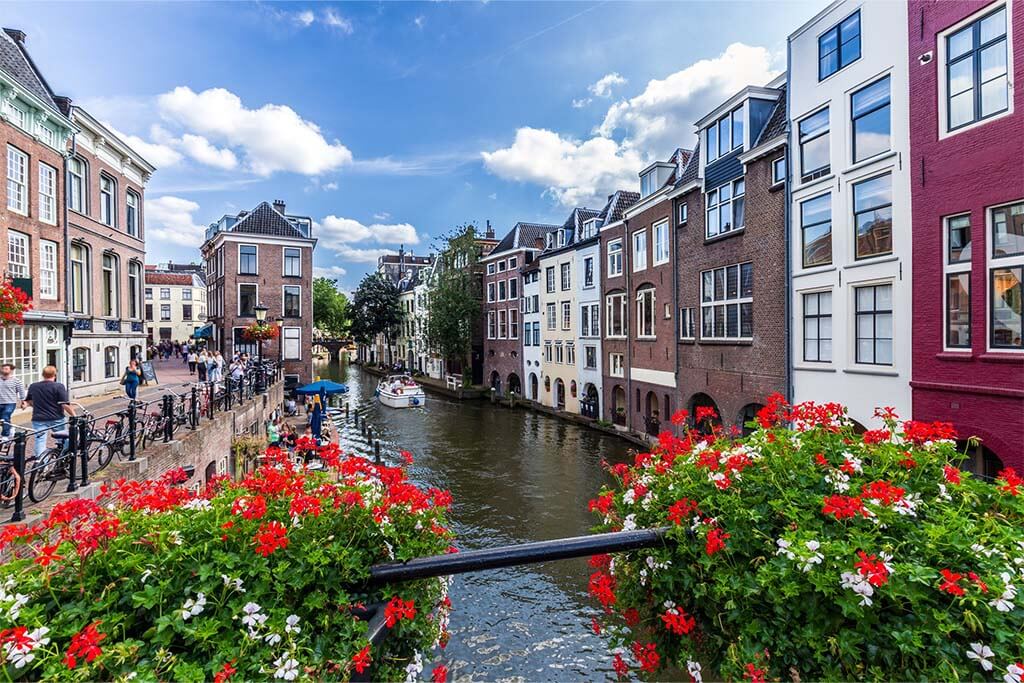 You can start your trip by walking around the Old Town and marveling at the architecture of the buildings and engaging with the locals.
Spend your evening in Oudegracht with the restaurants, bars, art galleries, and shops that can offer you an unforgettable experience.
Do not miss the nightlife along the Oudegracht as it becomes beautifully lit with lights making it the perfect spot for some night photography
Places to stay: Stayok Utrecht Centre, BUNK Hotel, Inntel Hotels, Hotel Mitland, Leonardo Hotel
Famous tourist attractions: Spoorwegmuseum, Dom Tower, Museum Speelklok, Caste de Haar, DOMunder, Rietveld Schröder House, Nijntje Museum, Centraal Museum, St Martin's Cathedral, Máximapark
Things to do: Shop at Hoog Catharjne, enjoy the rich history of Utrecht at the Centraal Museum, visit Hoois Doorn, visit the vibrant cafés and restaurants, have a picnic near the Oudegracht canal, climb the Dom Tower
Best time to visit: May
Nearest airport: Schiphol Airport
6. Giethoorn
The Hague and Amsterdam are popular tourist destinations among travel mongers.
But a trip to the Netherlands will not be complete without visiting Giethoorn which is a small village in the countryside and is around one and half hours away from Amsterdam.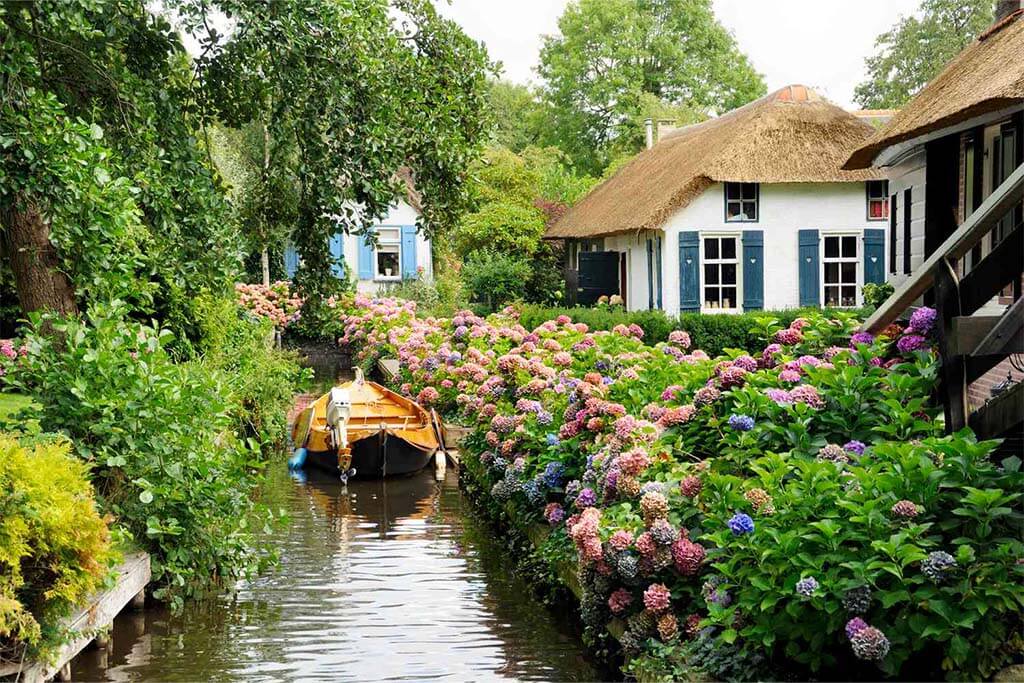 Known as the Dutch Venice, this neighborhood is made up of canals, making it the perfect place for a day of canal tours. It is one tourist destination you should visit if you are looking to get away from the crowds and the loudness of daily life.
You can rent a motor boat and tour this neighborhood and call it a day by chilling with your family at the nearest restaurant.
Places to stay: Hotel Giethoorn, Bed & Breakfast, Vakantiepark, De Dames Van de Jonge Hotel, Geertien
Famous tourist attractions: Museum Giethoorn't Olde Maat Uus, Lekkers & Zo, Histomobil, Gloria Maris, Rondvaart Zuideinde, Giethoorn Floramics, De Weerribben-Wieden National Park
Things to do: Go on a sightseeing tour, hire a boat, go cycling, visit the museums, go on a canal cruise, explore the collection of rocks and fossils, see the beautiful flowers in Giethoorn flora mics
Best time to visit: April to October
Nearest airport: Groningen Airport
7. Zaanse Schans
Another place that you can visit on a day trip from Amsterdam is Zaanse Schans. Explore the beauty of humongous windmills, cheese farms, and the serene Zaan River by visiting this little village.
You can spend an exciting day here listening to the sounds of the windmills and dams and experiencing the life of the locals. 
Visit the windmills to see how basic necessities like rice, wood, and cooking oil are produced to sustain life.
Zaanse Schans is home to 13 windmills with just 6 of them working including the world's only working dye mill.
Tour the Zaanse Schans clog workshop to see traditional Dutch clogs which are shoes produced from Willow or Poplar.  
Cheese tasting is an event you should not miss when visiting this village.  The Cheese Farm de Catharina Hoeve allows visitors to taste the different varieties of cheese and also holds free cheese-making demonstrations from 8 AM to 6 PM every day.
Places to stay: Inntel Hotels, Heerlijck Slaapen Op de Zaans Schans, hotel Zaandijk, Botel, Bed & Breakfast Houseboat Sloepdogg
Famous tourist attractions: Zaanse Museum, Cheese Farm de Catharine Hoeve, the Zaansche Mill, windmill de Zoeker, De Bonte Hen, Het Jong Schaap, Tingieterij Holland, Zaantheater, Cooperage, Weaver's House, Van Gogh Museum
Things to do: Visit the windmills, explore the varieties of cheese, indulge in delicious Dutch pancakes, shop at the Albert Hejin Grocery store, relax at the coffee shops, watch the magnificent clocks at Museum Zaanse Tijd
Best time to visit: April to October
Nearest airport: Schiphol Airport
8. Haarlem
Located between the North Sea and Amsterdam, Harlem is a  popular favorite among tourists and locals alike.
You can visit this place to explore its long and rich history dating from the 11th century presented to you by buildings like the Old Town Hall.
Engage in the artistic activity in this destination by taking a look at the works of geniuses like Frans Hals, Philips Wouwerman, and Jacob van Ruisdael.
Harlem is also known for the world-famous Vleeshal or the Meat Hall which was built in 1603 as the municipal slaughterhouse.
Make sure to also visit the Archaeological Museum Harlem in the basement of the Vleeshal and take a look at the artifacts which were discovered during local archaeological research.
Places to stay: Landgoed Duin & Kruidberg, Stayokay Hostel, Hello I'm Local, Hotel de Weyman
Famous tourist attractions: Teylers Museum, Theehuis de Haarlemmerhout, Schuur, Windmill de Adriaan, Grote Markt, Raaks Halle, Jopen, St Bavo Church, Amsterdamse Port
Things to do: Visit the old City Hall, meditate at the St Bavo church, enjoy the paintings, sculptures, and ceramics at the Frans Hals museum, walk around Grot Markt, shop at the stores and restaurants in the Brinkmann Passage
Best time to visit: Late June to early September
Nearest airport: Schiphol Airport
9. Texel
Even though Texel Island is just 9 kilometers wide and 25 kilometers long, it is still packed with stunning tourist attractions like beaches, the Texel National Park, and the Ecomare.
You can take a train to Den Helder from Amsterdam and get on a bus to the ferry to reach Texel. We recommend you rent a bike upon reaching Texel even though there are other public transportation options like buses.
Texel also offers a wide variety of accommodation options that provide a cozy and comfortable stay for families and couples.
You can start your day in Texas by getting a glimpse of the wide variety of berries, white flowers, horses, sheep, and birds by visiting the Texel National Park.
Den Burg is the largest village on Texel Island that provides you with many opportunities to take amazing pictures. It also houses lovely cafes, restaurants, and museums to spend a relaxing afternoon.
Places to stay: The Free Bird, Hotel Texel, Stayokay Hostel, Kogerstrand, Hotel Greenside, Hotel Brasserie Rebecca
Famous tourist attractions: Lighthouse Texel, Ecomare, Texel Sheep Farm, Museum Kaap Skil, Aviation and War Museum, Den Burg, High Mountain Texel, Novalishoeve, Surfschool Foamball
Things to do: watch the seals at Wadden Sea, cheese tasting, visit the Ecomare, enjoy seafood at the restaurants in Oudechild, spend time wine tasting at De Kroon, go on a brewery tour at Texelse Bierbrouwerij
Best time to visit: July to early September
Nearest airport: Schiphol Airport
10. Maastricht
Maastricht is a famous tourist destination that lies between the borders of Germany and Belgium. It is a place to visit if you wish to get lost in the busyness of human life, as it is one of the most happening commercial centers in the country.
It offers so many historic treasures for tourists to explore, including the Dutch Baroque Stadhuis, which is its city hall. Enjoy the stunning interiors of this important landmark with its tapestries, ceiling paintings, and jaw-dropping chimneypieces.
One destination that is a popular attraction among tourists is the Basilica of St Servaaskerk which is the oldest church in the Netherlands. You can see pieces of history in this Basilica, dating back to the 13th, 14th, and 15th centuries.
Places to stay: Designhotel, Crowne Plaza, The Dutch, Hotel Monsatère, Novotel, Boutique Hotel Sint Jacob
Famous tourist attractions: Helpoort, Vrijthof, Basilica of St Servatius, Bonnefanten Museum, Bisschopsmolen, Basilica of our Lady, Fort St Peter, Maastricht Underground, Sint Servaasbrug, Bosch Brewery
Things to do: Explore the City Hall and Market Square, marvel at the architecture of different churches, tour the historic Fort Sint Pieter, take a look at important art collections in Bonnefanten museum, walk along the Wilhelminabrug bridge
Best time to visit: May to October
Nearest airport: Maastricht-Aachen
Let us know if you found this article interesting. Share with us your experience of visiting the Netherlands so that you can make the Netherlands trip an unforgettable experience for new visitors.
Frequently Asked Questions