Norway, home of the Vikings, is a Scandinavian country, with snowy tundra, trendy cities and long beaches. Norway has towering mountains, mythical fjords and beautiful islands, making it one of the most beautiful countries in the world.
Norway is a stunning place in any season, whether you want to see the northern lights or the summer sun shining on a giant glacier. You can go whale watching in Tromsø, look for polar bears and walruses in Svalbard, or discover great hiking, cycling and skiing in Norway. 
Despite the lack of daylight throughout the summer, the best spots in Norway are still bright and trendy, and feel amazing. Trondheim is a historic Viking city where you can learn about the history of the country; Bergen has colorful wooden houses; And Oslo, the fashionable capital, offers a laid-back lifestyle, parks, and a thriving restaurant scene.
Norway – An Overview
Before the last ice age, which ended around 10,000 years ago, Norway was entirely ringed by an immense ice sheet. The movement of the ice over the nation as it finally retreated (or melted) resulted in the formation of islands, lakes, rivers, and mountains. It also dug deep valleys, which eventually pooled seawater to form Norway's fjords.
Norway is a rugged nation with high plateaus, deep valleys covered in forest, and a few glaciers left over from the Ice Age, including Folgefonna, Hardangerjokulen, and Jostedalsbreen, the largest glacier in the world.
10  Best Places to Visit In Norway & Things to Do
It is time to discover Norway's kind and friendly heart, as well as its best places to visit in Norway. This beautiful place is routinely ranked as one of the best places to live. Here are a few of Norway's most popular tourist destinations:
1. The Fjords
The UNESCO-listed fjords are among the most stunning natural environments in Europe, and they are quickly becoming a favorite destination for tourists. The setting is breathtaking, with high mountains and waterfalls around the eerily quiet snow valley. The longest, deepest, and most well-known fjord in the nation is Sognefjord, followed by Hardangerfjord.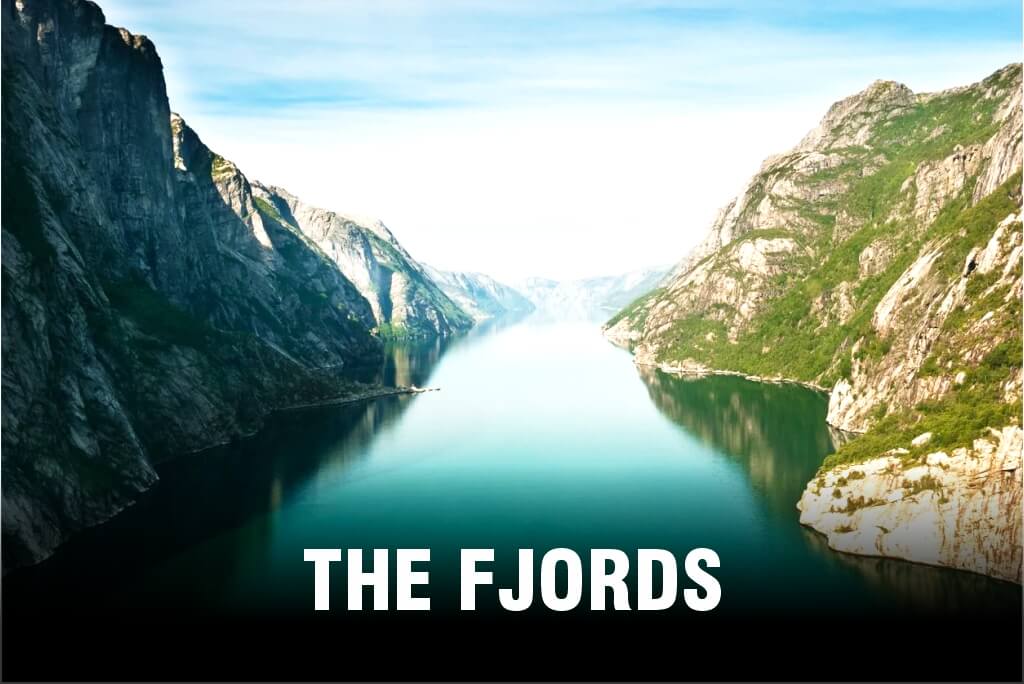 includes stops in Geirangerfjord, a general-purpose fjord, and Nordfjord, the biggest fjord in Europe. If you want to see this well-known location, you must travel to Sognefjord. The distance of 123 miles (198 km) is covered in around four hours. You may also go by train, which is a practical choice made possible by the railway line between Bergen and Oslo.
2. Ålesund
Lesund, located on a cluster of islands off Norway's western coast, was rebuilt in the wonderfully vivid Art Nouveau style following a disastrous fire in 1904. Being one of the best places to visit in Norway, Ålesund has a vibrant culture, wonderful shopping, and panoramic views of the region from Mount Aksla.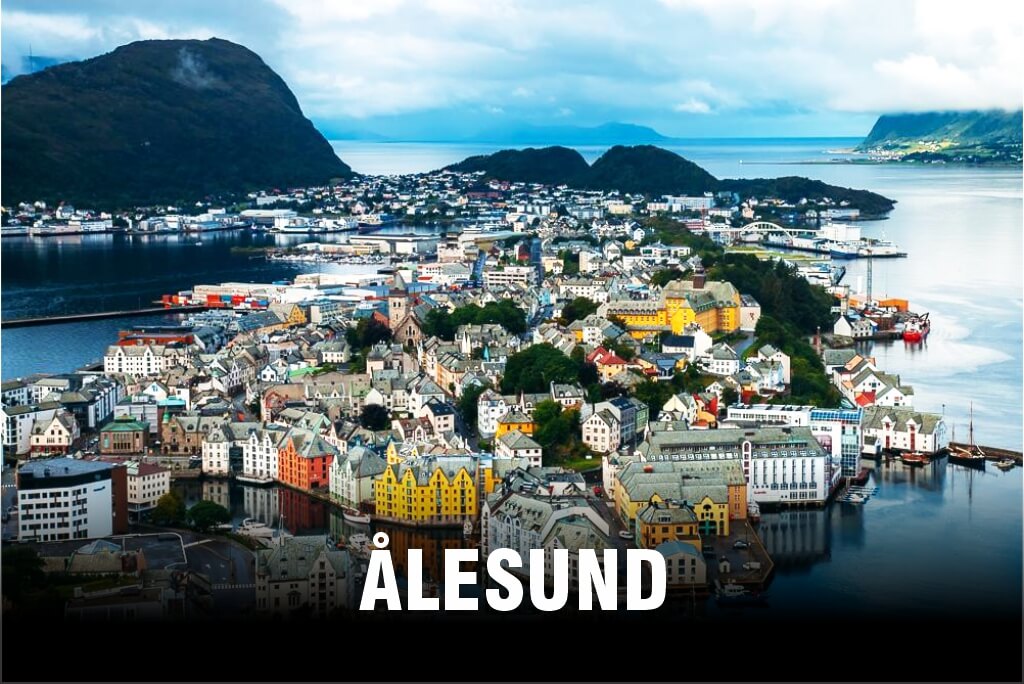 Take in the unique atmosphere of the town before embarking on a guided fjord trip. Do not pass up the opportunity to photograph the Geirangerfjord. Driving from Alesund Airport (AES) to Lesund is the most cost-effective option, taking around 16 minutes.
3. Arendal
Arendal, which is located on the beautiful southeast coast of Norway, is a lovely location that is enjoyable to visit in the summer. At this time, a large number of tourists arrive in the city to explore its attractions and take advantage of the jam-packed schedule of festivals and concerts.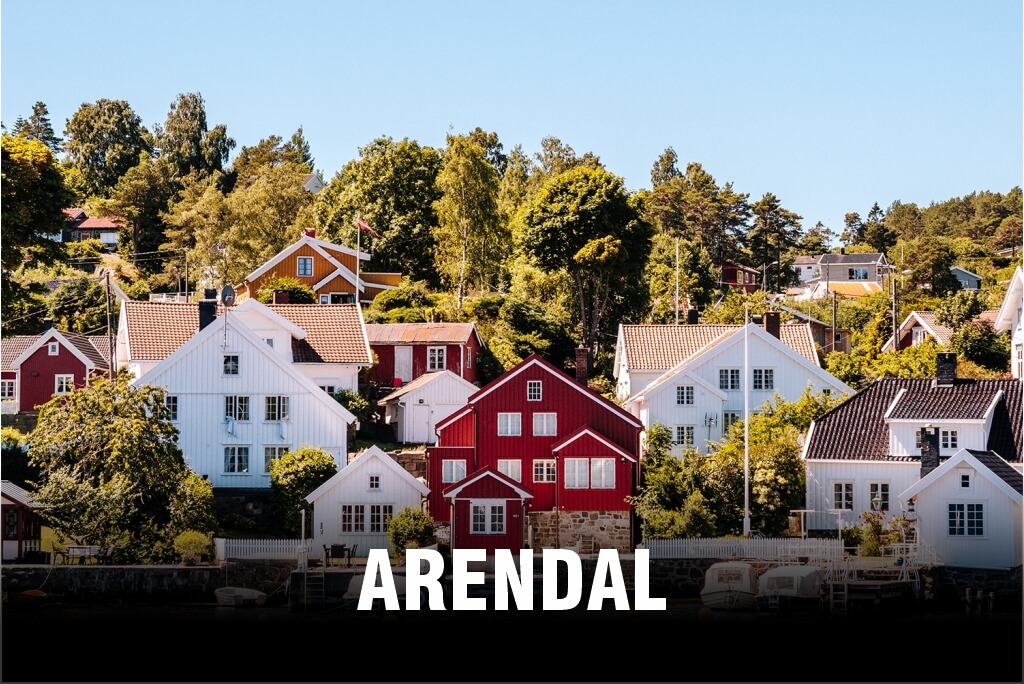 The scenic waterfront and dock, which are lined with stately historic mansions and centuries-old churches, are at the heart of the city. Cozy cottages and wooden residences surrounding harborside cafés, outdoor eateries, and pubs add to the area's charm and vibe.
Along with the two ancient districts of Tyholmen and Pollen, Arendal has a fantastic fish market and an intriguing history museum. Being one of the best places to visit in Norway, its port makes it easy to take a ferry to the nearby islands of Hisoy, Merdo, and Tromoy, all of which have stunning natural beauty. Arendal to Oslo (OSL) Airport travel time is 5 hours and 7 minutes.
4. Nordkapp
Nordkapp, which looms above the Arctic Ocean, has long been a popular tourist attraction in Norway. The steep coastal cliff on the island of Mageroya, which claims to be continental Europe's northernmost point, is actually closer to the North Pole than Oslo.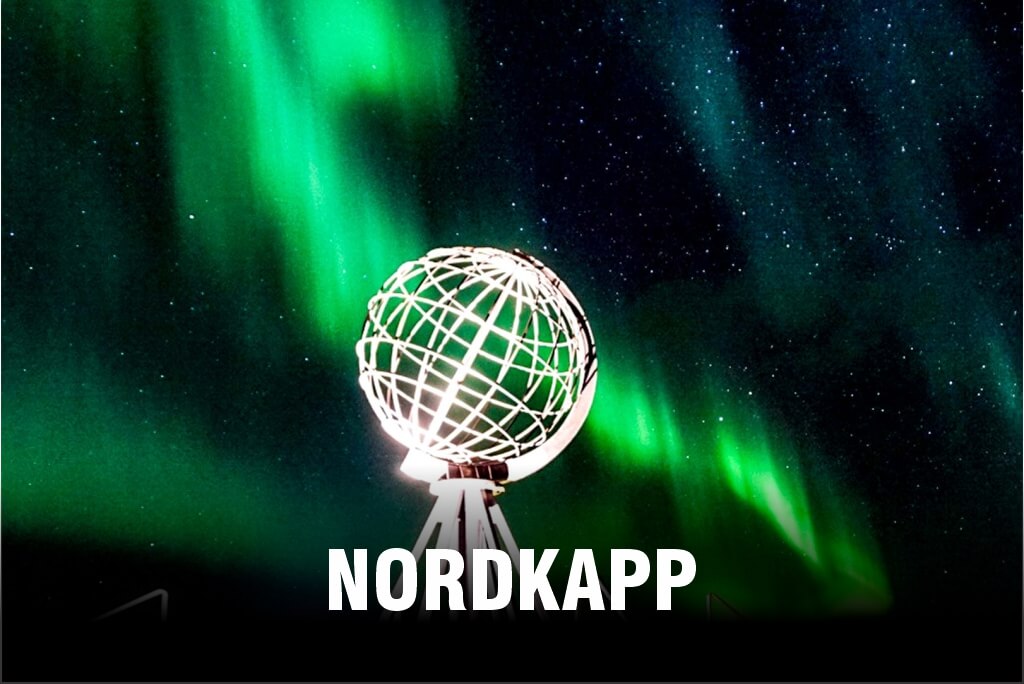 The rocky and secluded setting of the high plateau, which gives breathtaking views of the ocean, has long captivated travelers. The Sami have previously used the prominent point as a site of sacrifice. Everyone from Norway's and Sweden's kings to Germany's Kaiser Wilhelm II paid a call. 
Busloads of visitors visit the North Cape today to gawk and soak in the spectacular views. Even though it might get crowded, especially in the summer, the natural beauty of the cliff makes a visit there highly recommended.
Nordkapp is one of the best places to visit in Norway. Trips to the Honningsvag cliff, as well as walks and bird-watching trips to the island's scenic locations, may be planned.
5. Jostedalsbreen National Park
The stunning environment of Jostedalsbreen National Park, which receives its name in recognition of the enormous glacier that resides there, is located in western Norway. The park, which opened in 1991, protects a wide range of landscapes, including majestic mountains, valleys, and glaciers.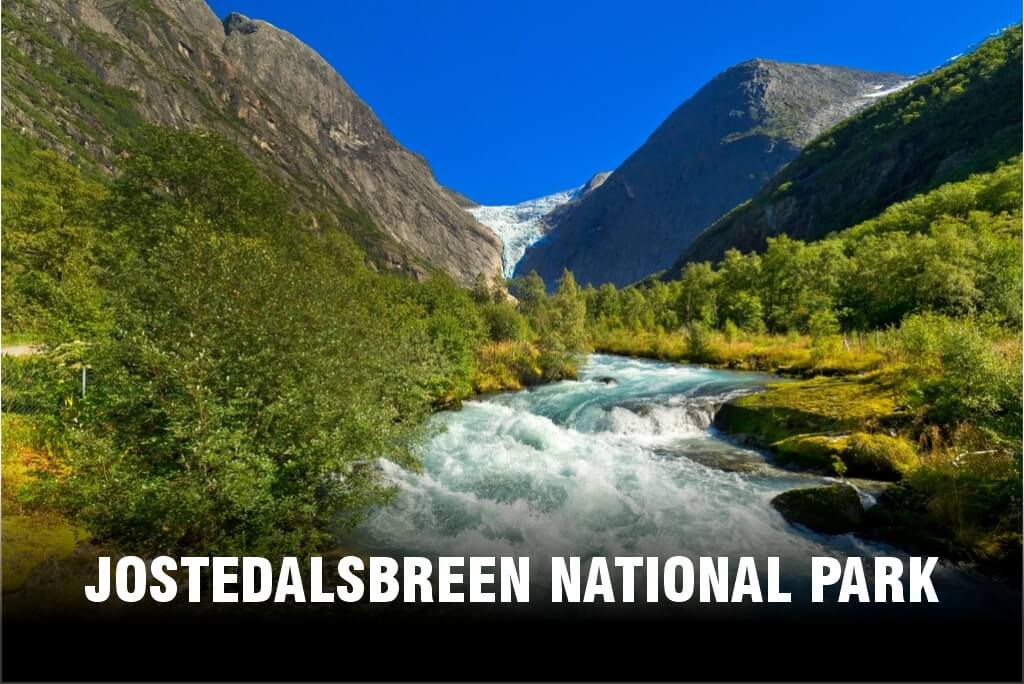 Being one of the best places to visit in Norway, this largest glacier in continental Europe dominates its borders. This sparkling glacier is roughly 600 meters thick in certain spots and covers a large area. The national park features a lot of rugged terrain, large valleys, and stark mountains since the land around it has been destroyed by the mountain's effect over millennia.
These breathtaking views may be reached by trekking from any of the park's three gates, which also have instructive displays about the area's flora and fauna. You may also organize tours here for whitewater rafting, kayaking, and glacier trekking. The least expensive route, requiring 7 hours and 37 minutes, is the night bus from Oslo Airport (OSL) to Jostedalsbreen National Park.
6. Trondheim
Trondheim, the northern capital, has something for everyone. Founded in 997, the third-largest city in Norway served as the country's religious center throughout the Middle Ages and as the capital during the Viking Age, making it a perfect site to visit if you want to learn about Norway's history.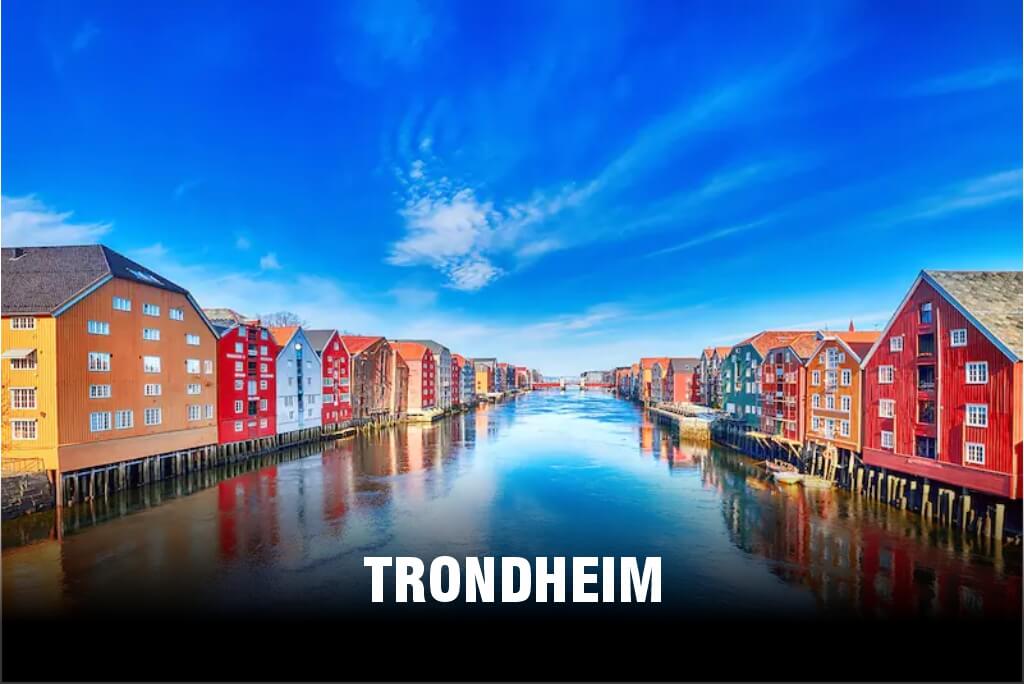 Among the city's historical places to visit in Norway are Sverresborg, a rebuilt 12th-century castle, and the Nidaros church, the world's most northern medieval church. Trondheim is Norway's main musical cultural center. 
Ringve Museum, the country's national music museum, includes both classic instruments and exhibitions that combine cutting-edge audio equipment. The Rockheim museum, which opened in 2010, contains contemporary music displays and live concerts.
7. Svalbard
Svalbard is a group of islands located between the Norwegian Sea, Greenland Sea, Barents Sea, and Arctic Ocean. Since 1920, Norway has governed the islands. Its villages are much northerly than any portion of Alaska and all but a handful of Canada's Arctic islands, making it the most permanently inhabited spot on the planet.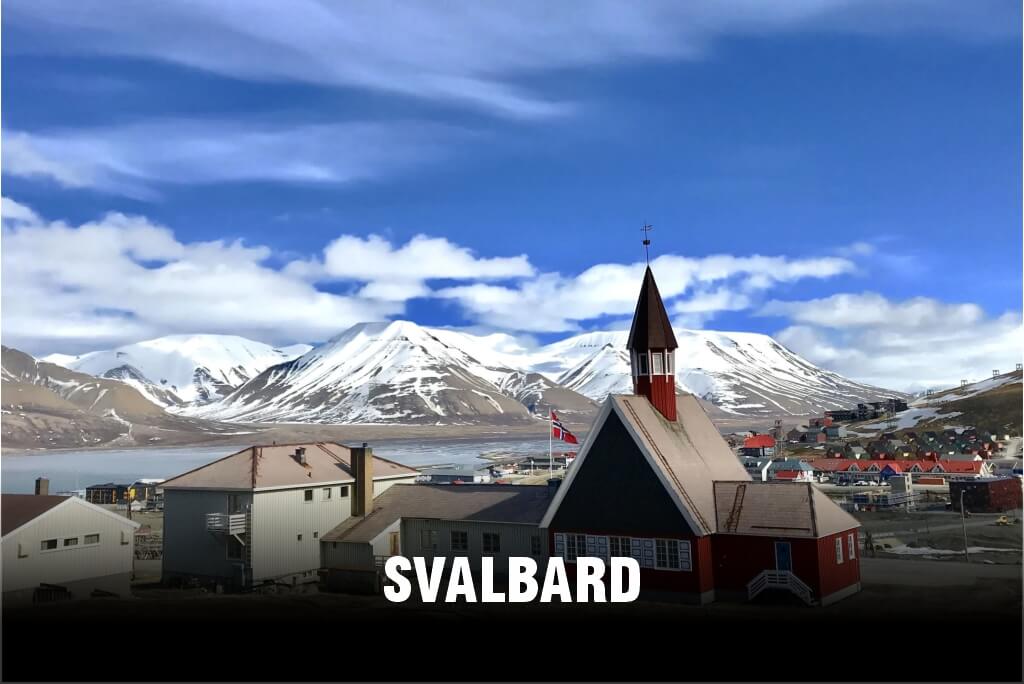 It is one of the most beautiful places to visit in Norway and has a total population of less than 3,000 people, practically all of whom dwell in the large cities of Longyearbyen and Barentsburg. The major reason people visit Svalbard is to observe Arctic nature at its most wild. 
Being one of the best places to visit in Norway, Svalbard is home to spectacular wildlife, including polar bears, caribou, reindeer, polar foxes, whales, seals, and walruses, in addition to stunning glaciers and craggy hillsides. 
Flying to Longyear Airport in Svalbard from Oslo or Troms is the most convenient method to go there. The trip to Longyearbyen, the largest city on Svalbard, from Norway, takes between 1.5 and 3 hours.
8. Lofoten Islands
The Lofoten Islands, off Norway's northwest coast, are recognized for their spectacular and peculiar beauty, with jagged mountains reaching majestically above the sea. Secluded beaches, bays, and small fishing villages dot its beautiful slopes.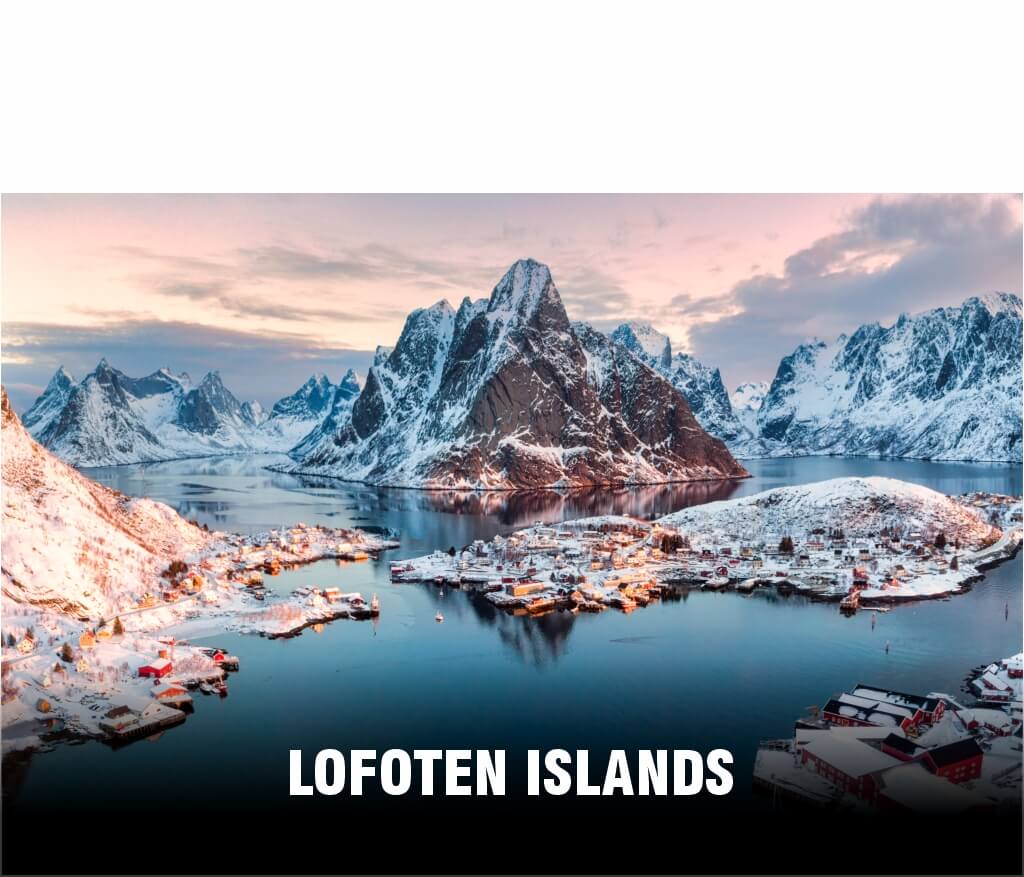 This renowned Norwegian location is linked to the mainland by a network of bridges and tunnels. Moreover, this beautiful destination in Norway is also lined with magnificent fjords and sheltered inlets. Because of the abundance of marine life nearby, fishing has always been one of the Lofoten Islands' principal industries. 
Despite its location far above the Arctic Circle, where it shares a latitude with Greenland, the Gulf Stream's circulation keeps the archipelago's temperature relatively mild. Temperatures as high as 23°C in the summer are not uncommon, despite the resort's status as a subarctic getaway with unpredictable weather.
9. Geirangerfjord
The Sunnmore region of western Norway is home to Geirangerfjord, one of the best tourist destinations in the country. It is a well-liked holiday destination with breathtaking landscapes, including high cliffs, beautiful waterfalls, and pure seas.
This 15-kilometer-long region, which is a component of the vast Storfjorden system, is flanked on all sides by steep slopes and harsh hills. Among the numerous breathtaking waterfalls that tumble over its granite cliffs are Suitor and Seven Sisters Falls.
The closest airport to Geirangerfjord is Sandane (SDN). However, there are faster methods to reach Geirangerfjord. In roughly 7 hours and 14 minutes, a bus can travel from Orsta/Volda (HOV) to Geirangerfjord via rsta rutebilstasjon, Moa trafikkterminal, and Ryr. Many cruise ships and sightseeing excursions pass through the fjord, especially in the hot summer months. 
10. Oslo
Oslo, Norway's capital, is located at the mouth of Oslofjord. Mountains, lakes, and islands, as well as beautiful hills and valleys, surround it. The city has a long history extending back over a thousand years and is an important economic, cultural, and political center.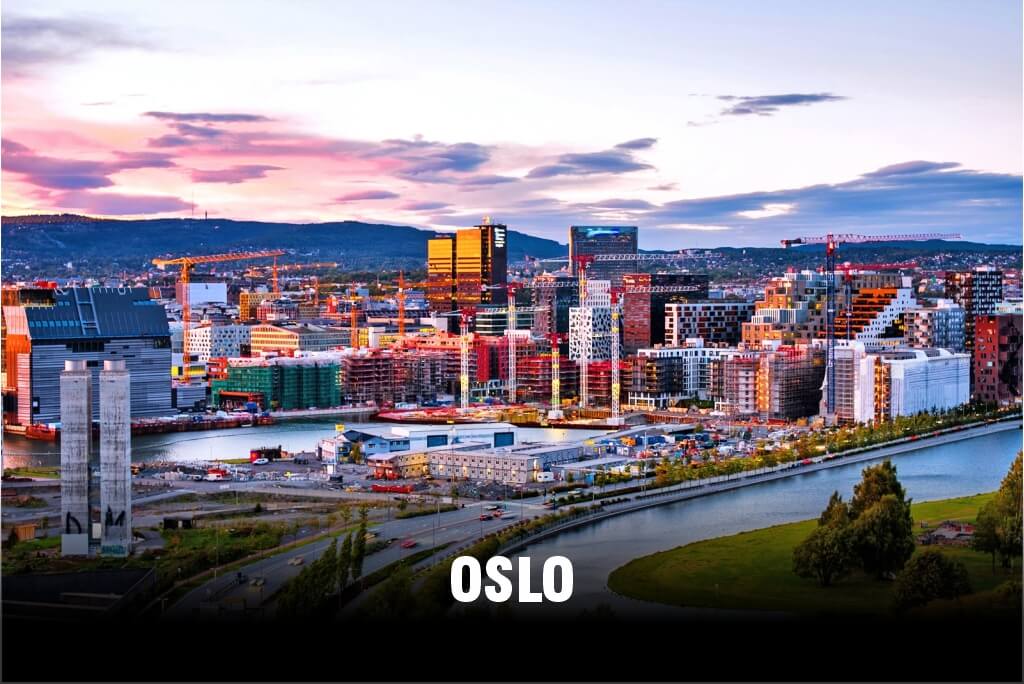 Even though the capital's architecture is now mostly inventive and modern, older timber structures may still be found on occasion. Along with famous museums and art galleries, such as the Viking Ship Museum, the city boasts a thriving performing arts industry and a festival schedule that is jam-packed.
50 kilometers (31.1 miles) separate the Oslo airport from the city center (Rdhusplassen), and it takes 40 to 45 minutes to go there. The Folkemuseet, an outdoor museum with more than 150 ancient buildings from all around Norway, is among the city of Oslo's additional attractions. 
This lovely area has various parks and forests, making it great for hiking and horseback riding. The islands of the Inner Oslofjord also provide breathtaking beauty.
Conclusion
So, this was all you needed to know about some of the most beautiful and spectacular places to visit in Norway. I hope you found this blog valuable. Keep an eye on this space for more helpful information on the way.
Frequently Asked Questions
The ideal months to visit Norway are May through June as well as September and October, when the nation is smack dab in the middle of its autumn foliage season. The weather is lovely and there aren't many people around during these months.
Some of the most popular destinations in Norway are Oslo, Bergen, Trondheim, Stavanger, and Kristiansand.
Prior visitors spent an average of $19 on local transportation and $32 on meals. In Norway, the average hotel room costs $123. As a result, a one-week trip to Norway for two persons costs on average of $1,679.