The vacation season is around the corner.When everybody is busy making travel plans, why are you still puzzled? Well, consider adding Portugal, the most popular  tourist destination on 'Eurotrip' to your travel itinerary.
Portugal is quietly nestled in the Iberian Peninsula. It has a rich cultural history, pulsating culture, and scenic landscapes. Portugal is a captivating tourist destination. It allures several tourists with its old-world charm and modern architecture.
Portugal's capital, Lisbon, is appealing with cobbled streets. It boasts historic neighborhoods like Alfama. Lisbon is also home to iconic landmarks such as the Belem Tower and Jeronimos Monastery.
Then we have the coastal city of Porto, renowned for its port wine, it enchants visitors with the picturesque Douro River and the striking Dom Luis I Bridge.
Portugal is also blessed with natural beauty. Sintra has fairytale-like palaces perched upon mist-covered hills. Moreover, the sun-kissed beaches of the Algarve are appealing.
How to Reach Portugal from India?
The quickest way to get from India to Portugal is to fly which costs ₹36,000 – ₹75,000 approximately for a single person. The journey takes around 13 hours.
10 Best Places to Visit in Portugal
Portugal is a splendid tourist place for those who are looking to explore nature's untamed beauty and yet experience the allure of the modern world.
1. Lisbon
Lisbon is serenely located along the banks of the Tagus River. It is Portugal's capital and largest city. There are beautiful alleys, quaint shops, and Gothic cathedrals here. The historic impressive bridges and vibrant neighborhoods, reverberate in traditional 'fado' music.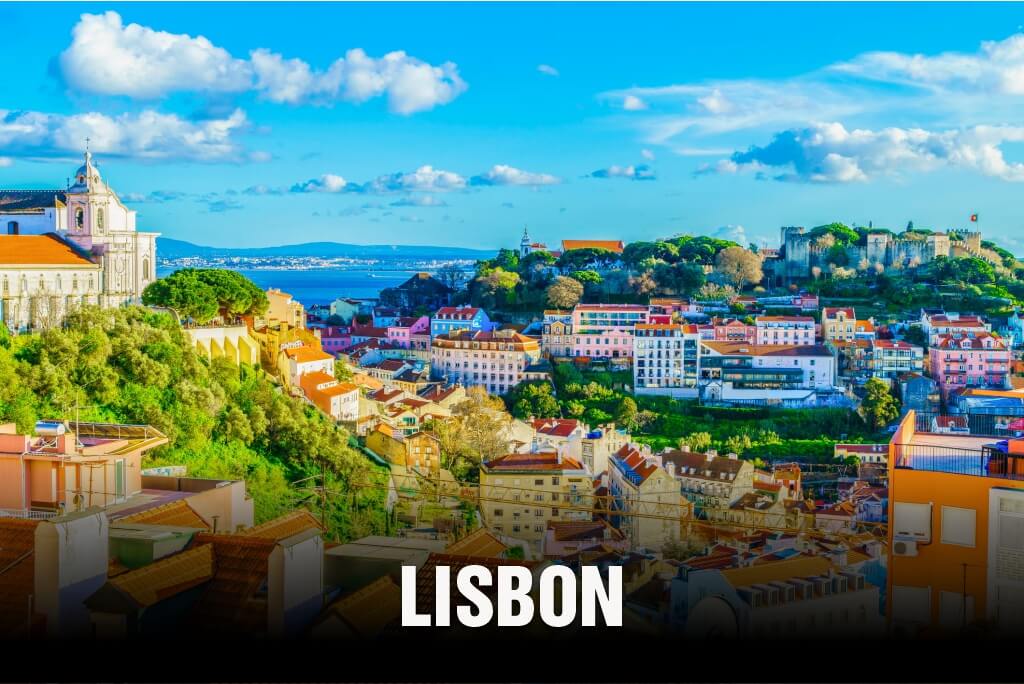 Lisbon is one of the world's oldest cities. The special attraction is its diverse neighborhoods, or "bairros." Among the most popular tourist destinations of these districts is Belém. It boasts royal palaces, gardens, and historic monuments.
Then there are landmarks such as the Jeronimos Monastery, one of Portugal's most visited sites. The city's oldest district is Alfama, an old Moorish quarter, known for its maze of cobblestone streets.
Chiado is a cultural hub with museums, theaters, and concert halls. Bairro Alto is an entertainment zone. It is dotted with several bars, discos, and nightclubs.
Best Places to Visit: Belem Tower, Jeronimos Monastery, Alfama District, Sao Jorge Castle.
Things to Do:
Stroll through the winding streets of Lisbon's oldest district, known for its historic charm, Fado music, and beautiful viewpoints.

Take a nostalgic tram ride on Tram 28, which goes through some of the city's most interesting neighborhoods.

LX Factory is an industrial complex turned into a vibrant space with shops, cafes, and street art.
Nearby Attractions: Sintra (Pena Palace, Quinta da Regaleira).
Best Places to Stay: Four Seasons Hotel Ritz Lisbon, Hotel Avenida Palace, The Vintage Lisboa, Memmo Alfama Hotel
2. Porto
Porto is world famous for its production of fine port wine. The city sprawls along the hills overlooking the Douro River. Porto is famous for its architectural and natural beauty.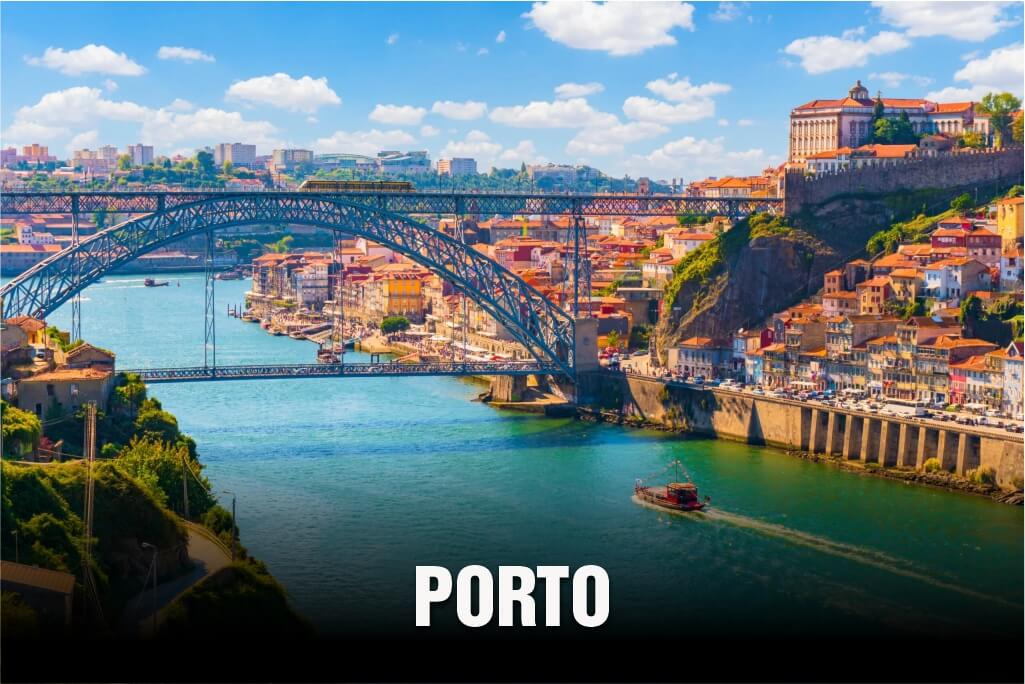 Don't forget to visit the pedestrian zone, the Ribeira. It is a favorite tourist spot with live music, cafes, restaurants, and street vendors. Another must-visit is Ponte Dom Luis, a metal, double-deck arch bridge.
Among Porto's many architectural wonders are beautiful old churches with elaborate interiors such as the Church of Saint Francis and Porto Cathedral. Other landmarks include the Cleric's Tower and palaces like the Stock Exchange Palace with its ravishing Arab room.
If you are fond of visiting traditional marketplaces, do try the traditional marketplace of Mercado do Bolhão. There are fresh fish, vegetables, fruits, and lovely handicrafts here. Boat cruises on the river are scenic and refreshing.
Best Places to Visit: Ribeira District, Dom Luis I Bridge, Livraria Lello, Clerigos Tower.
Things to Do:
Visit Livraria Lello to explore one of the most beautiful bookstores in the world.

Stroll along the picturesque Ribeira district, a UNESCO World Heritage site

Visit the wine cellars in Vila Nova de Gaia, across the river from Porto

Enjoy panoramic views of Porto from the top of the Clerigos Tower after climbing its iconic spiral staircase.
Nearby Attractions: Douro Valley (wine region), Guimaraes (historic town).
Best Places to Stay: The Yeatman, InterContinental Porto, Pestana Vintage Porto Hotel, Flores Village Hotel & Spa
3. Sintra
Huddled in the foothills of the Sintra Mountains on the Lisbon Coast, Sintra presents a spectacular setting of lush green hills.  Dotted with pretty villas, royal retreats, and palaces dating as far back as the 8th century, it has a historic past.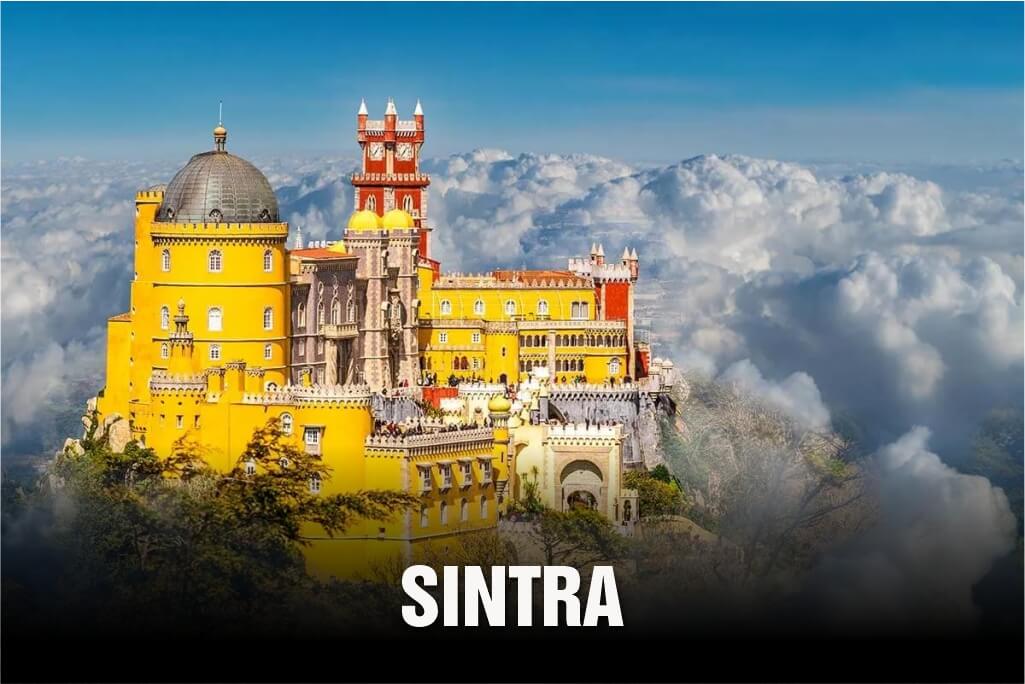 The Romans, Moors, and Portuguese royalty were mesmerized by  Sintra's beauty. It even enchanted the famous poet, Lord Byron, to write of it as the most beautiful village in the world.
Pena's Palace is a fantastical castle reminiscent of Germany's Neuschwanstein. It was built in the mid-1800s and served as a summer retreat for the Portuguese royal family. Pena's Palace is surrounded by parklands containing some exotic trees, plants, and flowers.
Tourists also visit the marvellous ancient ruins of the Castle of the Moors.  The Monserrate Palace with its subtropical gardens is a romantic setting. If you have kids with you, do try and visit the Toy Museum. It houses more than 20,000 toy items dating back to ancient Egypt.
Best Places to Visit: Pena Palace, Moorish Castle, Quinta da Regaleira.
Things to Do:
Visit the fairy-tale Pena Palace, a colorful castle perched on a hill with stunning views.

Quinta da Regaleira with its mystical gardens, tunnels, and architecture.

Hike to the Moorish Castle for scenic views of Sintra and the surrounding landscape.

Discover the history of Portugal at the Sintra National Palace, known for its distinctive twin chimneys.

Indulge in the local pastry at Piriquita Bakery.
Nearby Attractions: Cabo da Roca (it is the westernmost point of continental Europe).
Best Places to Stay: Tivoli Palácio de Seteais, Lawrence's Hotel, Tivoli Sintra Hotel, Penha Longa Resort
4. Funchal, Madeira
Madeira Island is known as the "Floating Garden of the Atlantic." It is a fertile oasis in the Atlantic Ocean between Portugal and North Africa. The place is a famous tourist spot known for its lush green landscapes, flower gardens, and wines.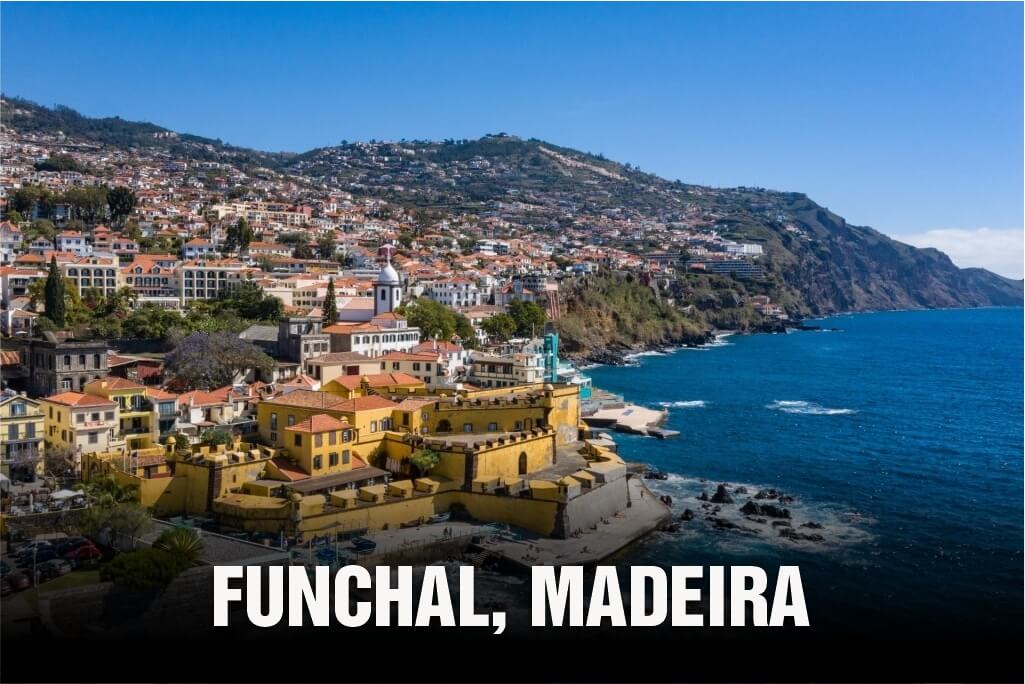 One of Europe's most beautiful travel destinations, the island's verdant beauty, mild climate, and virtually crime-free tag attract tourists from all over the world.
There are several must-see places here. These include the Orchid Garden and the Laurissilva Forest. Other places not to miss are the levadas, an impressive system of canals that has beautiful walking trails too. The are a host of adventure activities here like fishing, diving, sailing, and whale watching.
The capital and largest city in Madeira is Funchal. It is home to historic churches, fortresses, and tourist resorts. There are museums, restaurants, and markets too. A popular tourist spot is the tree-lined Lido Promenade, which gives travelers some stunning ocean views.
Best Places to Visit: Monte Palace Tropical Garden, Funchal Old Town, Madeira Botanical Garden.
Things to Do:
Explore the lush gardens and scenic views at the Monte Palace Tropical Garden.

Take a cable car ride from Funchal to Monte for some mesmerizing views of the city and the coastline.

Experience the traditional wicker toboggan ride from Monte to Funchal.

Taste the local drink, Poncha, a traditional Madeiran cocktail.
Nearby Attractions: Levada Walks, Porto Santo Island.
Best Places to Stay: Belmond Reid's Palace, The Cliff Bay – Porto Bay, Quinta da Casa Branca, Pestana CR7 Funchal
5. Evora
Evora is a small town in the Alentejo plains of southern Portugal.  It has a popular tourist appeal. Evora was once a flourishing city under Roman rule. At the present time, Evora is the capital of the Alentejo region. It is well-known for its well-preserved Old Town. You will be surprised! It still shelters more than 4,000 historic structures.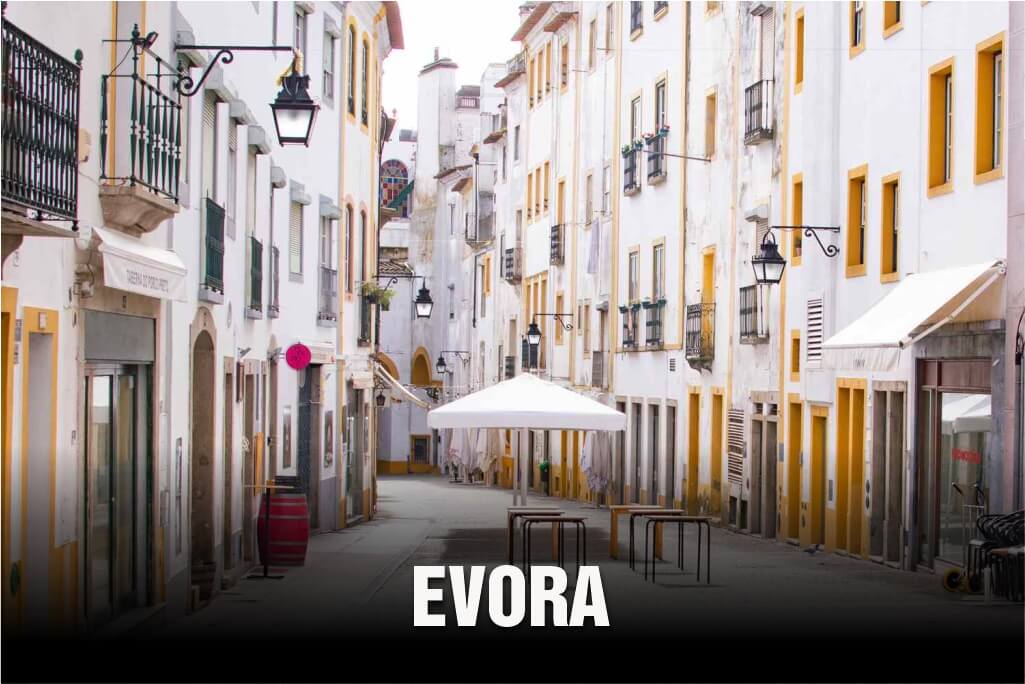 The town is quite small and can be easily explored on foot. However, the best way to sightsee Evora is by a horse carriage ride. The most popular tourist destination is the Cathedral of Evora.
Another must-see historic site is Giraldo Square with its Renaissance fountain. There is also a weird but interesting chapel. It is decorated with actual human bones, and the ruins of an old Roman temple.
You can stroll along the city's old aqueduct. It offers a myriad of shops, cafes, and old houses. Another must-visit tourist spot is Europe's largest complex of prehistoric megaliths.
Best Places to Visit: Roman Temple of Evora, Chapel of Bones, Cathedral of Evora.
Things to Do:
Visit Évora's well-preserved medieval streets and visit landmarks like the Temple of Diana.

Visit the fascinating Chapel of Bones (Capela dos Ossos) in the Church of St. Francis.

Explore the ancient megalithic site of Almendres Cromlech, one of Europe's oldest stone circle formations.

Enjoy the local cuisine, featuring Alentejo specialties like migas and regional wines.
Nearby Attractions: Almendres Cromlech (prehistoric stone circle).
Best Places to Stay: Convento do Espinheiro, M'AR De AR Aqueduto, Évora Olive Hotel, Vitória Stone Hotel
6. Aveiro
Aveiro is located near the Atlantic Coast in Central Portugal. It is a bustling city often called "the Venice of Portugal". It has a picturesque setting of scenic canals connected by bridges. It is dotted with colorful gondolas and speed boats.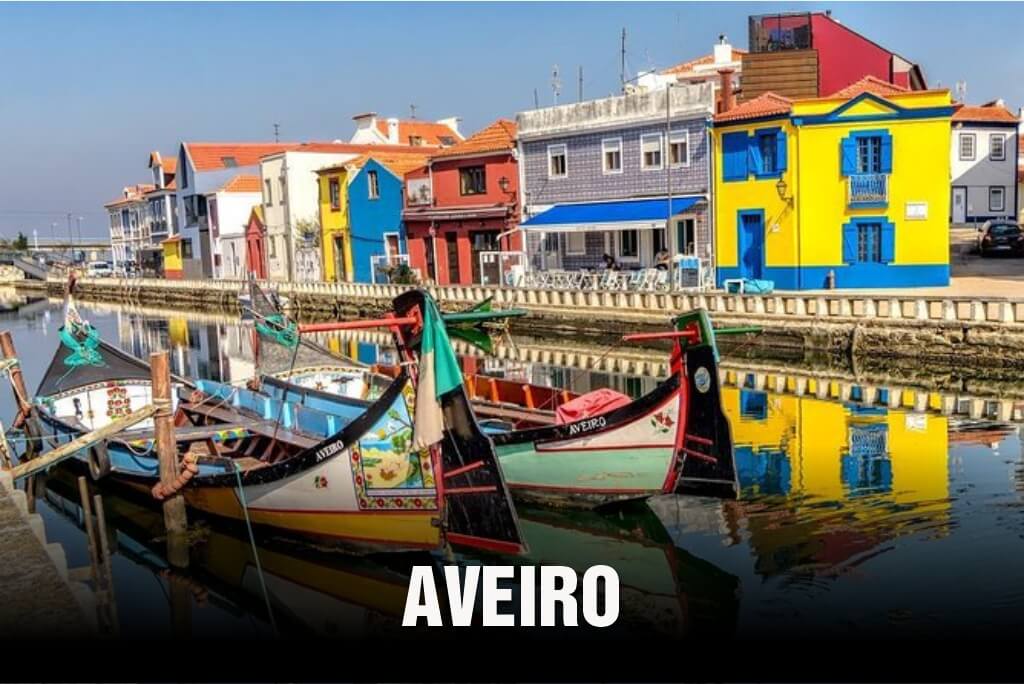 Aveiro's coastline is called the Silver Coast. It is well-loved for its clean, beautiful beaches such as Costa Nova, São Jacinto, and Barra. It offers many activities for adventure enthusiasts such as swimming, sailing, and kite surfing.
Aveiro's many sightseeing places for tourists include the Aveiro Cathedral, the São Gonçalinho Chapel, and the Convento de Jesus. You will be spellbound by its lovely architecture and artwork.
The Forum Aveiro is a shopping mall that has many different shops, restaurants, and a cinema. Markets like the Fish Market and Central Market are great places to find fresh produce.
Best Places to Visit: Canal de Sao Roque, Aveiro Cathedral, Costa Nova.
Things to Do:
Take a traditional boat tour along the charming canals of Aveiro.

Explore the colorful striped houses in the seaside district of Costa Nova.

Visit the Aveiro Cathedral, known for its unique architectural styles.

Discover the traditional salt pans.  Learn about the salt production in the region.
Nearby Attractions: Porto
Best Places to Stay: Melia Ria Hotel & Spa, Hotel Moliceiro, Aveiro Palace Hotel, Hotel das Salinas
7. Coimbra
Coimbra is a splendid city situated by the Mondego River in Central Portugal. It is home to many historic sites and beautiful gardens. There are many historic attractions from the stunning Old Cathedral to the Gothic Monastery of Santa Clara-a-Velha. It also has the historic tomb of Queen Isabel.
A favorite among tourists is the University of Coimbra. It hosts one of the world's most beautiful libraries, the Joanina Library. Coimbra is most famous for its fado music performances and academic festivals.
The cobblestone squares throughout the city offer quaint shops and cafes. The lovely city parks and botanical gardens are also perfect for strolls and picnics.
Best Places to Visit: University of Coimbra, Joanina Library, Conimbriga (Roman ruins).
Things to Do:
Explore the historic University of Coimbra, including the Joanina Library and the Royal Palace.

Explore the ancient Roman ruins of Conímbriga, one of the best-preserved Roman settlements in Portugal.

Visit the archaeological site of Santa Clara-a-Velha.

Enjoy a leisurely walk along the Mondego River and enjoy the views of the city.
Nearby Attractions: Bussaco Forest
Best Places to Stay: Quinta das Lagrimas, Vila Gale Coimbra, Sapientia Boutique Hotel, Hotel Oslo Coimbra
8. Douro Valley
The Douro Valley is located in the northern part of the country. It is a UNESCO World Heritage Site. It is a popular tourist spot known for its vineyards, winding Douro River, and historic past.
The valley is known for the production of Port wine, one of Portugal's most famous exports. The steep hillsides are carved into terraces for grape cultivation. This is a wonderful sight to look at.
If you are looking for breathtaking scenery, the meandering river, and vine-covered slopes, add vibrant colors to the landscape. There are several villages that dot the Douro Valley. Pinhão is a charming village. It is a popular starting point for exploring the region. A popular tourist spot is a historic train station adorned with traditional blue and white tiles.
The place also offers boat cruises along the Douro River. For adventure enthusiasts, there are outdoor activities such as hiking and exploring a rich cultural heritage.
Best Places to Visit: Vineyards and wine estates, Douro River cruises.
Things to Do:
Explore the vineyards and cellars of the Douro Valley, indulging in wine tastings, especially the renowned Port wine.

Take a scenic river cruise to appreciate the terraced vineyards and charming villages.

Learn about the history of the region and its winemaking traditions at the Douro Museum.

Enjoy a train journey along the Douro Valley, considered one of the most scenic train rides in Europe.
Nearby Attractions: Pinhao, Mateus Palace.
Best Places to Stay: Six Senses Douro Valley, Quinta Nova Luxury Winery House, Douro Palace Hotel Resort & Spa, Vintage House Hotel
9. Cascais
Cascais is a picturesque coastal town huddled on the western edge of the Iberian Peninsula. It is just 30 kilometers from Lisbon and is easily accessible, making it a popular day-trip destination.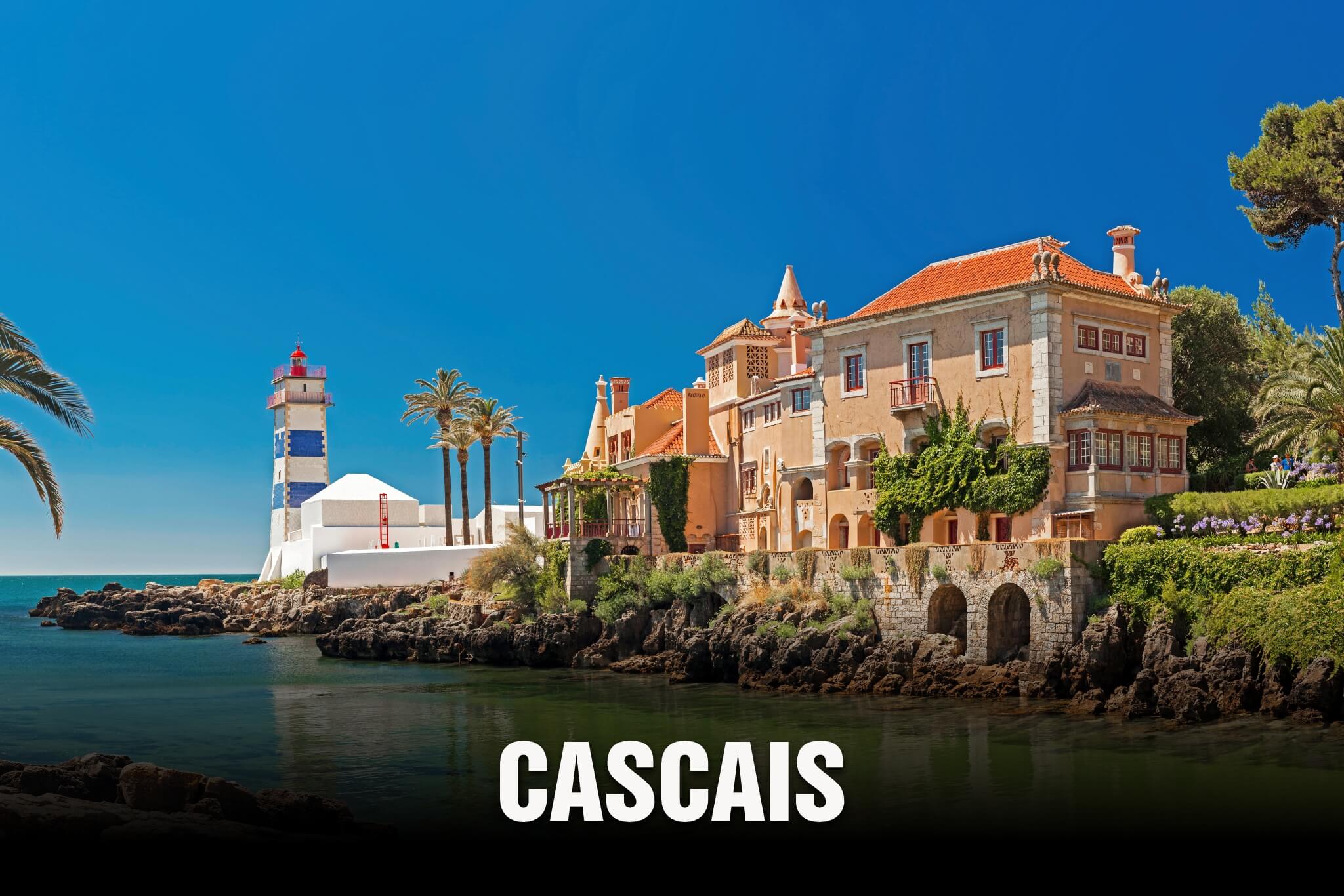 Cascais is known for its pristine beaches. The iconic Praia da Rainha and Praia da Conceição are perfect spots to enjoy the sun. The bustling Marina de Cascais is a must-visit with its shops and restaurants.
Cascais was a former royal retreat. It boasts elegant architecture and has the Cascais Citadel. It is a fortress overlooking the sea. Tourists can wander through the narrow streets of the old town. The old town is lined with charming shops and cafes, that are sure to enchant you.
Along with its coastal allure, Cascais is the best place for outdoor enthusiasts. The scenic bike paths and walking trails along the Atlantic coast provide breathtaking views. A popular tourist spot is the Boca do Inferno. It is a beautiful cliff formation that offers scenic views of crashing waves.
Best Places to Visit: Cascais Beach, Boca do Inferno, Cascais Marina.
Things to Do:
Relax on the sandy shores of Guincho Beach, known for its surf-friendly waves.

Witness the dramatic rock formations and crashing waves at Boca do Inferno.

Explore the historic Cascais Citadel, and understand the town's maritime history.

Enjoy a bike ride along the scenic coastal path that connects Cascais and Guincho.
Nearby Attractions: Cabo da Roca, Guincho Beach.
Best Places to Stay: The Oitavos, Farol Hotel, Hotel Baia, Senhora da Guia Cascais Boutique Hotel
10. Nazare
Nazare lies in the historical Estremadura Province. It is a scenic spot dotted with rugged coastal cliffs and beautiful beaches. One of Portugal's most popular seaside resorts. It is a popular tourist destination well-known for it is famed for the huge waves lashing its Atlantic coast.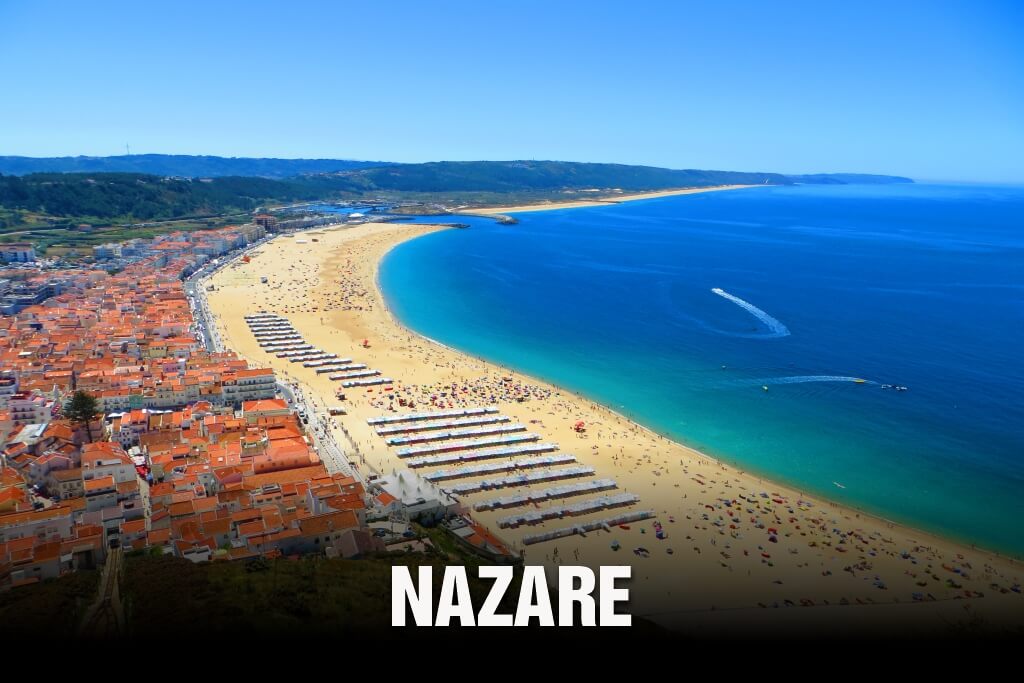 The Nazare Canyon has always attracted surfers to its shores. Riding Waves is a popular pastime here. However, many people prefer to simply relax on its golden sands or bask in its scenic coastal views.
As a tourist who believes in wanderlust, you will find fantastic seafood restaurants and small boutiques. It also has beautiful chapels, churches, and museums for visitors.
Nazare is packed with tourists during summer. However, if you are around this place during the New Year,  it is also a popular place to celebrate.
Best Places to Visit: Nazare Beach, Nazare Lighthouse, Sitio (upper town).
Things to Do:
Experience the thrill of watching big wave surfing at Nazaré Beach, known for its massive waves.

Visit the Sitio, the historical part of Nazaré, accessible by a funicular, and enjoy panoramic views of the coastline.

Climb the Nazare Lighthouse for spectacular views of the town and the Atlantic Ocean.

Indulge in fresh seafood at the local restaurants, known for their delicious offerings from the Atlantic.
Nearby Attractions: Obidos (medieval town), Alcobaca Monastery.
Best Places to Stay: Hotel Miramar Sul, Hotel Praia, Hotel Mare, Hotel Miramar
These locations offer a mix of historical sites, natural beauty, and cultural experiences, making Portugal a diverse and fascinating destination.
Finally…..
We bet you will be nostalgic about Portugal's warm hospitality. The blend of Portugal's historic charm and modern sophistication makes it a must-visit destination. Whether you are exploring medieval castles, strolling through vineyards, or savoring local flavors in seaside towns, Portugal never fails to impress you! Welcome to an enriching journey through its timeless landscapes with an exotic appeal!
Frequently Asked Questions