Picture this: historical ruins, intricate temple architecture, palm-fringed canals, and verdant beaches. Surprised? Where are we going on this vacation?  Well, the answer is enchanting South India! 
South India has innumerable tourist places that are worth discovering. Trust us, you won't stop counting! From the backwaters of Alleppey to the vast expanse of plantations in Munnar, and the historic towns of Thanjavur and Madurai, South India has some famous tourist places that are a must-visit.
If history entices you then visit Mysore or Mysuru is known as the "City of Palaces." It boasts of luxury and royal heritage. Do not leave Mysore without trying the delectable ghee-based sweet known as 'Mysore Pak."
Crowned as the "Princess of Hill Stations"-Kodaikanal is filled with abundant natural beauty with its lakes, lush green rolling hills covered in mist, waterfalls, and dense forests.
Do not miss Pondicherry. With its colourfully painted houses designed in French architecture and relaxed attitude Pondicherry is a great backpacking haunt. Coorg flaunts its tropical wonders of Western Ghat and is aptly named the "Scotland of India."
This coffee-producing hill station is not famous only for its cutting streams and green hills but also for the hospitality of Kodavas. The local clan specializes in martial arts.
Now that you have heard so much about South India, it's time to make an exciting travel itinerary for yourself!
Top 5 Places to Visit in South India
We are sure you must be wondering what are the best tourist places to visit in South India. Although it's a daunting task to single out any particular popular tourist destination, we have done the hard work for you! So, come let's discover the enchanting South India with the top 5 best places to visit here.
1. Kerala, known for Beaches & Wildlife Sanctuaries
When it comes to the best places to visit in South India, Kerala tops the list. Plan your ideal holiday with the Kerala Tour and discover its famous places and tourist spots known for their vibrant art, lush green hill stations, and architecture. Kerala is also known as 'God's Own Country" and the backwaters play an important role in luring tourists from all across the globe.
Alleppey or Alappuzha is a popular tourist destination to visit in Kerala. Cruise the tranquil waters encompassed by coconut trees and paddy fields on both sides making it a relaxing experience. The modern houseboats are the remodeled versions of the traditional Kettuvellams as they provide modern facilities one can ask for.
Ernakulam, Kochi, or Cochin is regarded as the gateway to Kerala. The "Queen of the Arabian Sea" is an ideal vacation tourist spot for both beach lovers and history buffs. The labyrinth of lanes in Kochi narrates tales of British, French, and Dutch colonies. Learn about its exciting history by visiting heritage sites, churches, and temples.
Kerala is called "God's own country" and there is a reason for it. It is blessed with verdant greenery. So, it's not surprising that there are around 14 wildlife sanctuaries in the state with 2 famous tiger reserves.
Get ready to be surprised as you visit the Spice capital of India, Thekkady. Periyar Lake and Periyar Wildlife are the two main tourist destinations here. Munnar with its meandering roads amidst lush tea gardens is known for its picturesque scenery dotted with lofty clouds, beautiful mountains, and hills. Soak in the beauty of the place as you sip the hot masala chai.
Best time to visit Kerala 
The best time to visit Kerala is during the winter months, from October to February. The weather during this time is quite pleasant, with average temperatures ranging from 18°C to 30°C.
Top Attractions in Kerala
Alleppey Backwaters, Munnar, Kochi, Periyar National Park, Kovalam Beach, Wayanad, Kumarakom and Thekkady
Best Hotels to Stay in Kerala
Taj Malabar Resort & Spa, Kochi, The Leela Kovalam Beach, Kumarakom Lake Resort, Spice Village, Thekkady, Vythiri Village Resort, Wayanad
Nearest Airport in Kerala
Trivandrum International Airport (Thiruvananthapuram International Airport).
Nearest Railway Station in Kerala
Ernakulam Junction (South) in Kochi.
Per Person Travel Cost & Ideal Duration of the Trip in Kerala
The per-person travel cost to Kerala is approximately 25k to 50k for a week. This includes accommodation, local transportation, meals, sightseeing, and excursions.
The ideal duration of the trip will be around one week. In this way, you can cover several tourist places in Kerala like Kochi, Munnar, and Alleppey. You can also explore more regions such as Thekkady, Wayanad, and Kovalam while enjoying a more relaxed pace.
Another Interesting Blog- Top Tourist Places to Visit in Kerala & Things To Do
2. Ooty, known for Queen of Hill Stations
South India has another popular best place to visit, Ooty. It is regarded by many as the 'Switzerland of India."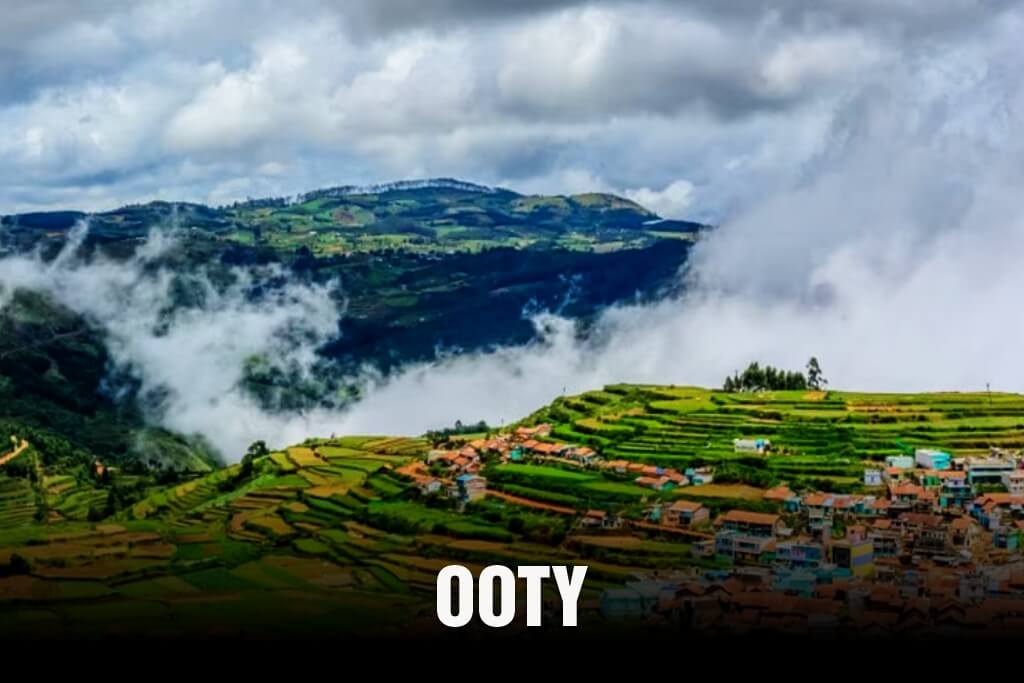 Nestled in Tamil Nadu, Sirumalai can be rechristened as the best hill station in Ooty. If you want to witness village life in the mountains, it stands out as the finest. Ooty is located around 89 km from Coimbatore. Famously known as the"Queen of Hill Stations", it is endowed with several natural splendors like vast tea plantations and lakes. It won't be wrong to say that nature has bestowed its choicest blessings on this region.
Ooty is dotted with traditional and colonial-style buildings, verdant valleys, and mesmerizing forests of Eucalyptus, along with bewitching coffee and tea plantations.
Once the summer capital of the Madras Presidency during the 'Raj" Ooty is a nature lover's paradise. It is located in the state of Tamil Nadu and is one of the best places to visit in South India.
Ooty is not just a visual treat but a treat for the soul too. Due to its immense beauty and pleasant climate, Ooty is one of the most preferred honeymoon destinations in India.
Located at an altitude of 2500 ft the Botanical Gardens at the lower slopes of Doddabetta mountains is one of the most famous attractions to visit in Ooty. The garden is divided into six sections-Conservatory, Fountain Terrace and Nurseries, Italian Garden, Lower Garden, and New Garden. It houses the natural flora of Nilgiris Peaks, Cork tree, manicured lawns, twenty million old fossil trees, along with a variety of orchids and ferns, and a monkey puzzle tree.
When in Ooty do visit one of the most famous tourist spots, the Rose Garden. It is one of the perfect romantic settings to spend special time with someone special. It has around 2500 varieties of roses along with hybrid tea roses, miniature roses, black roses, and so on.
Visiting the Ooty Lake is hard to miss as you indulge in a joyful boat ride. The lake is surrounded by the stunning beauty of the eucalyptus trees making the ambiance worth capturing on your phones for Instagram stories.
The must-to-do things list is incomplete until you ride the Nilgiri Mountain Railway. It runs from Mettupalayam to Ooty and covers sixteen tunnels, and two hundred and fifty bridges during the entire journey. Such is its popularity and history that it was declared a World Heritage Site by UNESCO in 2005.
The best time to visit Ooty is during April to June and September to November.
Ooty Lake, Botanical Gardens, Doddabetta Peak, Rose Garden, Nilgiri Mountain Railway
Best Hotels to Stay in Ooty
The Ooty Fern Hill – A Sterling Holidays Resort,  Savoy – IHCL SeleQtions, Taj Savoy Hotel, Fortune Resort Sullivan Court, Gem Park Ooty
Coimbatore International Airport (CJB) is the nearest airport to Ooty.
Nearest Railway Station to Ooty
The nearest major railway station is Mettupalayam Railway Station, which is about 47 kilometers from Ooty.
Per Person Travel Cost and ideal Duration of the Trip to Ooty
On average, the per-person Ooty trip cost will be around 20k to 40k for four days. This includes accommodation, meals, local transport, and sightseeing.
4 days are the ideal duration for a trip to Ooty. In four days you can see all the major attractions.
You must read- Best Hill Stations In India You Must Visit Once In Your Life
3. Hampi, known for Historic Temples and Ruins
When discussing the best places to visit in South India, Hampi is another popular tourist hub. Hampi, located in Karnataka is a UNESCO World Heritage Site as it rests in the hills known for its remnants of the great Vijayanagar Empire.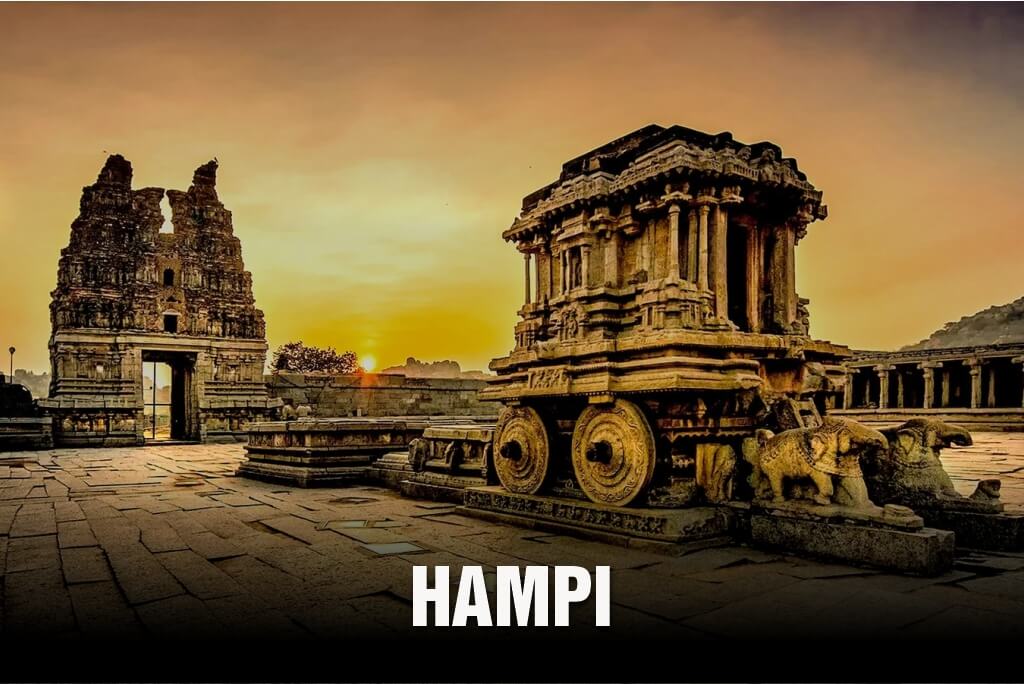 Hampi is known for its several historical monuments and gorgeous temples. The city of Hampi is like a playground for history buffs as it is filled with attractions like royal establishments, ancient markets, and bastions that are worth exploring.
The seventh-century Virupaksha Temple is a prime tourist attraction in Hampi. It is admired for its three gopurams and carvings of Hindu Gods. The temple is abode to one of the forms of Lord Shiva known as Lord Virupaksa. One finds the beautiful stone inscriptions dating to the seventh century on the walls of the temple as proof of its rich heritage.
Dating back to the sixteenth century is the impressive structure of the Vithala temple. The renowned stone chariot has become an iconic tourist attraction.  The complex of the temple covers a huge area as the main gate has an impressive arch with carvings and opens in a large courtyard.
The main temple is located just behind the chariot and has beautiful carvings. These carvings on the pillars and walls depict several gods in different forms. The pillars of the temple when tapped delicately produce musical chimes.
Another major tourist destination is The Lotus Palace. It is an iconic landmark in the town and is named as the structure looks like a lotus in bloom. The palace was a designated area for the royal women of the Vijayanagar Empire. It is one of the few structures that was not lost to the ravages of time or the Mughal raids.
The best time to visit Hampi is from October to February.
Virupaksha Temple, Vitthala Temple Complex, Hemakuta Hill Temples, Elephant Stables, Lotus Palace
Best Hotels to Stay in Hampi
Hampi's Boulders Resort, Hyatt Place Hampi, Kishkinda Heritage Resort, Clarks Inn Hampi, Gowri Resort Hampi
The nearest airport to Hampi is Jindal Vijaynagar Airport (VDY), which is approximately 40 kilometers away.
Nearest Railway Station to Hampi
Hospet Junction (HPT) is the nearest railway station to Hampi. It is located around 13 kilometers away.  
Per Person Travel Cost & Ideal Duration of the Trip to Hampi
The per-person Hampi trip cost is around 20k to 30k for three days. This package includes accommodation, meals, local transport, and sightseeing.
For an ideal trip duration, 3 days is often sufficient to explore the major attractions of Hampi.
4. Bengaluru, known as the IT capital of India
When conversing about the best places to visit in South India, Bengaluru is quite famous as the 'Silicon Valley of India." With its numerous gardens and parks, it has garnered the nickname "Garden City." Besides its lakes and rich history, it acts like a magnet for innumerable tourists.
Bengaluru is also famous for its massive palaces like Tipu Sultan's Summer Palace which is made in the Indo-Islamic style and is in present times a museum.
Another popular tourist attraction is the Lalbagh Botanical Garden which dates back to 1760, when the then-ruler of Mysore Hyder Ali started the development of the forty acres of land as a private garden for the royal family.
Lalbagh Botanical Garden is nationally and internationally known for its botanical artwork, scientific study of plants, and the conservation of plants. It is home to around one thousand eight hundred and fifty -four species of plants. Lalbagh is popular for conducting flower shows during Republic Day and Independence Day week. Also, inside is a lotus garden, rose garden, bonsai garden, and a topiary garden.
There is a Floral Clock installed at the entrance of the park along with a tree fossil which is carbonised remains of a twenty-million-year-old coniferous tree.
Also Read – Best Religious Places in India that You Must Visit
Another famous tourist hub is the 750 m long Church Street in Bangalore is one of the most beloved and busiest roads named after St. Mark's Cathedral. It is flanked by bookstores, restaurants, cafes, and music shops. There are some days when artists set up shops on the streets and sell their work which includes posters, paintings, photo frames, and handmade items.
When visiting Bengaluru, don't miss the Bannerghatta National Park. It lies twenty-two km away from Bengaluru and is a sanctuary for a variety of flora and fauna. The prime attractions here are an aquarium, a zoo, a Children's Park, a Snake Park, a Crocodile Park, and a Prehistoric Animal Park.
One major tourism hub is the opulent Bangalore Palace, known for its architecture with majestic carvings both inside and outside. The sprawling grounds around the palace are perfect for a picnic.
Best Time to Visit Bengaluru
The best time to visit Bengaluru is during the winter months from October to February.
Top Attractions in Bengaluru
Cubbon Park, Lalbagh Botanical Garden, Bangalore Palace, Vidhana Soudha, ISKCON Temple
Best Hotels to Stay in Bengaluru
The Oberoi, Taj West End, ITC Gardenia, Sheraton Grand Bangalore Hotel, Vivanta Bengaluru.
Nearest Airport to Bengaluru
Kempegowda International Airport (BLR) is the primary airport in Bengaluru.
Nearest Railway Station to Bengaluru
KSR Bengaluru City Junction (SBC) is the main railway station in the city.
Per-Person Travel Cost & Ideal Duration of the Trip to Bengaluru
On average, the per-person Bengaluru trip cost is around 30k to 50k for four days. This package includes accommodation, meals, local transport, and sightseeing.
For the ideal duration of the trip, 4 days is sufficient to explore the city and its main attractions.
5. Pondicherry, known for French Colonials and Beaches
Pondicherry is also one of the best destinations to visit in South India. It is the Union territory of Puducherry often referred to as Pondy. It is a former French colony and a perfect blend of traditional Indian sensibilities and French architecture hence making it an escape that offers the best of both worlds.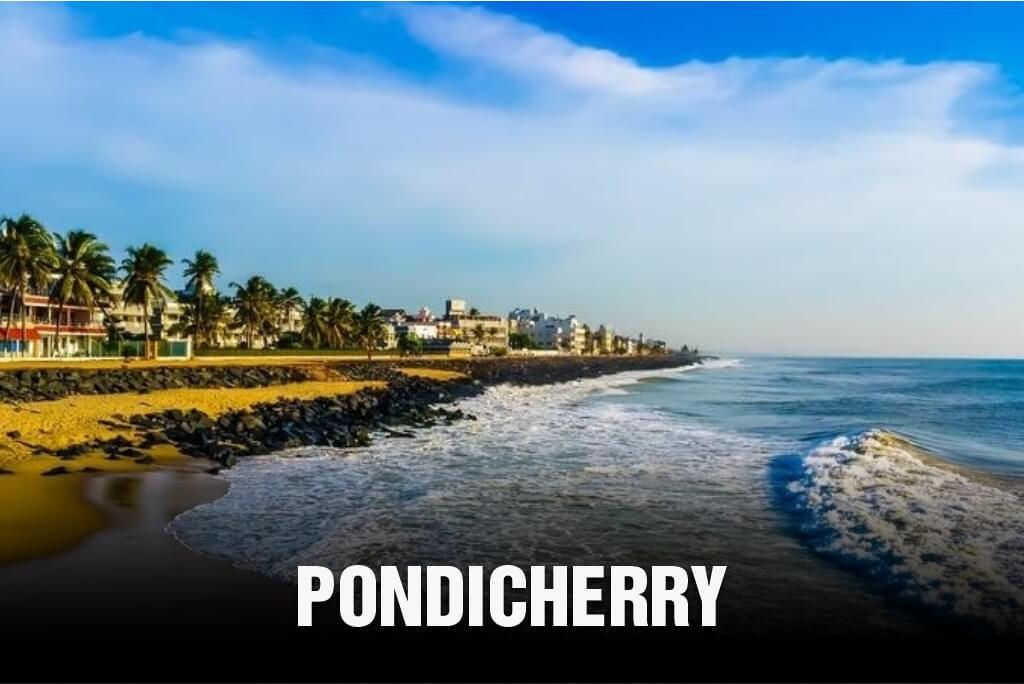 The French Quarters are known as White Town which is dotted with enchanting mustard-yellow colonial structures that have bougainvillea-laden walls. There are cozy cafes, and chic boutiques that offer scrumptious French cuisines and beverages.
As you simply stroll down the streets you get an insight into the dreamy charm of the Union Territory. The well-maintained area of Seaside Promenade does full justice to its French roots.
Another popular tourist destination is Paradise Beach also known as Plage Paradiso is located in Chunnambar close to the town of Pondicherry. It is known for its golden sand and is a little -isolated beach that is accessible by a ferry across the backwaters. It takes around twenty to thirty minutes to reach.
The backwaters on the way to the beach have green and thick mangrove forests. The beach is the perfect spot to reach early in the morning and view the sunrise on the eastern coast. Due to high currents, it is not advisable to go deep in the water.
Spare some time to visit another best tourist spot, Basilica of the Sacred Heart of Jesus. It is one of the most sacred and religious places of Pondicherry and lies 2.5km away from the bus station on the southern boulevard of the town. The lives of Christ along with saints of the Catholic Church have been captured in the stained-glass panels of the structure.
Tourists also pay obeisance at the Aurobindo Ashram. It has been named after its founder- Sri Aurobindo Ghosh and is situated in the White Town. The foundation was laid in 1926 with the main purpose of helping people attain moksha. There is a samadhi in the courtyard under the frangipani tree where the body of Sri Aurobindo is buried and visitors come here to pay their respect by laying flowers on it.
You must also stroll around Auroville, a 'universal township that was inaugurated in 1968 by Mirra Alfassa and runs on the principles of peace, harmony, and divine consciousness. Located in the middle of Auroville is the "Matrimandir" in a large open area and is fondly known as the "Soul of the city." It holds an important place for those who practice Integral Yoga.
Best Time to Visit Pondicherry
The best time to visit Pondicherry is during the winter months, from October to March.
Top Attractions in Pondicherry
Promenade Beach, Auroville, Sri Aurobindo Ashram, Paradise Beach, Arikamedu
Best Hotels to Stay in Pondicherry
Le Dupleix, Palais de Mahe, The Promenade, La Villa Shanti, Ocean Spray
Nearest Airport to Pondicherry
The nearest major airport is Chennai International Airport (MAA).
Nearest Railway Station to Pondicherry
The nearest railway station is the Pondicherry Railway Station (PDY).
Per Person Travel Cost & Ideal Duration of the Trip to Pondicherry
On average, the per-person Pondicherry trip cost is around 30-40K for four days.
3 to 4 days is often sufficient to explore Pondicherry's main attractions, for a leisurely experience.
Also Read- 5-Day Goa Itinerary: Exploring the Best of the Beach Paradise
Final Thoughts
We are sure you are simply awe-struck by the array of best places that South India has to offer to tourists from far and wide. Now that you are armed with all the major details about your fun trip to South India, what are you waiting for? So, all you travel enthusiasts, pack your bags and awaken your senses to enchanting South India!
Frequently Asked Questions