The summer season has returned to India and is hotter and more exhausting than ever before. The best thing to do to beat the summer heat is to visit beautiful hill stations in India to indulge in the pleasant and cool climate of these places.
Not only do you get a breath of relief, but also can meet the people there, know more about their culture, and enjoy their cuisines.
Also, you do not have to wait for the winter season to wear those cute sweatshirts that you were dying to take pictures in!
Top 10 Hill Stations in India to Cool Down the Heat this Summer
1. Dharamshala, Himachal Pradesh
The scenic beauty of Dharamshala and the monasteries in this hill station in Himachal Pradesh attract thousands of tourists every year.
This hill station which sits in the middle of the Kangra Valley is said to be the residence of the Dalai Lama and is also home to hundreds of Tibetan monks.
If you are a cricket fan, you will know about the scenic HPCA stadium which is the highest international cricket stadium in the world.
Best places to visit in Dharamshala: Namgyal monastery, Triund Hill, Gyuto monastery, Norbulingka Institute, Tsuglagkhang complex
Things to do in Dharamshala: Enjoy the scenery of Dal Lake, watch a cricket match in the HPCA cricket stadium, go trekking with friends, meditate at the monasteries, and visit the Jwalamukhi Devi temple.
Best time to visit Dharamshala: March to July
How to reach: Major cities in India are connected to Dharamshala by Pathankot Junction railway station and Kangra airport.
2. Dalhousie, Himachal Pradesh
Another beautiful hill station that you must visit in Himachal Pradesh is Dalhousie hill station.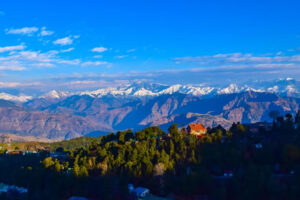 It is famous for the Dhauladhar mountain region which also makes it one of the most visited hill stations of India.
These hills offer many picturesque locations that are perfect to click pictures in.
The little houses with their colonial charm and Victorian architecture make it the best place for you to create this year's summer memories.
Best places to visit in Dalhousie: St John's Church, Kalatop wildlife sanctuary, Chamera Lake, Subhash Baoli, Chamunda Devi Temple.
Things to do in Dalhousie: Trekking, rock climbing, paragliding at Khajjiar, visiting the Rang Mahal, river rafting on Saal and Ravi, visiting the shrines in Lakshmi Narayan temple.
Best time to visit Dalhousie: April to October
How to reach Dalhousie: The nearest airport is Gaggal in Kangra district while the nearest railway station is Pathankot.
3. Shimla, Himachal Pradesh
Another hill station that you should check out while you're still in Himachal Pradesh is Shimla.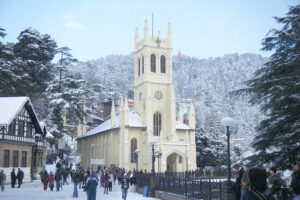 The snow-draped mountain peaks add to the spiritual aura of this place, which also makes it one of the best places for camping in India.
It is a great tourist destination where you can go tracking and cycling in the lush greenery and snowy roads.
Tourists can rejuvenate their minds with spiritual destinations like Sankat Mochan and Jakhu temple and end the day by indulging in some bird watching at the Himalayan bird park.
Best places to visit in Shimla: Shimla reserve forest, child Sanctuary, Daranghati Sanctuary, Saint Michael's Cathedral, the Glen, scandal point
Things to do in Shimla: Shop at Lakkad Bazar, visit Kali Bari, pay respect to the goddess of stars at Tara Devi temple, tour the Gaiety heritage cultural complex, meditate at Dorje Drak Monastery
Best time to visit Shimla: March to June
How to reach Shimla: Nearest airport: Jubbarhatti airport and Nearest railway station: Kalka (6 hours)
4. Srinagar, Kashmir
If you are wondering if there is heaven on earth, then the answer obviously has to be Srinagar Hill Station.
It is named rightly as Srinagar (city of wealth and abundance) and is abundant in the marvels of nature. The Kashmiri cuisine, scenic beauty of the rivers, and houseboat rides attract a great crowd every year.
Places to visit in Srinagar: Dal Lake, Pari Mahal, Jamia Masjid, Saffron Field, Mughal Gardens, Shankaracharya Temple, Hari Parbat
Things to do in Srinagar: Visit the Indira Gandhi Memorial tulip garden, bird watching at Manasabal Lake, Shikara ride on Dal Lake, enjoy local cuisines
Best time to visit Srinagar: April to June
How to reach Srinagar: Nearest airport: is Sheikh Ul Alam Airport and the Nearest railway station: Banihal Railway Station
5. Nandi Hill Station, Karnataka
Nandi Hills in Karnataka is a stunning hill station that brims with the compelling presence of Lord Shiva.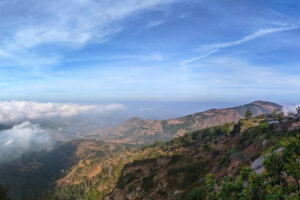 It is the right place to visit if you have missed your yearly spiritual trip as this heavenly tourist destination puts together holiness and tranquility.
One cannot miss the Nandi temple which is a popular spot for admirers and devotees of Bhoga Nadishwara and yoga Nandeeshwara.
Best places to visit in Nandi Hills: Tipu's Palace and Fort, Bheemeshwari wildlife sanctuary, Nehru Nilaya, Amruth Sarovar, Ponnaiyar River
Things to do in Nandi hills: Visit the Muddena Halli museum, cycling, trek to Chennagiri, explore the caves at Brahmashram, visit Tipu's drop, wine tasting at Grover Zampa vineyards
Best time to visit the Nandi Hills: September to February 
How to reach: Nearest airport: Bangalore and Nearest railway station: Chikkaballapur railway station
6. Ooty, Tamil Nadu
Ooty is one hill station in India that always makes it to the top 10 list due to the panoramic views and the peace of mind it offers you.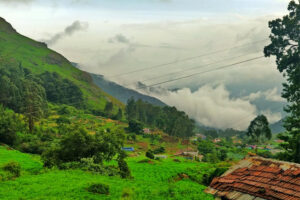 This hill station in Tamil Nadu excels in winning the hearts of anyone who visits the place with the presence of pine forests and Nilgiri hills.
You can spend a few days in this hill station by staying in the British Style bungalows and watching the beauty of this hill station unfold before your eyes.
Best places to visit in Ooty: Tiger Hill, dolphin nose, Glenmorgan, Marlimund Lake, Bellikal Lake, Kodanad
Things to do in Ooty: Explore the flora and fauna of Doddabetta Peak, visit Mudumalai National Park, take a tour of Raj Bhavan, take pictures at Ooty Botanical Gardens, visit the wax world, buy homemade chocolates. 
Best time to visit Ooty: April to June, September to November 
How to reach Ooty: Nearest airport: Coimbatore (105 km) Nearest railway station: Mettupalayam (47km)
 7. Shillong, Meghalaya
Widely popular as the capital of Meghalaya, Shillong is one hill station in India that you should not miss due to its refreshing climate.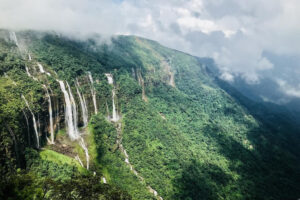 The cool breeze and regular drizzles bring tourists an unparalleled experience. The beautiful Khasi hills and the British architecture give this place a cozy vibe that makes you not want to return home.
The excited tourists, friendly locals, and the picturesque landscape- all paint a mesmerizing picture of Shillong.
Best places to visit in Shillong: Lady Hydari Park, Mawjymbuin caves, All Saints Church, Cathedral of Mary Help of Christians. 
Things to do in Shillong: Shop at Police Bazaar, take part in sports activities like paddle boating, kayaking, and water cycling at Umiam, visit the Meghalaya butterfly museum, enjoy the cool waters of Sweet Falls, Crinoline, and Elephant Falls, play golf in Laban golf course.  
Best time to visit Shillong: April to June
How to reach Shillong: Nearest airport: Umroi airport, Guwahati airport, and Nearest railway station: Guwahati railway station
8. Darjeeling Hill Station, West Bengal
Darjeeling is a hill station in India that screams cultural richness. Located in West Bengal, this old yet equally amusing hill station is the dream destination of tea lovers, as the cool breeze and exquisite sites make you wish you had visited this place earlier.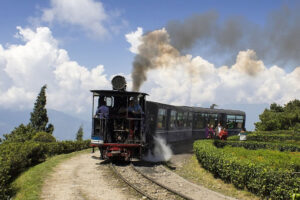 The sights of tea estates from the Darjeeling Himalayan railways or the toy train is an images that no tourist can forget.
The population in the hill station is extremely diverse as you can see people of different ethnicities like Nepali, Bengali, and Sikkimese.
Best places to visit in Darjeeling: Ghoom monastery, Aloobari Gompa, Tiger Hill, observatory hills, Dhirdham temple, Lloyd Botanical Garden, Snow Leopard Breeding Centre
Things to do in Darjeeling: Worship Lord Shiva at Mahakal temple, visit the Badamtam tea estate, take a tour of Shrubbery Park, and enjoy a Toy Train ride, relax at Japanese Peace Pagoda.
Best time to visit: April to June 
How to reach Darjeeling: Nearest airport: Bagdogra Airport(from New Delhi, Guwahati, and Kolkata), and Nearest Railway Station: New Jalpaiguri Station
9. Gangtok, Sikkim
Despite being the capital of a state, Gangtok hill station is one of the most peaceful places in the country. This tourist destination is home to several Buddhist prayer sites that can make you forget the hassles of daily life.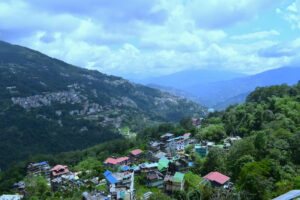 Gangtok became the capital of Sikkim in 1894 and since then, it has won the attention of tourists from across the world.
The tranquil monasteries, colorful prayer flags, and slopes of the hill tops in Gangtok are second to none.
Places to visit in Gangtok: Nathu La, Hanuman Tok, Rumtek Monastery, Ganesh Tok, Do-Drul Chorten Stupa, Kanchenjunga Falls, Randentse Ruins, Himalayan zoological park.  
Things to do in Gangtok: Take a walk in the Saramsa garden, enjoy the waters of seven sisters waterfalls, visit the Namgyal Institute of Tibetology, meditate in monasteries like Enchey monastery and Phensang monastery, and take pictures near the Tsomgo Lake. 
Best time to visit Gangtok: September to December, March to May  
How to reach: Nearest airport: Bagdogra of West Bengal and the Nearest railway station: Japaiguri (114km)
10. Munnar, Kerala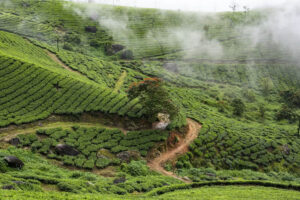 The last one on our list is a tourist attraction that you must not miss if you are planning to visit Kerala. Munnar is famous for the Kannan Devan hills that boast of fragrant and refreshing tea exported across the globe.
The nearby villages and rivers make this hill station one of the most scenic ones in India.
Best places to visit in Munnar: Pothamedu viewpoint, Sree Ayyappa temple, elephant arrival lake, Christ Church, Sree Murugan Kovil, Cheeyappara waterfalls.
Things to do in Munnar: Take pictures at photo point, go trekking on Kalvari mount, visit kolukkumalai tea estate and know more about the cultivation of tea, visit the Tata tea museum, enjoy a cool shower at Attukad waterfalls.  
Best time to visit Munnar: December to February 
How to reach Munnar: Nearest airport: Cochin airport and Nearest railway stations: Aluva and Eravikulam
Also Read- Top Tourist Places to Visit in Kerala & Things To Do
Enjoy the magic of hill stations this summer…
We understand your struggle as it is not easy to make the final choice from these heavenly beauties. Once you've made your choice, share with us which hill station has captivated your heart with its stunning topography and culture.
Also, let us know which tourist heaven we should cover next so that you can already start planning for your next trip!