Newlywed couples often want to run away from the busyness of their own place to somewhere they can find privacy and relax at the same time. Most often they look for places that have a calm aura with fantastic climates, turquoise beaches, and beautiful scenery.
And Bali is a perfect tourist destination that ticks all the boxes making it the best place to visit for honeymooners.
It is necessary to research the right places of accommodation in Bali so that you can have a comfortable stay with your spouse. But do not worry, because we got your back!
This post helps you with a few affordable resorts in Bali that are perfect for the most romantic honeymoon.
Why is Bali famous for Honeymoons?
1. Stunning Beaches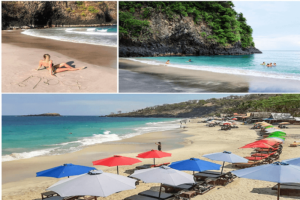 Bali is famous for being home to the most spectacular beaches on the planet. Beaches like Seminyak, Jimbaran, Sanur Beach, Nusa Dua Beach, etc are a treat to the eyes that can make your honeymoon even more memorable and special.
The beaches are also surrounded by temples, monasteries, and markets, perfect for unwinding after a long day of fun.
There are water sports items like snorkeling and rafting that you can involved in with your partner to break the ice.
2. Fun Activities for Couples
Apart from having a little fun on the beach, you can enjoy some other activities with your loved one in Bali. A few of them include going on bike tours, having a photo shoot at the Ceking rice terrace, ridge walking at Campuhan, relaxing at the Besakih Great Temple, etc.
There are so many cultural and religious performances that you can see here.
Visit the textile shops and also take a look at the work of artists who create articles out of wood and stone and get your souvenirs from them.
3. Scenic Views
Bali is at the top of the list of places to visit for most couples due to the scenic settings of the place. Even if you cannot afford a trip to Paris or any other destination famous for its romantic vibe, you can still make up for it by booking your flight to Bali at affordable prices.
The mind-blowing golden beaches, jungles with lush greenery and an abundance of fauna, cozy little cafes and restaurants, thrilling volcanic mountain treks, and much more can you enjoy here.
All these are enough reasons to call Bali one of the most romantic places on earth.
Kickstart your married life by chilling with your partner in the most panoramic views in Bali.
4. Easy Accommodations for Couples
Finding a good place to stay in one of the struggles that most couples face when they go on a honeymoon. But in Bali, you can get access to the most affordable accommodations that give you enough privacy and help you rest comfortably.
You can choose from the most simple accommodations to those that offer stunning views of the beach, mountains, and forests.
Bali is also home to yummy treats as their cuisine consists of the most diverse and delicious spices, veggies, and meat items.
You can either enjoy these staple Balinese food items like Mei Goreng and Satay in your place of stay or go to the most popular eat-out places.
Top 10 Affordable Resorts and Hotels in Bali That Are Perfect for a Honeymoon
1. Senetan Villas
Senetan Villas offer one of the most affordable accommodation options for couples in Bali. Build on an area of 1.64 acres, couples get to have the most spell bounding views of forests and cliffs from this affordable resort in Bali.
This group of villas is surrounded by large trees, offering you the most relaxing and cool climate. They also provide a wide range of dining options that you can experience with the view of the Indian Ocean.
The Wilis restaurant, Octopus, Waterfall, and Lagoona are popular dining options with international menus for couples.
Location: Payangan in Kab. Gianyar
Popular nearby attractions: Payangan market, Pura Penataran Er Jeruk (religious site), Wanna Jungle Pool and Bar, Sungai spa, Sanggraloka farm
Things to do: Go on a ridge walk in Campuhan, watch the Kekak dance, explore the museums, temples, and boutiques
Facilities: Swimming pool, yoga, cycling, spa, and bodywork, free breakfast, free Wi-Fi, Ngae Canang, Dining at the Wilis Restaurant
Rate: ₹4,400
Distance from Bali: 43 km ( From Bali Ngurah Rai airport)
2. Triyana Resort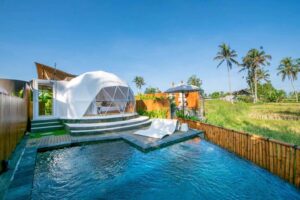 If you are looking for a natural resort with the most glamorous location for camping Triyana Resort is the perfect choice for you. You get to have a unique and unforgettable experience in the Historical Village and Tourism Village destination by booking your rooms at this resort in Bali.
Location: Carangsari, Petang, in Kabupaten Badung
Popular nearby attractions: Bali elephant camp, Taman Beji Samuan, Carangsari village, Kuta beach
Things to do: Walk on the Sanur beach, shop at Seminyak square, meditate at Tana Lot, visit Ubud monkey forest
Facilities: Free Wi-Fi, private pool, smart TV in the room
Rate: ₹1,500
Distance from Bali airport: 34.3 Km
(Free tip!- Bring your own snacks and food items since the place is located far from shops)
3. Grand Zuri Hotels
If you are looking for a sleek and modern setting to enjoy your honeymoon, Grand Zuri Hotels in Kuta should be your number one choice. Couples get the most comfortable experience with flat-screen TVs, luxury bathrooms, and a terrace to unwind.
You also get access to a 24-hour restaurant with outdoor seating to enjoy delicacies from across the world apart from the specialties of Bali.
Location: Kuta, Kabupaten Badung
Popular nearby attractions: Seminyak Beach, Bali swing, Uluwatu temple, Ulun Danu Beratan temple
Things to do: Visit the Potato Head beach club, have fun at the Waterbom Bali, visit the Museum Pasifica Bali
Facilities: Free Wi-Fi and breakfast, air-conditioned rooms, outdoor pools, spa and massage center, nearby Indian restaurants, mini bars
Rate: ₹2,086
Distance from Bali: 4.2 km from Denpasar airport
4. Villa Seminyak
The design of Villa Seminyak is of the finest quality to elevate the comfort and mood of couples. With the nearest beach just 5 minutes away and close access to boutiques and dining places, this resort is the best spot for your honeymoon.
This resort complex is the best choice for couples who wish to have the highest level of privacy and enjoy the serene vibes of Balinese culture.
Location: Seminyak, Kuta
Popular nearby attractions: Seminyak Beach, Kuta Beach, Potato head beach club, Sanur Beach, Tanah Lot, Ku De Ta Restaurant
Facilities: Free Wi-Fi,  free breakfast, pool, Lagoon Spa Seminyak, Kedis restaurant, and events venue.
Rate: ₹4,636
Distance from Bali airport: 10 km
5. The Bali Dream Villa & Resort Echo Beach Canggu
This affordable resort for couples in Bali provides you with a wonderful experience of accommodation in the traditional Balinese way of life.
They provide 16 rooms and 14 pool villas that offer outstanding nature views.
Get rooms with superior interiors designed in contemporary styles that let you relax in the serenity of Bali.
Location: Banjar pengembungan, Desa Pererenan, Canggu
Popular nearby attractions: Batu Bolong Beach, Berawa Beach, Nelayan Beach, Canggu Beach, Tanah Lot
Things to do: Visit the Paradise Pictures art gallery, do yoga at Joga Yoga Center, enjoy a drink at the Old Man's bar, shop at Canggu Jewellery Classes
Facilities: Spa and wellness center, restaurant and bar, villa tour and services
Rate: ₹2,975
Distance from Bali: 7.1 km from Ngurah Rai airport
6. Sunshine Bungalows Restaurant and Spa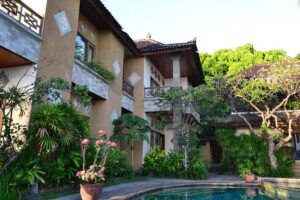 Sunshine Bungalows is a popular spot in Bali for couples to spend their honeymoon. It is located in a beautiful location overlooking the sea with fresh floral gardens and a swimming pool to refresh.
It is also a great place to go snorkeling and fishing due to the beachfront location. You also get excellent customer experience with friendly staff who can provide you with quick services whenever required.
They welcome you with a drink and foot wash to provide you with a delightful stay.
Location: Abang, Karangasem regency
Popular nearby attractions: Amed Beach, Tirta Gangga, Mount Agung, Taman Ujung, Selang Beach, Pantai Tulamben
Things to do: Snorkel in Pantai Jemeluk, take a walk on Virgin Beach, enjoy the sunset at Lipah Beach, watch the rituals at Goa Lawah temple
Facilities: Beauty salon, spa, free evening tea, excellent food, swimming pool, bar.
Rate: ₹3,300
Distance from Bali airport: 3 hours drive from Ngurah Rai airport
7. Tarci bungalows, Lembongan
With more than 30 years of experience in the hospitality business, Tarci Bungalows is another popular place of stay that you can consider for your honeymoon.
You get the perfect view of the beaches, shipwrecks, and playgrounds from this paradise for couples.
It is a perfect place to stay at if you are looking to engage in fun activities like surfing, diving, and snorkeling with your partner with islands and beaches at walking distance.
Location: Jungutbatu Lembongan
Popular nearby attractions: Nusa Lembongan, Kelingking Beach, Broken Beach, Angel Billabong, Mushroom Bay Beach
Things to do: Surfing, fishing, snorkeling, visit the Ceningan island, have a relaxing evening at Crystal Bay Nusa Penida, visit Devil's Tears
Facilities: Yoga class, fast boat to Lembongan, Snorkeling and Mangrove tour, Agus shipwreck bar, and restaurant
Rate: ₹1,356
Distance from Bali airport: 32 km from Ngurah Rai airport
8. Parthi Puri Ubud Bed & Breakfast
The next place of accommodation for couples in Bali that we have on our list is the popular Parthi Puri Ubud Bed & Breakfast.  They provide you simple but delicious breakfast and a very comfortable place to relax after a long day.
The helpful and polite staff, yummy food, and clean rooms make it a favorite among tourists in Bali.
This place of stay for couples in Bali is also just a few kilometers away from popular sites like The Ubud Palace and Goa Gajah.
Location: Kecamatan Ubud, Kabupetan Gianyar
Popular nearby attractions: Sacred Monkey forest sanctuary, Tegenungan Waterfall, Goa Gajah, Ubud Art market
Things to do: Take photos at the Tegallalang rice terrace, visit the Ubud palace, offer worship at Saraswati temple, go to Bali Safari and Marine Park.
Facilities: Terrace, private garden, air-conditioned rooms,  Pantry and fridge.
Rate: ₹1644
Distance from Bali airport: 32km from Ngurah Rai airport
9. Volcano Living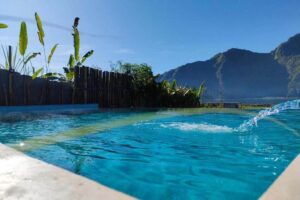 Volcano Living is an affordable accommodation choice if you are planning to go hiking on Mount Batur. It is ideally located near the best tourist destinations for sightseeing, dining, and other recreational activities. It is a budget hotel with clean and fresh rooms and friendly staff.
Enjoy the view of the mountains after a hot shower and indulge in the wide variety of breakfast options they offer.
Location: Pendakian Gn. Batur, Toyabungkah, Kintamani, Kabupaten Bangli
Popular nearby attractions: Mount Batur, Besakih Great Temple, Danau Batur, Pura Ulun Danu Batur, Museum Geopark Batur
Things to do:  Trek on Mount Agung, go hiking in Gunung Abang, visit Penglipuran village, take pictures at Trunyan Hill
Facilities: Private terrace, hot water pool, restaurant, free breakfast, full-service laundry
Rate: ₹992
Distance from Bali: 79 km from Ngurah Rai Airport
10. Jimbaran Bay Beach Resort & Spa
Jimbaran Resort is a family-friendly accommodation space that provides a spectacular experience for couples in Bali. It is a contemporary-style Bali resort that was opened to the public in 2016 with elegant rooms and stylish suits that match everybody's taste.
You get a beautiful view of tropical nature and the Kedonganan beach on the Indian Ocean from this affordable hotel.
The staffs are also friendly in arranging transportation and accommodation services for honeymooners in Bali.
Location: Pantai Kedonganan 888, Jimbaran Bay
Popular nearby attractions: 3D Dream Museum Zone, Seminyak, Kuta Beach, Uluwatu temple, Jimbaran Beach, Waterbom Bali, Balangan Beach
Things to do: Take a walk at Padang Padang beach, scuba dive, enjoy a ride in a banana boat, visit the Jenggala gallery, visit the Garuda Wisnu Kencana cultural park
Facilities: Beach club, rooftop bar, spa and massage services, swimming pool
Rate: ₹4,812
Distance from Bali: 6km from Ngurah Rai Airport
Before you leave…
We've provided detailed information on the most affordable resorts and hotels in Bali for couples to have a lovely honeymoon.
Make a choice and share your experiences to let readers know more about these places!