Bali is that one place on earth that looks straight out of a fairy tale. If you are a travel enthusiast, we already know that your Pinterest feed is overflowing with the lush waters and greenery of Bali. But Bali is not just about golden beaches, vivid coral reefs, and beautiful paddy fields. There is much more to explore at the Land of Gods, which we will dive into together through this article! 
Top Picturesque Locations In Bali You Shouldn't Miss
1. Tanah Lot
Wonder where you can click the most scenic photos in Bali for your Instagram?
It is right here in Tanah Lot!
Tanah Lot is one of the most popular places to visit in Bali. It is a popular spot for Hindu pilgrims as it houses the Tanah Lot temple which was built to pay homage to the Gods of the sea.
Built of wooden structures on a large coral rock, this temple offers a peaceful atmosphere for one to rest in. Even though the beauty of this temple and its surroundings can seem attractive, foreign tourists are not allowed inside the temple. Visitors are also supposed to dress modestly covering their shoulders and knees while visiting this temple.
You can still enjoy the beautiful sunsets that Tanah Lot is famous for and click hundreds of photos to take home a handful of memories.
2. Ubud Monkey Forest Sanctuary
 Another interesting tourist attraction in Bali is the sacred monkey forest sanctuary in Ubud. It boasts more than 600 Balinese long-tailed monkeys that attract tourists from across the world.
You can have a fun time with your family interacting with the monkeys by feeding them with food items like bananas, papaya, and sweet potatoes.
Is visiting the Ubud monkey forest sanctuary affordable? The entry fee for an adult is about $6 or about ₹500, and for a child up to 12 years of age, the fee is 30,000 IDR or 330₹.
Make sure to not touch or disturb the monkeys and take proper care of your belongings, as monkeys are quick and naughty thieves!
The monkey forest grounds also house three temples that date as long as back to 1350. You also get to enjoy the hills and little streams in the sanctuary which make it a perfect place to wind down after a long day.
If you're in Ubud, do not miss one of the best places to visit in Bali, which is the Bali swing. Hop onto it and get amazing views by enjoying a comfortable and safe ride.
3. Ceking Rice Terrace
One popular tourist attraction in Bali that you cannot forget is the Ceking rice terrace or Tegalalang rice terrace. You get to find this green expanse in the north of Ubud village.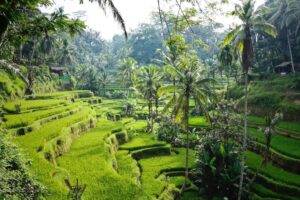 It is one of the places to visit in Bali if you are looking to refresh yourself after a long journey by exploring the rice fields. You also get a great opportunity to interact with local farmers and observe what they are doing. One can seek the help of a local tour guide if you want to talk to them and understand more about their farming practices.
You will also find handicraft shops nearby that sell items like jewelry, sculptures, bags, t-shirts, etc. that you can take home as souvenirs.
Also Read- 10 Best Honeymoon Hotels and Resorts In Bali (With Prices)
4. Nusa Penida
Did you know that Bali is home to more than 200 bird species? You can visit the forests in the island of Nusa Penida to catch a glimpse of these feathery friends.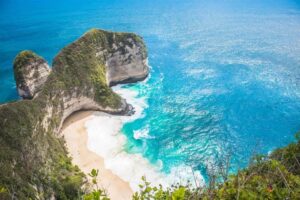 Nusu Penida is connected to Bali by Badung Strait and is one of the most peaceful islands that you can visit. You get to see high cliffs surrounded by lush greenery and calming blue waters that can please your soul. It is one of the most ideal tourist attractions in Bali that you can consider if you want to have a relaxing getaway with your loved one.
Even though there are not many accommodation options here, you can still enjoy the serenity of the place due to fewer tourists.
5. Mount Batur
Apart from the beaches and greenery, one thing that Bali is popular for is the active volcanoes. Mount Batur is one such active volcano that you can climb within 2 to 3 hours.
It is a fun exercise to do in Bali with your friends as you can make your trip more adventurous by tracking the rocky areas in Mount Batur. But is it worth it to spend time on Mount Batur? Yes, it is absolutely worthwhile!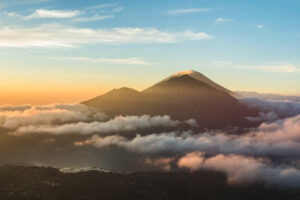 Not only do you get to enjoy the experience of trekking, but also get to see a variety of beautiful sights. They include the stunning Mount Agung right near it and Lake Batur on the right side.
You can also get a spectacular glimpse of the sunrise and sunset in Bali from this mountain. The Bali Sea and mount Rinjani are a few other beauties that you can spot from this mountain.
6.  Sanur Beach
A list of places to visit in Bali will not be complete without the very popular Sanur Beach. This famous tourist attraction in Bali is extremely scenic with turquoise waters, reefs, and coconut palms. Apart from these, you also get to soak in the buzzing human activities in the nearby galleries, restaurants, and temples.
Located near the capital of Bali Denpasar, Sanur Beach is an ideal tourist attraction for surfers due to the insane waves that one can find here. It is also one of the best places to visit in Bali due to the abundance of marine life like corals. You can have a great time diving and snorkeling in the clear waters as well. The nightlife at Sanur Beach is also something that makes this place magical.
You get to have budget-friendly foods at the Pasar Malam or night market while enjoying the sea view.
How To Go To Bali?
The only options by which you can reach Bali by air or by sea. You can look for flights from major cities in India to Ngurah Rai international airport or Denpasar international airport.
The metropolitan cities that connect to Bali through flights include Chennai, Delhi, Mumbai, and Kolkata. You can also reach any places to visit in Bali If you take a flight to Singapore or Sumatra. From there, you can take the sea route to reach Bali.
How many days should you spend in Bali?
One major question that arises when you are planning to visit major tourist attractions in Bali is the number of days you wish to spend there. It all depends on the places that you want to visit in Bali, your budget, and the time you have in hand. We understand that the beaches, waterfalls, and adventurous attractions can be so tempting.
But it may not be practical for you to spend a long time in Bali due to personal and professional reasons. Most Bali tourists agree that 10 to 14 days is the perfect number of days that you need to spend here. You can also go as low as 5 days if you wish to fully enjoy one or two areas in Bali.
We hope you have received useful information from our list of top tourist attractions in Bali. Do not forget to share your thoughts and opinions about this incredible heaven on earth with us!