Bodhgaya is an important place of significance in Indian history. The beautiful temples, statues, and markets in this village in Bihar attract thousands of tourists every year.
People from across the world are also interested in learning about the Buddhist lifestyle and the spirituality that the natives follow. Bodh Gaya is a place that you must visit if you want to embrace a different culture and look at life from another perspective. Without a second doubt, you can add the attractions in Bodh Gaya to your list of dream destinations to visit this summer.
When is the Best Time to Visit Bodh Gaya?
The beauty and sacred vibes of the place make it a perfect tourist destination in Bihar regardless of the season. You can call up your friends and family and have a peaceful time visiting the various sites in Bodh Gaya at any time.
However, statistics show that the highest number of tourists visit this place during the months between October and March. You can enjoy the grand celebrations that take place during the time of Buddha Jayanti in the months between March and June.
Meanwhile, monsoon season in Bodhgaya is between July and September making it a pleasant and cool time to visit the place. In the rest of the months till February, Bodhgaya usually experiences a surge in the number of tourists, making it a busy time to check out tourist attractions.
Top 7 Places to Visit in Bodhgaya that You Can Enjoy
Flipping through the pages of your history textbook is always a boring experience. But a trip to Bodhgaya can surely change your perspective on Indian history as you get to land in a place of eternal peace and sanctity.
Given below are a few tourist attractions in Bodh Gaya you must definitely not miss once you visit this holiest site in Buddhism.
1. Great Buddha Statue
One cannot leave Bodhgaya without getting a glimpse of the tallest Lord Buddha statue in India, the most popular tourist destination in Bodh Gaya. It is a great work of art that speaks volumes about the peaceful nature of Bodhgaya.
The great Buddha sitting on a giant Lotus is an image that cannot be erased from the minds of any tourist that visits this place.
The 18.5 meter-tall statue evokes peace and calm feelings in your mind attracting constant pilgrim visits all around the year.
Things to do near Great Buddha Statue

: Meditate in the calm environment, learn about the surrounding smaller scriptures, engage with like-minded tourists and learn about Buddhist beliefs

How to Reach the Great Buddha Statue from Bodh Gaya

: Get an auto or walk from Bodh Gaya bus station 

Best Time to Visit the Great Buddha Statue:

April to May

Distance from Bodh Gaya to Great Buddha Statue:

1 km from Bodh Gaya bus station
2. The Mahabodhi Temple
The Mahabodhi temple is a Buddhist temple in Bodhgaya that is also a UNESCO World Heritage site. It is one of the four holy sites that are connected to Lord Buddha and his enlightenment.
The first temple of this complex was first built by emperor Ashoka in the late Gupta era, and is surrounded by other six sacred sites related to the Buddha's enlightenment.
This temple has also had a great influence on brick architecture around the world.
You can take visit the temple and get an insight into Buddhist spirituality from 5:00 AM to 9:00 PM with absolutely zero entry fee.
Things to do in and near the Mahabodhi Temple:

Visit the nearby jewel house, see the pond in which Lord Buddha was seen bathing in, visit the nearby stupas, meditate at the temple complex

How to reach the Mahabodhi temple from Bodh Gaya:

You can reach the temple by road transport options like car and autos.

Best time to visit the Mahabodhi temple:

Winter season (November to February)

Distance from Bodh Gaya to Mahabodhi temple:

1.5 km
3. The Bodhi Tree
Located right near the Mahabodhi temple is the Bodhi tree which is a sacred place of utmost historical significance in the Indian culture.
It is while meditating under this tree continuously for 7 days that Siddhartha Gautama or the Buddha attained enlightenment. Several sages and yogis visit this place and meditate under it for peace of mind.
If you are looking to go back in time and connect with the historical roots of India, visiting this place is a must.
The divine scents and vibes of this place can get imprinted on your mind for a long time, making it a spellbinding experience in Bodh Gaya.
Things to do near the Bodhi tree

: Meditate, relax with family, talk to Buddhist believers, learn more about the history of the tree 
How to reach the Bodhi tree from Bodhgaya

: Cars, taxi, auto rickshaws, etc are the available options
Best time to see the Bodhi tree:

November to February

Distance from Bodh Gaya to the Bodhi tree:

1.5 kilometre
4. Chinese Temple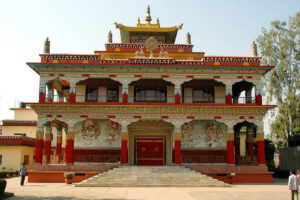 Another tourist site in Bodh Gaya that has won the heart of tourists is the Chinese temple. It is a Buddhist monastery located right near the Mahabodhi temple, notable for its Chinese pagoda style of architecture.
You get to see three versions of Buddha in this small temple and learn more about the statues and sculptures through the plaques kept near each of them.
Just like any other temple in Bodh Gaya, you get to be in a peaceful and calm atmosphere at the Chinese temple as well.
You can create memories for a lifetime by clicking the number of pictures in this clean and well-kept temple and its surroundings.
Things to do in the Chinese temple:

Learn about the rituals in the temple, take a look at the travelogues drawn by religious scholars

How to reach the Chinese temple from Bodhgaya:

walking, trekking, rickshaws 

Best time to visit the Chinese temple:

October to March

Distance from the Chinese temple to Bodhgaya:

1 km from Bodh Gaya bus stand
5. Tibetan Refugee Market
One of the best parts of a trip is returning home with a handful of souvenirs and memories.
Apart from the photographs that you have clicked, try visiting the Tibetan refugee market and get your hands on the exquisite handicrafts, Mini statues, jewelry, and clothing it has to offer.
Located just one kilometer from the Bodhgaya bus stand, it is one of the attractions in Bodh Gaya for shopping after a day of visiting temples and monasteries.
Things to do in the Tibetan refugee market:

Explore the different shops and local items they have to offer, interact with the local vendors to learn more about the Tibetan community

How to reach the Tibetan refugee market from Bodh Gaya:

walking or trekking

Best time to visit the Tibetan refugee market:

It is a seasonal market that is set up in the months of November to March.

Distance from Tibetan refugee market to Bodhgaya:

1 km
6. Wat Thai
Wat Thai is a Thai monastery in the village of Bodh Gaya. It is a popular attraction in Bodh Gaya and is like a union place for Thai tourists. You get to see the statue of the Buddha in a resting state in this monastery.
It is conveniently located near the Buddha statue and is just a kilometer away from the Bodhgaya bus station. One can also get access to Thai food right near the place after spending some time in the meditative atmosphere of this monastery.
You can visit this tourist attraction in Bodh Gaya on all days in the week from 7:00 AM to 6:00 PM.
Things to do in Wat Thai:

Enjoy the architectural beauty of the monastery, spend some time alone in the silent nature, attend meditation classes and retreats for pilgrims.

How to reach Wat Thai from Bodh Gaya:

You can walk or take a cab.

Best time to visit Wat Thai:

January

Distance from Wat Thai to Bodhgaya:

1 kilometre from Bodhgaya bus station
7. Muchalinda Lake
If you are into Buddhist mythology, you must have heard about the tale of Lord Buddha being protected from a storm by King Muchalinda while he was meditating.
The popular Muchalinda Lake is a tourist destination in Bodh Gaya that is associated with this mythological story. Known as the Lotus Pond, it is located within the Mahabodhi temple complex.
You can watch the scenic lake and relax after spending time in the Mahabodhi temple after walking around enjoying the beautiful scriptures of Lord Buddha.
Things to do near Muchalinda Lake:

Explore the Mahabodhi temple, learn more about the mythology behind the Muchalinda lake, and meditate in the relaxing surroundings of the lake.

How to reach Muchalinda Lake from Bodh Gaya:

Rickshaws and cabs are available at Bodh Gaya bus station 

Best time to visit Muchalinda Lake:

November to February 

Distance from Muchalinda Lake to Bodhgaya:

1.5 km
How to visit Bodhgaya?
The railway system of Gaya is easily connected with the major cities in India like New Delhi, Varanasi, and Kolkata. From Varanasi, you can enjoy a comfortable car ride of 6 to 7 hours with your family to reach tourist places in Bodhgaya.
If you are in Patna, it will take you two hours to reach this holy village.
You can also make use of the Mahaparinirvan Buddhist Tourist train which is run by the Indian Railways just for tourists who wish to visit Buddhist sites.
Once you have reached there, you can make use of taxis, auto rickshaws, and cycle rickshaws to move around. Walking and trekking are also the most commonly used modes of transportation to go from one tourist destination in Bodh Gaya to another.
Private And Custom Tours To Bodh Gaya
If you have absolutely no clue about tourist sites, transportation modes, and other details, it is better to connect with a travel agency and prepare a custom trip.
They will take care of all your travel needs, tickets, transportation, stay, etc. letting you focus more on the beauty of Bodh Gaya.
You will get access to an exclusive guided sightseeing tour of the place at affordable prices and conveniently wrap up your trip.
So, what are you waiting for? Kickstart your exciting journey to this stunning tourist destination in Bihar with your friends and family right away!