Is a long weekend ahead?
Are you planning to go somewhere?
Oh! You have thought about your location.
Is it Goa? A Great Choice.
Natural beauty, gloomy beaches, tranquil water, active nightlife, party & booze, greenery in abundance- is this all enough to describe Goa? No, there is so much more that you can see and explore in Goa.
No doubt, it is a small state but has so much for you to see and enjoy. But to explore all of it, you have to visit there. How about covering important places in just 5 days? I am going to help you by making an itinerary for you, following it will make an easy-peasy journey for you.
This itinerary covers all the essential information for you where you can explore all the hidden gems, top party destinations, offbeat places, how to reach there, and more. Don't limit yourself to just the crowd and the beaches, check out all the exciting pieces in these five days.
How To Reach Goa?
By Flight: Well, the easiest way to reach anywhere is by flight. With so much convenience, reduced traveling hours, and quick transfer from one place to another, there isn't anything better than a flight, so you can travel to Goa via a flight that will land at the only airport of Goa- Dabolim Airport.
By Train: Well, if somebody is short of flight money or loves to travel longer with family and enjoy the window view then the train would be a good fit for you. Then Thivim is the major junction. Here all the trains coming from North Goa and South Goa meets or make a halt.
By Road: See there are so many routes that can take you to Goa, the main click hits from where you are coming, it will be a very beautiful long hours journey and perfect for the ones who love long drives. If you are traveling from Mumbai to North Goa taking approximately 11 hours.
By Bus: Well, if there are road travel then of course buses are the one that you can easily get from anywhere in India. Panjim is the mail halt point and you can conveniently choose a luxury AC bus, simple without AC- whatever your preference is.
No matter which way you travel, you will have a very beautiful journey when you are with your loved ones.
Day 1: Leisure Day and Food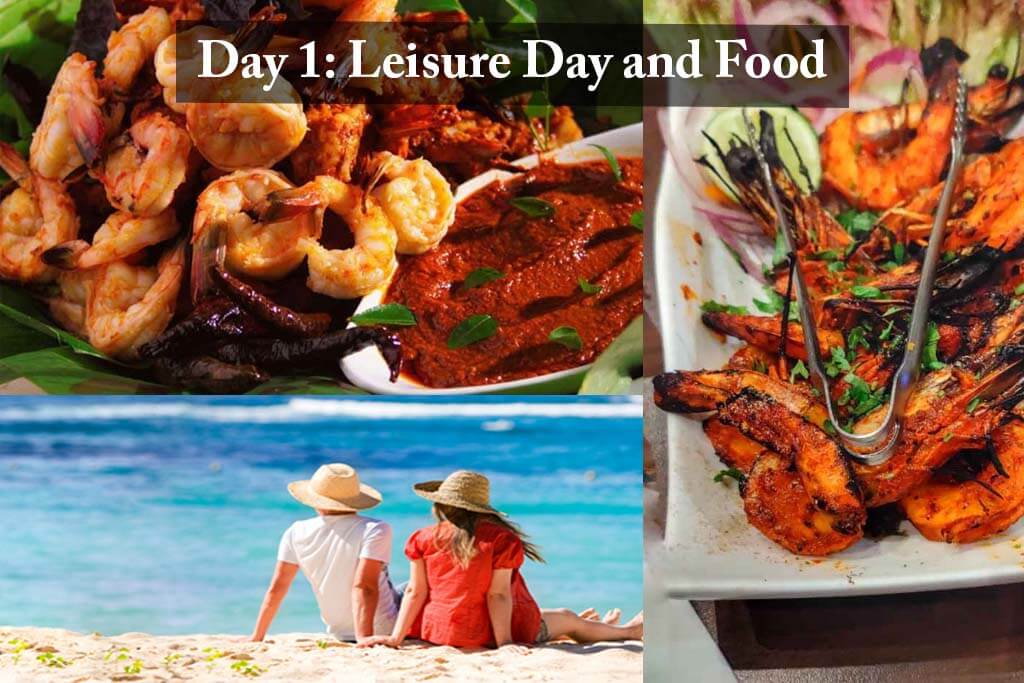 Your traveling type decides how tired you guys must be, so the first day should include some leisure so once you reach there, go to your hotel and rest.
After some rest and grab some good food enjoy the Goa delicacies like Goan Fish Curry, Bebinca, Chicken Cafreal, Xacuti, Prawn Balocha, etc. in some high-end restaurants like Gunpowder- Assagao, Chef Peter's Kitchen- Pilerne, Juju – Reimagined Indian- Colva, etc.
Goa Itinerary: Day 1 Cost
It might food cost a person from Rs450- Rs1200 for a full-fledged meal depending on the restaurant you are eating in.
Go back to the hotel and rest, as you have so much to do next day.
Day 2: A day full of Fun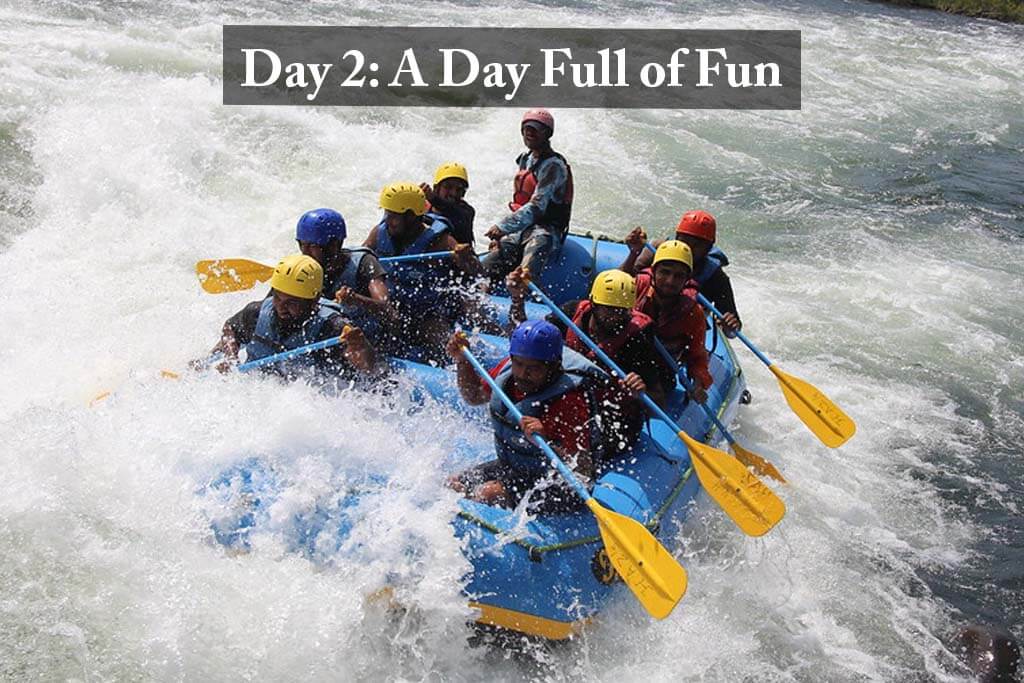 Wake up and move for your hotel breakfast, as your next destination is Splashdown Water Park. An amazing yet entertaining place for all adventure seekers that has 5pools with so many rides like Boomerang, Tornado, Zoom Flume, etc. making it very popular among children. It will be an amazing day off for your kids over here.
Goa Splashdown Waterpark Ticket Price & Timing :
Splashdown Waterpark ticket price is INR 620.
It is open every day, from 10.30 am to 6.00 pm.
You can spend a good amount of hours here. Then you can go to The World Famous Decades Bar– A soothing place where you can sit with your family and friends enjoying the drinks and food with the light and live music. Note- live music is available on Monday, Thursday, and Friday. It is a good place to enjoy the soothing atmosphere.
World Famous Decades Bar Timing:
Note- live music is available on Monday, Thursday, and Friday.
Two people can enjoy the food for 1500-2500 INR plus drinks extra.
Your evening ends well, now you must go back to the hotel and rest to get prepared for the next day. But still, if you feel like going out at night, especially youngsters then Club Cubana is the right place for you.
Club Cubana: It is one of the favorite places for youngsters to enjoy. Here you will see a big amazing pool to dip in, do the pool parties, soak your feet, and enjoy the drinks, glittery lights, and different music- isn't this fun? Well, youngsters will surely love it.
Club Cubana Entry Fee:
The entry fee for a couple is 2500 INR on booking and INR 700-2000 per person depending on the package of drinks and food chosen.
Goa Itinerary: Day 2 Cost
The cost of 2nd day will be 5k to 8k according to the places we have covered.
Day 3: Explore the Famous Churches of Old Goa
Your previous day has included so much fun, so this day would be peaceful with some Churches visit. Grab your breakfast in the hotel and start your day. Know some of the important churches.
Se Cathedral: One of the most famous in Goa and the largest churches in India, Se Cathedral is an ultimate treat to the eyes. It is constructed by the Portuguese ruler in the victory of capturing a city in Goa and is open every day for everyone. (NO ENTRY FEES)
Church of St. Francis of Assisi- An important name in the list of Old Goa Churches, St. Francis of Assisi. The alluring architecture and the Corinthian style of interior leave the people mesmerized. It is the only church that has a museum comprising paintings and sculptures. (Outer premises are free but INR 20 for the inside tour).
After a tour of the two churches, it is important to have some food, so try the finger-licking good food at Greenyard Restaurant, Annapurna Restaurant, White Pepper Multicuisine Restaurant & Bar, etc. at a very reasonable price.
Augustine Tower: It comes in the list of UNESCO World Heritage Sites because of its magnificence. It is now a broken church complex yet very beautiful but has also hosted film shoots like Dilwale and Singham- Bollywood movies. (NO ENTRY FEES)
Goa Itinerary: Day 3 Cost
On 3rd day mostly transportation and food will cost the most, so the cost for 2 people on the day 3 can range from around 2k to 5k.
Day 4: Some beach and shopping time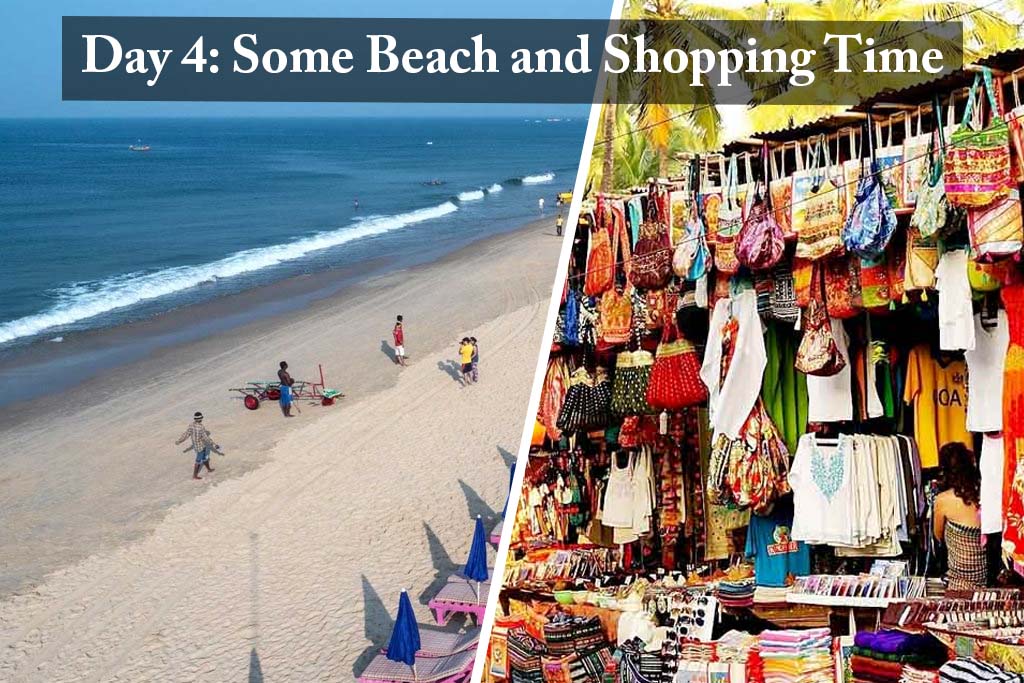 Calangute Beach: No doubt why it is called the Queen of Beaches in Goa, it is a true natural heaven where one can find an abundance of beauty and charm. Calangute Beach is available for all types of travelers.
After some beach time, how about having some food? Chelsea Beach Shack, Chef Soumyen's Kitchen, A Reverie, Pousada by the Beach, etc. are some good options to enjoy. Next will be some shopping time.
How about pleasing your wife on your trip to Goa? Well, there is no doubt that women love Jewellery and you can gift yourself something out of the box. Location Baga has a renowned jeweler- GM Jewellers which are specialized in making exotic jewelry from diamonds and precious stones pieces.
Titos Nightclub: An exotic party place that attracts hundreds of people every day with exciting music and a gorgeous crowd. Here you will find Bollywood Disco and International DJs. Entrance over here depends on the event happening on that particular day. Enjoy the opulent varieties of snacks, cocktails, and mocktails, with the grooving music! What else do the youngsters need here?
Titos Nightclub Entry Fee & Timing:
The entry fee at Titos is INR 2,000 per couple (Sunday to Thursday), and Rupees 2,500 for stag entry.
Goa Itinerary: Day 4 Cost
If I add beach, water sports, food and night club, it will take around 5k to 8k depending on how you choose restaurant, food and activities.
Day 5: Last but an interesting day
Start your day by visiting the most famous Baga Beach- the most commonly heard name that comes from every mouth whenever it is about Goa.
Countless shacks, food joints for quick snacks, dancing options, and much more are here. It is a very enjoyable place where you find crowds enjoying parasailing, jet skiing, paddle boarding, Jamie's restaurant, etc. This is the reason why it is considered the best beach in Goa.
After the beach, you can explore some good food at Jamies Restaurant, Go with the Flow, Cherry Olive, etc. After satisfying the hunger move to the next amazing destination.  The food here cost you around INR 1,100 for two people (approx.) without alcohol.
How about walking in the virtual world where you can enjoy mesmerizing technology? Goosebumps Virtual Escape is a perfect and very interesting place for family entertainment where you will see fear, sports, dance, and more in the virtual world.
Then it's dinner time, if you want to skip hotel dinner and have some Goan delicacies, then Royal Simha Goa, Rasa – The Essence Multi-Cuisine Restaurant, Nick's Place, etc. are near Goosebumps Virtual Escape. Eat and go to your hotel as you have to get prepared for your departure as well.
Goa Itinerary: Day 5 Cost
If we add the food and all the activity on the 5th day also, then it will come closer to 5k to 10k.
Well, I hope you guys will be very much satisfied with the itinerary because it includes so many exciting and amusing places making the trip relaxing yet fun.
Read also: Top 20 Places to Visit in Goa
Whenever it comes to vacation, Goa is an all-time favorite place with a blend of sun, sand, and water. The plethora of hangout places including beaches, national parks, churches, and hills make it an active tourist destination and a hotspot for the young population.
Frequently Asked Questions