Everyone loves to go to beaches and experience the chilling waves while basking in the sun. When it comes down to considering destinations for a beach vacation, Sri Lanka might not immediately come to mind. 
However, the best beaches in Sri Lanka provide a better experience than these heavily traveled roads because they are removed from Bali's crowded beaches, the famous shores of Hawaii, and Fiji's resorts. 
But the tiny island country can rival the best of them when it comes to breathtaking coastlines, spectacular wildlife, and an incredibly authentic cultural experience. Let's get started with ten of our top beaches in Sri Lanka and some planning advice to make sure your vacation runs smoothly.
Seasons of Monsoon in Sri Lanka
Understanding what makes Sri Lanka such a distinctive coastal resort is crucial before packing the beach bag. It is flanked by the Indian Ocean and the Bay of Bengal. 
Many of the tourist-friendly beaches in Sri Lanka shut down during wet spells to get ready for the following hot season. If you're on a tight budget and don't mind more erratic weather, the shoulder season could be an excellent time to travel. You can also benefit from lower hotel rates and fewer tourists if you're visiting during this time.
Top 10 Famous Beaches in Sri Lanka
Let's explore the top 10 beautiful beaches in Sri Lanka, where you can recharge to the maximum:
1. Mirissa Beach
Mirissa is well known for its whale and dolphin viewing excursions. Visitors can take pleasure in observing whales swim and frolic in their natural habitat at Mirissa by whale watching. Children absolutely must see it since it is such a memorable experience.
One of the most popular beach towns in southern Sri Lanka is Mirissa. The region has everything, including stunning Sri Lanka beaches, excellent surfing waves, and waterways rich with marine life, from small turtles to large blue whales.
2. Nilaveli Beach
The island's northwest region is known as Nilaveli (Open-land of the Moon-shine). Scuba diving is one of the popular water sports in Nilaveli.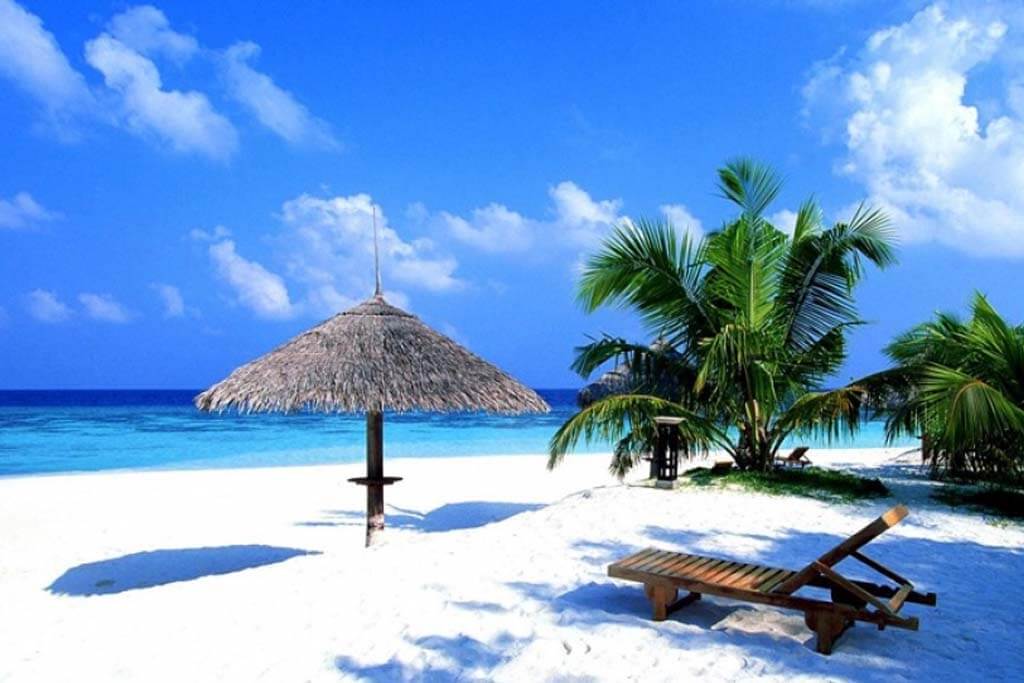 Being one of the popular Sri Lanka beaches, It is 16 kilometers to the northwest of Trincomalee. It is a beach vacation community and Trincomalee District neighborhood.
3. Uppuveli Beach
This region of Sri Lanka beaches, which is home to Nilaveli Beach, Uppuveli Beach, and Trincomalee Beach, is excellent for people seeking a quiet and genuine substitute to the south's bustling built-up tourist districts.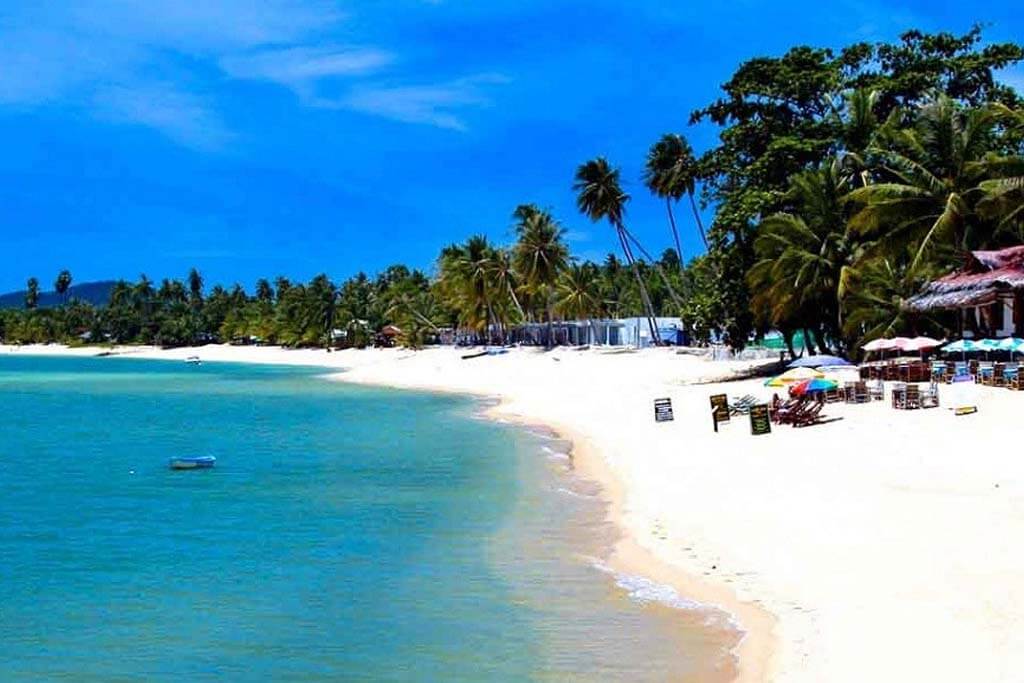 Without spending the afternoon at Fernando's Beach Bar, no trip to Uppuveli Beach would be complete. It is the best beach place in Sri Lanka for a few sundowners because it is set up directly on the beach with seats, hammocks, and lounges. There is a calm but active atmosphere. On occasion, bonfires are lit. Do not sample the cuisine.
4. Tangalle Beach
On Sri Lanka's southern coast, Tangalle Beach is a verdant tropical paradise. This beach is widely known for its infinite sandy beaches, crystal-clear sea, and stunning bays. This fishing village turned beach resort has an easygoing, carefree vibe.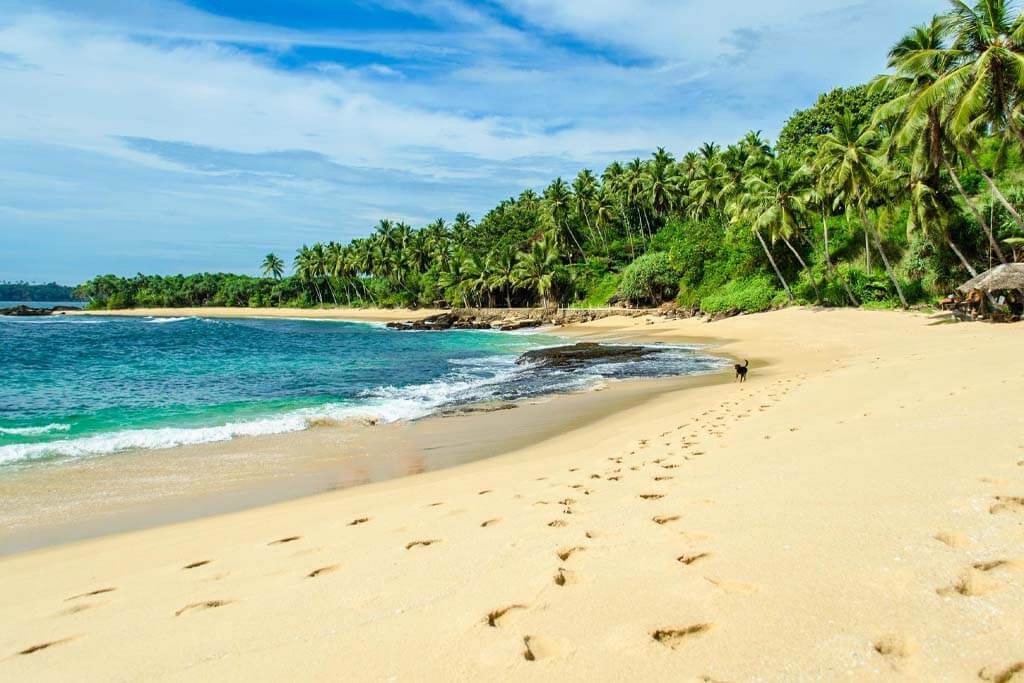 Tangalle, the last town inside the country's borders and a town with expensive beaches is situated in the southeast of Sri Lanka. With a four-hour trip from Colombo, Tangalle Beach is the furthest beach in this area.
5. Bentota Beach
The southern coast of Sri Lanka is where Bentota Beach is situated. This beach is at a distance of 64 kilometers away from Colombo. It can easily be reached by car in about one hour and thirty minutes.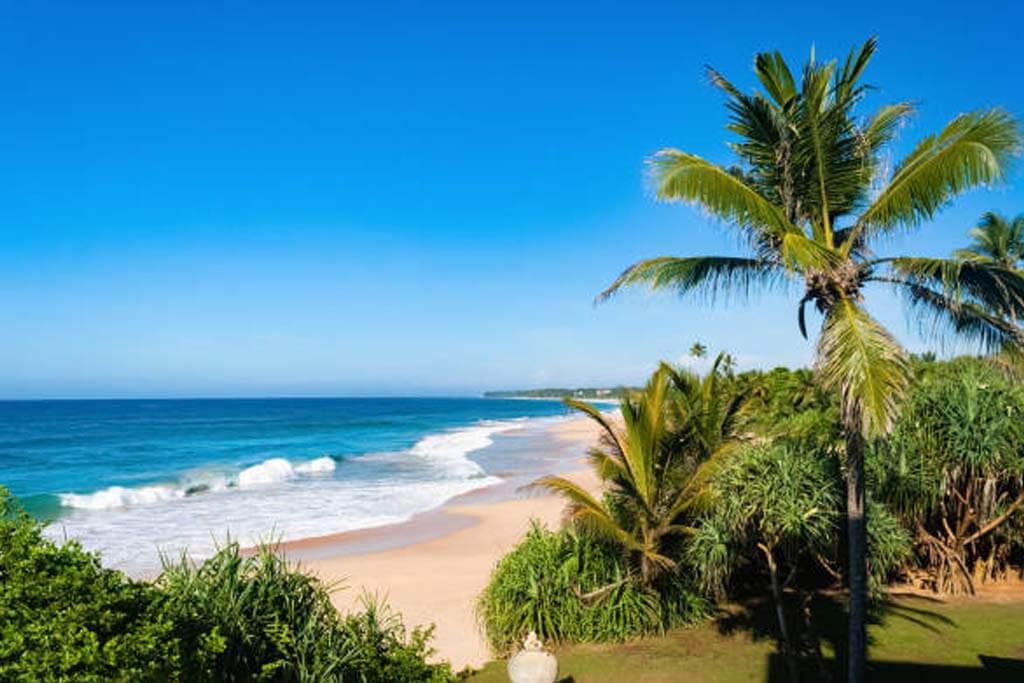 The name Bentota is derived from a mythology in which a demon by the name of "Bem" dominated the riverside, or tota, which is an intriguing detail about Bentota.
6. Pasikudah Beach
With a variety of the best beach places in Sri Lanka offering thrilling activities, the area is well known for luring tourists.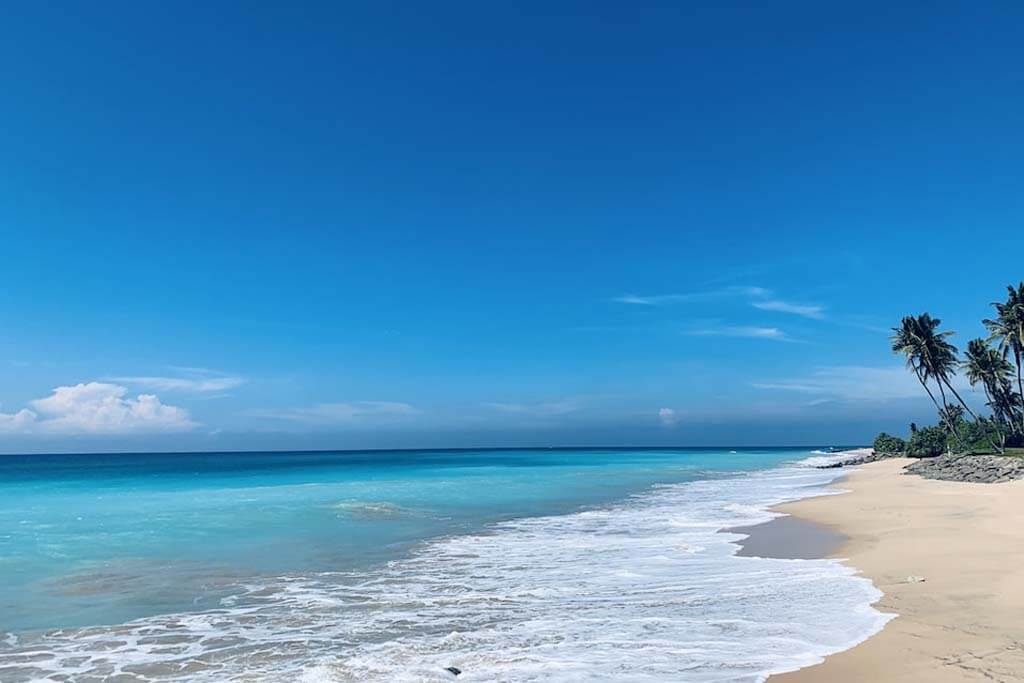 Travelers are drawn to Pasikuda, a charming resort town 35 kilometers northwest of Batticaloa, by its pristine beauty and magnificent crescent-shaped beach. 
Also Read: Best Honeymoon Resorts In Bali
Travelers looking for a luxurious stay and a wide range of entertaining activities will love it, making for an unforgettable getaway.
7. Unawatuna Beach
This Sri Lanka beach is located on Sri Lanka's picturesque southern coast and has captured the hearts of many visitors.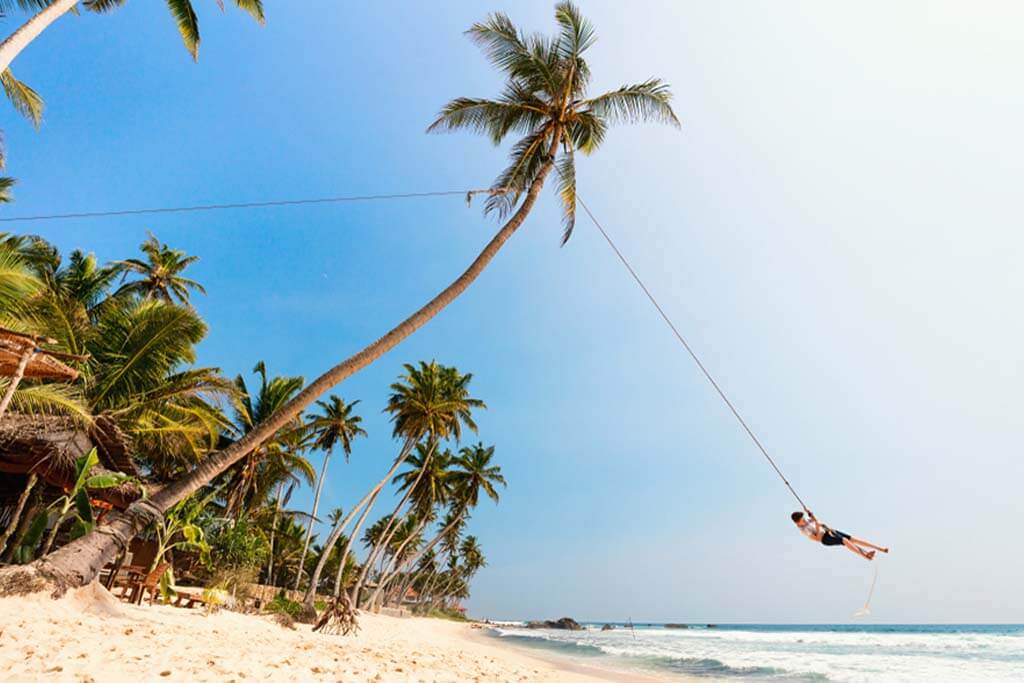 Unawatuna Beach, which has been celebrated and widely recognized through platforms such as Instagram, has received a mixed response. 
Some argue that it may not be the best beach place in Sri Lanka because of occasional overcrowding, which can degrade the overall experience. Furthermore, the presence of persistent beach sellers may annoy those seeking peaceful relaxation without the desire to shop. 
8. Trincomalee Beach
Trincomalee Beach in Sri Lanka's Trincomalee District is a captivating place with amazing geology. It was formed by tectonic shifts and erosion, creating a beautiful beach. 
When compared to other beaches, it is found that this one has clear waters and golden sands, perfect for exploring the diverse marine life. With a rich history and lots of plants and animals, this coastal gem offers many things to do, like water sports and cultural experiences. Trincomalee Beach is a special place where nature's forces have made a delightful haven for all who visit.
9. Arugam Bay
Arugam Bay on Sri Lanka's east coast is famous worldwide for its fantastic surfing. Surfers from all over the globe come here to ride the excellent waves, and international surf competitions are even held here.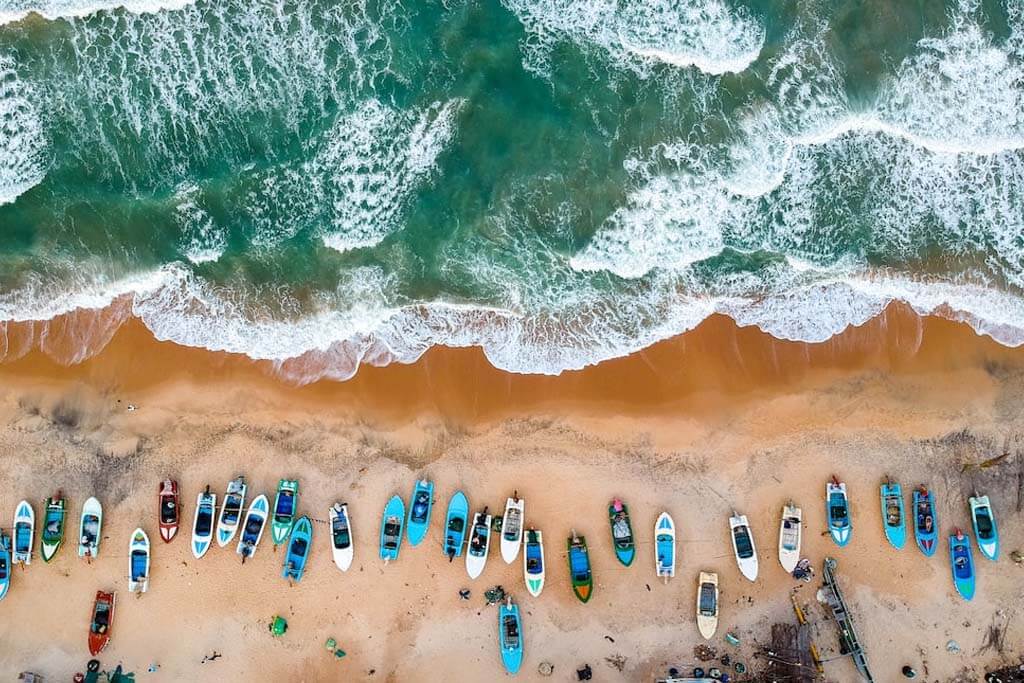 Many surfers prefer to stay in Arugam Bay during the best surfing months, from April to September.
Being one of the top beaches in Sri Lanka, this one still has a peaceful and beachy atmosphere. It has various lovely wooden cabins along the shore and palm tree forests. 
There are also a plethora of restaurants, cafes, and bars near the center that offer multiple international dishes and have bohemian outdoor terraces. Arugam Bay is a paradise for surfers, blending natural beauty with modern comforts.
Also Read: Places to Visit in Goa for a Perfect Beach Vacation
10. Kalpitiya Beach
Dolphin sightings for the first time are truly magical, and being one of the best beach places in Sri Lanka, this beach is the ideal location for them.
To fully appreciate this unique experience, it is recommended to take a fun dolphin-watching tour or find a quiet area of the beach to watch them yourself. 
It will leave you speechless, and you will surely cherish the memory. Take a boat out to their playful habitat to get up close and personal with dolphins. 
Conclusion
So, these were some of the top 10 stunning Sri Lanka beaches that you must visit when you step foot in the beautiful country – Sri Lanka. Stay tuned to this space for more valuable content on your way!
Frequently Asked Questions
The cost of three days and two nights trip to Sri Lanka is not fixed. It majorly depends on your preferences. You can compare flight, hotel, and local prices to calculate costs in a better way.
Sri Lanka provides a range of transportation choices for getting around. Between cities and towns, buses and trains are both affordable modes of transportation. 
Three-wheeled vehicles called tuk-tuks are common for local sightseeing and quick trips. Consider the distance and travel time to your destinations when planning your transportation in advance.
When visiting a Sri Lanka beach, you should bring a number of things. These primarily include sunscreen, a hat, sunglasses, a beach towel, swimwear and a reusable water bottle. You must also take a camera or phone with you on a beach to capture special moments.