If you want to explore a top and popular tourism hub, head to Malaysia! Located in Southeast Asia, it is a multicultural and multilingual tourist destination. With its lush green landscape, rich historic legacy, and modern infrastructure, it is a must-visit for a travel enthusiast.
The warm tropical climate ensures that traveling is comfortable all around the year. Many call it a melting pot as travelers are spellbound by its unique character of diverse traditions, languages, festivals, and food.
So, get ready to explore the top 10 places to visit in Malaysia. Charming and captivating, they are sure to linger on in your memory forever.
How to Reach Malaysia?
Air is the fastest and best way to reach Malaysia. The official Malaysian Airlines will give you a lot of options, from budget to luxury travel. Their low-cost flight to the capital, Kaula Lumpur is a favorite among tourists.
There are three major airports in Malaysia.  The Senai International Airport, Kota Kinabalu International Airport, and the busiest one which is the Kuala Lumpur International Airport. 
Top 10 Places in Malaysia & Exciting Things to Do
Malaysia is well-known for its scenic islands and beaches. A place for an exciting adventure with nature, it offers a unique getaway from the hustle and bustle of modern life. This is not to say that it has nothing to offer to tourists looking for captivating city markets, delectable cuisine, and fun. Let's find out.
1. Kuala Lumpur
The largest city in Malaysia, and the dazzling capital, you can find a mix of Malay, Indian, and Chinese influences here. With attractive shopping malls like the Pavilion KL and Suria KLCC, it is one of the best places to visit in Malaysia. The Petronas Twin Towers is another major landmark that leaves you mesmerized! Spare some time for the Perdana Botanical Garden and the Menara KL Tower.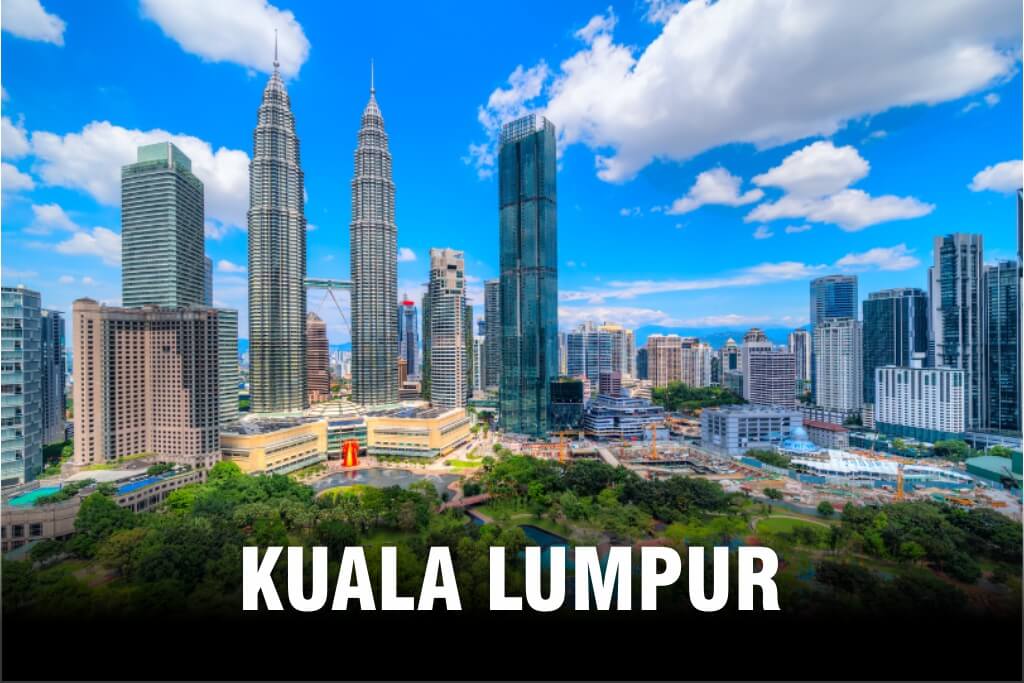 You can stroll through the historic Merdeka Square which is sure to leave you spellbound! Also, worth your time are the Batu Caves. This a Hindu temple complex built inside limestone caves. With its delectable street food, temples, mosques, and theme parks, it is our pick for the best city to visit in Malaysia.
2. Penang
This is a huge island on the west coast of the country. Most Malaysians are proud of this place. Reason? George Town is the capital of Penang and has a historical legacy. A UNESCO World Heritage Site, it showcases museums, amazing seaside views, and mouth-watering street food. Fort Cornwallis dating back to the 18th century is splendid.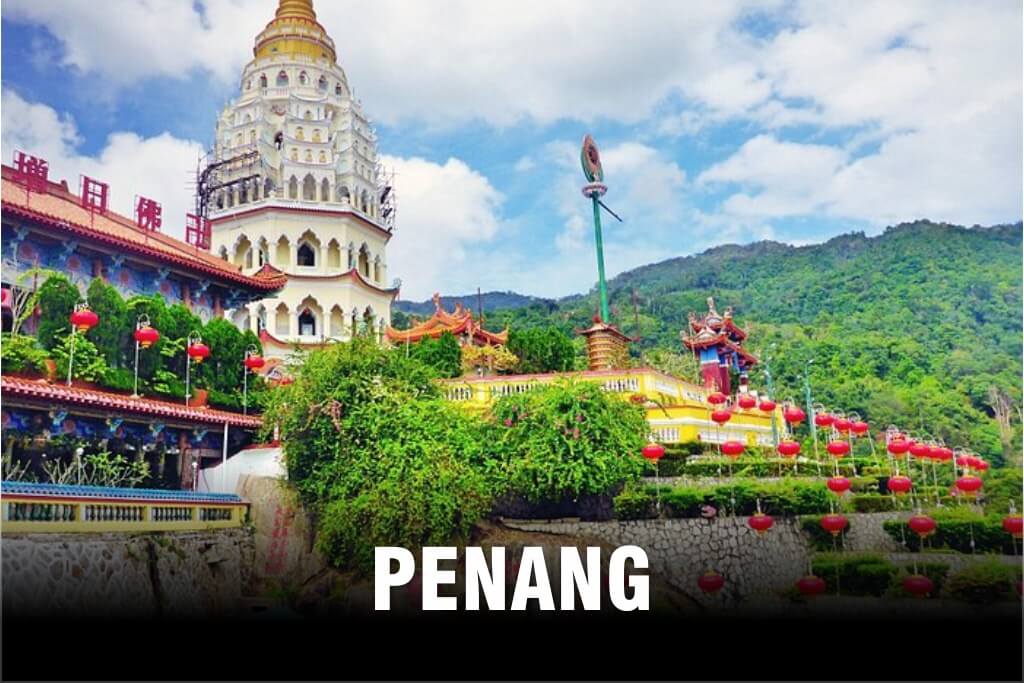 It is a top destination as there are plenty of beaches, attention-seeking architecture, and affordable resorts. The Lok Si temple is culturally significant and a must-visit. There is a waterfront esplanade called Gurney Drive here. It offers the best and cheapest local Malay, Indian, and Chinese food.
3. The Perhentian Islands
Rated by most as the best tourist destination, there are two scenic islands here- the Perhentian Besar and Perhentian Kecil. Again a  must-visit for adventure sports enthusiasts as they offer diving, snorkeling, and sunbathing. Try interesting activities like Jungle trekking and kayaking. The natural coral reefs at Coral Bay are another major attraction for tourists.
If you are with your family or a couple, who do not indulge in partying Perhentian Besar is the place for you. It is captivating to see the natural crystal-clear waters and colorful marine life. No wonder, it shows nature at its best in Malaysia.
4. Malaysian Borneo
Green rainforests and abundant wildlife greet you here and we bet you won't be disappointed. It is an attractive tourist destination. You can experience ancient, native culture here which has been carefully preserved. The Iban longhouse is the highlight of the place as it offers traditional dance performances and authentic native food.
A trek through the Kinabalu National Park is a welcoming change. Let me remind you it is home to Mount Kinabalu, the highest peak in South Asia. The orangutans at Sepilok Orangutan Rehabilitation Centre highlight Malaysia's resolve to preserve its wildlife. Spend some quiet moments at Kinabatangan Wildlife Sanctuary too!
5. Malacca
One of the main tourist attractions of Malaysia, if you are looking for cultural and historic sites, this place is a must on your itinerary. UNESCO declared it a World Heritage Site. Dotted with temples, mosques, and beautiful churches like St. Paul, it is very near to Kaula Lumpur. 
A visit to A Famosa, a Portuguese fortress is sure to captivate you.  Also, take some time off to visit the Dutch town of Stadthuys. The night market at Jonker Street is ideal for exploring knick-knacks for family and friends. The place also offers a scenic cruise at the Melaka River. Baba Nyonya Heritage Museum is interesting to understand the history of the place.
6. Taman Negara
If you go by the literal meaning of the word, "Taman Negara" means national park. It is the oldest and largest national park in Malaysia. And yes, it is also the world's oldest tropical rainforest. Inside the park, Lata Berkoh offers a picturesque short boat ride.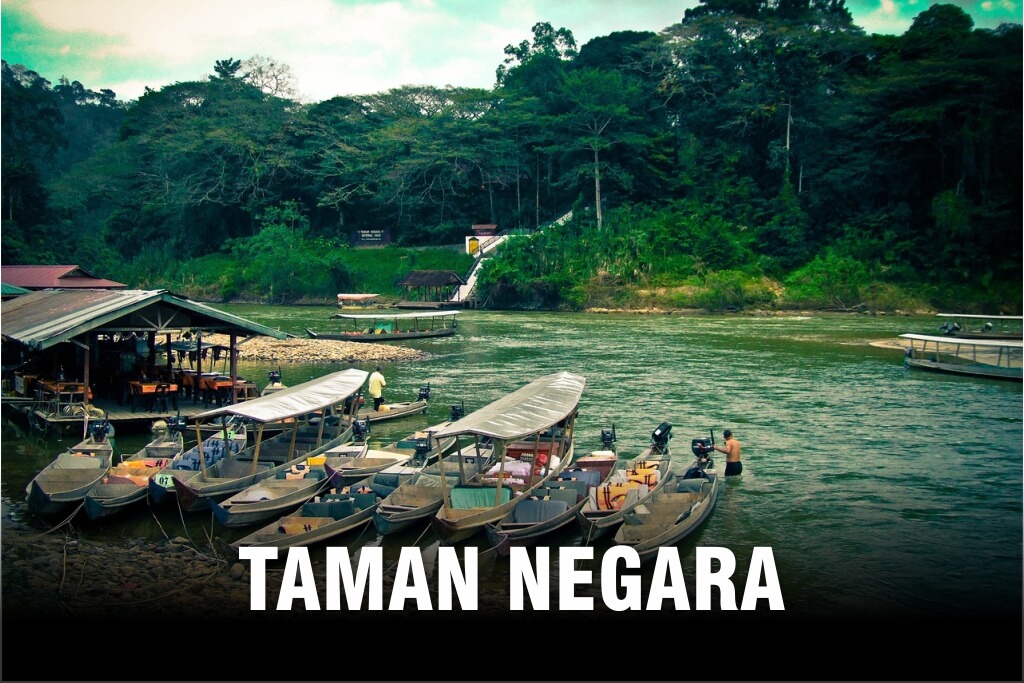 Tourists can enjoy trekking, rafting, bird-watching, fishing, and a number of activities here. The rapids of Sungai Tembeling are breathtaking. A climb to Bukit Teresek is indeed refreshing.  Don't miss the Canopy Walkway. A special attraction is the night safari.
7. Cameron Highlands
Home to tea plantations, strawberry farms, butterfly gardens, and flower greenhouses, they offer a cooler climate.  If you want to escape the bustling city life of Kaula Lampur, head here. It hosts the highest point in Malaysia, the Gunung Brinchang, by far the best tourist place!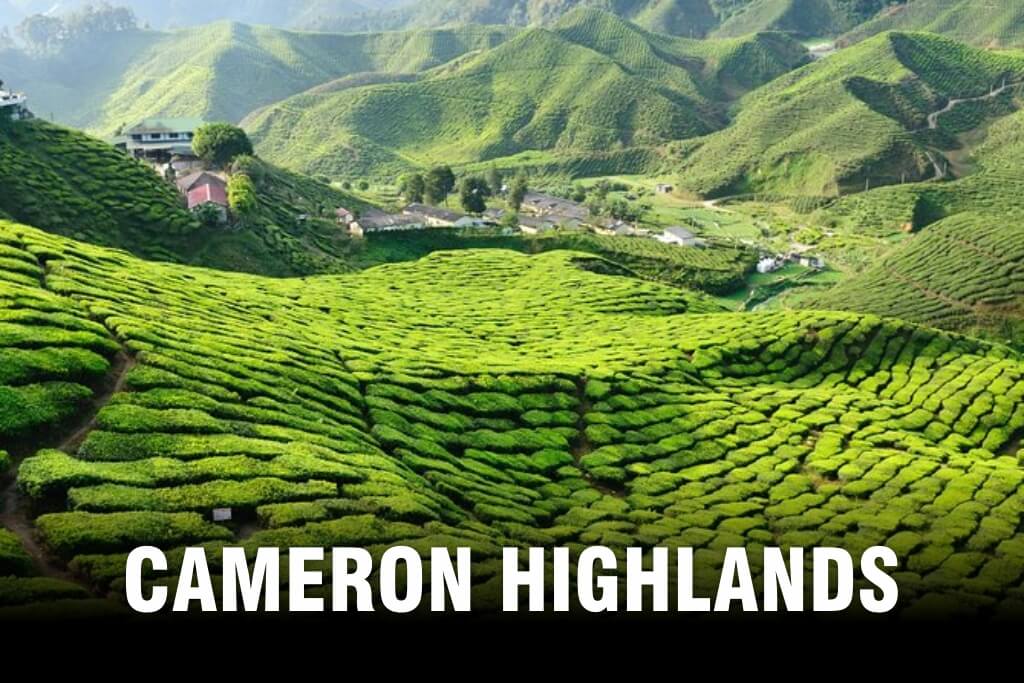 The place has hiking trails if you love adventure sports. Overall, it gives you a pleasing vibe. Don't miss out on the farm-fresh vegetables and honey, locally available here. Undoubtedly, one of the best places to visit in Malaysia!
8. Tioman Island
Not far from Singapore, it is located on Malaysia's east coast. It was once known as one of the most beautiful islands in the world. If you love scenic views, pristine beaches, and marine life, this is the place to be. It offers one of the best spas, great coffee, and food.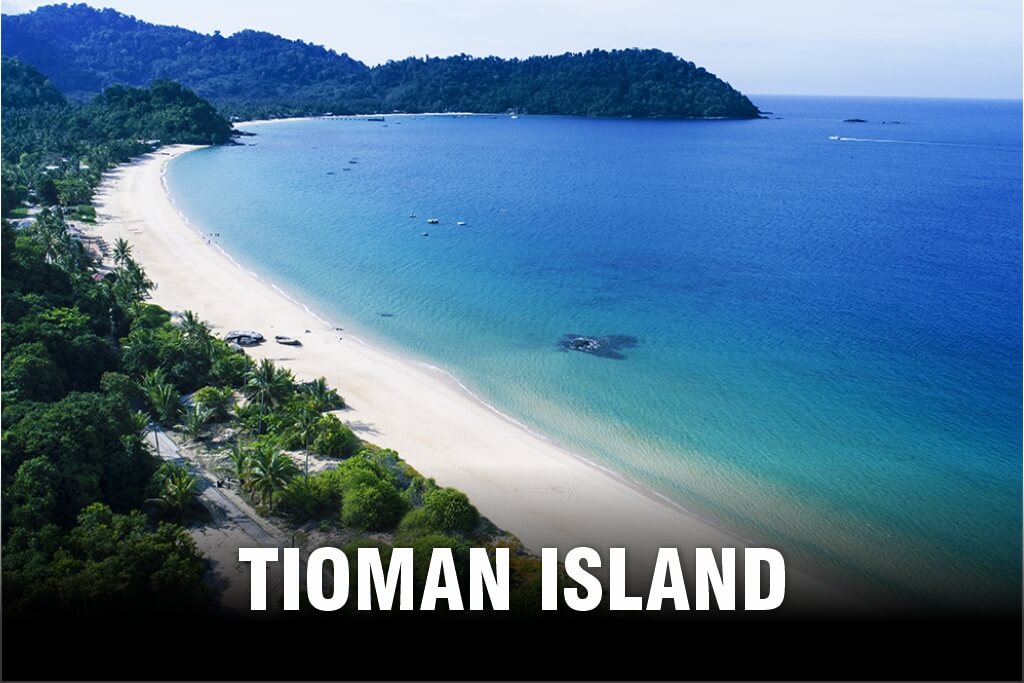 The Aash waterfall, Payu beach, and the ABC beach (also known as Air Batang) located here are quite popular among budget travelers. What's more, it enjoys a duty-free status, so shopping isn't very expensive here.
9. Langkawi
A top tourist destination in Malaysia, it is the best place for vacation. The Pantai Cenang is the most popular beach destination. Spare some time for the scenic Temurun waterfall that offers a breathtaking view of the place.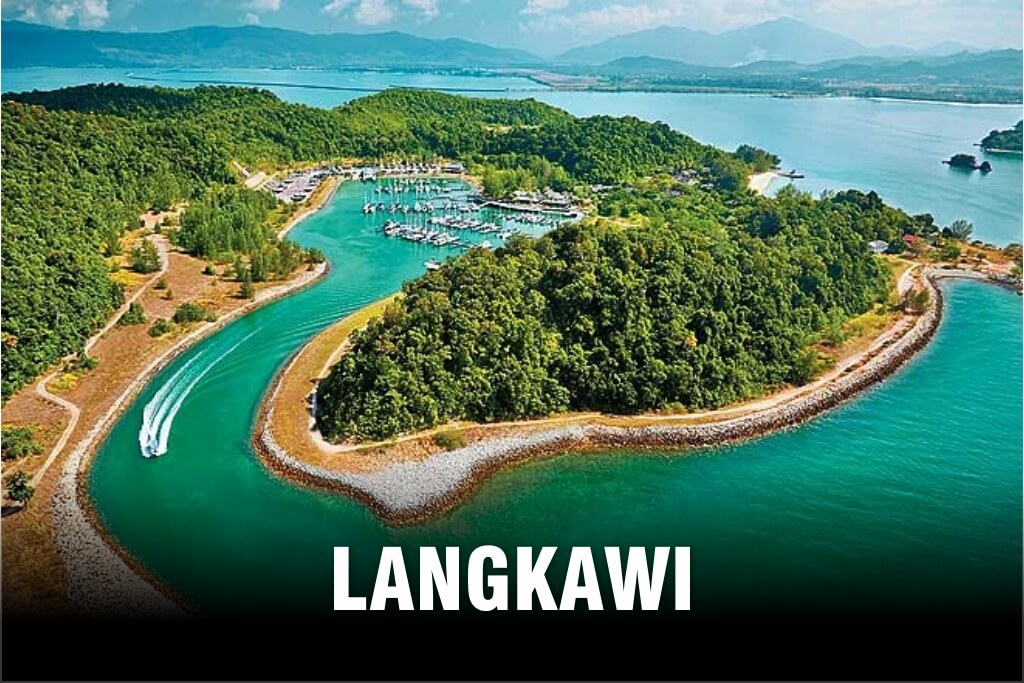 The Langkawi cable car, an indoor aquarium, and the popular Sky Bridge are major tourist attractions here. The cable car takes you to the peak of Gunung Machinchang. Here you will find a number of restaurants and shops. Once again, it is a duty-free spot. So, shoppers, beware!
10. Selangor
Malaysia's most developed state, has the National Zoo of Malaysia, a Formula One race track, and huge theme parks. It boasts of the country's largest airport and seaport and is hence called, the Gateway to Malaysia.
Selangor is also a thriving place with dazzling shopping malls. An indoor snow park is one of the popular tourist spots.  Don't forget to visit the First World Hotel and Plaza.  It is the world's largest hotel consisting of over ten thousand rooms and a theme park.
The Best Time to Visit Malaysia
The time between March and October is considered the most suitable time to visit the country. During this time, you will witness mostly dry weather and clear skies.
 In addition to that, during these months most of Malaysia experiences somewhat lower humidity levels. This can make sightseeing and outdoor activities more fun.
Conclusion
Malaysia, with its diverse culture, natural beauty, and historical past, captivates travelers of all ages. While the bustling streets of Kuala Lumpur will interest some, the tranquil beaches of Langkawi are sure to enchant nature lovers. The historic appeal of Penang and the wilderness of Borneo are appealing to most tourists on vacation. So, let's make memories for a lifetime in Malaysia!
Frequently Asked Questions