Singapore can be your ideal stop if you want to breathe in true nature and explore the historical culture. Nowadays, it has become a major travel destination in the world.
With architectural beauty and amazing food, it can make you feel on top of the world. Singapore has emerged as the best travel destination in 2023 global buzz. 
If you are planning to visit Singapore, it needs proper research about the best tourist spots in Singapore to visit.  The hospitality of Singapore tourism is exceptional.
Tourist Attractions of Singapore: Your Ultimate 2023 Destination in Global Buzz
You would get a warm welcome upon your arrival in Singapore. Lots of tourist attractions in Singapore are available to explore. Today we will be taking a closer look at the true beauty of Singapore.
Let's start by looking at some of the best places in Singapore.
Gardens by the Bay is among Singapore's best travel places to explore.
Its innovative design and greeny atmosphere feels so soothing that you can't forget. Urban paradise, OCBC skyway, panoramic view of Marina Bay Skyline, and the sprawling Gardens make it even more beautiful to experience. 
For a better experience, you should explore the two climate-controlled conservations: the flower dome and the cloud forest.
The Heritage Gardens offer a soothing pleasure. Gardens By The Bay has different gardens that would make you feel wow, especially the Malay Garden and The Indian Garden.
MacRitchie Reservoir is among the top places in Singapore that can make you feel refreshed or relaxed with a walk.
This place was made to store rainwater and is still used under Singapore's water catchment system. The reservoir serves as a special site to explore where nature lovers and water sports enthusiasts can enjoy their hearts. 
You can walk through the tree-top, and it also allows you to walk over a long bridge which can make you feel like you are on top of the world.
This bridge is peaceful, and it is 11 km long. There's delicious food also available right at the entry point too.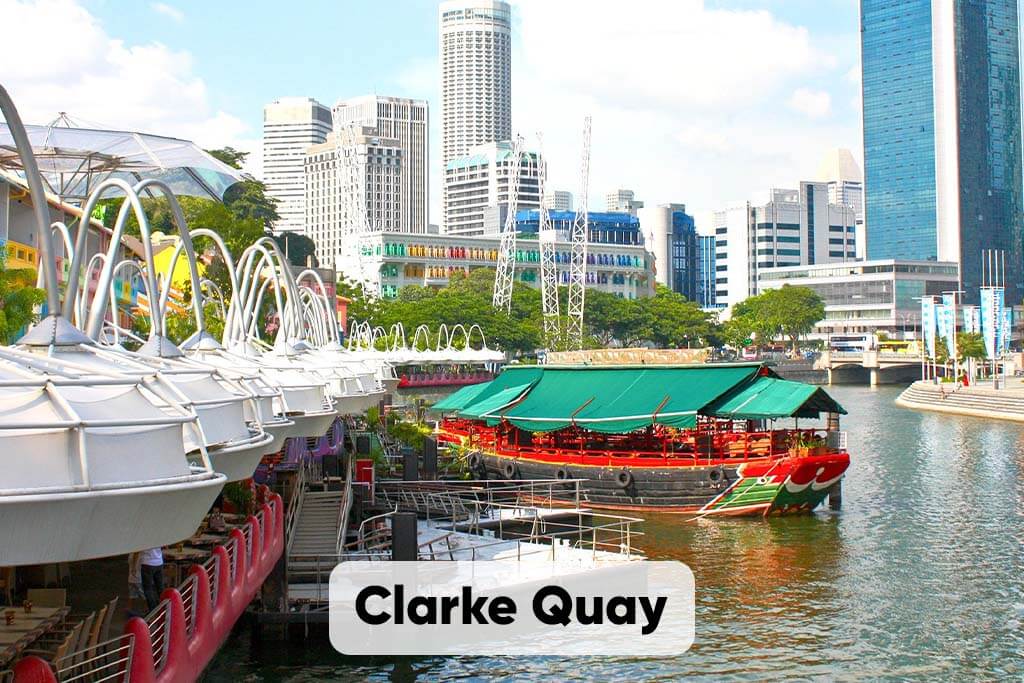 Clarke Quay is one of the top tourist places in Singapore. This place belongs to Singapore's past, which is still happening today.
The erstwhile commercial center from the 19th Century is still popular for its famous restaurants, trending pubs, waterfront entertainment shows, and pushcart vendors.
This place is perfect for travelers, where they can have delicious food and drinks while experiencing the waterfront shows.
Amazing Architecture And Skyline In Singapore
While exploring the best time to travel to Singapore, ignoring its amazing architecture and skyline is a sin.
Jokes apart, Singapore's vibrant atmosphere and its attractive architectural design can have your heart.
Marina Bay Sands and Majestic Supertrees at Gardens by the Bay is the true example of its stunning architecture. 
Marina Bay Sands and Majestic Supertrees at Gardens by the Bay should be on your top things to do on the Singapore list while visiting here. Marina Bay Sands is the ultimate travel attraction in Singapore because of its connected tall resorts.
It has a huge rooftop SkyPark. Marina Bay Sands is exceptional in its architectural beauty and offers an infinity pool that blends with Singapore's Skyline. 
Explore The Culinary Delight Of Singapore
Exploring culinary delight is the must thing to do in Singapore. As Singapore is the true heritage of culture and diversity, it shows the culinary delight view at its best.
Having delicious street food and tasting the famous Singapore cuisines, the vibe of this city makes you feel even more special with the blend of these meals. 
The famous hawker centers are a treat for all food lovers to explore. The open area food courts with a beautiful view of Singapore City are just more than to ask for.
Hainanese chicken rice and flavorful laksa are among the top foods to have at hawker centers for sure to feel the authentic taste.
Top Attractions In Singapore: Sentosa Island, Universal Studios And More
Singapore has lots of attractions to explore. You can't just get enough of these places in one go. Sentosa Island and Universal Studios are among them. Sentosa Island is the heaven of Singapore. 
By exploring this place, you can enjoy relaxation, adventure, entertainment, and much more.
You can enjoy the beautiful beaches and theme parks there. Along with this, Universal Studio is not less than anything. If you are planning your day with your family, then Universal Studio is the best place to visit. 
Also Read- Top Places To Visit In Singapore That You Should Not Miss
You can explore the romantic stroll with picturesque Palawan Beach. In Universal Studios, having a cable car ride is an amazing idea. This place is the best attraction for all movie lovers as it has different theme parks which show different entertainment styles. You can get to see your favorite movie characters.  
Experience The Vibrant Street Markets And Shopping Districts 
The vibrant street market and shopping centers are the best things to do in Singapore for all shopping lovers.
Bugis Street is among the top street markets in Singapore. You can satisfy your shopping craving by visiting there. There are a bunch of street shops that sell modern and trending clothes, accessories, shoes, and much more. 
Bugis Street is a must-visit place in Singapore for all shopping lovers. The amazing handicraft and handmade fabric is the true attraction of Singapore. Apart from this Orchard Road, Chinatown is also among the top places to shop your heart out. At Orchard Road, you can shop for luxury brand products and explore top boutiques. 
Wrapping Up
Singapore is the most loved travel place in 2023 and getting chosen by people all around the globe. In today's time, everybody wants to breathe in true nature from starlings sometime in their crowded cities, explore top architecture, and meet their true self. For this, Singapore is the best place to visit. 
Today we have covered most of the details about Singapore for all the people who are ready to take their flights and land there. This will guide you on what to do and explore in Singapore. Visiting Singapore is going to be the best moment of your life, so be ready with your cameras and open heart to fill and capture the most beautiful experience. 
Stay tuned to this space for more valuable content on your way!