Secret spots, enticing locations, alluring nature, and high-end shopping streets, isn't this all enough to describe Paris? Well, NO! Paris is much more beyond your thinking. The moment you step into Paris; the whole aura get changes. The charm you feel, the accumulation of historical monuments, picturesque parks, urban classy living, all this makes it a dream location.
Top Places To Visit In Paris For A Dreamy Vacation In 2023!
Paris is a picturesque dream destination. Spread over the banks of the Seine River in Northern France, it stands out for being one of those glitzy metropolises of the world.
I personally went to Paris a couple of months back and here going to write about all the places that I visited. Get ready to be jaw-dropped. Let's begin with the 10 most beautiful places to visit in Paris.
1. Pont Alexandre III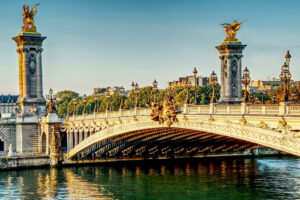 A very beautiful yet historically important place in Paris is Pont Alexandre III. It is named in honor of Russian Tsar Alexandre III and was custom-built in anticipation of the 1900 World Fair in Paris where the introduction of radio, escalators, the world's most powerful microscope, etc. took place.
It was a gesture to celebrate the Russian-France alliance. It is a stunning ornate arch bridge built over the Seine River, connecting Paris's 7th and 8th arrondissements- Champs-Elysees and Les Invalides. The bronze street lamps were powered by electricity.
Point of Attraction: Looking from the south you will see a dome-like structure.
2. Disneyland Paris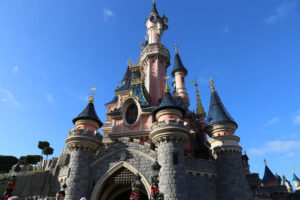 If you looking for something cheerful, colorful, amusing, vibrant, and something suitable for kids and adults then Disneyland Paris is a perfect place. It is a massively popular tourist destination suitable for all.
It is a very exciting place to enjoy thrilling & super fun rides- space mountain, big thunder mountain, animated shows- famous The Lion King, Disney Parade with fireworks and all Disney characters and Superheroes, lip-smacking food, etc.
Point of Attraction: For any disability or with any specific requirements you will be completely assisted to enjoy every magical moment.
3. Eiffel Tower
Can your Paris trip be complete without Eiffel Tower? One of the most famous attractions in the world i.e. also listed as one of the seven wonders of the world and a beautiful place to visit in Paris.
It is a gorgeous place witnessing approximately 7 million visitors every year. It is 324 meters high and divided into floors holding top-notch restaurants to dine in, a champagne bar, observation decks, garden to enjoy the magnificent views, the evening light show makes it look mesmerizing- truly once in a lifetime experience that cannot be skipped.
Point of Attraction: 250 builders were hired to build this monument and took 2 years to complete it.
4. Galeries Lafayette Haussmann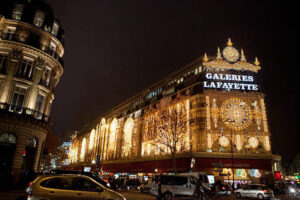 One of the best and grand stores in Paris that is famous for the swanky fashion, gourmet food, art and architecture of the store, etc. For a very long this has been a popular tourist destination and attraction in Paris welcoming countless visitors each day.
You must be thinking what's so special about a store? Well, you can do a lot of things like learn to bake macarons, enjoy lunch, fashion shows, luxurious shopping, and witness the charm of Paris from the golden balconies.
You can do so many things under one roof- the 100-year-old building that is a masterpiece.
Point of Attraction: It was first opened in 1895 by Theophile Badar.
5. Notre-Dame Cathedral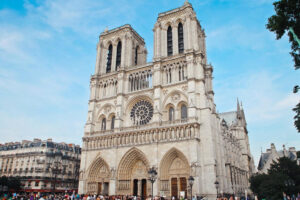 Are you an architecture admirer? Then trust me, you won't find a better and most beautiful place to visit in Paris.
A very illustrious French Gothic masterpiece in the world is Notre Dame Cathedral. It took over 200 years for the construction completion. To go to the top, you have to climb 387 stairs; well this must be tiring but the end results will be very stunning.
The main highlight is the Gallery of Kings with finely carved figures of 28 French Kings in different rows. But this admirable architecture is under renovation now after the 2019 fire incident and is expected to reopen in 2024.
Point of Attraction: It is considered the symbol of worship in France.
6. Arc of Triumph
An example of perfect ancient Roman architecture that is incredible to see- is the impressive sculptures adorning the pillars. Reach the top 50 meters high of it and enjoy the 360-degree picturesque view and fresh air of Paris.
It is dedicated to the glory of imperial armies with 558 generals and their victories etched on it and is commissioned under Napoleon. Well, it is the largest monument in the world in its type and is nicknamed as the most beautiful avenue in the world.
Point of Attraction: It has witnessed the city's turning points- the World War I victory parade and the end of World War II.
7. Cruise on the Seine
I went on this Cruise in the month of February and believe me the beauty is indescribable. Though it was freezing cold the mesmerizing view of the city from the cruise on the Seine River or what we can call the heart of Paris made it all worthwhile. To enjoy the "City of Light" ride on the cruise on the seine is a perfect way.
The perfect sunset timings, nearby monuments, and panoramic view give you the chance to enjoy Paris's beauty. You will also get the Eiffel Tower sunset view from the cruise.
Point of Attraction: You cover the most beautiful highlights of Paris from the Cruise.
8. Palace of Versailles
Chateau de Versailles- a very famous architectural grandeur and a place having a robust political significance, being the former residence of the French Monarch holds thorough importance in French history or French supremacy in Europe.
It is a huge complex of buildings surrounded by gardens and beautiful terraces. The over-the-top decorations, outstanding furniture, and visible Renaissance art make the whole surroundings extremely beautiful.
Point of Attraction: One of the best things to experience is the musical fountain show, night fountain show, or Musical garden.
9. Luxembourg Park
Quartier Latin- Luxembourg Park is counted as one of the must-visit tourist attractions in Paris. Being located on the bank of the Seine around Sorbonne, the whole view you get here becomes mesmerizing.
Many well-recognized educational institutes are located here. The name of the area is from the Latin language which was the national language of the Middle Ages.
This park is open to the public and it is very pleasant to walk around with several colorful flowers, varieties of apples, different orchid collections, 106 statues, 3 alluring fountains, etc. taking you away from the hustle-bustle of city life.
Point of Attraction: This palace today is home to the Senate.
10. Louis Vuitton Foundation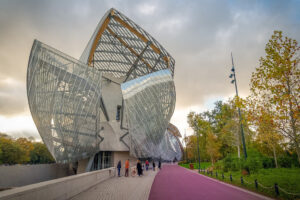 Well, the craze brand Louis Vuitton has in Paris is unimaginable. We literally got to know that if you want to go in the store then you have to book an appointment a day prior and then only you are allowed to go inside.
But this Louis Vuitton Foundation is all about promoting art and culture. Well, this place is not for shopping or just because it is a brand label but known for its incredible design.
It is located on Mahatma Gandhi Avenue, a must-see place to enjoy the 11 galleries in the building.
Point of Attraction: It basically promotes contemporary art in reference to history.
Paris has always been a city full of romance wrapped in elegance and surrounded by awe-inspiring structures.  Well, I have mentioned the top ten most beautiful places in Paris.
I don't think you will now be left with any perplexity so without wasting any more time, get ready to explore this love-loved city.