If asked about one of the most influential and powerful countries in the world, The United States of America would be one of the first to rush to your mind.
With a billion-dollar entertainment industry, marvels of nature, and a diverse population from people across the world. The USA offers a memorable visual treat for tourists every year.
But there is more to the USA than the glamour of Hollywood and its growing economy.
If you are planning on visiting the USA this year, you need to keep in mind the best places to visit in the country.
The tourist destinations in the US are packed with natural wonders, remarkable city lifestyles, and exquisite cuisine you wouldn't want to miss.
Let's see the top 10 places to visit in the US that can keep you coming back for more.
Top Tourist Destinations in the USA to Visit this Year
1. Grand Canyon National Park
The gorgeous ridges and rock formations in the famous Grand Canyon in the US puts it on top of our list of places to visit in the USA.
This tourist attraction welcomes more than 4 million visitors every year due to the stunning views and chances to interact with the 11 tribes that are tied to the land.
The Grand Canyon has different rims like the South rim and the North rim which offer a cooler experience than the former.
You can visit the Grand Canyon skywalk in the Grand Canyon West which is a glass bridge that is shaped in the form of a horseshoe.
Places to stay: Bright Angel Lodge, Red Feather Lodge, Canon Plaza Resort, Holiday Inn Express Hotel and Suites
Things to do: Cycling, going on a desert view drive, capturing amazing photos, walking the Trail of Time, hiking, going on mule trips, visiting the nearby bookstores and gift shops, watching the movie Grand Canyon: A Journey of Wonder in the visitor center theater.
Popular tourist attractions: Tusayan Pueblo and Museum, Grand Canyon visitor center, Canyon Rim Trail, Yavapai Museum of Geology, Hermit Road, Desert View Watchtower Gift Shop
Best time to visit: March to May
Nearest airport: Phoenix Sky Harbour Airport
2. New York City
Deciding what to do in New York is a puzzle that every tourist in the USA experiences. That is the kind of variety of attractions that this stunning city offers, starting from the yummy cuisine in Chinatown to the lush gardens and meadows in Central Park.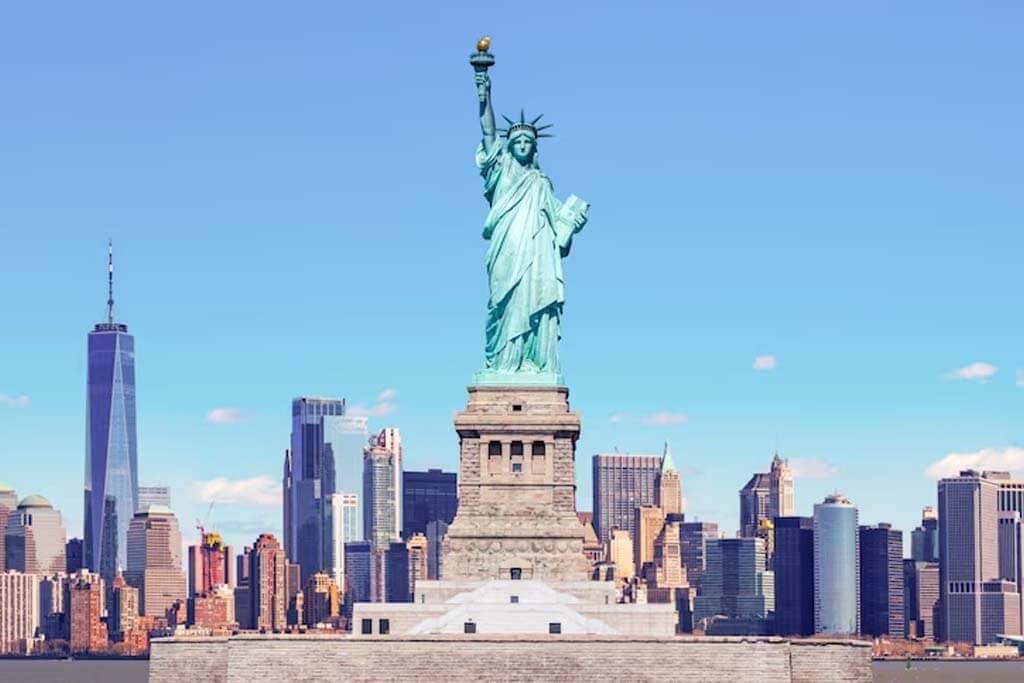 The art museums, soccer stadiums, concert venues, cathedrals, libraries, and luxurious shopping streets can make you wonder if you are in a dreamland.
Stop at the New York transit museum, Grand Central Terminal, 911 Memorial, and other famous attractions on your trip to the USA this year.
Places to stay: Holiday Inn, Hyatt Grand Central, Hampton Inn (Manhattan), Pod 51, Hilton (Times Square)
Things to do: Visit Times Square, walk through Central Park, enjoy a movie night in Bryan Park, click pictures at the Brooklyn Bridge, shop at Fifth Avenue, watch the sunrise from the Empire State Building
Popular tourist attractions: Central Park, Statue of Liberty, Chinatown, Whitney Museum of American Art, Yankee Stadium, The Morgan Library and Museum, The Cathedral of St John the Divine, MoMA PS1, Broadway, New York Botanical Garden
Best time to visit: April-June, September- early November
The Nearest airport: LaGuardia Airport
3. Miami Beach
Miami is anonymous with the words beach and sun. The warm sands of Miami Beach, the turquoise blue waters, and exciting crowds make this tourist destination one of the most visited places in the USA.
The fancy hotels, cozy little cafés, world-famous clubs, and contemporary art museums attract thousands of tourists every year to experience the madness of Miami.
While the underground space called Basement with its neon lighting and ice skating facility offers you a memorable night, you can have a relaxing afternoon the next day in the hydrotherapy rooms in Lapis Spa.
Go shopping at the markets, indulge in some yummy stone crab, and spend the night stargazing at the beaches in Miami.
Places to stay: The Ritz-Carlton, The Palms Hotel & Spa, Loews Miami Beach Hotel, Shelborne South Beach
Things to do: Check out the beaches, visit Vizcaya Museum, have fun at Everglades Safari Park, watch a movie at O Cinema South Beach, and have an extraordinary culinary experience in Stubborn Seed
Popular tourist attractions: Haulover Park, Faena district, LIV night club, Eden Roc Miami Beach, Taquiza North Beach, The Bass (art museum), Espanõla Way, Winewood Walls, Kaseya Centre, Bayside Marketplace, Deering Estate
Best time to visit: March to May
The Nearest airport: Fort Lauderdale International Airport
4. Hawaii
Get ready for the unveiling of a treasure box of tropical adventures by heading to the Hawaiian islands.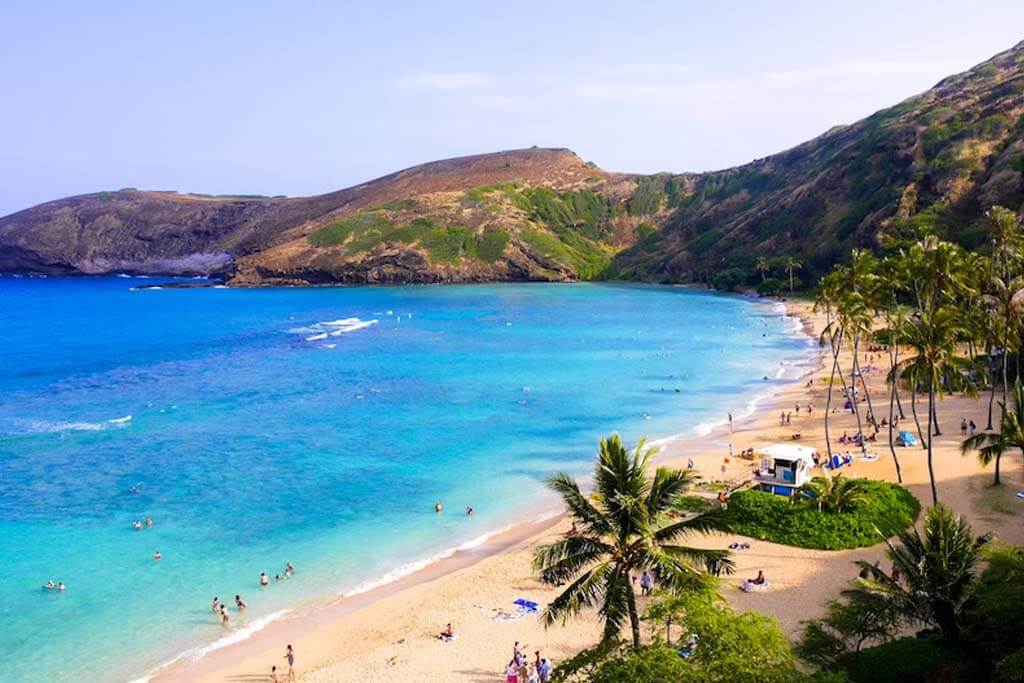 Watch turtles and manta rays glide past you on the serene beaches of Hawaii and rest on the warm sands with the popular Hawaiian drink, Mai Tai.
The most beautiful Hawaiian tourist destinations await you with the scenic beauty of waterfalls, national parks, mountains, and mouth-smacking cuisines.
With famous beaches that treat you with a wide variety of colors, and volcanoes that tell tales of fascinating geology, Hawaii is a top tourist spot in the USA you should never miss.
Places to stay: Volcano village lodge, Sheraton Hotel, Hale Aloha, Pahoa Village Hostel, Ka'anapali beach hotel
Things to do: Hiking, Snorkel with manta rays, going scuba diving, visiting the Tropical Botanical Garden, going on bike rides in Mauna Kea, sailing the Nā Pali coast, surfing on Waikiki beach
Popular tourist attractions: Hawaii Volcanos National Park, Waimea Canyon, Maui, Akaka Falls State Park, Honolulu Museum of Art, Hanauma Bay, Bishop Museum, Aulani, Koko Crater Railway Trailhead
Best time to visit: March-September
Nearest airport: Honolulu airport
5. Las Vegas
Located in the state of Nevada, Las Vegas is one of the places to visit in the US due to its range of entertainment options and unforgettable activities that you can indulge in.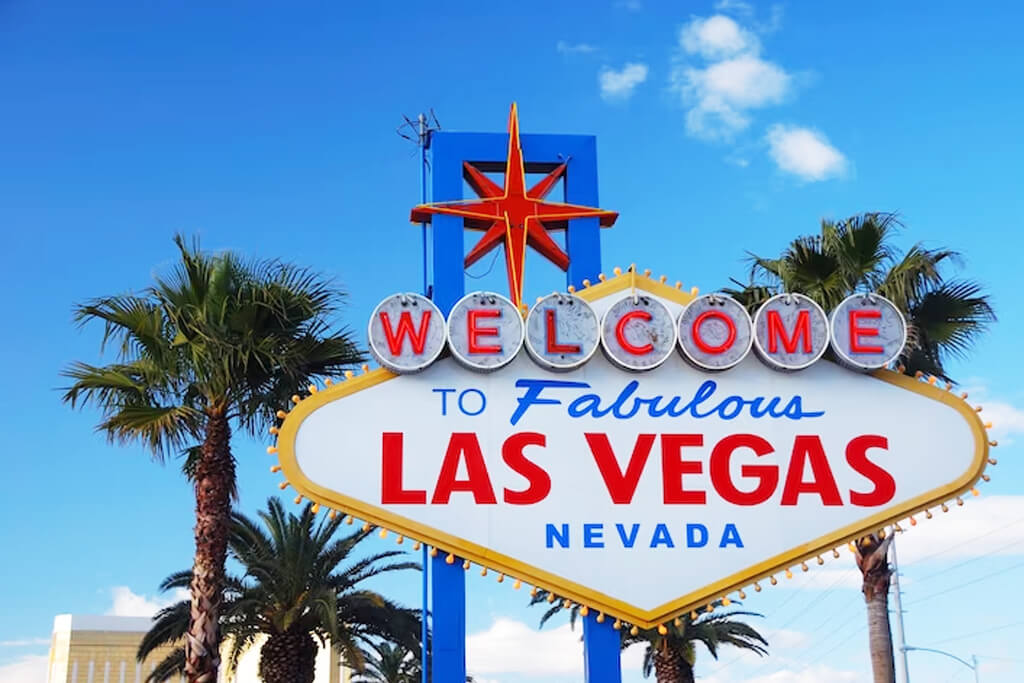 Las Vegas is not just about partying and casinos you get to amuse yourself with different attractions including the 15 different species of sharks in the Reef aquarium and guided tours in national parks.
You can skydive over the Grand Canyon and feel the adrenaline rush of viewing the jaw-dropping landscapes right under you.
Relive the crazy episode of Friends where Rachel and Ross get married to each other in Las Vegas. The Graceland Chapel is one of the most famous tourist attractions where visitors can have an official or an unofficial wedding just for fun.
Places to stay: Bellagio, The Venetian Resort, Westgate Resort & Casino, Caesar's Palace,
Things to do: Go on a kayak tour in Black Canyon, go on a helicopter ride, watch the sunset in Nevada, go horse riding, play the Escape Game, play poker, skydive, shopping
Popular tourist attractions: Museum of Selfies, Grand Canyon Skywalk, Valley of Fire, Bellagio Hotel, Reef Aquarium, Hoover Adam Bridge, Lion Habitat Ranch
Best time to visit: May, June, September
The Nearest airport: McCarran International Airport
6. Yellowstone National Park
The USA is not just about the flashy city life, gigantic shopping malls, and crowded beaches.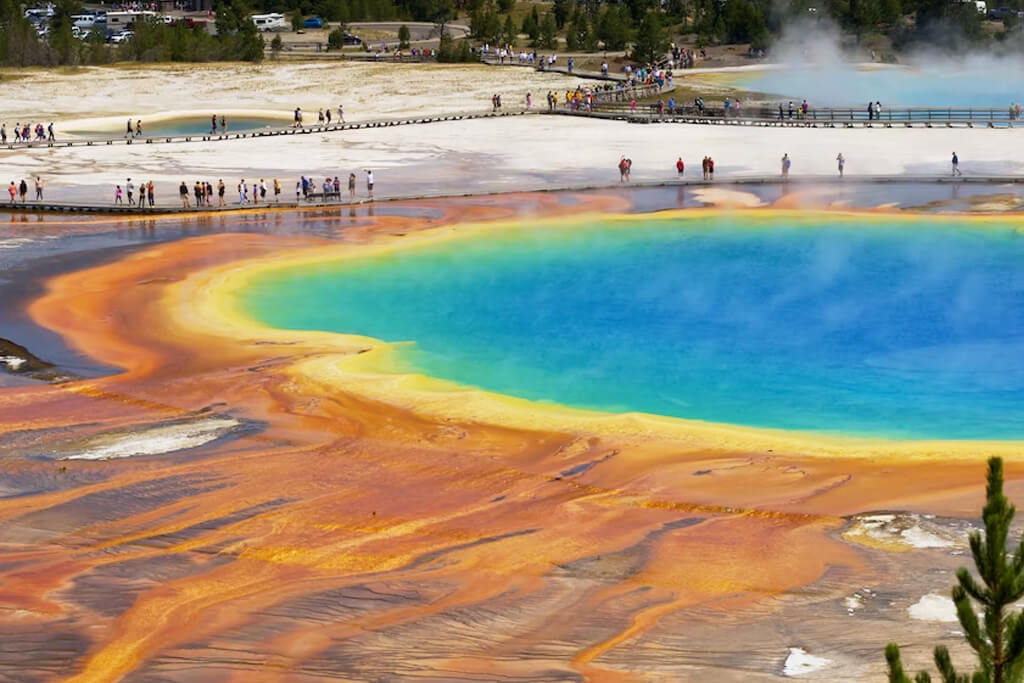 You also get a glimpse of a plethora of flora and fauna by visiting the famous Yellowstone National Park located in the State of Wyoming.
It is America's oldest National Park and has a wide variety of tourist attractions that can definitely blow your mind.
From the largest hot spring in the United States to spectacular landscapes in the Lamar Valley, this National Park has everything you need to see on a 1-day trip.
Places to stay: Old Faithful Inn, Hideaway Lodge, Wander Camp Yellowstone, Canyon Lodge, and Cabins
Things to do: Visit the Upper Geyser Basin, check out the mammoth hot springs, chill by Yellowstone Lake, hike Mount Washburn, visit the Black Sand basin
Popular tourist attractions: Grand Prismatic Spring, Old Faithful Geyser, Morning Glory Pool, Lamar Valley, Grand Canyon of the Yellowstone
Best time to visit: April, September, October
The Nearest airport: Bozeman Yellowstone International Airport
7. San Francisco
There is no one who hasn't seen the iconic Golden Gate Bridge at least once in Hollywood movies and popular Hindi songs.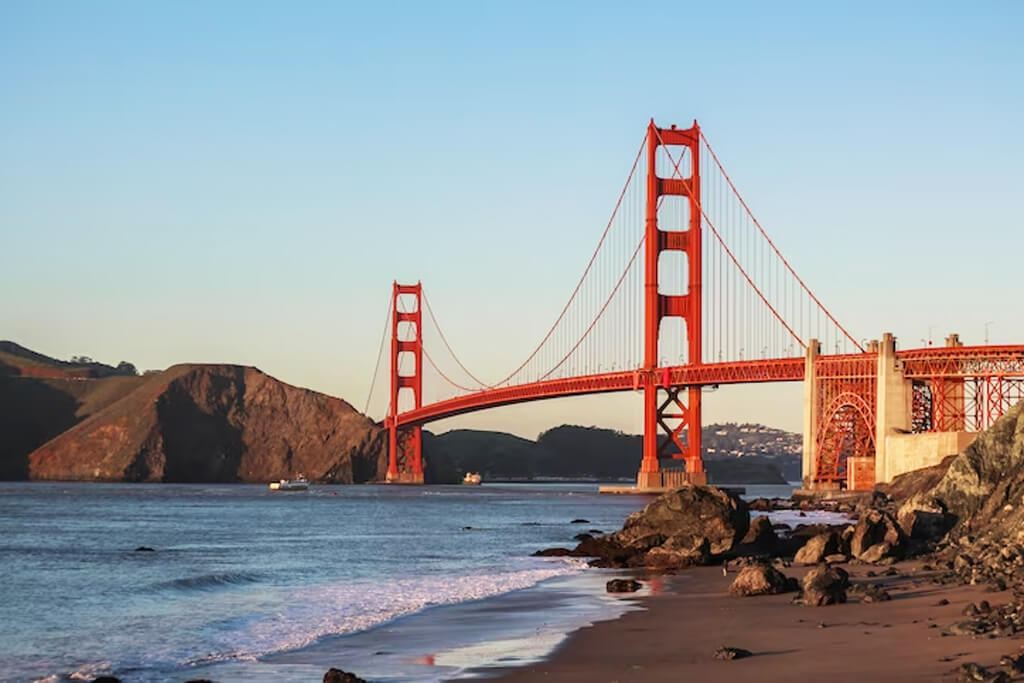 Yes, we are talking about San Francisco where all the commercial, and cultural activities of Northern California culminate.
This top tourist destination in the US welcomes you with a variety of activities for wanderlusts who love art, food, and nature. 
From the infamous federal prison in Alcatraz Island to the ferry building marketplace and Twin Peaks, San Francisco is packed with wonders for visitors from around the globe.
You also get to see other interesting destinations including the Golden Gate Park, and the Japanese Tea Garden which are perfect spots for picnicking.
Places to stay: Nob Hill Hotel, 1906 Mission, European Guest House, Calista Organic Hotel, San Remo Hotel
Things to do: Ride a cable car along the Powell-Hyde line, shop at Union Square, see the Sea Lions in PIER 39, visit The Rock in Alcatraz, have a picnic in Dolores Park
Popular tourist attractions: Golden Gate Bridge, Alcatraz Island, Golden Gate Park, Union Square, Coit Tower, Mission Dolores Park, Muir Woods, Madam Tussauds Museum, Cartoon Art Museum, Fisherman's Wharf
Best time to visit: September to November
The Nearest airport: San Francisco International Airport
8. New Orleans:
If you are looking for a top destination in the US that is known for music, food, and culture, New Orleans is the number one choice.
This Louisiana city is home to colorful festivals, picturesque neighborhoods, soothing jazz, and scrumptious foods.
It also presents visitors with stunning natural beauty and historical attractions including the National WW2 museum. 
You must not miss the gorgeous architecture of the French Quarter which is a bounty of history, food, and music, and entertainment from street performers.
Shopping addicts cannot miss the Magazine Street which is lined by local boutiques and cozy dining places.
Places to stay: The Quisby, Lamothe House Hotel, Virgin Hotels, hotel Monteleone, Bourbon Orleans Hotel
Things to do: Rent a swan boat at City Park, indulge in delicacies at Café du Monde, shop at the Crescent City Farmers Market, tour the Museum of the Southern Jewish Experience, ride the Algiers Ferry, stroll the Crescent Park
Popular tourist attractions: New Orleans city park, Jackson Square, The National WW11 Museum, St Louis Cathedral, Mardi Gras World, Preservation Hall, French Quarter, New Orleans Museum of Art, Audubon Zoo, Frenchmen Street
Best time to visit: February to May
The Nearest airport: New Orleans (MSY) airport
9. Yosemite National Park
If you are looking to spend a fun day engaging in interesting activities, Yosemite National Park is the top choice for you.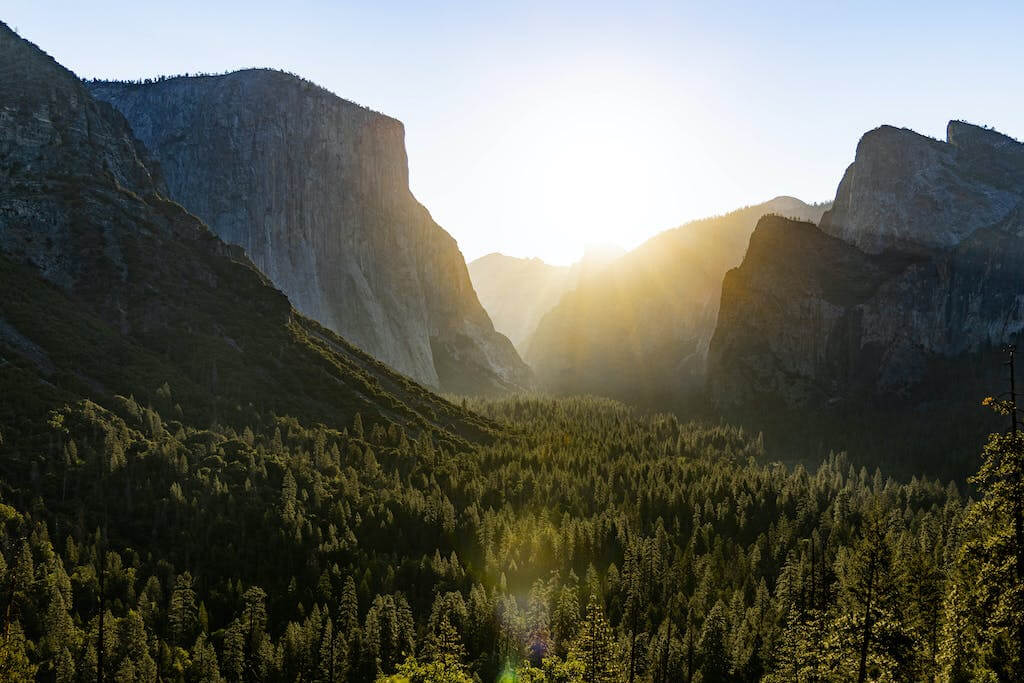 The widespread wilderness of forests and mountains lets you have a joyful time with your family through activities like hiking, rock climbing, and camping.
Located in California, the Yosemite National Park was a land that was tied to the Miwok people. Active efforts by environmentalists and naturalists saved the land and was gifted to the USA as its third national park.
You can visit the top tourist destinations in Yosemite on a car or bus to get a glimpse of the picturesque waterfalls and wildlife and engage in adventures like skydiving and horseback riding.
Don't forget to spot the famous trees like the 'Faithful Couple' and the 'Bachelor and Three Graces' at Mariposa Grove in Yosemite.
Places to stay: Yosemite Valley Lodge, the Ahwahnee, Curry Village, Wawona Hotel, The Majestic
Things to do: Camping, hiking, exploring the wilderness of Yosemite, engaging in interpretive programs, going on a guided tour in Yosemite Valley, bird watching, fishing, picnicking, horseback riding, stargazing, rock climbing
Popular tourist attractions: Yosemite Valley, Mist Trail, Half Dome, El Capitan, Bridalveil Fall, Merced River, Hetch Hetchy, Yosemite Museum, Sentinel Dome, Tunnel View
Best time to visit: June-September
Nearest airport: Fresno Yosemite International Airport
10. Washington DC
Washington DC is one of the best tourist destinations in the USA, perfect for kids, couples, and families. 
Most of its tourist attractions are related to politics and are of great historical significance including the White House and the US Capitol.
Washington DC is home to essential memorials and monuments dedicated to impactful figures in American politics including Abraham Lincoln, George Washington, and Martin Luther King Jr.
There are more than 20 museums run by the Smithsonian Institute that showcases the rich history and culture of the USA.
But Washington DC has more to offer than just politics and history.
You can also visit the National Zoo and Conservation Biology Institute and spend a relaxing afternoon in Rock Creek Park.
Places to stay: DC International Hostel, Days Inn by Wyndham, Washington Hilton, Hampton Inn & Suites, Hotel Silver Spring
Things to do: Have a picnic along the Tidal Basin, visit the Vietnam Veterans Memorial,  tour the United States Holocaust Memorial Museum, catch a performance at the John F Kennedy Center for the performing arts, spend time at the Arlington National Cemetery, visit the Planet Word
Popular tourist attractions: Lincoln Memorial, Washington Monument, National Gallery of Art, Smithsonian National Museum of Natural History, Smithsonian National Air and Space Museum, Martin Luther King Jr Memorial, Thomas Jefferson Memorial
Best time to visit: September to November, March to May
The Nearest airport: Ronald Reagan National Airport
We hope you have enjoyed our article and have already started curating a list of places to visit in the USA. Share your thoughts and also let us know which famous destination we should cover next!
Frequently Asked Questions