Barcelona is one of those cool tourist destinations that is packed with fun activities and unforgettable experiences. The stunning architecture, exciting nightlife, popular football culture, and world-class cuisine attract thousands of tourists every year.
Did you know that the world's oldest amusement park is situated on a mountain in Barcelona?
Wait till you know that there are even more fun facts about Barcelona and things to do here that can offer you memories for a lifetime. Let's dive in!
Fun Activities that can make your Barcelona Trip a Magical One
1. Visit the La Sagrada Familia
Paying a visit to the unfinished church in Barcelona La Sagrada Familia is at the top of our list of things to do in Barcelona.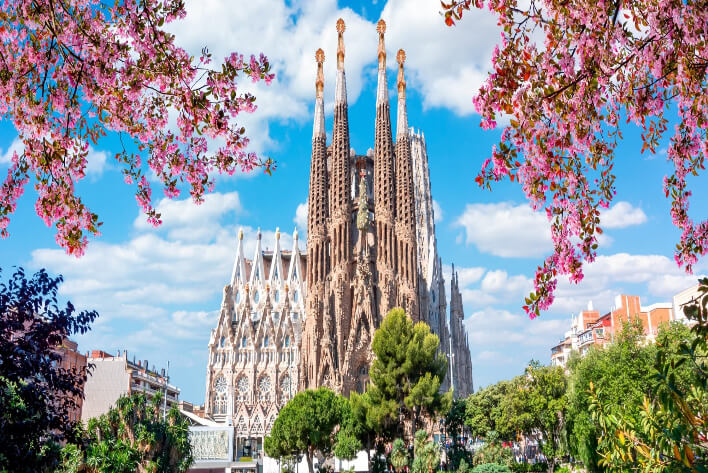 Located in the Eixample district of Barcelona, this tourist destination is a well-known UNESCO World Heritage site. It is the place of burial of Antoni Gaudi who is the mastermind behind this building.
As one of the oldest buildings in the world, it is interesting to know that its construction which started in 1882 is still underway.
Tourists in Barcelona are often left in awe of the marvelous architecture of this place which is inspired by nature, unlike other cathedral buildings.
It is important to read about the symbolism that is presented inside this tourist destination in Barcelona.
It is said that there are images of a turtle and tortoise on the interior pillars of this cathedral which represent water and earth.
If you look up, you can see that these pillars look similar to trees and they start changing their shape as you move forward.
2. Watch a Football Match at Camp Nou
Camp Nou is not a new name for FC Barcelona fans. You can get a ticket and enter the Camp Nou museum and stadium along with an interactive zone that exhibits the football club's greatest moments in history.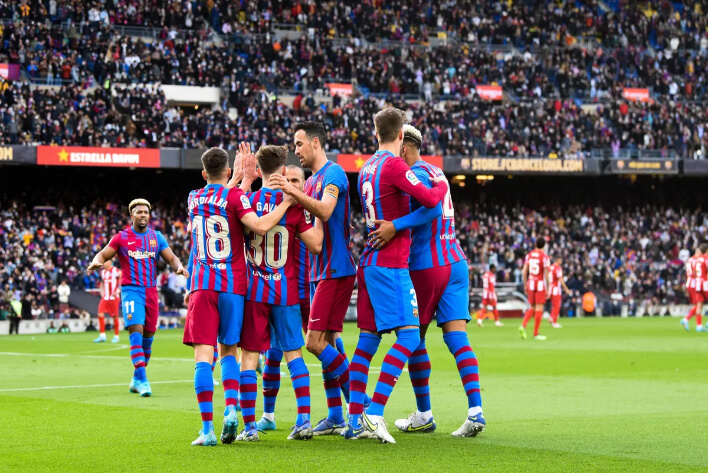 You can walk around and listen to the audio guide that gives you a tour of the stadium including the FC Barcelona dressing rooms, press rooms, and the player tunnel.
The museum lets you see all the awards that FC Barcelona has won including the Champions League, the national cup, and the national championship.
The entire tour is for around 90 minutes with zero entry free for children below 4 years of age.
You can hope on the metro train and get down at the Palau Reial to reach the stadium.
3. Take Beautiful Photos at Park Güelle
Clicking pictures on a trip is not something you should be instructed to do. But if you visit Barcelona and forget to take pictures of the picturesque gardens in Park Güelle, you might be committing a grave mistake!
Park Güelle is the most famous park in Barcelona due to the colorful mosaics and staircases designed by the artistic genius Antoni Gaudi.
The arches, columns, archways, and camouflaged artificial structures in this park are a treat to the eyes with all the random patterns and color plays.
Make your Instagram feed more aesthetically pleasing by taking a few pictures at the mosaic salamander, which is one of the most photographed areas in the city.
You can also see the popular smiling dragon ride near the entrance in the middle of the stairway which makes it a centre of attraction for children.
4. Tour the Gothic Quarter
The Gothic Quarter is one of the places in Barcelona of great historical significance as this is where the Romans have said to built their first settlement.
You can explore the streets on foot or join a walking tour to get a glimpse of the surprises that are hidden in this city.
You can start by visiting the La Seu cathedral which boasts of Gothic architecture and is an absolute beauty when you see it at night due to the beautiful lighting.
The Gothic Quarter also houses many popular museums, cafes, and sweet shops with delicacies that you can munch on during the tour.
You can also shop for handmade items and textiles from the little boutiques and have lunch at the restaurants that adorn this place.
Picasso's stomping grounds, Gaudi's first project, and Can Culleretes (the oldest restaurant in Barcelona) are all set in this place.
5. Shop at La Rambla
La Rambla is a pedestrian street in Barcelona that starts at Plaça de Catalunya and goes to the statue of Christopher Columbus.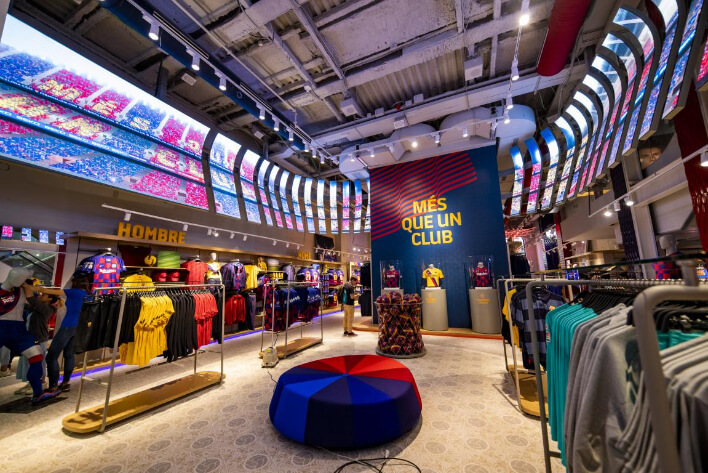 There are so many things to do on this street including shopping at the little stores, taking a sip at the bars, and indulging in yummy snacks at the cafés and restaurants.
You can visit La Boqueria market which brings together vendors that sell local products and importers from whom you can buy exotic items.
Café de l'opera is one of Barcelona's last remaining historical cafes which is the best place to have hot chocolate and churros in Barcelona.
Apart from the food and drinks, flower sellers are also a common sight in the street of La Rambla.
Do not forget to visit the Liceu Opera House, Columbus Monument, and the popular Canaletes fountain when you visit the street.
6. Have Fun at the Beaches!
Barcelona beaches have a vibe of their own. They provide locals and tourists with a wide range of activities and sights that make them keep returning to the golden beaches.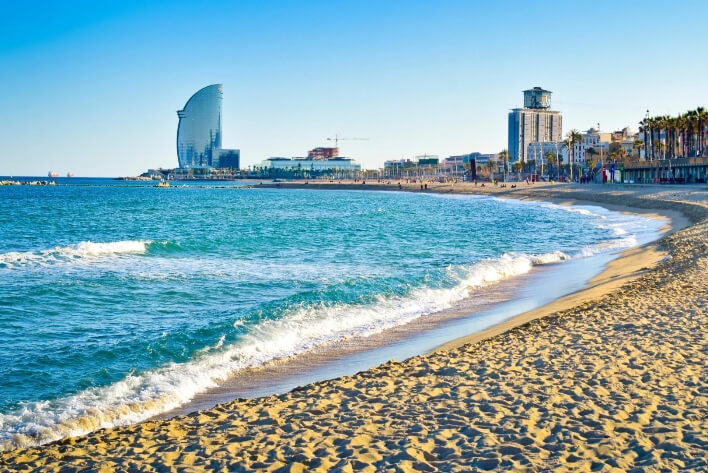 Beaches like Barceloneta Beach, Playa de Bogatell, and Sant Miquel Beach are common favorites among water enthusiasts.
You get to have a chilling glass of cold beer from the Chiringuitos or beachside bars and enjoy the clean blue waters.
Barcelona is not a tourist destination that is known for its sunsets. But the beaches in Barcelona offer spectacular sunrises that you can get a glimpse of if you wake up a bit earlier than usual.
The beaches here are also popular destinations for doing fun activities like yoga and Takatà or volleyball with just three players.
You can visit the beaches in the month of April, May, June, and September which are the calmest months to relax by the seaside.
7. Visit the Picasso Museum
Even if you are not an art person, the Picasso Museum in Barcelona is a highly recommended place that anybody can enjoy. It is situated in Palau Aguilar in la Ribera where Picasso had lived.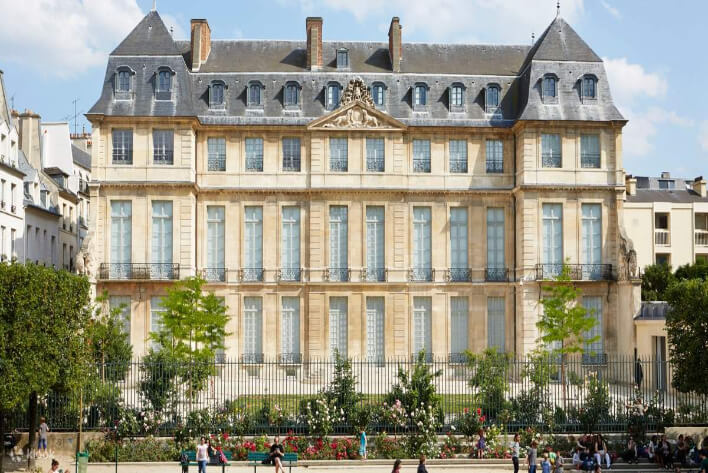 An interesting fact about this museum is that it is the world's first Picasso museum which was founded while Pablo Picasso was alive.
You get to see more than 4000 works by this legendary artist, including his paintings, sculptures, and even some of his jewelry.
All these works are distributed chronologically across rooms and corridors that you can see at your own pace.
Important pieces of work that are exhibited here include Primera Comunio, natura morta, Las Meninas, and Els Colomins.
8. Enjoy the Local Cuisine
Barcelona is a treasure box for food enthusiasts due to the food markets brimming with yummy sweets and savoury items.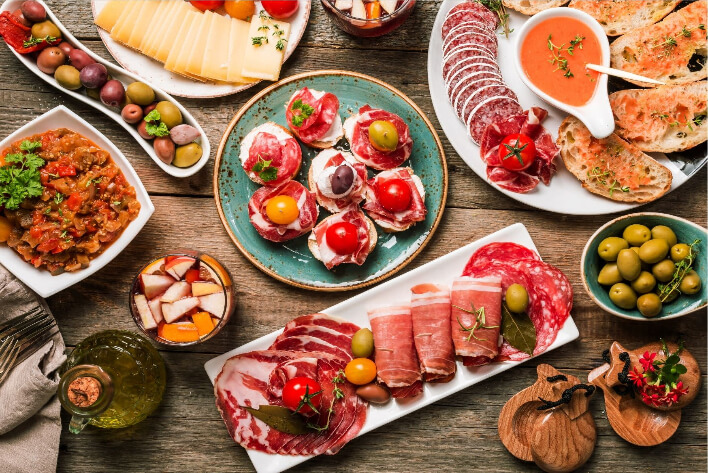 Right from food streets serving light bites and cool drinks, to high-end restaurants with international foods, Barcelona has it all.
Paella is one such food item that tourists in Barcelona will have endless things to say about.
One's taste buds will surely explode with the mouth-smacking flavours of paprika, garlic, tomatoes, and peas topped with delicious seafood.
Another popular food item in Barcelona you should try out is Croquettes, which are usually served as a larger dish called Raciones. You get to taste the creaminess of mashed potatoes and spicy ham deep-fried after coating them in bread crumbs.
Other dishes that you can try out in Barcelona include Fideuà, Esqueixada, Escalivada, Gazpacho, and Potato Bombas.
You can devour these dishes from restaurants in Barcelona like Cocina Hermanos Torres, Alkimia, Besta, and Dos Palillos.
9. Watch the Magic Fountain
Watching the La font Màgica or the Magic Fountain is the next destination on our list of things to do in Barcelona.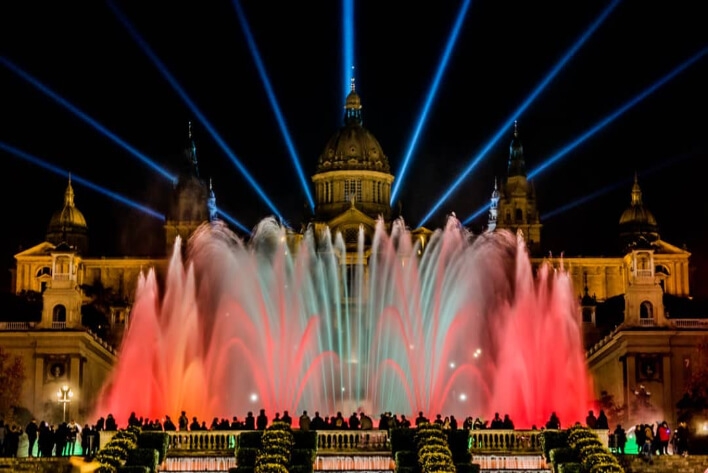 There are more than 7 billion light and water combinations that this work of art displays for tourists coming from different parts of the world.
The choice of music they play makes it a favorite among children and adults alike. They play music like cartoon music, swing, and the latest hits to keep your foot tapping while simultaneously providing a visual treat.
You can check out their choreography schedules if you would like to listen to a specific kind of music.
The entire show lasts for about 20 minutes making it the best spot for a few moments of relaxation after a long day of shopping and sightseeing.
The best part is that you get all of this for free of cost.
10. Take a Day Trip
We can all agree with the fact that Barcelona is definitely a stunning place to visit.  But there are equally beautiful places outside Barcelona that you can explore by going on a day tour.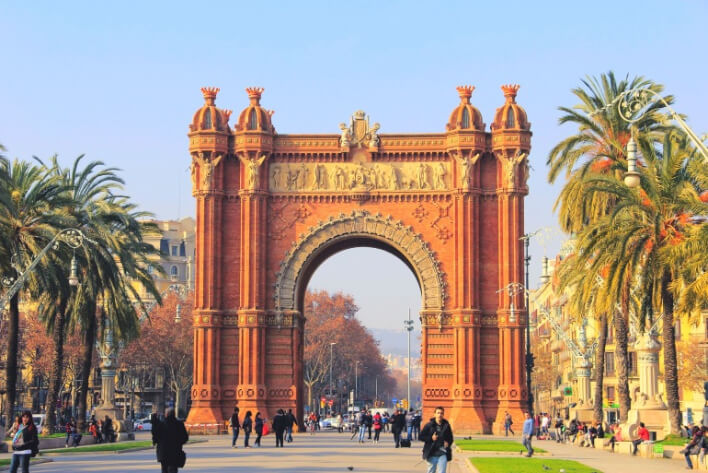 With a little fishing village near France, Cadaqués is one of the most preferred places for day tours. The calm and serene atmosphere of this place with beaches and mountains surrounding it on all sides soothes the soul of any tourist.
You can visit Tarragona and its national archaeological museum and the nearby beach and cathedral.
If you are a Game of Thrones fan, consider taking a trip to Girona to see the Great Sept of Baelor.
Begur is home to the most beautiful beaches outside Barcelona and has little ceramic markets that sell pottery.
Before we part ways…
We hope that you make your Barcelona trip the most joyous and memorable one by indulging in these activities.
Share with us your experience when visiting Barcelona, so that new visitors can add them to their Barcelona trip bucket list!
Frequently Asked Questions