Festivals in the World are a testament to human culture. A Festival brings a community together to honor certain cultural, religious, or traditional aspects. Celebrate the Best Festivals in the World with joy and excitement. Local traditions, folklore, and the agricultural calendar frequently play a role in these celebrations. Festivals have a significant function within the societal structure of a community and are recognized as holidays. 
From Rituals to Revelry: The Journey of Festivals Through Time and Culture
Festivals are examples of glocalization, or the blending of external and internal influences, which produces a mix of high culture (associated with prestigious traditions) and low culture (associated with common practices). This combination produces varied and unique festival interactions that appeal to a wide range of people.
Imagine living in a place where brilliant colors dance in the air, melodic music fills the streets, and the aroma of mouthwatering foods tantalizes your senses. This is the magical ambience of festivals, where localities come to life with happiness, culture, and harmony.
Numerous occasions for gathering people throughout the world provide a window into the rich fabric of human variation. Let's take a tour through the top 10 best festivals in the world, where tradition and contemporary perfectly coexist, from the majesty of religious celebrations to the exuberance of cultural carnivals.
Colors, Rhythms, and Unity in the Air: Celebrating Life through Festivals
1. Rio Carnival, Brazil: Samba, Dance, and Extravaganza
The Carnival in Rio de Janeiro is renowned for its vibrant parades and amazing, pulsating energy. Each year, many millions of people visit the city to participate in the festivities. With good reason —The grandiosity of Carnival is about something far more intangible than simply the lavish costumes and floats: it's about honouring culture, art, and tradition.
Carnival offers sights, sounds, and fragrances that cannot be equaled anywhere else. It is a constantly changing extravaganza of fascinating colour and song that unites residents and tourists.
Carnival, one of the top 10 celebrations in the world, offers something for everyone, from street dance to close-up views of exquisitely detailed procession costumes.
2. Diwali, India: The Festival of Lights
This festival of lights is observed by many religions in India and beyond, and it typically takes place between mid-October and mid-November.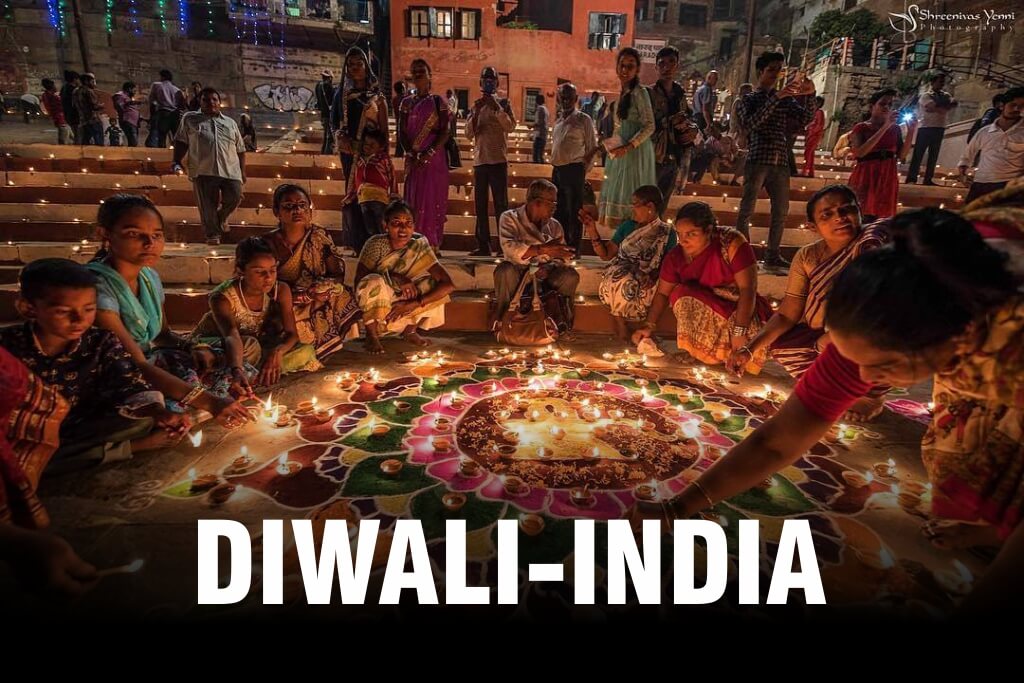 It is understood to represent the victory of good over evil, light over darkness, and wisdom over ignorance differently across Hindu, Sikh, and Jain communities.
As you stroll through towns and cities, you'll see that diyas, little clay lamps, and lanterns are used to light up homes, businesses, and public spaces. Flower stands also add to the street's brightness. Parades, live music, fireworks, gift-giving, and sweet exchanges are all part of the five days of celebrations.
3. Oktoberfest, Germany: Cheers to Unity and Beer
The generous royals organized several events for the enjoyment of the citizens of Munich, Bavaria. Because everyone had such a good time, they decided to repeat the festivities the next year and the year after that.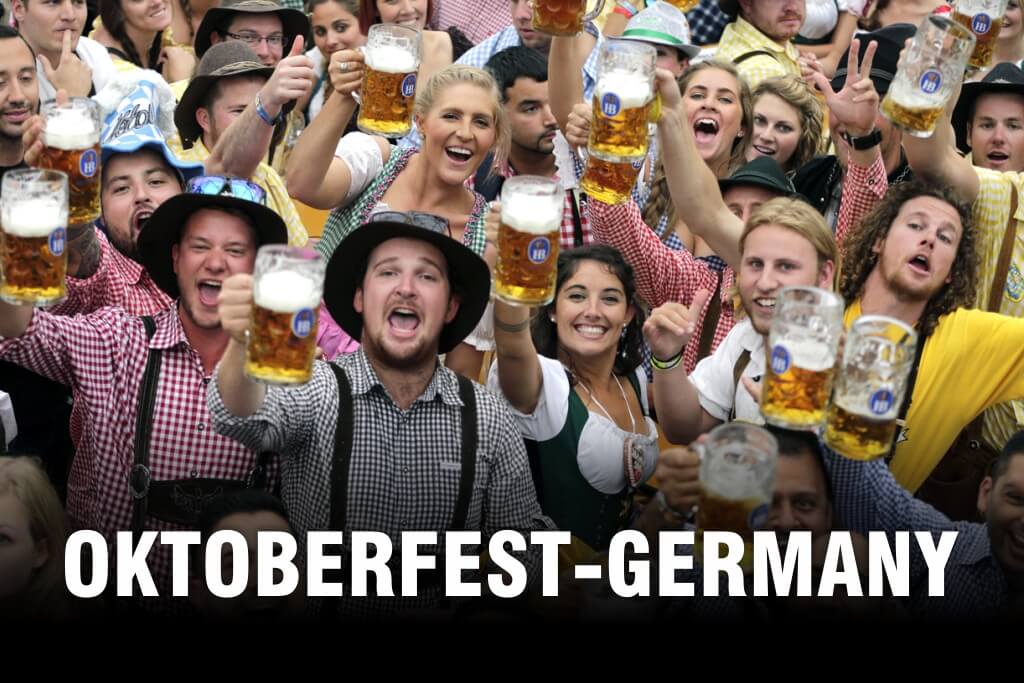 Oktoberfest began as a result. And these days, the majority of people associate October with brisk weather, pumpkins, and, of course, Oktoberfest.
Oktoberfest in Munich, Germany, is the place to be if you want friendship, beer, and substantial food. Millions of people go to this renowned beer festival every year for a genuine flavour of Bavarian culture. The festival fosters a spirit of jovial celebration and unity via the use of traditional clothing and folk music.
You can enjoy the vibrant parades of traditionally dressed musicians riding horses while carrying flags and large brass instruments, dance to the lively orchestras playing traditional music, sample some local beer from one of the big beer tents, or simply grab a bite to eat from one of the many food stalls.
You may have fun while taking part in all the events that Oktoberfest has to offer because it is also well-recognised for its funfair games and rides.
4. Chinese New Year: Welcoming Fresh Beginnings
The Chinese New Year, which honours the lunar calendar, is an international festival that is alive and captivating.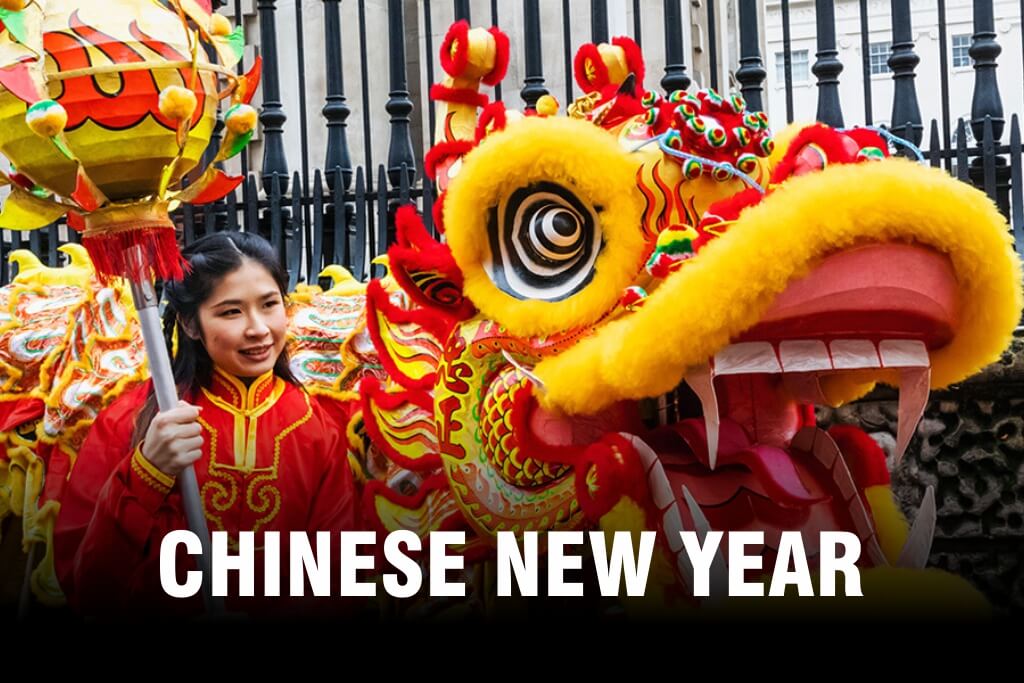 It's celebrated with dragon and lion dances, lantern displays, and the exchanging of red envelopes, which stand for good fortune. This celebration is also known as the Spring Festival. The festivities are made more intriguing by the association of each year with a different animal from the Chinese zodiac.
5. La Tomatina, Spain: A Tomato-Flinging Fiesta
Every August, the village of Buol hosts the supreme food fight event known as La Tomatina. There are many different versions of the genesis of La Tomatina, from innocent kidnappings to assaults on a terrible musician to residents venting their resentment and disappointment at a municipal councilman.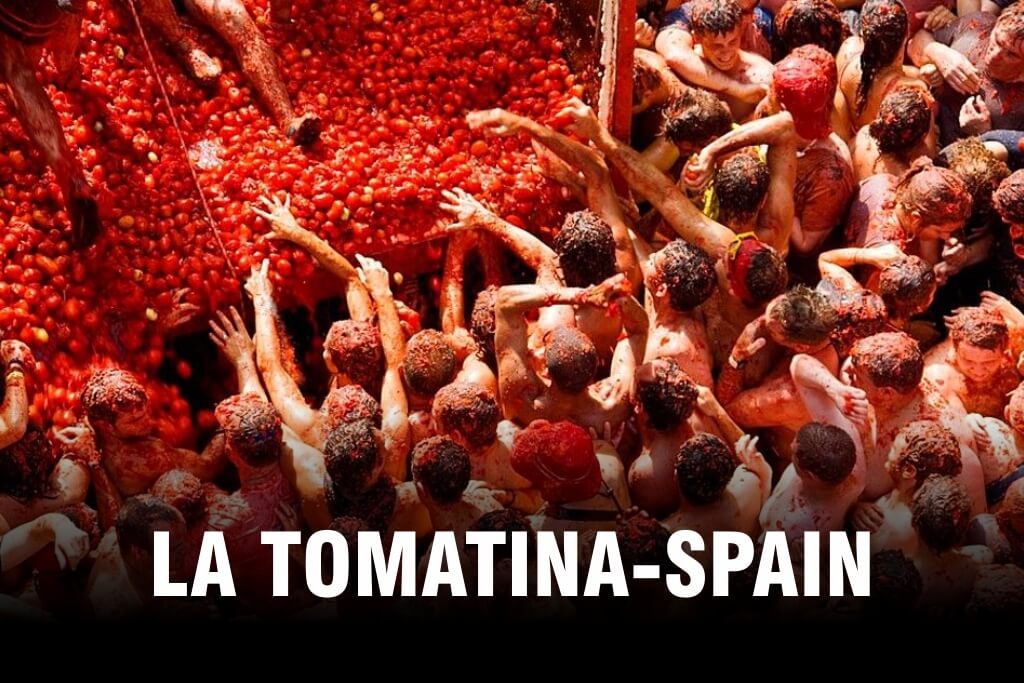 This humorous festival and friendly brawl draws plenty of people. Up to 50,000 people have attended the renowned La Tomatina in the past, but more recently, a ticketing system has been implemented to maintain attendance at or below 20,000.
Water cannons are fired to start the hour-long conflict, and then anarchy breaks out as more than 100 tonnes of overripe tomatoes are crushed and thrown everywhere.
6. Carnival of Venice, Italy: Masks and Mystery
At the Carnival of Venice, you may escape into a lavish and mysterious world. This celebration pays homage to the city's tradition of creative expression with its beautiful masquerade balls and elaborate masks.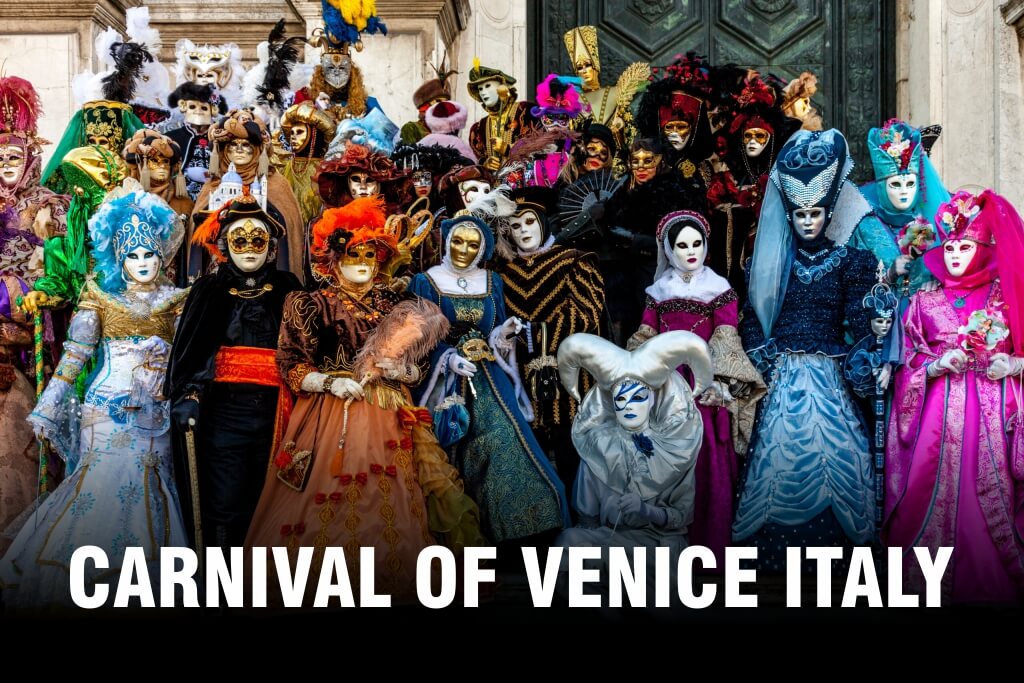 Walk around the streets decked out in gorgeous costumes and be part of a tradition that dates back centuries.
7. Holi, India: Colors, Joy, and Togetherness
India's wild celebration of spring is called Holi, commonly referred to as the Festival of Colours.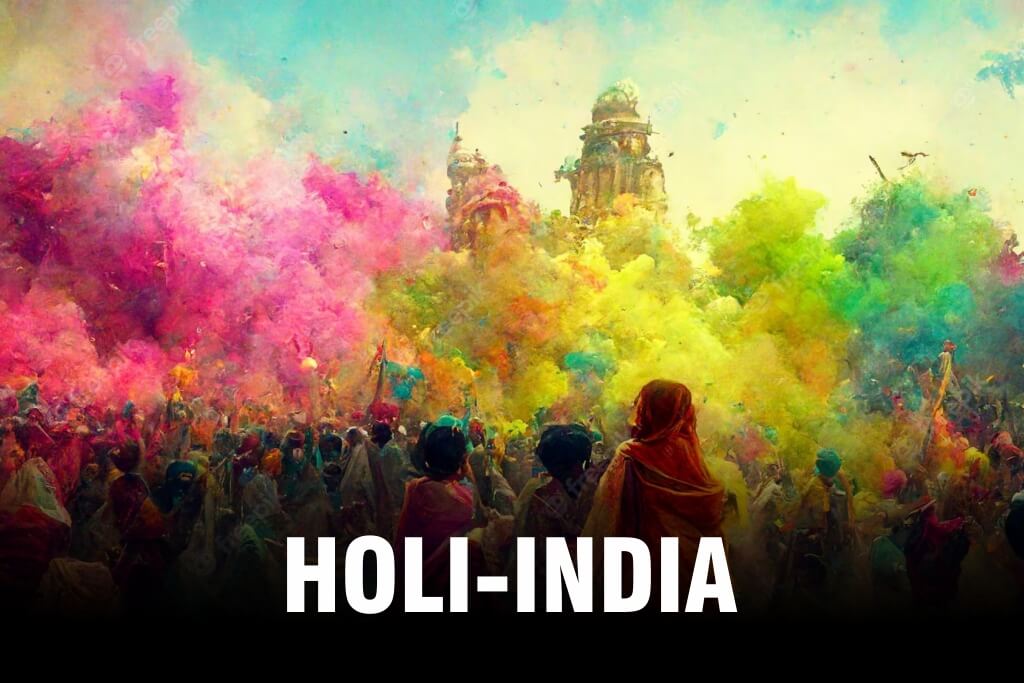 Participants hurl brightly colored powders at one another as a representation of the triumph of virtue over evil and the beginning of a new season. This raucous celebration transcends borders and has become more well-known around the world.
8. Songkran, Thailand: Water, Fun, and New Beginnings
In Thailand, Songkran marks the beginning of the Buddhist New Year. Southeast Asia also observes it but with different names and on a little bit different dates.
It normally takes place in Thailand over a long weekend in the middle of April. Parades, fairs, and dancing performances are all part of the festivities, but the festival is most renowned for its water battles.
To get ready for the new year, it's common at temples to wash Buddha statues with water. This custom has become a nationwide water fight outside when entire towns take to the streets with water guns, water balloons, and buckets of water to throw at one another. You'll soon find yourself participating in the festivities (quite literally), and the water is a welcome relief from the dry heat of April.
9. Day of the Dead, Mexico: Honoring Ancestral Spirits
Mexico celebrates the Day of the Dead, also known as Dia de los Muertos, which is a sombre yet vibrant holiday.
Families get together during this time to honor and remember their loved ones who have passed away. Intricate altars honor the spirits with marigolds, pictures, and their preferred delicacies. The festival showcases the Mexican approach to death, celebrating it as a natural part of life.
10. Glastonbury Festival, United Kingdom: Music, Arts, and Counterculture
Our list is completed with the famed Glastonbury Festival, a haven for fans of music and the arts.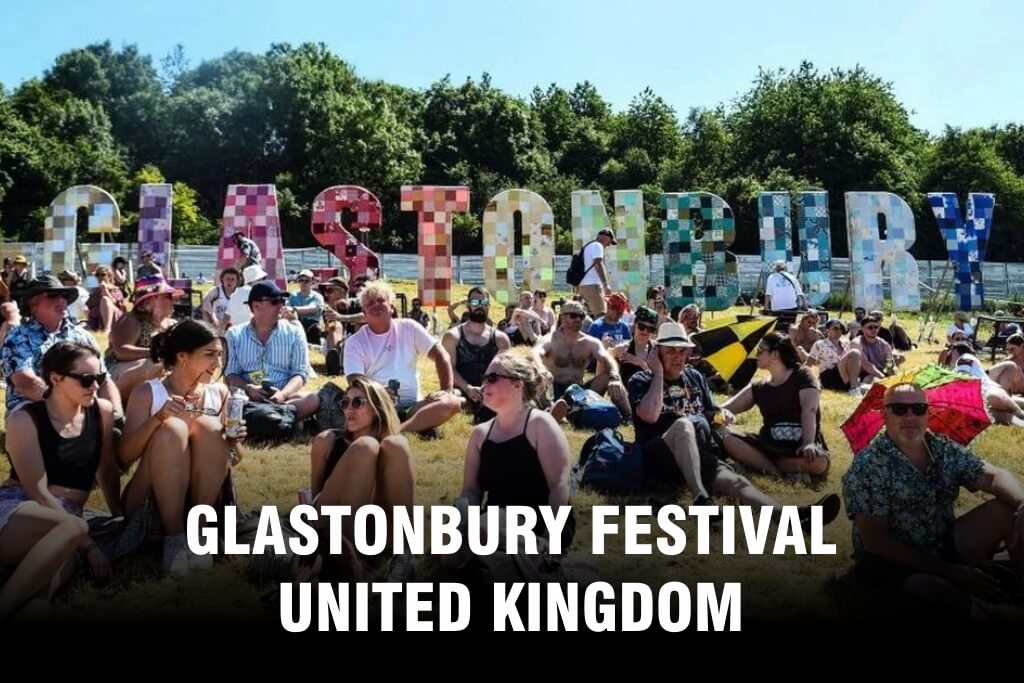 This multi-day festival in the UK features a wide variety of performances, from well-known rock and pop icons to up-and-coming artists.
Wrapping Up-Festivals in the World that showcase diverse cultures
These celebrations serve as a poignant reminder that despite our various backgrounds, we all have a strong appreciation for life's pleasures and a love of celebrations.  The best Festivals in the World unite people in celebration. Whether you're dancing to samba in Rio or taking part in the water festivities in Thailand, these events offer a chance to connect with the fundamental human nature and remember our common experiences.